Franchise Arbitrator David Kaufmann's Credibility on Trial After Kangaroo Court Hearing
Prominent franchise attorney David Kaufmann, acting as arbitrator in a post-settlement franchise dispute, has denied that his actions and rulings are biased in favor of franchisor PIRTEK USA.  However, the leaked PIRTEK Proposed Final Arbitration Award document indicates Kaufmann rushed through a final arbitration hearing without the franchisee or his counsel present.  In the proceeding, Kaufmann appears to have allowed unsubstantiated disparaging allegations about the franchisee's private life to go unchallenged and uncorroborated.  Though the franchisee was given no chance to challenge the allegations, Kaufmann reportedly found them "credible" and was apparently ready to render a final judgement that could close a small business, cause a layoff of 22 employees, bury a former franchisee in $700,000 in debt while removing his means to pay it.
(UnhappyFranchisee.com)  Prominent franchisor attorney David Kaufmann of NY law firm Kaufmann Gildin & Robbins is the arbitrator of the post-settlement dispute PIRTEK USA LLC v. James Lager, Texas Hose Pro and JBL Hose Service, LLC .
Despite a major change (the personal bankruptcy of one party) and only one party and their attorney in attendance, it appears that David Kaufmann decided to proceed with the final arbitration hearing and render his judgement in the high-stakes, contentious case.
If Kaufmann agrees with the judgement requested by the Franchisor's attorney, the result will be the forced closure of a successful small business, a layoff of its 22 employees, burying a former loyal franchisee under $700,000 in debt, and forbidding the franchisee from accepting employment in his career field in his home market.
In other words, the franchisee will be crushed under Kaufmann/Joblove/PIRTEK USA's heel like a bug.
Attorney Michael Joblove Summarized the Kangaroo Court Hearing in his Proposed "Award of Arbitrator"
The PIRTEK Proposed Final Arbitration Award  drafted and submitted last month by franchisor attorney Michael Joblove of law firm Genovese Joblove & Battista would put the former franchisee's company – which competes directly with PIRTEK USA – out of business.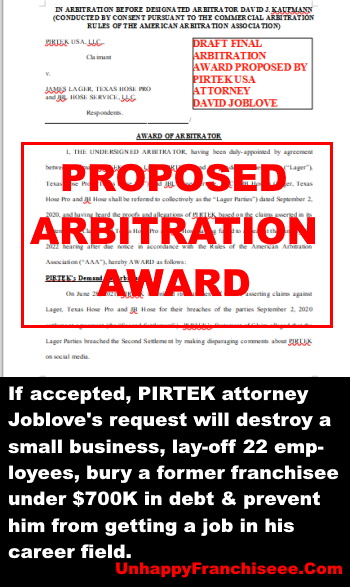 The proposed agreement would:
Award PIRTEK $649,037.25 in claims, damages & fees plus Kaufmann's fees
Require Franchisee to pay the award within 10 days
Require Franchisee to terminate his two businesses within 60 days
Prohibit Franchisee from working in his field in his home market for 2 years
Prohibit Franchisee from referring, directly or indirectly, to PIRTEK, its officers or employees, its Franchise Disclosure Document (FDD), its sponsorship affiliation with NASCAR and Roger Penske, its suppliers, the terms of its Second Settlement agreement, and the content of their mediation discussions.  (While the restrictions & limitations on the Franchisee's freedom of speech comprise 9  full paragraphs,  no restrictions are placed on what PIRTEK USA may say about the Franchisee party, the Second Settlement or the content of mediation discussions.)
Kaufmann Rushed Through the Final Arbitration Despite a Major Change & 50% Participation
PIRTEK attorney Michael Joblove memorialized the Final Arbitration Hearing Kaufmann conducted January 18, 2022 via ZOOM in his proposed "Award of Arbitrator" document.
Writing from the arbitrator's point-of-view, Joblove/Kaufmann stated that prior to the scheduled hearing, Lager's attorney Ryan Cole, Esq. informed them that franchisee Jim Lager had filed for personal bankruptcy.
David Kaufmann & PIRTEK's counsel Michael Joblove decided to proceed with the hearing anyway, but solely against Lager's companies.
When neither Lager nor Lager's attorneys signed on to the call, Kaufmann decided to proceed with the final arbitration hearing without the Lager party represented.
According to Joblove/Kaufmann:
The final arbitration hearing began at 10:15 a.m. on January 18, 2022.

I was present along with counsel for PIRTEK, Michael D. Joblove, Esq. and Aaron S. Blynn, Esq. Appearing on behalf of PIRTEK was its Chief Executive Officer Kim Gubera and its Director of Franchise Development Nick Ridgway.
Joblove/Kaufmann listed the 45 exhibits submitted by PIRTEK.  No exhibits were entered on behalf of the absent Lager parties.
PIRTEK Exhibits Entered:       45
Jim Lager Exhibits Entered:     0
Kaufmann Allowed Disparaging, Unsubstantiated Character Attacks to go Unchallenged; Found Them "Credible"
Joblove/Kaufmann reported that the arbitrator "listened attentively," "took notes," and  "is confident he… understood" CEO Kim Gubera's testimony.
Joblove/Kaufmann reported:
On February 14, 2019, Mrs. Gubera traveled to Texas after receiving a phone call informing her that Lager had been arrested, and was incarcerated, for domestic violence or assault on a woman.

By the time Mrs. Gubera arrived in Texas, Lager had been released from custody.
[Not mentioned:  He was released from custody because no domestic violence occurred and the charges were dropped]
Mrs. Gubera met with Lager and discussed his need to get his life in order.
[Condescending & inappropriate statement here seems planted to demean the top-performing, award-winning PIRTEK owner & mentor whose Year 1 & 2 sales records still stand]
Despite neither the Accused nor his attorneys being present to challenge or rebut the witness, Arbitrator David Kaufmann allowed unsubstantiated and scurrilous disparagement by CEO Kim Gubera, including defamatory false statements of fact.  Writes Joblove/Kaufmann:
According to Mrs. Gubera, the provisions of the Second Settlement which were most important to PIRTEK were the provisions prohibiting Respondents from discussing PIRTEK or its officers, with limited exceptions, and prohibiting Respondents from not only disclosing the terms of the Second Settlement, but even the existence of the Second Settlement.

Mrs. Gubera further explained that, given Lager's character, including his growing and use of marijuana, and his arrest for domestic abuse or battery, PIRTEK did not want there to be any association between PIRTEK and Respondents.
Why Does PIRTEK Still Promote its Association With its Supposedly Violent Weed Farming Former Franchisee on the PIRTEK USA website?
Joblove/Kaufmann's account gives no indication that Kaufmann asked such basic questions as:
During the period Ms. Gubera contends franchisee Lager's personal life was out of order and his business was in disarray, didn't he maintain sales in the top three of the entire chain?
Was he ever sent a notice that he was in breach of his agreement and a notice to cure?
If PIRTEK USA was justified in not renewing Jim Lager's franchise agreements, why did they allegedly pay him nearly half a million dollars and waive his non-compete to settle his claims?
Can Ms. Gubera substantiate her allegation that Jim Lager illegally grows marijuana?
Can Ms. Gubera substantiate her allegation that Jim Lager currently smokes marijuana?
Can Ms. Gubera substantiate that Mr. Lager did not have a valid prescription for marijuana issued by a medical doctor?
Can Ms. Gubera clarify whether marijuana use or arrests with quickly dropped charges are violations of the PIRTEK USA franchise agreement?
Does PIRTEK USA drug test franchisees so they can distance themselves from weed smokers?
And most importantly:  If disassociating from Jim Lager is a priority, why has PIRTEK USA refused to delete Mr. Lager's name, likeness & success story from their website as required by the settlement agreement?  Why does Jim Lager still appear prominently in PIRTEK franchise marketing 1.5 years after the settlement agreement.  [See below]
According to Gubera's testimony, PIRTEK USA supposedly believes it's urgent to disassociate itself from Jim Lager.
However, David Kaufmann continues willfully ignore that fact that, as is evidenced below, it is PIRTEK who made little to no effort to disassociate from Jim Lager.
David Kaufmann's Bias Seems to Have Become Malicious Intent to Destroy a Franchisee Who Dared Talk Back
While the allegations of bias against David Kaufmann during the post-settlement arbitration might have resided in a grey area to some, his insistence on rushing to judgement and extreme punishment of a franchisee who questioned his impartiality seems, at least to this layman, as more clearcut and more egregious.
But then again, I'm no expert on this legal system.
Like most people, I'm more comfortable in the world where right and wrong are relevant factors.
In a system that is rigged to favor those with the most money and power, speaking of right and wrong is the folly of outsiders and newcomers.
PIRTEK's Continued Misuse of Jim Lager's Name, Likeness & Success Story 2/6/22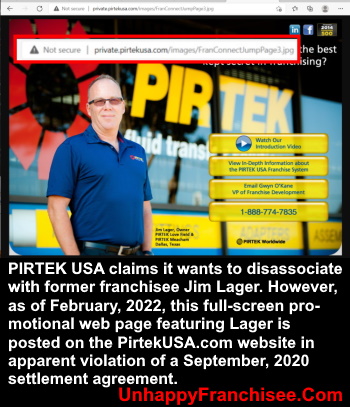 This full page image of Jim Lager promotes the PIRTEK franchise is publicly viewable and easily found in search engine results.
It is posted to Pirtek's own PIRTEKUSA.com website and web server.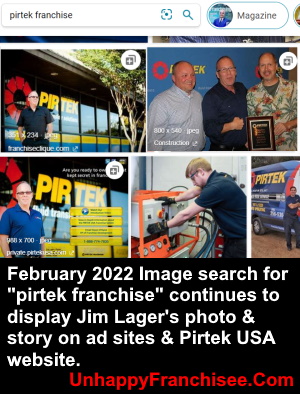 Google and Bing image searches are still populated with PIRTEK franchise promotions featuring Jim Lager. Of the three images above, one resides on  the PIRTEKUSA.com website, one in a paid ad controlled by PIRTEK and the third on an industry  site that would likely remove it upon request from  PIRTEK.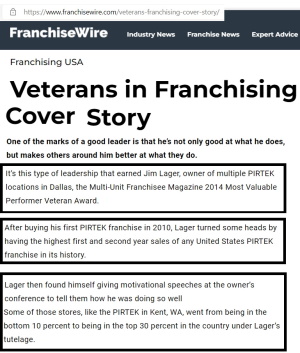 PIRTEK has failed to remove its press releases  featuring Jim Lager's success story even from Press release sites it has its own account sign-in, like Thomas.Net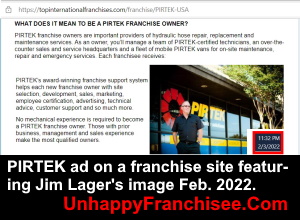 PIRTEK continues to feature Jim Lager's likeness in its paid ads on franchise portals like this one on  TopInternationalFranchises.Com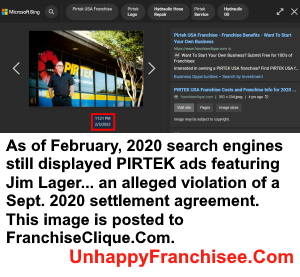 PIRTEK continues to exploit Jim Lager's likeness on other ad portals, like FranchiseClique.com, which also appear in image search engines.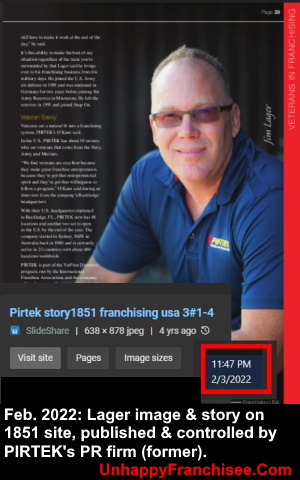 Jim Lager's success, mentorship of other franchisees & military service still appears on the fake news website 1851 Magazine, published and controlled by PIRTEK's former PR agency.
Its publisher Nick Powills has said he'd remove content if PIRTEK requested it.  They obviously  haven't.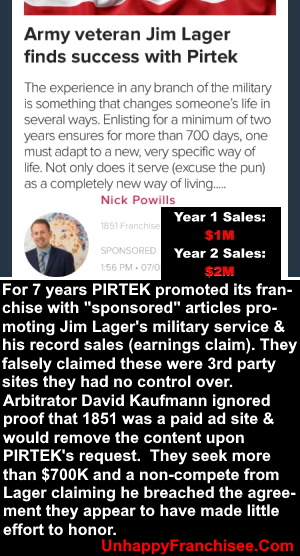 Jim Lager's own comments on LinkedIn prompted removal of the fake news article with the embedded illegal earnings claim planted and maintained by PIRTEK for 7 years. PIRTEK USA used this fake news article to  communicate Jim Lager's record 1st & 2nd year sales despite claiming, in official documents, that they do not disclose past or projected earnings information.
Also read:
David Kaufmann Arbitration Leaks Appear to Expose Blatant Franchisor Bias
Arbitration on Trial: How Franchisor Attorneys Undermine the FTC Franchise Rule
King David Kaufmann Franchise Arbitration Call Leaked! (Parody)
Franchise Discussion, Documents, Links: NASAA Proposed S.O.P.
Franchise Attorney, Mediator David Kaufmann Ethics Accusations
Does U.S. Army Veteran Jim Lager Recommend the PIRTEK Franchise?
Is PIRTEK USA Racist? Or Just Really, Really White?
WHAT DO YOU THINK?  ARE YOU FAMILIAR WITH THE ARBITRATION PROCESS?   WHAT WAS YOUR EXPERIENCE? PLEASE SHARE YOUR OPINION BELOW OR EMAIL US AT UNHAPPYFRANCHISEE [at] GMAIL [dot] COM
We welcome comments and clarification from David Kaufmann, Michael Joblove, PIRTEK USA as well as the franchise regulators of NASAA.
NOTE:  Unhappy Franchisee provides an open invitation to all individuals and companies discussed, mentioned or involved with our posts.  We invite you to provide corrections, clarifications, rebuttals or alternative points-of-view in the comments and/or by emailing us at UnhappyFranchisee [at] Gmail [dot] Com.  We welcome all respectful opinions and value open, productive discussion.  We also respect the protected right of anonymous speech and assure the confidentiality of our sources and those who wish to contribute anonymously.  Threats and bullying will not be tolerated (especially when directed at us).
Tags:  David Kaufmann, Franchise attorney David Kaufmann, mediator David Kaufmann, Kaufmann Gildin & Robbins, attorney Michael Joblove, Genovese Joblove & Battista, PIRTEK, PIRTEK USA, Glenn Duncan, CEO Kim Gubera, Jim Lager, franchisee Jim Lager, Texas Hose Pro, franchise litigation, franchise mediation, unfair arbitration