How Glenn Duncan Spent $1.5M+ to Damage the PIRTEK Franchise Brand
Australian Glenn Duncan, the son of PIRTEK founder Peter Duncan, came to America itching to prove himself. One of his first decisions was also one of his worst: targeting, ousting & bullying top PIRTEK franchisee and U.S. military veteran Jim Lager. Two years later, Glenn Duncan's poor decisions have cost PIRTEK USA more than $1M, turned a dedicated top producer into a direct competitor, and darkened the previously positive PIRTEK franchise brand under a cloud of controversy. Refusing to comment from the cavernous 120,000 s.f. headquarters he spent $10M building right before the pandemic, PIRTEK USA Chairman seems determined to maintain his brand-destructive course. An opinion piece by Sean Kelly. Comments invited below. (Edited 2/18/22)
(UnhappyFranchisee.Com) Full disclosure: I first met franchisee Jim Lager many years ago when he was a top multi-unit franchisee at Snap-On Tools. While he is a friend and a respected colleague, I have repeatedly invited both sides of this dispute to have their views represented. Despite dozens of invitations to provide clarifications, corrections or rebuttals, PIRTEK USA, their attorneys and arbitrator David Kaufmann have declined to respond. The invitation is open and will remain so. Without input from Glenn Duncan, I am left to best-guess his motivations. If you think I got it wrong (or right), please share a comment below. Thank you. – Sean Kelly
Sons of successful business founders often feel pressure to prove themselves.
Son of the PIRTEK founder Glenn Duncan seems to be no exception.
When interviewed in 2015 by Australia's Financial Review, Duncan compared himself to fictional Hollywood prostitute Vivian Ward, Julia Roberts' character in the movie Pretty Woman.
He stated that he had just unsuccessfully attempted to buy back PIRTEK's European license from Vision Capital, a private equity firm that didn't take him seriously.
In the Financial Review article, Glenn Duncan compared being brushed off by his own licensee as "not unlike the scene in Pretty Woman where Julia Roberts is snubbed by the shop assistants on Rodeo Drive."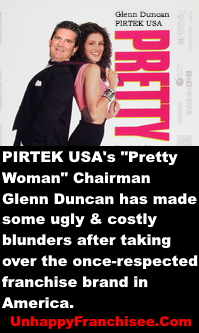 In addition to being a somewhat bizarre reference for the head of an international industrial manufacturer to make in a business interview, Glenn Duncan's apparent insecurity and desperate need to prove himself may explain his bull-in-a-china-shop debut as head of PIRTEK USA.
Perhaps Glenn Duncan was just a little too eager to prove he was in control… that he WAS somebody… to experience the triumphant Julia Roberts moment when she returns to Rodeo Drive and flaunts her shopping bags at the humiliated store clerk.
Maybe that's why he made the fateful decision to oust the popular and successful #3 franchisee in the chain without justification… a decision that would cost PIRTEK USA millions and damage the PIRTEK franchise brand for years to come.
Glenn Duncan Turns PIRTEK USA's Top Franchisee into a Formidable Competitor.
Former PIRTEK multi-unit franchisee Jim Lager has a big personality.
He can be a bit loud and a bit brash.
He's never shy with his opinions… and he livens up every room he enters.
Lager was highly celebrated within PIRTEK USA. He had set the record for highest first and second year sales, and was consistently ranked in the top three nationwide.
He had won numerous sales awards, was named Rookie of the Year, Franchisee of the Year, & Mentor of the Year twice.
And PIRTEK USA never had a more dedicated brand ambassador. Lager's success story was the centerpiece of PIRTEK franchisee recruitment. He was featured on multiple franchise brochure covers, in national ads, and on the home page of the website.
In addition to being a top salesman he was remarkably generous with his time and knowledge, mentoring new and struggling franchisees without compensation.
For the son-of-a-founder with a Pretty Woman-like complex, those qualities might have seemed threatening.
Shortly after taking over PIRTEK USA, Jim Lager remembers Duncan attending one of the lively, popular sales seminars he voluntarily provided for other franchisees.
Lager remembers Duncan standing in the back of his presentation, frowning as the audience laughed and applauded.
Not long after that presentation, Glenn Duncan would curtly announce to franchisees and employees:
"The Jim Lager Show is Over."
He wanted his Pretty Woman scene all to himself.
Glenn Duncan's Ego Cost PIRTEK USA $1M Plus a Top Franchisee.
Glenn Duncan informed Jim Lager that his franchise agreements would not be renewed and he would soon be out of business.
Lager was shocked, then angry.
Lager grew even more incensed when word got back to him that Glenn Duncan had been making defamatory comments about him to individuals both inside and outside of the company.
In one instance, a colleague and supplier told him that Duncan had allegedly told people that Jim Lager had brought "a prostitute" to a company function attended by franchisees, wives and girlfriends.
The "prostitute" Duncan allegedly referred to was, in fact, Lager's long-time girlfriend, who is African-American.
Lager interpreted that as an racist slur, that an attractive black woman at their all-white (or close to it) event must be a prostitute.
[

Writer's Note: You May Keep Reading Without Fear of a Third Unrelated Prostitute Reference. Two is My Max.]
Jim Lager hired a top franchisee attorney and challenged Glenn Duncan's right to oust him from the chain he helped build.
The contentious dispute went to mediation, and Jim Lager prevailed.
Glenn Duncan agreed to pay franchisee Lager $453,000 ($300K in cash and $153K debt forgiveness.) to buy out his franchise agreements.
Duncan also agreed to waive Jim Lager's non-compete agreement, which would allow him to compete directly with PIRTEK as an independent in the Dallas/Fort Worth market.
Both Parties agreed to disassociate from each other online, in their promotions and on social media.
All told, Duncan's rash decision would not only cost PIRTEK USA $453,000 paid to the franchisee and $200,000 in attorney fees and legal costs, PIRTEK USA would lose the estimated $450,000 per year the franchisee paid in royalties, advertising fees and product mark-ups. Over the course of the past two years, Duncan's decision likely cost PIRTEK USA around $1,500,000.
A $453K settlement, $200K in legal fees, an estimated $450K in lost royalties, ad fees and product mark-up… Over the course of the past two years, Duncan's decision likely cost PIRTEK USA around $1.5M.
Glenn Duncan, PIRTEK USA Failed to Honor the Settlement Agreement
Lager believed the mediated settlement, signed September 2, 2020, would allow both he and PIRTEK USA to go their separate ways and compete fairly in the marketplace.
The September, 2020 settlement stipulated that both sides should disassociate from each other and not reference their prior relationship.
Lager complied, removing blog posts and social media postings critical of PIRTEK USA.
However, for reasons still not clear, Glenn Duncan and PIRTEK USA refused to remove dozens of references to Jim Lager and his success story from their own website and promotional sites they controlled.
Even after Lager & his attorneys escalated their demands and filed a series of formal complaints, PIRTEK attorney Michael Joblove and self-appointed arbitrator David Kaufmann refused to instruct PIRTEK USA to disassociate from Lager.
And while PIRTEK USA continued to use Lager's name, likeness & reputation without his consent, the pro-franchisor arbitrator Kaufmann heaped extraordinary restrictions and penalties on Jim Lager.
Jim Lager is not the type of guy to accept the role of victim in a system rigged against him.
If PIRTEK USA would not comply after repeated requests, neither would he.
He reposted his critical blog posts and shared his treatment, and the defamatory and racist language levelled at him and his girlfriend, by Glenn Duncan.
After Settling One Messy, Expensive Dispute, Duncan & PIRTEK Are Facing Allegations of Racism, Discrimination & Bullying of Franchisees.
After spending more than $500,000 to reach a settlement agreement, and despite CEO Kim Gubera's claim that PIRTEK USA urgently wishes to disassociate from Jim Lager, the company still refuses to comply.
A full-page image of Lager still appeared on PIRTEK's own website February 7, 2022 until I publicly confronted them about it. It was removed the next day.
I have been furnishing them the URLs of press releases, slideshare presentations, ads and images that are within their ability to delete in the unlikely chance they are unaware. (See Unhappy Franchisee Helping PIRTEK USA Protect Its Brand; Penske Racing Sponsorship in Question)
Glenn Duncan & PIRTEK USA shows no urgency or even willingness to disassociate from their former superstar franchisee.
Or perhaps being coerced into honoring his own settlement agreement doesn't fit with his "Pretty Woman" narrative.
Glenn Duncan's strategy, if it can be called that, seems to be writing a blank check to law firm Genovese, Joblove & Battista for a prolonged & expensive legal campaign to destroy the former superstar franchisee who called his bluff and refused to be a victim.
Glenn Duncan's Ultimate Blunder: Bullying a Franchisee Past the Point of Having Nothing to Lose.
PIRTEK USA's "Pretty Woman" founder Glenn Duncan may have been so desperate to prove that he's as strong a leader as his Daddy that he violated Rule #1 in the Corporate Bullying Handbook:
Corporate Bullying RULE #1: Never bully a victim to the point where he's got nothing to lose!
Glenn Duncan's first mistake was impulsively turning one of PIRTEK USA's top performing & loyal franchisees into a formidable competitor.
His second mistake was not cutting his losses, not abiding by the settlement agreement and continuing to harass & bully Jim Lager.
And now Glenn Duncan is learning the danger of of overplaying his hand & creating an enemy with nothing left to lose.
Jim Lager has been forced to declare personal bankruptcy, which seems to have put a hold on the arbitration proceedings.
While the ramifications of his bankruptcy are not yet known, there's a chance that Jim Lager's franchise agreements & settlement with PIRTEK USA could be wiped away… wiping away Glenn Duncan's & PIRTEK's legal advantage.
With Jim Lager declaring bankruptcy, Glenn Duncan's Pretty Woman moment may now involve declined credit cards, empty shopping bags and an angry shop clerk putting him and his dirty laundry out on the street for all to see.
With franchisee Jim Lager under the protection of bankruptcy, Glenn Duncan's Pretty Woman moment may turn out to involve declined credit cards, empty shopping bags and an angry shop clerk putting him and his dirty laundry out on the street for all to see.
PIRTEK USA: Disability Discrimination, A Horrific Worker Accident, An Overbuilt HQ & a Critical Lack of Leadership
Evidence of PIRTEK USA's leadership crisis isn't confined to Glenn Duncan, unfortunately.
PIRTEK Accountant-named-CEO Kim Gubera seems to share Glenn Duncan's insecurity and unwillingness to respond to questions or criticism.
In a recent softball "interview" on leadership, Gubera she said she suffered from "imposter syndrome."
Imposter Syndrome is, apparently, the feeling that one is unworthy of one's position in an organization… and a lack of confidence that one can fulfill their responsibilities.
When asked how she tackles to tough decisions, she quoted a proverb about seeking the safety of group discussions and delaying decisions to think about them for as long as possible.
Kim Gubera's interview the most unleaderly responses I've read since that chairman compared himself to Julia Roberts in Pretty Woman.
Like her leadership mentor Glenn Duncan, Gubera's response to every dispute seems to involve hiding in PIRTEK USA's new, cavernous $10M 120,000 square foot headquarters (aka Money Pit) and let their expensive attorneys slam away at every problem with a legal sledgehammer…
In other PIRTEK news:
PIRTEK Slapped with $85,000 Fine & 3-Year Consent Decree for Disability Discrimination
In February, 2021, PIRTEK agreed to pay $85,000 and furnish other relief to settle a disability discrimination lawsuit filed by the U.S. Equal Employment Opportunity Commission (EEOC), for violating federal law by firing an employee because of a perceived disability.
PIRTEK USA Worker Loses Arm in Horrific Forklift Accident
In March, a PIRTEK mechanic working 30 feet off the ground in a Naples, FL marina lost his arm in a horrific Forklift accident. It took rescue workers more than 7 hours, with three doctors on scene, to free the man.
PIRTEK Team members: Our thoughts and prayers go out to the technician who lost his arm in the tragic forklift accident, and the family and friends of PIRTEK technician DeJuan Allen, who was killed on a service call in 2014. You perform an essential service in tough, potentially dangerous conditions. Please be careful, follow safety procedures and never let your guard down!
OK, THOSE ARE MY OPINIONS.
LET'S HEAR YOURS!
ARE YOU FAMILIAR WITH PIRTEK, PIRTEK USA OR GLENN DUNCAN? SHARE A COMMENT BELOW or email in confidence: UnhappyFranchisee[at]Gmail[dot]com.
Also read:
Unhappy Franchisee Helping PIRTEK USA Protect Its Brand; Penske Racing Sponsorship in Question
Franchise Arbitrator David Kaufmann's Credibility on Trial After Kangaroo Court Hearing
David Kaufmann Arbitration Leaks Appear to Expose Blatant Franchisor Bias
Arbitration on Trial: How Franchisor Attorneys Undermine the FTC Franchise Rule
Franchise Discussion, Documents, Links: NASAA Proposed S.O.P.
Franchise Attorney, Mediator David Kaufmann Ethics Accusations
Does U.S. Army Veteran Jim Lager Recommend the PIRTEK Franchise?
Is PIRTEK USA Racist? Or Just Really, Really White?
WHAT DO YOU THINK? ARE YOU FAMILIAR WITH THE ARBITRATION PROCESS? WHAT WAS YOUR EXPERIENCE? PLEASE SHARE YOUR OPINION BELOW OR EMAIL US AT UNHAPPYFRANCHISEE [at] GMAIL [dot] COM
We welcome comments and clarification from David Kaufmann, Michael Joblove, PIRTEK USA as well as the franchise regulators of NASAA.
NOTE: Unhappy Franchisee provides an open invitation to all individuals and companies discussed, mentioned or involved with our posts. We invite you to provide corrections, clarifications, rebuttals or alternative points-of-view in the comments and/or by emailing us at UnhappyFranchisee [at] Gmail [dot] Com. We welcome all respectful opinions and value open, productive discussion. We also respect the protected right of anonymous speech and assure the confidentiality of our sources and those who wish to contribute anonymously. Threats and bullying will not be tolerated (especially when directed at us).
Tags: Glenn Duncan, Peter Duncan, David Kaufmann, Franchise attorney David Kaufmann, mediator David Kaufmann, Kaufmann Gildin & Robbins, attorney Michael Joblove, Genovese Joblove & Battista, PIRTEK, PIRTEK USA, Glenn Duncan, CEO Kim Gubera, Jim Lager, franchisee Jim Lager, Texas Hose Pro, franchise litigation, franchise mediation, unfair arbitration