NYC Davidovich Bagel Ejected From International Franchise Expo (IFE)
International Franchise Expo (IFE) officials and the New York Attorney General's Office, led by Franchise Section Chief Joseph Punturo, acted quickly and decisively to protect attendees and franchisor exhibitors from the predatory seller of a fraudulent franchise opportunity.  Within 24 hours after being alerted by UnhappyFranchisee.Com publisher Sean Kelly, CEO Joe Smith & Davidovich NYC Bagel & Sandwich Shop were asked to leave the New York City trade show.  By noon on Friday, only an empty booth and tray of bagels remained of the Craig's List sellers' first attempt to penetrate the franchise industry's premiere event.
(UnhappyFranchisee.Com)  Joe Smith, originally from Newburgh, N.Y., and his partner Dennis Mason, of Frenchtown, N.J., have collected hundreds of thousands, if not millions, of dollars from individuals and families who dreamed of opening their own businesses.  Smith & Mason offered (and offer) an opportunity too good to be true:  a fully functional, fully financed bagel and sandwich shop franchise requiring only an up-front cash outlay of $29,500.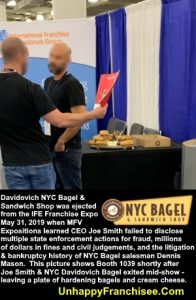 Using a number of names (NY Bagel Cafe & Deli, NYC Bagel & Sandwich Shop, and now Davidovich NYC Bagel & Sandwich Shop), Joe Smith & Dennis Mason have harvested a steady stream of fees from those who responded to the hundreds of ads they maintain on local Craig's List classified sites.
Victims are provided with documents that don't include critical information required by law, including three state enforcement orders regarding their fraudulent & illegal sales practices, the millions in fines and civil judgements they owe, that 90% of those who pay fees will never open a bagel store, or the extremely high failure rate of those that do manage to open.
Smith & Mason have recently become so emboldened by the ongoing success of their scam (we've been warning about it since 2013) that they decided to emerge from the dark, shady pages of Craig's List to troll for victims at the franchise industry's premiere franchise showcase and sales event:  The International Franchise Expo (IFE) being held at the Javitz Center in New York City May 30 – June 1, 2019.
Taking the
NY Bagel Scam
Mainstream Was a Bold & Risky Move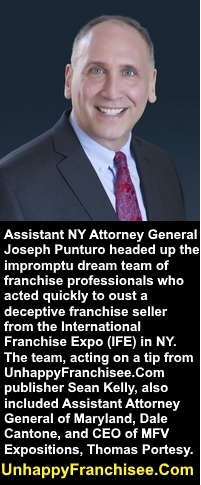 For Joe Smith, taking his NY Bagel Scam mainstream was a bold & risky move.  Running a scam on the shady pages of Craig's List is one thing, but operating in the bright light of day is another.
The International Franchise Expo (IFE) is produced by MFV Expositions, a division of a large international exposition company.
It's sponsored by the International Franchise Association (IFA) with the assistance of the Department of Commerce/US Commercial Service.
He foolishly gambled that IFE exhibitors,  including the New York Attorney General's Office (the office in charge of protecting New York residents from unlawful franchise opportunities) would not notice the scam in their midst.
We give Joe Smith props for chutzpah:  Friday's roster of speakers included both the Assistant New York District Attorney in charge of franchising Joe Punturo, but also Dale Cantone, the Maryland Assistant Attorney General – Franchise Unit Chief.
In 2015, Dale Cantone investigated a complaint by Unhappy Franchisee publisher Sean Kelly and issued an enforcement order and cease & desist against Joe Smith, Dennis Mason and NY Bagel Café & Deli (the name they used at that time).
Joe Smith gambled that either no one would notice or care enough to object him running his long-time scam at the IFE.
It was a gamble he lost.
Impromptu Dream Team of Franchise Enforcers Joe Punturo, Dale Cantone, & Tom Portesy  Took Bold & Decisive Action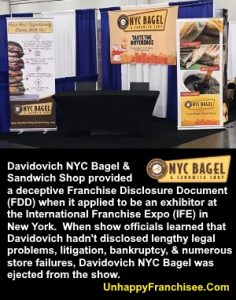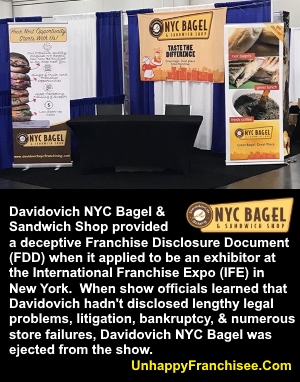 Tom Portesy, President & CEO of MFV Expositions, producer of the IFE show, doesn't mess around when it comes to protecting the attendees, franchisor exhibitors, and the integrity and image of his show.
Shortly before noon, Unhappy Franchisee posted a warning about NYC Bagel exhibiting at the IFE show (http://www.unhappyfranchisee.com/ife-international-franchise-expo-scam/).
Within hours, Tom Portesy contacted Sean Kelly asking for solid documentation for our allegations.  Sean Kelly had also alerted the NY Attorney General's office, and sent his documentation to the email they gave him for Joe Punturo.
Joe Smith's gamble turned into his worst nightmare as NY Assistant AG Joe Punturo reviewed the Davidovich Franchise Disclosure Document (FDD) with Portesy & Cantone reading over his shoulder.
The impromptu franchise "dream team" so serendipitously available at the IFE show confirmed Sean Kelly's warnings that Joe Smith & Davidovich NYC Bagel had forgotten to disclose the long list of state enforcement actions, civil lawsuits, judgements, penalties and bankruptcy as required by law.
After he was nicely but firmly asked to leave the show, Joe Smith politely and respectfully packed up his propaganda and vacated Booth 1039.
An exhibitor sent us a picture of Booth 1039 taken Friday afternoon, empty except for a tray of hardening bagels left behind.
NYC Davidovich Bagel & Sandwich Shop Still Active on Craig's List
Since 2013, we have been warning potential victims and urging law enforcement to shut down the NY Bagel Scam and hold Joe Smith & Dennis Mason accountable.
It's frustrating to see them still operating with impunity and running hundreds of ads on Craig's List.
However, we appreciate and thank those who have been willing to take a stand and do their part to limit the NY Bagel franchise scam of Joe Smith & Dennis Mason, including:
Joseph Punturo, Assistant District Attorney, Franchise Section Chief, New York Attorney General's Office
Thomas Portesy, President & CEO of MFV Expositions
Dale Cantone, Assistant Attorney General – Franchise Unit Chief – Maryland Attorney General's Office
Barry Braun, Senior Investigator, Virginia State Corporation Commission, Division of Securities and Retail Franchising
Eric Palosaari, Securities Division, Enforcement Unit, Department of Financial Institutions, Olympia, WA
ALSO READ:
NYC Bagel Franchise Scam Overview
NY BAGEL CAFÉ Franchise: How Many Have Closed? [UPDATED]
NY BAGEL CAFÉ Franchise Graveyard
NYC Davidovich Bagel Franchise Posts
DAVIDOVICH BAKERY: Part of the NYC Bagel Scam?
FRANCHISE DISCUSSIONS by Company
ARE YOU FAMILIAR WITH THE NY BAGEL, NYC BAGEL OR DAVIDIVICH BAGEL SCAM? HAVE YOU DEALT WITH DENNIS MASON OR JOE SMITH?   SHARE A COMMENT BELOW.



TAGS: NY Bagel Cafe, NYC Bagel franchise, NYC Davidovich, Davidovich bakery, Davidovich Bagels, Davidovich franchise, Joe Smith, Dennis Mason, Tom Portesy, Dale Cantone, IFE, International Franchise Expo, International Franchise Association, IFA