TAPP PALMER, Clubstore Outlet Franchise: What Happened?
Tapp Palmer is being called a con-man who sold a bunch of Clubstore Outlet franchises then failed to support them. Most have closed, leaving many Clubstore Outlet franchise owners in financial ruins. The few that are left are struggling to survive with none of the franchise support they paid for. We ask those involved: What happened? Could all the franchise experts involved in launching and promoting this franchise Titanic done more to warn the prospective franchise owners who now have lost everything?

(UnhappyFranchisee.com) Internet references to Tapp Palmer's Clubstore Outlet franchise fall into two categories.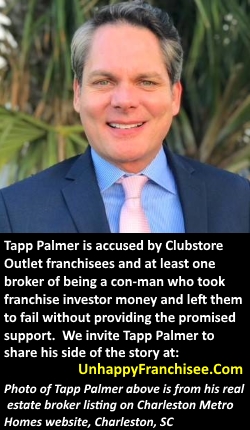 First, there are the promotional remnants of the much-hyped franchise opportunity which include ad copy on lead generation portals like Franchise Gator & Biz Buy Sell. There are promotional press releases touting the concept's growth and appeal and even a success story/case study listed on Christopher Conner's Franchise Marketing Systems (FMS) website.
The FMS success story states: "ClubStore Outlet's team of consultants implemented the model and executed the franchise sales platform to perfection. During the first two years of expansion, the organization sold 4 new Master Franchise owners and over 30 new franchise owners who invested in single store operations… Today, with solid management and operations-focused leadership, the Clubstore brand has an opportunity to scale nationally and even globally. "
The second category includes the the nightmarish stories of the franchise owners who, believing the compelling dream the franchise experts touted, invested their life savings, retirement accounts, and even put their homes on the line to open a Clubstore Outlet franchise.
The Clubstore Outlet chain appears to be imploding before it even got off the ground, with franchisees claiming they invested $200,000 to $500,000 and never got the franchise support they were promised.
The store closure count is climbing (See our working list below). According to the legal complaint filed Wisconsin franchise investors Bruce and Cindy Schooley, Tapp Palmer "engages in an outrageous, systematic and fraudulent scheme."
According to a story in the Post Crescent:
They allege that the Clubstore chain is a "facade" designed "to induce persons and entities into spending outrageous and exorbitant sums and fees to enter into a franchise relationship, without any intent on the part of defendants to provide legitimate franchisor services."
Franserve VP Jerry Rieder, the broker who sold facilitated the Clubstore franchise sale to the Schooleys, lays the blame on Tapp Palmer. Jerry Rieder was quoted in the Post Crescent article, stating:
"Tapp Palmer is a scam artist… In my opinion, he stole funds from people who invested. He didn't invest any of the money back into the franchise. It hurt a lot of franchisees."
More Than Half of Clubstore Outlet Franchises Have Closed. Those Remaining Reportedly Fend for Themselves.
Here are the Clubstore Outlet franchise locations we've identified through franchise disclosure documents, the company website archives and Google searches.
Each closed store (RED) may represent a lost investment in the hundreds of thousands of dollars and ongoing legal disputes over debts and lease obligations.
Stores still open (BLACK), we believe, are buying inventory independently and receiving no support services from Clubstore Outlet LLC.
Please provide updates, corrections, additions, and clarifications (in the comments below) about the status and histories of these tragic store challenges and failures:
CLUBSTORE OUTLET FRANCHISE LOCATIONS (Working List)
As of 5/7/18, it appears that 21 Clubstore Outlet franchise locations have opened, 11 have closed and 9 are still operating with no franchisor support. One location in MA was listed as "Coming Soon" but we're not sure if it ever opened.
As of 6/10/19, 15 stores have closed, only 5 stores remain – fending for themselves without the franchisor support they paid for.
AZ Phoenix, AZ 3850 E Thunderbird Rd Phoenix, AZ 85032 (602) 971-0044 (Franchisee: Steve Lewis) REBRANDED AZ CLUBSTORE
CO Parker, CO 9845 S Parker Rd, Parker, CO 80134 (620) 899-7058 (Franchisee: Lori Rayl and Abby Miller) CLOSED
FL Boca Raton 23060 Sandalfoot Plaza Dr., Boca Raton, FL 33428 561-571-6301 Carciofi and Carvalho LLC (Ceased Jan. 2016) CLOSED
FL Jacksonville 12777 Atlantic Blvd Jacksonville, FL 32225 (904) 524-8295 (Franchisee Nathaniel Herring) CLOSED
FL Margate 615 State Road 7, Margate, FL 33063 954-532-3585 (Fluix Investments, Inc.) (Ceased Jan. 2016) CLOSED
FL Miami Lakes, 15456 NW 77 Ct., Miami Lakes, FL 33016 305-698-7059 (Franchisee: MSRU, Corporation) (Ceased Jan. 2016) CLOSED
FL Palm Beach Gardens, FL 9810 Hwy A1A Alternate Palm Beach Gardens, FL 33410 (561) 366-7413 (Franchisee: Vig & Steve Novak) MOVED – OPEN

GA Hiram Paulding Commons 4215 Jimmy Lee Smith Parkway Hiram, GA 30141 CLOSED

MA Plymouth, MA 131 Samoset Street, Unit A-90 Plymouth, MA 02360 (Unclear if it opened)

MS Brandon, MS 1560 W Government St Brandon, MS (561) 366-7413 OPEN (Franchisee: Brooks Jenkins) OPEN
MS Richland, MS 1201 Hwy 49 S, Ste 26 Richland, MS 33410 (Franchisee Buddy Fortner) CLOSED
MO St. Louis, Missouri 9981 Manchester Rd. St. Louis, MO 63122 (314) 287-7225 OPEN

NM Las Cruces, NM 910 N. Telshor Blvd Las Cruces, NM, 88011 (575) 652-4355 (Franchisee: Mike & Paula Johnson) CLOSED

NC Cary, NC 673 Cary Towne Blvd. Cary, NC 27511 (317) 409 3144 (Franchisee: LeeAnn & Brett Stinson) CLOSED
NC Mooresville, NC 539 East Plaza Dr Suite T Mooresville, North Carolina, NC 28117 OPEN
ND Minot 3514 N Broadway, Minot ND 58703 (701) 838-2582 Opened June 15, 2016 (Franchisee: Jay Lundeen and Jake Feil) CLOSED
ND Minot, ND 1901 South Broadway, Minot, ND 58701 (701) 838-2582 (Franchisee: Jay Lundeen and Jake Feil) CLOSED

PA Downingtown, PA 3953 – 3955 Lincoln Highway Downingtown, PA 19335 (201) 463-4660 CLOSED

TN LaFollette, TN 2010 Jacksboro Pike, Suite 1 LaFollette, TN 37766 (606) 312-5129 (Franchisee: Amy Handy) CLOSED
TX Montgomery, TX 19380 HWY 105 West, Suite 501 Montgomery, TX 77356 (936) 582-2888 (Franchisee: Shacie Richey) CLOSED
TX Tyler, TX 4500 S Broadway Ave. Tyler, Tx, 75703 (Franchisee: Rob Wilson)(Opened August 26, 2017) OPEN
WI Neenah 860 Fox Point Plaza, Neenah, WI 54956 (920) 215-6921 (Franchisee: Bruce & Cindy Schooley Broker: Jerry Rieder, FRANSERVE) CLOSED
Clubstore Outlet Franchise Autopsy: How Could This Happen? Please Share Your Experience & Opinion
Tapp Palmer is getting the brunt of the criticism for the Clubstore Outlet franchise disaster.
However, we would like to hear from the franchise owners as well as the many experienced franchise consultants, advisors, brokers and salespeople as to how this could happen… and how similar situations can be prevented in the future.
Clubstore Outlet Staff, Consultants, Advisors and Salespeople: What Happened?
Clubstore Outlet LLC, franchisor of the troubled Clubstore Outlet franchise chain, was incorporated in Charleston, South Carolina on 5/13/15.
Tapp Palmer is the founder and CEO of Charleston, SC-based Clubstore Outlet, LLC, and is believed to be the sole owner.
Amanda F. Shannon was Vice President of Public Relations and Marketing for Clubstore Outlet since 2015, and for Tapp Palmer's affiliate Costless Overstocks in Sullivan's Isle, South Carolina since February 2014, according to Clubstore Outlet franchise disclosure documents (FDD).
Amber Lynn Pennycuff was Clubstore Outlet's Franchise Coordinator beginning November 2015.
Bruce William McDonald is listed in the 2017 FDD document as Chief Financial Officer: "Bruce has been our Chief Financial Officer in Charleston, South Carolina since February 2017. He was retired prior to that time, and not otherwise employed in the five years preceding the date of this disclosure document."
Pamela Currie (Franchise Advisor / Trainer / Speaker / Host of Franchise Business Radio according to LinkedIn) seems to have been integrally involved. A 2016 franchise filing states "Pamela Currie has been our Franchise Advisor/Consultant in Atlanta, Georgia and Charleston, South Carolina since 2015. She has also been owner of Franchise Intellect, Inc., in Atlanta, Georgia since June 2009." The 2017 Franchise Disclosure Document lists Pamela Currie as Area Representative (franchise salesperson) for Georgia and parts of North Carolina).
Christopher Conner and Alan George of Franchise Marketing Systems (FMS) claim to have been the architects of the franchise expansion and lead generation strategies.
Franserve franchise brokers also seem to have played a major role in the ill-fated franchise launch.
Jerry Rieder, VP of Franserve and owner of Rieder Franchise Consulting helped facilitate the sale of the Clubstore Outlet franchise to at least one failed franchise investor.
Kim Marinoff, Consultant at A2B Franchise Consulting, LLC dba The Franchise Explorer since 2010, is listed in the FDD as the Clubstore Outlet Area Representative (franchise salesperson) for Colorado
Nathaniel Herring, owner of Herring Family Holdings, Inc. in Jacksonville, Florida since January 2016, was a Clubstore Outlet Area Representative for Florida North and East.
James Begley, President of Begley Management, Inc., in London, KY, was Area Representative for most of Tennessee.
Roy Holleman, was Area Representative for Southern Louisiana and parts of Mississippi and Tennessee. He owned Southern Overstocks Consulting Group, LLC
David Neeley has been Co-Owner of Southern Overstocks Consulting Group, LLC and Southern Overstocks, LLC, in Brandon, Mississippi since November 2015. He has also
been Owner of The Cookie Store in Jackson, Tennessee since October 2010.
Chad Mains has been Co-Owner of Southern Overstocks Consulting Group, LLC and Southern Overstocks, LLC, in Brandon, Mississippi since November 2015. He has also
been Senior Vice President, Fixed Income Institutional Sales, of Vining Sparks in Memphis, Tennessee since April 2012. Chad was Area Representative for Mississippi and part of Tennessee.
Mark Jones of Franchise Systems Advisers, Atlanta, was Regional Developer for Georgia from Feb. 2016 to Feb. 2018.
Shary Thur is president of a commercial real estate brokerage, Thur Retail, with offices in Washington, D.C., and Boca Raton, Florida. Shary Thur was the leasing representative for Clubstore Outlet and Tapp Palmer. She is named in the lawsuit the Wisconsin franchisees filed against Clubstore Outlet LLC and Tapp Palmer.
Did these Smart, Experienced People Help Promote a Scam? When Did Things Go Bad? Could This Have Been Prevented?
NOTE: Companies and individuals discussed on UnhappyFranchisee.Com are invited to provide corrections, clarifications, rebuttals and alternative points-of-view by posting a comment below or emailing us in confidence at UnhappyFranchisee[at]gmail.com.
SHARE YOUR THOUGHTS ON TAPP PALMER & CLUBSTORE OUTLET FRANCHISE BELOW.
ALSO READ:
FRANCHISE DISCUSSIONS by Company
READ The Series "Dr. John Hayes' Franchise Fraud School & Pay-For-Praise Emporium!": Dr. John Hayes' Franchise Fraud School
Contact UnhappyFranchisee.com

TAGS: Tapp Palmer, Tapp Palmer Clubstore Outlet, Tapp Palmer Realtor, Tapp Palmer scam, Tapp Palmer lawsuits, Clubstore Outlet, Clubstore Outlet franchise, Clubstore Outlet franchise opportunity, Clubstore Outlet franchise complaints, Christopher Conner, Franchise Marketing Systems, FMS, Alan George, franchise, Pamela Currie, Kim Marinoff, Jerry Rieder, Franserve, Franserve franchise brokers, franchise opportunity, franchise complaints, unhappy franchisee