Davidovich NYC Bagel Ejected From International Franchise Professionals Group (IFPG)
The second franchise organization within a week has responded to our warning and ejected the Davidovich NYC Bagel & Sandwich Shop from its client roster.  In a letter to UnhappyFranchisee.Com, the attorney for the IFPG explains how the Davidovich NYC Bagel briefly became an IFPG partner by disguising its long-running franchise scam as a fresh, new start-up.

(UnhappyFranchisee.Com)  The IFPG (International Franchise Professionals Group) is a membership organization that brings together franchise sellers (IFPG Franchise Partners) with the franchise brokers (IFPG Members) who market, promote and recommend Partners' franchise opportunities to prospective franchise investors.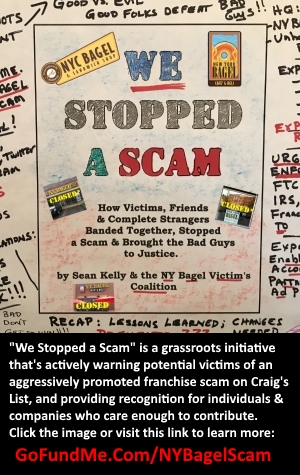 For years, Joe Smith and Dennis Mason have relied primarily on Craig's List to provide prospective victims for the franchise-fee collection scheme they've promoted through a variety of names, including NY Bagel Cafe & Deli, NYC Bagel & Sandwich Shop, and most recently, Davidovich NYC Bagel & Sandwich Shop.  (We've collectively dubbed this illicit operation the "NY Bagel Scam").
If they were to become accepted as IFPG Partner, the NY Bagel Scam would instantly be promoted by hundreds of IFPG brokers across the country.
It appears that Joe Smith & Dennis Mason have recruited their bagel supplier, New York's Davidovich Bakery, as accomplices and to use the Davidovich name to hide its long history of state enforcement actions and fines for fraud and violations of franchise laws, lawsuits, civil judgements, bankruptcies and a near-100% franchise failure rate.  Most who pay the up-front fee never open a bagel store nor receive a refund; the few who do open usually fail within a few months to a few years.
Joe Smith & Dennis Mason do not disclose these unsavory details to their victims, as is required by law.
Also read:  NYC Bagel Franchise Scam Overview
NYC Bagel & Sandwich Shop Was Denied IFPG Partner Status in 2018
According to a letter sent to UnhappyFranchisee.Com publisher Sean Kelly on June 6, 2019, IFPG attorney Lorne Berkeley states that "In 2018 Joseph Smith from NYC Bagel & Sandwich Shop made an attempt to join IFPG and was denied after IFPG performed its due diligence."
Attorney Berkeley provided a copy of an email sent to Joe Smith on December 5, 2018 from IFPG Membership Director Kim Graham stating:
Hi Joe,

After further review, we, unfortunately, will not be able to move forward with having NYC Bagel & Sandwich shop as a member of IFPG at this time.  We would like to see some further development for franchisee validation before joining the network.

I appreciate your time and apologize for any inconvenience.  We wish you much success and will be happy to reconsider down the road.
Joe Smith returned 5 months later and applied with what he claimed was an entirely new concept.  Lorne Berkeley wrote:
In May of 2019 a new concept called "Davidovich NYC Bagel" was introduced to IFPG.

You can see the attached FDD (Exhibit A to this letter) with no litigation and the Franchisor's LLC was formed Jan 2, 2019.

Moreover, there is a notation in the IFPG internal notes with  Davidovich NYC Bagel "Spoke to Davidovich franchise, they are part of Franserve, Franchise Brokers Association, and also uses private brokers. They have 12 locations, 4 under construction,  and 8 more in the works."
The Davidovich NYC Bagel & Sandwich Shop franchise was also being promoted (and validated) on such websites as Franchising.Com, QSRMagazine.Com, and BizBuySell.Com.
Lorne Berkeley explained:
Based upon what was discovered during the due diligence process, the proposed franchisor seemed ok. As such they were listed as an IFPG member.
IFPG Discovered Davidovich Franchise "was just NYC Bagel & Sandwich shop rebranding the same scam."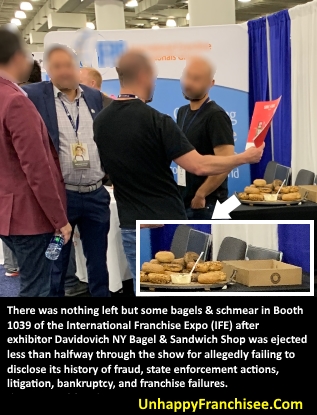 It was a coincidence, according to the IFPG, that the broker association and the Craig's List bagel scammer were assigned adjacent booth spaces at the International Franchise Expo (IFE) at the Javitz Center in NY last week.
It was at the IFE that IFPG officials realized they had been misled by Joe Smith.  According to the attorney's letter:
At the IFE Expo, IFPG and Davidovich had booths next to each other in NY. Once IFPG realized that Davidovich was NYC Bagel & Sandwich Shop disguised as "Davidovich Bagel Franchise" IFPG immediately informed the IFPG staff to remove Davidovich from IFPG and also helped inform the IFE staff about the past experiences with NYC Bagel & Sandwich Shop.
According to IFPG's Berkeley, the Davidovich NY Bagel & Sandwich Shop is newest iteration of Joe Smith's illicit bagel franchise scam:
…as we all now have discovered, Joseph Smith was operating another "scam" by forming this new entity and marketing it as a new franchise concept, free of any litigation or disputes and with a good history, according to all information provided by this new entity/franchise.

Unfortunately as well have now all found out it was nothing more than Joseph Smith remarking the same concept under a different name and deceiving everyone in the franchise industry from recognizing it was just NYC Bagel & Sandwich shop rebranding the same scam.

As such, the listing with Davidovich NYC Bagel was only from May 20th 2019 (the day Davidovich joined IFPG) until May 30th at the IFE which was also the day that we removed Davidovich from the IFPG.
Also read:  NYC Davidovich Bagel Ejected From International Franchise Expo (IFE)
Can the Franchise Industry Work Together to End The Predatory

NY Bagel Scam

?
For the past six years, we have been investigating, reporting, and warning would-be victims about the deceptive and predatory NY Bagel Cafe/NYC Bagel & Sandwich/Davidovich NYC Bagel franchise fee-collection scheme.
We are encouraged by the efforts of those who have joined our cause in protecting law-abiding franchisors from unfair competition and trusting franchise buyers from having their dreams exploited for profit.
We want to recognize those who have taken positive steps in warning others and taking a stand against unlawful franchise sellers, including:
We are calling on everyone involved with the franchise industry to help end the Davidovich NYC Bagel Scam including:
Federal Trade Commission (FTC) to take action on our complaints
Small Business Administration (SBA) to revoke eligibility for NYC Bagel guaranteed loans; remove from Franchise Registry
FranData to remove NYC Bagel from the SBA Franchise Registry (FRUNS: 12538 Franchising Status: Active)
Department of Justice to file charges on the wealth of evidence they've accumulated
NY Assistant Attorney General Joe Punturo to prosecute Joe Smith for false exemption application & selling unregistered franchise to NY residents
Craig's List to stop running hundreds of Davidovich NYC Bagel ads
BizBuySell.Com & other franchise lead portals to stop promoting the bagel franchise scam
Franchising.Com, QSRMagazine.Com & other sites to issue warnings rather than promotions
Franserve, FBA & all franchise brokers to cease promoting Davidovich NYC Bagel & future variations
International Franchise Association (IFA) to alert its network about the NY Bagel franchise scam
You… to contribute to our We Stopped a Scam effort to protect future victims and the reputation of franchising
ARE YOU FAMILIAR WITH THE NY BAGEL, NYC BAGEL OR DAVID0VICH NYC BAGEL SCAM? HAVE YOU DEALT WITH DENNIS MASON, JOE SMITH OR MARC FINTZ (OR MARC ZIROGIANNIS), GENE SHVEDOV?   SHARE A COMMENT BELOW.



TAGS: IFPG, International Franchise Professionals Group, Don Daszkowski, Red Boswell, Davidovich NYC Bagel & Sandwich Shop, Davidovich bakery, Davidovich Bagels, Davidovich franchise, NY Bagel Cafe, NYC Bagel franchise, Joe Smith, Dennis Mason, Marc Fintz, Marc Zirogiannis, Gene Davidovich, Gene Shvedov, Michael Petrenko, Niko Rittgers, Joe Punturo