Mother Confronts Mayor Over Alleged Sexual Assault of 5-Year-Old
WARNING: This video contains disturbing descriptions that may be triggering for abuse survivors.  #JusticeForMarksDrive
Please send your love & support for the Christenson family by leaving a message in the comments below.  Please share this link to the video [without quotation marks]  "https://youtu.be/JHgG7xm-Gnk" wih #JusticeForMarksDrive.  We reserve the right to delete trollish or insensitive comments on this post alone.
On Monday June 13, 2022, mother Nancy Christenson addressed a crowd of friends, family and supporters on behalf of her family.
Mrs. Christenson broke the silence and publicly confirmed what had allegedly been an open secret among many in the area:
That current Mayor of Two Harbors, MN, Christopher Swanson, repeatedly sexually assaulted her 5-year-old daughter when he was 15.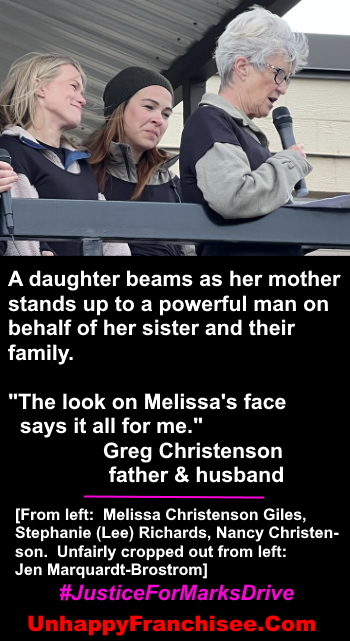 Since 2016, the local media has refused to cover the allegations unless the family released sensitive, sealed records from the juvenile court.
Nancy Christenson & the alleged victim's sister had been scheduled to address the Two Harbors City council that night.
However, they were removed from the agenda under the pretense that whether the Mayor had been found culpable of felony child sexual assaults in the past were not "city business."
Not one city counsel member argued to let the mother and daughter address the council.
"I Have Never Been Found Guilty of One Thing.  I Never Will." – Mayor Chris Swanson
When mother Nancy Christenson stepped up to the microphone,  Mayor Christopher Swanson was already the subject of so many allegations of malfeasance and conflicts of interest that the residents of Two Harbors had passed a petition to hold a recall election that could remove him from office.
At a June 1, 2022 press conference called by the mayor, a defiant Swanson rattled off alleged accomplishments & refused to resign.
He stated:
I have never been found guilty of one thing.  I never will.
Mayor Chris Swanson Remains Silent On the Allegations That he Sexually Assaulted a 5-Year-Old Girl.
As of this posting, neither Mayor Swanson has neither issued a denial nor admission to the allegations in Mrs. Christenson's public statement.
The Two Harbors City Council has, so far, not issued a response or statement.
Sean Kelly's Series on  Chris Swanson & Two Harbors, MN:
Mayor Chris Swanson Sexually Assaulted 5-Year Old Children… Or He Didn't   June 7, 2022
Restorative Justice: A Way Forward for Two Harbors?  June 9, 2022
Mayor Chris Swanson & Restorative Justice For Sexual Assault  June 10, 2022
Previous Posts:
PARODY  The Wreck of the Hotel Chris Swanson (Parody Song & Video)
PureDriven Owner Two Harbors Mayor Chris Swanson Sues to Silence Citizen Journalist
PureDriven Struggles (Poorly) to Build Trust Despite Owner's Controversies
PUREDRIVEN Claims Mayor Swanson No Longer CEO, No Longer Involved
SLAPP-HAPPY Does Droel Law in Minneapolis Have Ethical Standards? Does It Enforce Them?
Attorney Brendan Tupa No Longer With Droel Law
WHAT DO YOU THINK?  SHARE COMMENTS BELOW OR EMAIL THE AUTHOR at  UnhappyFranchisee [at] Gmail [Dot] Com
All readers are invited to provide comments, corrections, clarifications and/or rebuttals.  Companies or individuals discussed herein are invited to provide their points-of-view either in the comments below or by emailing ADMIN at UnhappyFranchisee[at]Gmail.com.
If you wish your emailed comment to stay off the record or your name kept anonymous, please state that and your privacy will be protected.
These are my personal opinions.  Do your own research – Make up your own mind – I could be wrong.
PLEASE share the link to this post with interested parties via social media or other means.   Thanks, Sean Kelly
NOTE: Images used here and in the video from public sources are the property of their respective owners and used here under the Doctrine of Fair Use.
TAGS:  Christopher Swanson, Chris Swanson, Mayor Chris Swanson, Two Harbors MN, Restorative Justice, Center for Restorative Justice & Peacemaking, molestation, child rape,  Sexual Assault, sexual violence, Two Harbors Mayor, Two Harbors City Council, #JusticeforMarksDrive, PureDriven, PureDriven Marketing, Jason Sunday, Joel Schultz