Open Letter to Two Harbors City Council: Which Side Are You On?
Two Harbors City Council unanimously voted to prevent a mother and sister of an alleged child sexual abuse survivor from addressing the City Counsel.  The family alleges that the perpetrator was none other than now-Mayor Chris Swanson when he was 15 and their daughter was 5.  The family also wanted to testify that Mayor Swanson has re-traumatized the family for the last year with private promises to apologize and resign as Mayor.  Despite likely knowing this, the Council stated that the actions occurred before Swanson was an elected official with the city and therefore "not city business."   They then called an emergency meeting for Monday, June 20, 2022 at 6 pm CST to discuss the situation.
The City Council has never publicly confronted the mayor with the allegations that many consider an open secret in Two Harbors, MN.  This letter urges them to individually do the right thing.
To Two Harbors City Council Members:
Two Harbors City Council: Which Side Are You On? [Video]
When Ben Redden asked if any of you cared to speak in support of the family of the Mayor's alleged sexual abuse victim, you were each given an opportunity to speak as any responsible, compassionate and dedicated representative of the people would do.
You were each given an opportunity to speak out as any caring or ethical person with convictions and the courage to stand by them would do.
Instead, you each chose to remain silent while two amazing women, speaking from the back steps of your City Hall, showed what true bravery and conviction looks and sounds like:
Mother Confronts Mayor Over Child Sexual Assaults [Video]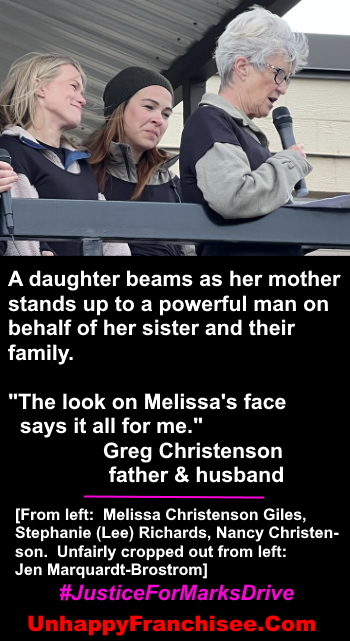 I understand you have called a special emergency meeting for Monday, June 20, 2022 that will be publicly accessible via Zoom to discuss the serious allegations against Mayor Swanson by these and other alleged victims.
Mayor Swanson will likely try to obstruct, obfuscate, deflect, distract, nitpick, threaten, cajole, rant, rave, cite obscure rules & procedures, stamp his little hands & little feet, hold his breath 'til he turns blue, read from the collected boilerplate documents of attorney Brendan Tupa… anything but provide straight answers and honest account of what happened 30 years ago in the Swanson house at the corner of Nelson & Marks Drive, Silver Bay, MN… and why it happened.
I'm Sure You Each Have Your Reasons And A Story That You Tell Yourselves.
But You Have One Last Opportunity Not To Be The Villain Of the Story.
Maybe it's that you, too, were misled.
Maybe it's that you were truly the moral one, surrounded by monsters, trying to improve things within the system.
Maybe you left that poor family without a public advocate on City Council & seemingly helped cover for an alleged liar, manipulator and alleged sex offender on direction from the city attorney, which we all know is a good excuse for departures from human decency.
Or maybe, just maybe, it's that doing so would have thrown off the bold & secret plan that you and the other council members have devised to achieve the most moral & ethical outcome… swiftly and decisively… that begins with the emergency meeting!
No matter which of these excuses are swirling in your head, without a bold and public reversal on your part, your individual legacy as a public official will be defined by this shameful and cowardly moment:
ALL: "I pledge allegiance to the flag and to the republic for which it stands, one nation, indivisible, with liberty and justice for all."
Ben Redden: "Before we get to tonight's agenda, I wanted to provide a little clarification regarding the request by certain individuals to appear before the council. Last week we had two additional people request to be scheduled for appearances at tonight's meeting regarding the concerns raised by the #JusticeForMarksDrive group.
"This group has made claims against Mayor Swanson and it is apparent that the claims focus on a time when Mayor Swanson did not hold public office in this city.
"Due to the fact that Mayor Swanson did not hold public office in this city, we came to a basic consensus that the matter is not city business.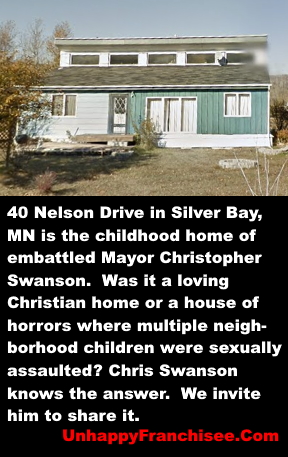 "Due to this information and the fact that the City Council has already made a determination that there will be a recall election for Mayor Swanson, the appearances for these two individuals were pulled from the agenda.
"I realize this is an extremely sensitive matter and I do not take this situation lightly.
"I would like to offer the council an opportunity to weigh in if they would like to request that these individuals be allowed to speak. That is the desire of the council majority in attendance tonight that we will offer those individuals three minutes each.
I'm fine with any councilor weighing in at this point…"
Chris Swanson: Silence
Miles Woodruff: Silence
Jackie Rennwald: Silence
Robin Glaser: Silence
Cathy Erickson: Silence
Derrick Passe: Silence
Ben Redden: [Silence for 14 seconds, then] All right, we'll move on…
Final note: For your emergency meeting, you may want to refer to the "certain individuals" and "these individuals" by their names which were listed on the agenda.
For your convenience, the one "certain individuals" name is Nancy Christenson, the mother of one of Chris Swanson's alleged sexual abuse victims, who was 5-years old when he was 15.
The other is Nancy's eldest daughter, Melissa Giles, who was also subjected to the alleged horrors in the Swanson house thirty years ago.
If the Council had let Nancy and Melissa speak, they would have learned that the allegations do NOT refer solely to a time before Christopher Swanson held public office in Two Harbors.
In fact, the council would have heard that Christopher Swanson has been retraumatizing the family for the past year-and-a-half through his enrollment and disingenuous participation in a local restorative justice program.
Then again, at least some, if not all, council members already knew that to be true.
Sincerely,
Sean Kelly
President, Relentless, Inc.
Publisher, UnhappyFranchisee.Com
Sean Kelly's Series on  Chris Swanson & Two Harbors, MN:
Mayor Chris Swanson Sexually Assaulted 5-Year Old Children… Or He Didn't   June 7, 2022
Restorative Justice: A Way Forward for Two Harbors?  June 9, 2022
Mayor Chris Swanson & Restorative Justice For Sexual Assault  June 10, 2022
Previous Posts:
PARODY  The Wreck of the Hotel Chris Swanson (Parody Song & Video)
PureDriven Owner Two Harbors Mayor Chris Swanson Sues to Silence Citizen Journalist
PureDriven Struggles (Poorly) to Build Trust Despite Owner's Controversies
PUREDRIVEN Claims Mayor Swanson No Longer CEO, No Longer Involved
SLAPP-HAPPY Does Droel Law in Minneapolis Have Ethical Standards? Does It Enforce Them?
Attorney Brendan Tupa No Longer With Droel Law
WHAT DO YOU THINK?  SHARE COMMENTS BELOW OR EMAIL THE AUTHOR at  UnhappyFranchisee [at] Gmail [Dot] Com
All readers are invited to provide comments, corrections, clarifications and/or rebuttals.  Companies or individuals discussed herein are invited to provide their points-of-view either in the comments below or by emailing ADMIN at UnhappyFranchisee[at]Gmail.com.
If you wish your emailed comment to stay off the record or your name kept anonymous, please state that and your privacy will be protected.
These are my personal opinions.  Do your own research – Make up your own mind – I could be wrong.
PLEASE share the link to this post with interested parties via social media or other means.   Thanks, Sean Kelly
NOTE: Images used here and in the video from public sources are the property of their respective owners and used here under the Doctrine of Fair Use.
TAGS:  Miles Woodruff, Jackie Rennwald, Robin Glaser, Cathy Erickson, Derrick Passe, Ben Redden,  Christopher Swanson, Chris Swanson, Mayor Chris Swanson, Two Harbors MN, Restorative Justice, Center for Restorative Justice & Peacemaking, molestation, child rape,  Sexual Assault, sexual violence, Two Harbors Mayor, Two Harbors City Council, #JusticeforMarksDrive, PureDriven, PureDriven Marketing, Jason Sunday, Joel Schultz