PureDriven Owner Two Harbors Mayor Chris Swanson Sues to Silence Citizen Journalist
Question:  If a mayor misuses the legal system to bully and intimidate a private citizen from exercising his constitutional right of free speech, should he continue to be mayor?  And if an attorney takes an oath to never launch baseless lawsuits with the sole intention of silencing a client's critic, shouldn't he face disciplinary action?  by Sean Kelly
(UnhappyFranchisee.Com) Note:  This post has been revised to reflect the news that Chris Swanson is founder and owner of PureDriven digital marketing, but no longer CEO.  See PUREDRIVEN Claims Mayor Swanson No Longer CEO, No Longer Involved
In my opinion, there are few actions as abhorrent and un-American as an elected official using his financial, legal and political clout to undermine the 1st Amendment rights of private citizens.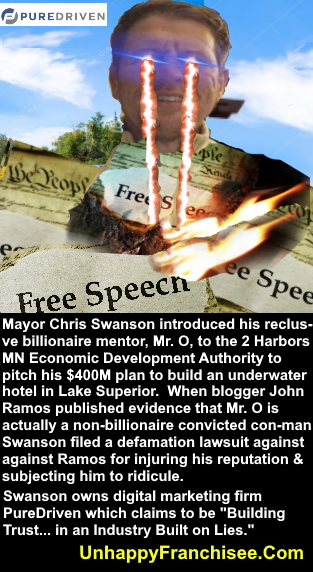 And while attorneys are bound by a professional code of ethics that prohibits filing lawsuits that are frivolous, contain false allegations or whose sole purpose is to harass & silence its clients' critics, there are plenty who will do so at their hefty hourly rates.
I know what it feels like to be attacked, bullied and harassed with frivolous lawsuits filed for the sole purpose of concealing the truth so the Plaintiffs could continue to victimize the public.
While I don't have the authority to determine whether the professional violations described above apply to Two Harbors, MN Mayor Chris Swanson's defamation suit against citizen journalist John Ramos of the Duluth Monitor, or whether filing this questionable lawsuit constitutes a breach of professional conduct by attorney Brendan R. Tupa of Droel Law, I intend to ask those who DO have that authority to review their actions.
With this lawsuit, in my opinion, Christopher Swanson has worsened his reputation from that of an eccentric  small town mayor with grand and wacky ideas to a vindictive elected official willing to trample the 1st Amendment to punish and silence a journalist for telling the truth.
(…just my little old non-actionable opinion, folks.  No defamation to see here, folks…)
Mayor Swanson Clearly Promoted His Own Businesses on His Official Twitter Feed (Now Deleted). 

John Ramos Simply Documented & Reported It. Where's the Defamation, Mr. Tupa? 
On March 9, 2022 Journalist & blogger John Ramos of the Duluth Monitor published a detailed analysis of the Twitter feed tweets of the mayor of Two Harbors, MN, Christopher Swanson.
(Christopher Swanson also founded and heads up PureDriven, a franchise industry digital marketing firm that claims to be "Building Trust and Giving Hope in an Industry Built on Lies.")
The Duluth Monitor post is titled Mayor Swanson promoted own businesses 97 times on city Twitter account.
In it, Ramos paintakenly catalogs and tallies tweets made by Swanson that promote local businesses and non-profit organizations.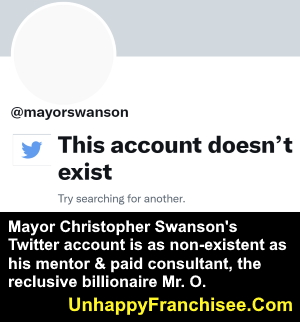 He then shares his research on Mayor Swanson's  connection or involvement with these organizations.  Ramos contends that Swanson promoted non-profits Find-the-Kind Challenge 77 times and the National Civility Association 5 times.  Swanson allegedly did not disclose (at least on Twitter) that he is on the board of those organizations.
Mayor Swanson also allegedly published promotional tweets on the mayoral feed for his businesses PureDriven, RaiseIt, GarageStarts and his wife's restaurant, Lou's Fish House.
Ramos diligently documented his sources.  Many of the Tweets were quoted and a link to the Mayor's feed was provided for verification.
The post hardly seems to meet the criteria for standard defamation, much less the more stringent criteria required for defamation of a public figure.
Christopher Swanson v. John L. Ramos and Duluth Monitor LLC aka The Absence of "Actual" Malice
On April 18, 2022 Attorney Brendan R. Tupa of Minneapolis' Droel law firm filed a defamation suit against John Ramos in Minnesota District Court on behalf of Plaintiff Christopher Swanson.  The suit seeks a judgement against John Ramos in excess of $50,000.
In Christopher Swanson v. John L. Ramos and Duluth Monitor LLC, Swanson claims that John Ramos :
…falsely and maliciously published in reference to Plaintiff, these words:

a. "Mayor Swanson promoted own businesses 97 times on city Twitter account."

b. "Nowhere on his official mayoral Twitter account does Mayor Swanson mention that he is fundraising for his own company."

c. "Furthermore, when the good Dr. Thomson enthused, "I completed my #findthekindchallege! VIDEO posted, DONATION made! BOOM," he neglected to mention that he was donating money to himself."

d. "Thus, in that single month, Mayor Swanson highlighted his own businesses 9 I times."

e. "In the remained of his Twitter feed, the mayor is more reserved, but he does manage to mention PureDriven once more, Find-the-Kind once more, his company Garage Starts 3 times, and his daughter's company Lou's Fish once, for a self-promoting message grand total of 97."

7. The above-described statements are false and defamatory and tend to injure Plaintiff's reputation, lower the regard in which he is held in the community, deter third persons from associated or dealing with him, injure his character, subject him to ridicule, contempt, or distrust, and degrade or disgrace him in the eyes of others.

8. The above-described statements were intentionally published with ACTUAL MALICE, for purposes of injuring Plaintiff, and made with ill will and improper purposes, without cause and without regard for the consequences.
The term "ACTUAL MALICE" [emphasis mine] is significant here.
The reason that defamation claims filed by public officials are extremely hard to win is that Plaintiffs must prove that false statements were made with "actual malice," which means they not only were false, but the Defendant knew they were false and made them anyway.
According to the Freedom Forum Institute, to win a defamation claim:
…a public figure has to prove that the publisher of the false statements acted with "actual malice." Actual malice means that the publisher either knew that the statements were false, or acted with reckless disregard for whether they were true or false. This is a lot harder to prove than negligence.
John Ramos' Defense? 97 Swanson Tweets Promoting His Businesses
John Ramos didn't even need an attorney to file his answer.
He simply copied and pasted the Mayor's 97 tweets and attached documentation of Swanson's connection to the promoted entities.
Since Ramos' statements don't even have to be true or accurate (as long as he believed them to be accurate), the only way Swanson can win this suit that I can think of is by, say, proving that Ramos hacked his account and planted those tweets.
Or, perhaps, that a supernatural entity from the depths of Lake Superior – controlled by Ramos – forced him to Tweet about his own companies for the past several years, then erased his memory.
While the latter might seem like a stretch, it could possibly explain Swanson's irrational obsessions, such as creating an underwater hotel with a submarine port (The "Eighth Wonder of Lake Superior!  Step right up!"), converting Two Harbors' economy to cryptocurrency, and involving a supposed reclusive billionaire (Mr. O) in Two Harbors development planning.
Demonic possession aside (for the moment), the enigmatic Mr. O may be the key to uncovering the true motivation behind Swanson's s lame-ass lawsuit.  In a separate Duluth Monitor post (Unmasking Mr. O), John Ramos revealed evidence that the true identity of Mayor Swanson's mentor and paid consultant Mr. O may  actually a convicted con-man named Daniel Victor Hancock.
Tweets promoting the Civility Association and Lou's Fish House are pretty tame compared to Ramos' disclosure that the good Mayor not only got catfished by the domestic equivalent of a deposed Nigerian prince, but brought him in on a Development Commission call regarding the $400M "8th Wonder of Lake Superior!
If It's a SLAPP, Swanson & Tupa Deserve to Get Slapped Back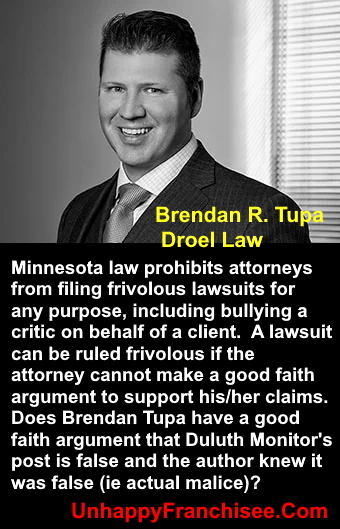 I'm not an attorney.
My Mama raised me better than that.
But In my (non-actionable as defamation) opinion, Chris Swanson and Brendan Tupa are either stupid to have thought they could prevail with such a weak lawsuit, or are stupid and vindictive to have filed the suit out of payback or spite with no real intention of winning.
The latter type of lawsuit is called a SLAPP, which, according to the Public Participation Project, is defined thusly:
SLAPPs are Strategic Lawsuits Against Public Participation.  These damaging suits chill free speech and healthy debate by targeting those who communicate with their government or speak out on issues of public interest.

SLAPPs are used to silence and harass critics by forcing them to spend money to defend these baseless suits.  SLAPP filers don't go to court to seek justice.  Rather, SLAPPS are intended to intimidate those who disagree with them or their activities by draining the target's financial resources.

SLAPPs are effective because even a meritless lawsuit can take years and many thousands of dollars to defend.  To end or prevent a SLAPP, those who speak out on issues of public interest frequently agree to muzzle themselves, apologize, or "correct" statements.
Why is a Franchise Industry Watchdog Watching Two Harbors, MN?
There are two reasons we intend to investigate and follow through on this topic.
First, Christopher Swanson is founder & owner of PureDriven, a digital marketing firm actively targeting franchisees.  If the owner's actions contradict his company's claim to be "Building Trust and Hope in an Industry Built on Lies," our franchisee readers deserve to know that.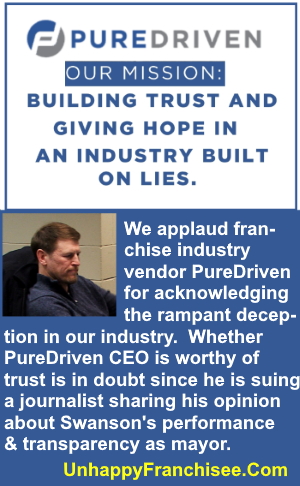 Second, I love the 1st Amendment & hate bullies.  We all need to be diligent to in standing up to those who want to subvert democracy and silence others, whether they are wearing a suit behind a mayor's desk in Two Harbors, MN or are sporting flak jackets or buffalo horns while storming the Capitol.
To be clear, I have nothing against soon-to-be-former Mayor Christopher Swanson.
Christopher Swanson seems like a once-likeable guy with a creative entrepreneurial spirit who never accepted the restraints of being a public official.
Hopefully, he'll come to his senses, drop the lawsuit against the pesky blogger and focus on building the underwater Hotel Chris Swanson as a private citizen.
I'd love to enjoy a beer or two from The Land of Skyblue Waters with Chris Swanson and John Ramos in the underwater bar at the 8th Wonder of Lake Superior after all have resolved their differences… but only if Mr. O and Brendan Tupa are picking up the check.
Reference Document:  Christopher Swanson v. John L. Ramos and Duluth Monitor LLC
WHAT DO YOU THINK?  SHARE COMMENTS BELOW OR EMAIL THE AUTHOR at  UnhappyFranchisee [at] Gmail [Dot] Com
All readers are invited to provide comments, corrections, clarifications and/or rebuttals.  Companies or individuals discussed herein are invited to provide their points-of-view either in the comments below or by emailing ADMIN at UnhappyFranchisee[at]Gmail.com.
If you wish your emailed comment to stay off the record or your name kept anonymous, please state that and your privacy will be protected.
PLEASE share the link to this post with interested parties via social media or other means.
TAGS:  PureDriven, PureDriven Digital Marketing, Franchise Marketing, Christopher Swanson, Chris Swanson, Mayor Chris Swanson, Two Harbors MN, Duluth Monitor, John Ramos, Underwater Howel, Mr. O, Daniel Victor Hancock, Brendan L. Tupa, Droel Law, SLAPP, Frivolous Lawsuits, Liars & Bullies series, Sean Kelly