Franchise Fraudster Dennis Mason Gets 3 Years in Prison, Owes $2M Restitution
Dennis Mason, a notorious franchise fraudster who emptied the retirement & savings accounts of 160 victims, will be reporting to federal prison at the age of 75.  Following a nearly 7-year campaign by a coalition of victims and the UnhappyFranchisee.Com watchdog site, Dennis Mason was sentenced to three years in prison & was ordered to repay his victims more than $2M in restitution by District Court judge Gerald Pappert.  Mr. Mason's partner in the NY Bagel Franchise Scam, Joseph Smith, will be sentenced for Conspiracy to Commit Wire Fraud and Tax Evasion in June.
(UnhappyFranchisee.Com)  Today, the 160 Victims of the NY Bagel Franchise Scam nervously awaited news of the April 13 sentencing hearing of notorious franchise fraudster Dennis Mason.
Mason had pleaded guilty to one count of wire fraud and one count of conspiracy to commit wire fraud on July 30, 2020.
Mason's sentencing had been deferred during the prosecution of his co-conspirator, Joseph Smith, who pleaded guilty to conspiracy to commit wire fraud and tax evasion on February 11, 2012.
Fearful that the Frenchtown, NJ-based confidence artist, who operated for years using a number of aliases, would once again evade justice, an alliance of fraud victims organized by UnhappyFranchisee.Com publisher & industry watchdog Sean Kelly submitted Victim Impact Statements to Judge Pappert from across the U.S.
Around noon today, all were relieved at the posting of Judge Gerald Pappert's sentence for Dennis Mason of 3 years incarceration followed by 3 years of supervised release. 
Judge Pappert also ordered Dennis Mason to pay restitution of $2,100,450.00 to his victims.
Read: Dennis Mason Judgement by Judge Pappert
"The Victims Refused to Remain Victimized.  They Stopped This Scam & Brought About Justice."  NYBSVC Founder Sean Kelly
Sean Kelly, NY Bagel Scam Victims Coalition founder and publisher of NYBagelScam.com and UnhappyFranchisee.Com watchdog sites thanked Judge Jerry Pappert, U.S. Attorney David Ignall and the lead FBI Agent who headed the investigation.
"Stopping the NY Bagel Franchise Scam of Joe Smith & Dennis Mason was a very long, difficult and, at times, frustrating, group effort," said Kelly, who began documenting victim accounts and submitting complaints to law enforcement agencies in 2013.
"In the end, the FBI agent in charge, prosecutor Ignall and Judge Pappert came through for the victims.  The time and effort it took to halt this blatant investment scam and bring the scammers to justice puts a spotlight on the urgent need to fix this blind spot in the legal system."
The fraudulent scam targeted military veterans, first and second-generation immigrant families and general business opportunity seekers with persuasive ads placed on Craig's List and other online sites.  Dennis Mason & Joseph Smith used fraudulent documents and false earnings representations to sell what they represented as fully-financed and developed franchised bagel shops.  Most victims never received the promised services and lost $20,000 – $60,000 to Mason, Smith and their associates.  Those who opened with their own financing generally lost $125,000 – $350,000.
Some of the failed stores had been financed with SBA-guaranteed loans which paid back the bank with taxpayer money.
Of the more than 60 NY Bagel Cafe, NYC Bagel & Sandwich Shoppes and Davidovich NYC Bagel Shops opened, fewer than 5 remain open.
Dennis Mason's Reputation for Fraud Goes Back Decades 
According to Kelly, there's no joy in seeing a 75-year-old have to report to prison.
"I feel bad for his family, as I feel bad for the many victims who lost their dreams, marriages and homes to these predators.  I would have rather seen him go to jail when he was 45," says Kelly.  Dennis Mason's fraud-related lawsuits and judgements go back as far as the 1990s and featured such defunct franchise ventures as Mike Schmidt's Philadelphia Hoagies, Motorwerks, Amazon Cafe, Petrucci's, Morrone's Italian Ice, Horn & Hardart, Java's Brewin', Windmill Hot Dogs and others.
Mason operated as an outsourced franchise salesman using a variety of company names (FRANCHISES UNLIMITED, INC., FRANCHISE VENTURES, INC.) and aliases (Brian Scofield, Keith Samuels, David Malin) as online warnings grew.
"These Long-time Scammers Messed With the Wrong Victims"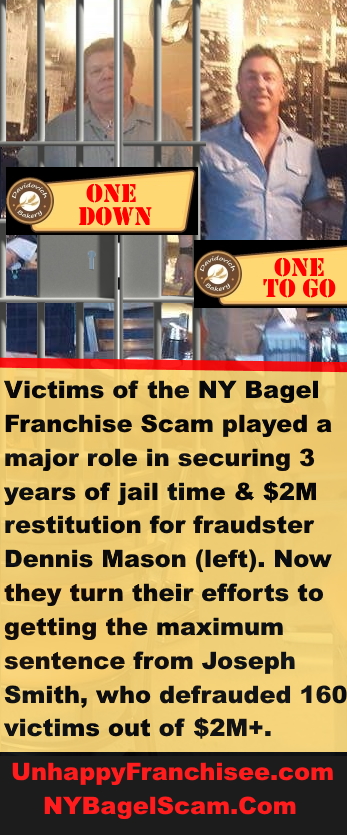 A growing coalition of victims & Kelly's online campaign of more than 75 warning posts and dozens of requests for investigations led to successful state enforcement orders being issued again Mason & Smith by the states of Maryland, Virginia and Washington.
Kelly credits Maryland Assistant District attorney Dale Cantone (retired), Virginia State Corporation Commission Senior Investigator  Barry Braun and Eric D Palosaari of the Washington State Department of Financial Institutions for providing early investigations.
Ultimately, it was the NY Bagel Scam victims' unwillingness to go away quietly that will protect future potential victims from Dennis Mason & Joseph Smith.
"Some of the victims who submitted Impact statements lost their money close to a decade ago,"  said Kelly.  "They refused to let these guys continue to prey on innocent families."
The founder of the NY Bagel Scam Joe Smith of Fishkill, NY, formerly of Newburgh, NY, is scheduled to be sentenced by Judge Pappert on June 27, 2022 at 10:00 a.m.
For more information and interview requests, contact Sean Kelly at UnhappyFranchisee[at]Gmail[Dot]com.
WHAT DO YOU THINK?  SHARE A COMMENT BELOW.
TAGS:  Dennis Mason, Dennis Mason sentence, Dennis Mason fraud, NY Bagel Scam, Bagel Franchise Scam, NYC Bagel franchise, Joe Smith scam, Joseph Smith Newburgh NY, Bagel scam Trial, US Attorney David Ignall, US Attorney Eric Powers, Judge Gerald Pappert, Judge Jerry Pappert, unhappy Franchisee, Sean Kelly