FRESHII CEO Matthew Corrin Earns Prestigious Pinocchio Award
Freshii franchise visionary and leader Matthew Corrin has earned the Unhappy Franchisee Pinocchio Award.  Believed to be the youngest recipient so far, Corrin also holds the record for the fastest defamatory deflection:  Less than two hours from our first post about Freshii.  by Sean Kelly
(UnhappyFranchisee.Com)  Despite heading a public company and overpaying himself by about 10x, the young CEO of Freshii, Matthew Corrin, has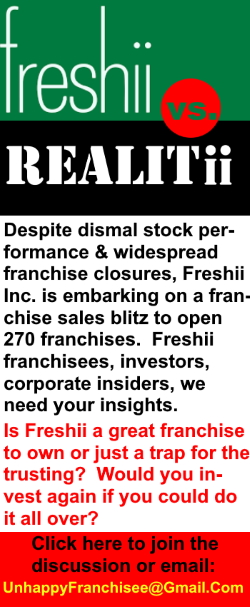 reportedly refused to engage with any media (including Bloomberg) that questions his oh-so-questionable company releases.
Corrin seems unaware that real CEOs get paid big bucks because they'll face tough questions, especially when their stock price dips below the cost of, say, extra chia seeds or a side of whey protein.
So we're flattered that the only franchise CEO to have mastered Blue Steel took the time to defame us rather than address the serious issues raised in our post:
Freshii Franchise Bankrupts U.S. Veteran in 18 Months
Is Matt Corrin Still Just Selling Hype?  Or Has He Learned From His Mistakes?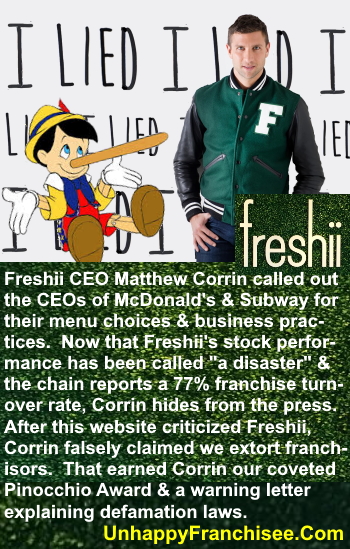 The real question on our minds is whether Corrin and Freshii have gotten serious about supporting franchisees and making prudent, informed decisions, or whether he is  just going to restart the hype machine and target the uninformed and the unsuspecting… like the poor couple in Arkansas who lost their home in bankruptcy and wound up under $600K in crushing debt.
Back when Matthew Corrin was hyping his "healthy fast food for the masses" and trying to maximize growth for the IPO, his video interviews communicated both his painfully flawed selection criteria for choosing target markets ("We don't choose markets") and his methods for qualifying franchisees ("Would I want to have beer and pizza with them on a Friday night?").
The tragic result of these two (lack of) strategies culminated in a military veteran with zero restaurant* or business experience being encouraged to rapidly develop multiple units of an unproven trendy, upscale health-food restaurant in the least healthy state in the country:  Arkansas.
It seems that the beer-and-pizza-on-Friday-night criteria wasn't powerful enough to sell high ticket meals of quinoa, tofu, chia seeds, kale and low fat kefir to residents with the lowest health-literacy and the fourth highest poverty rate in the nation.
* To be fair, he had worked the cash register at Chick-fil-a when he was 16
Freshii Has a 77% Franchise Turnover Rate – One of the Highest in the Nation.
Has CEO Matthew Corrin learned from the massive number of franchise closures both before and after COVID?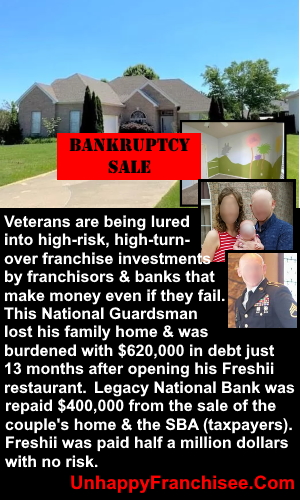 Has he considered targeting markets with residents who not only know how to pronounce "edamame" and "quinoa," but can afford to eat it?
Now that Freshii has a 3-year franchise turnover rate of 77% (44% before COVID) and an estimated 150 U.S. closures under its belt, has he reconsidered his practice of selling to franchisees who will lose their homes if they fail?
Dear Freshii:  We Do Not Take Down Content for Money.  Love, Unhappy Franchisee
Unfortunately, Matt Corrin's response to our post was not that of a serious CEO with real concern about the welfare of his surviving (or future) franchisees.
In fact, Corrin's response was rather Nastii.
Rather than responding to the story of the couple devastated for believing in Freshii, CEO Corrin sent out a false & defamatory message to his franchisees.
It read:
Hi All.

You may have received (or might receive) a spam email today from something called *unhappyfranchisee.com'. I just got one to my email address too!

This website is known to publish outrageous and false articles about franchisors and then try to extort the franchisors to pay the website to remove the articles.

You can read a brief reddit thread about it here: [Reddit post]


Gross!

Anyway – this doesn't deserve much airtime or attention but just wanted to make sure you are aware of the source of this email and knew to ignore it.
Thanks,
Matthew Corrin
Unhappy Franchisee policy dictates issuing an automatic Pinocchio Award & spot on the Wall of Shame for anyone resorting to the tired old extortion claim.
Congratulations, Matt!
Corrin Leans on Indicted Scammers to Boost His Credibility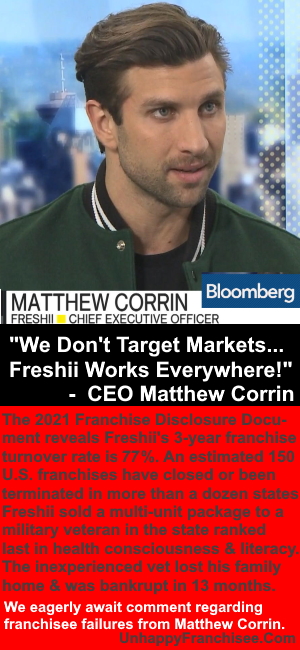 The 3-year old Reddit post the Freshii CEO claims is gospel is the last remnant of a false campaign by the Craigslist NY Bagel scammers Joseph Smith & Dennis Mason.
NY Bagel Scam Joe Smith Federal Fraud Trial to Begin
Smith & Mason's nonsensical extortion claim never provided any evidence or documentation; it did, however, distract a few of their 160 victims from our warnings long enough to get their money.
The FBI investigation we prompted and participated in resulted in a Grand Jury indictment and federal charges for fraud, wire fraud, conspiracy, and tax evasion.
Dennis Mason awaits sentencing;  Joe Smith's trial in federal court is scheduled to begin February, 2022.
For more information about how Unhappy Franchisee ended the NY Bagel Scam, check out
NY Bagel Franchise Scam Links & Complaint Timeline
Matthew Corrin & Freshii Join the NY Bagel Scammers on the Unhappy Franchisee Wall of Shame
Hopefully, this Pinocchio Award & and placement on the Wall of Shame will be a wake-up call and humbling experience for CEO Matthew Corrin.
Mathew Corrin's brash demeanor…
his bragging about his lack of experience…
His attitude that he's the smartest guy in the room (any room) may have worked for him back when his claims about Freshii's impending growth and success weren't undermined by a "disastrous" public offering and widespread franchise failures.
Even faking a little humility and concern for the franchisees who financed and built the Freshii chain he claims credit for would be well-advised.
A retraction of his defamatory and baseless attack and a public apology to this author would be prudent and mature…
And, for that reason, it probably won't happen.
Previous Unhappy Franchisee Wall of Shame & Pinocchio Award Recipients Include:
Attorney Craig Tractenberg – One client in jail.  Another fired after he threatened us.  Can't wait to see what Craig will come up with next!
Dzana Homan – Former School of Rock CEO.  That's right, former.  Laying low.
Ali Nekumanesh – Got caught tweeting the old defamatory extortion lie.  Took it down quickly!
David Rutkauskas – Ugly business at Beautiful Brands.  Thank you, Karma
Ziva Branstetter Investigative Journalist of ZivaGate fame.  Still awaiting an apology.
Mark Golob – A bully who lost… big.
Brad Kjar, U-Save Auto Rental – A rare Double Pinocchio!
Dental Fix franchisee – Posted the extortion claim but took it down quickly!
Dennis Mason & Joseph Smith – NY Bagel scammers.  Lock'm Up!
ALSO READ:
FRANCHISE DISCUSSIONS by Company
VetFran or VetScam? Turnover Rates of IFA-Endorsed Vet-Friendly Franchises
Are Veterans Being Targeted by a Bait-and-Switch Investment Scheme?
Is SNAP-ON TOOLS Exploiting Military Veterans? An Open Letter to CEO Nicholas Pinchuk (UPDATED)
FRESHII Franchisees:  If you feel CEO Matthew Corrin is being unfairly portrayed – let us know.  If he's a great CEO who cares about Freshii franchisees, we want to know!
ARE YOU A FRESHII FRANCHISE OWNER, STOCKHOLDER OR EMPLOYEE?  DOES FRESHII INC. SUPPORT ITS FRANCHISEES – OR DEDICATED ONLY TO ITS STOCK PRICE?  SHARE A COMMENT BELOW.
TAGS: Pinocchio Award, Wall of Shame, Matthew Corrin, Freshii, Freshii franchise, Freshii failure rate, Freshii Inc, Freshii stock, OTCMKTS: FRHHF, Franchises for veterans, Franchise Truth, Operation Franchise Truth, Franchise Truth for Veterans,  SBA franchise loans, Matthew Corrin, Adam Corrin, Daniel Haroun, Paul Hughes, Sean Kelly