School of Rock Names Rob Price CEO Amid Dzana Homan Controversy
School of Rock has named Rob Price as CEO.  The appointment comes after numerous complaints about bullying and intimidation tactics by CEO Dzana Homan were posted to the UnhappyFranchisee.Com website by School of Rock franchise owners.  The controversy grew when School of Rock attorney Craig Tractenberg threatened a smear campaign against the web publisher if the complaints were not removed.  Private equity owner of School of Rock has disavowed knowledge or approval of Tractenberg's threats.
(UnhappyFranchisee.Com)  Rob Price has been named the new CEO of School of Rock.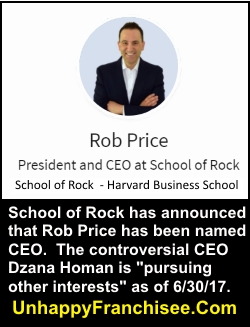 After today, June 30, 2017, CEO Dzana Homan will be "pursuing other interests."
The growing controversy over School of Rock CEO Dzana Homan began with complaints posted to UnhappyFranchisee.Com by School of Rock franchise owners.  A group of anonymous franchisees claimed that Dzana Homan, who was named CEO in 2014, transformed the School of Rock culture from an open, collaborative labor of love to a dictatorial and oppressively toxic environment in which the Franchisee Advisory Council was disbanded, franchisees feared sharing complaints and suggestions lest they be targeted for retaliation, and corporate employees were subjected to racist, homophobic and discriminatory statements from the Chief Executive.
Despite numerous invitations to address or rebut these allegations, Ms. Homan has never responded to UnhappyFranchisee.Com.  Instead, long-time School of Rock attorney Craig Tractenberg called Unhappy Franchisee publisher Sean Kelly and threatened him with a lawsuit and a personal smear campaign if the comments weren't removed.  Kelly filed a complaint against Tractenberg with The Disciplinary Committee of the Supreme Court of Pennsylvania.
For an overview of the controversy, read:  SCHOOL OF ROCK Franchise, Sterling Partners Controversy Overview
Today, School of Rock Chairman of the Board David Zucker sent an email message to SoR employees and franchisees announcing the appointment of Rob Price as CEO.
From: School of Rock Chairman <chairman@schoolofrock.com>

Date: June 30, 2017 at 9:01:28 AM EDT

Subject: School of Rock Organizational Update

School of Rock Employees and Franchisees:

I want to inform you of important changes to our leadership.

Dzana Homan will be leaving the company to pursue other opportunities. On behalf of the Board of Directors of School of Rock, we thank Dzana for her spirited and committed service these last three years and wish her the best in her future endeavors. Her last day at School of Rock is today.

I am pleased to welcome Rob Price to School of Rock as our new President and Chief Executive Officer, effective July 6th. Rob is a highly successful team leader and motivator with a track record of success building brands in the consumer, franchise, and retail sectors. A long-time fan of all music genres, Rob is passionate about School of Rock's mission, committed to building on our company's culture, and excited to help lead the company in its next stage of growth.

We hope you will welcome him into the School of Rock fold and work with him to help grow the company and its franchisees in the years ahead.

Fun fact about Rob – he plays the keyboard and guitar, and once recorded an album with his wife and three kids, rented an RV, and toured the country playing festivals, clubs, and corporate gigs.

We are certain you will enjoy getting to know Rob. He's excited to meet those of you who will be at Summerfest in Milwaukee and looks forward to getting to know the rest of you in the coming weeks. More information on his appointment is included in the press release below.

Best Regards,

David Zucker

Chairman of the Board
The press release contains no mention of former CEO Dzana Homan.
School of Rock Names Rob Price as CEO

Brand Builder and Music Enthusiast Joins Performance-Based Music Education Company to Accelerate Growth

El Segundo, CA, and Chicago, IL, June 30, 2017 – School of Rock, a leader in performance-based music education, announced today the appointment of Rob Price as President and Chief Executive Officer. Price will work closely with School of Rock's senior leadership team to enhance the student experience at each school, expand the global footprint, and establish creative partnerships to maximize the brand's reach.

David Zucker, Chairman of the Board at School of Rock, said, "Rob has extensive experience helping strong brands fully reach their potential. He has an impressive track record of engaging team members, operators, and partners in support of rapid business growth."

Prior to School of Rock, Price served as President of Edible Arrangements, which integrates an online business and 1,300 franchised stores worldwide. Before that, he was SVP, Chief Marketing Officer at CVS Health. Price has also held executive roles at Wawa Food Markets and H-E-B Grocery. In addition to serving as a director of Walker & Company, Price is a member of the Alumni Board at Harvard Business School, where he earned his MBA. He graduated with a BS in Applied Economics from Cornell University, was a visiting professor at the University of Pennsylvania's Wharton School, and was a Henry Crown Fellow and Richard Braddock Scholar at the Aspen Institute.

"As a parent, I've seen firsthand how music can shape lives," said Price. "I look forward to working closely with School of Rock's talented franchisees, parents, students, corporate team members, and industry partners to reach many thousands more aspiring rock and rollers. School of Rock is unique, and I'm thrilled to be a part of its important mission."

Since partnering with Sterling Partners in 2009, School of Rock has grown system-wide sales from $13M to over $65M, student count from 4,000 to over 25,000, and school count from 52 to over 190 in nine countries.

Rick Elfman, Managing Director at Sterling Partners, said, "As we got to know Rob, it became clear his business skills, leadership style, and raw passion for music –  he was in a rock and roll band with his wife and three kids – would be a great addition to School of Rock."

About School of Rock    

The music school your mom and dad wish they had when they were kids, School of Rock is an ingenious concept that gets kids and adults rocking out to the classics and up and performing with their peers. With more than 190 locations in nine countries, the franchise proves that rock and roll is here to stay. Follow School of Rock on Facebook at www.facebook.com/SchoolofRockUSA and on Twitter at www.twitter.com/SchoolofRockUSA. For more information on School of Rock visit www.SchoolofRock.com or call 866-695-5515. To learn more about School of Rock franchise opportunities head to http://franchising.schoolofrock.com/.

About Sterling Partners

Sterling Partners is a private equity firm with a distinct point of view on how to build great companies. Founded in 1983, with over $2.5 billion of assets under management, Sterling is guided by its stated purpose, INSPIRED GROWTH®, which describes Sterling's approach to investing in differentiated businesses and growing them in inspired ways. Sterling provides valuable support to the management teams of the companies in which the firm invests through a deep and dedicated team of professionals, including a strong network of outside directors and advisors. The people at Sterling believe in ideas and ideals, in people and in partnerships that drive long-term success. For more information, visit: www.sterlingpartners.com.
Further reading on the School of Rock / Sterling Partners Controversy:
SCHOOL OF ROCK Franchise, Sterling Partners Controversy Overview
SCHOOL OF ROCK Franchise Complaints
Is Dzana Homan an Abusive CEO? School of Rock, Sterling Partners Controversy Grows
SCHOOL OF ROCK Dzana Homan Responds to Franchise Complaints
SCHOOL OF ROCK Franchise CEO Dzana Homan Faces Tough Questions
School of Rock Attorney Craig Tractenberg Threatens Unhappy Franchisee Publisher
Craig Tractenberg Complaint Submitted to Disciplinary Board of the Supreme Court of PA
WHAT DO YOU THINK?  WHAT IS CAUSING THE HIGH CORPORATE TURNOVER AT SCHOOL OF ROCK?  HOW IS THAT AFFECTING FRANCHISEES AND THEIR BUSINESSES?   SHARE A COMMENT BELOW.
TAGS: Rob Price, Rob Price CEO, School of Rock, School of Rock franchise, School of Rock franchise opportunity,  Dzana Homan, CEO Dzana Homan, Sterling Partners,  Avi Epstein, Rick Elfman, Fox Rothschild, Craig Tractenberg, Craig R. Tractenberg, education franchise complaints