Freshii Franchise Bankrupts U.S. Veteran in 18 Months
A thirteen-year National Guard Sergeant survived a tour in Iraq only to fall victim to a far more subtle domestic threat:  the siren song of franchise sellers who promise independence & financial freedom but deliver crushing debt and devastation.  by Sean Kelly, founder of Operation Franchise Truth for Veterans.
(UnhappyFranchisee.com)  The video on the Arkansas Small Business & Technology Center (ASBTC) Facebook page features the success story of Dave & Cindy* of Bentonville, Arkansas.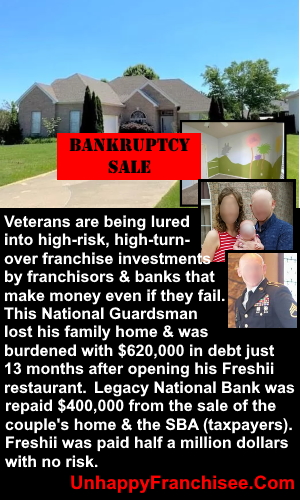 Dave is a 13-year veteran of the Army National Guard who served a tour in Iraq.
Cindy is an art teacher at the local elementary school.
In the video, Dave states they opened their first trendy, healthy food franchise, Freshii, four months earlier.
He proudly states to say that they'll be opening two more Freshiis in the coming year:  one in Fayetteville & one in Springdale, AR.
Dave & Cindy's exciting new business is celebrated in the local media and across social media, as is their ribbon cutting & Grand Opening.
Yet there won't be a single media mention when the business closes its doors 13 months later.
There won't be a single social media post when Dave & Cindy file for Chapter 13 bankruptcy 3 months after that.
Or when the bankruptcy trustee sells their family home to put toward their business debts.
There will be no publicity about the couple's $620,334.31 in crushing debt, or the broken commercial lease they personally guaranteed.
Even today, the ASBTC success story video remains a happy testimonial on Facebook with no mention of the tragic – but all-too-predictable – outcome.
* Not their real names; all other details are factual & documented
Also read:  Do FRESHii Franchisees Endorse the FRESHii Franchise Opportunity?
"We Don't Target Markets… Freshii Works Everywhere."  Freshii CEO Matthew Corrin
For Freshii and CEO Matthew Corrin, Dave & Cindy's Huntsville franchise was a success.
Most of the $409,759.80 in loans Dave & Cindy borrowed from Legacy National Bank, and personally guaranteed, went straight to Freshii.
Freshii got paid for the rights to 5 stores they won't have to open or support.
Dave & Cindy's multi-unit deal was further proof CEO Matthew Corrin could use in hyping Freshii's amazing expansion to to stockholders and investors.
After all, every little contribution to his $1.4M yearly compensation helped.
And while it may be a life-changing disaster for a young family, all that's required of Freshii is just an obscure entry in the 2020 Franchise Disclosure Document (FDD) Exhibit H that states:
Terminated 2019
Matthew Corrin Will Only Take Your Money If He Likes You.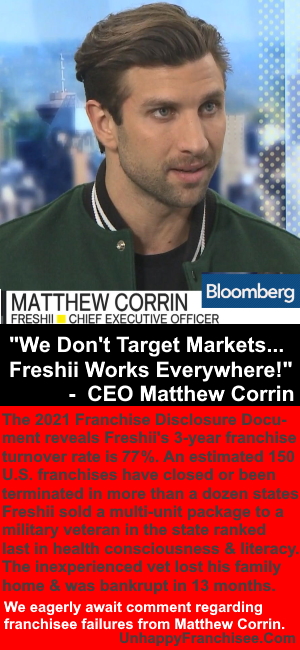 Neither Dave nor Cindy had any business experience whatsoever.
Dave's only foodservice experience was running the register at Chic-fil-a at 16 years old.
Was it irresponsible for Freshii to encourage an inexperienced franchisee to incur hundreds of thousands of dollars in debt on an unproven concept?
According to Freshii CEO Matthew Corrin, the main qualification for selection as a Freshii franchisee is whether he would want to "have beer and pizza with them" on Friday night.
He must like you.  And you must be educated, hip & cool.
Was it irresponsible for Matthew Corrin to encourage Dave & Cindy to put their home on the line to serve trendy health food… in Arkansas?
Arkansas residents consistently rank among the least healthy and least health-conscious in the nation.
They have one of the lowest "health literacy" rates in the country, and have the fewer college degrees than residents of any other state (except 3).
The Freshii menu's healthy offerings feature ingredients like quinoa, edamame, tofu, kale and frozen kefir or coconut chia pudding for dessert.
Add-on juice options include protein powder, collagen, and chia seeds.
Arkansas also has the 4th highest poverty rate in the nation.
Freshii isn't cheap… a single lunch can easily average $15-$20 even if one foregoes the chia seeds.
Yet CEO Matthew Corrin says the company does not research markets or demographics because… Freshii works everywhere.
"Freshii Does Work Everywhere… We've Proven That Over & Over Again."

                                                                      – Freshii CEO Matthew Corrin on Bloomberg News
Another Veteran Falls Into The SBA Loan Trap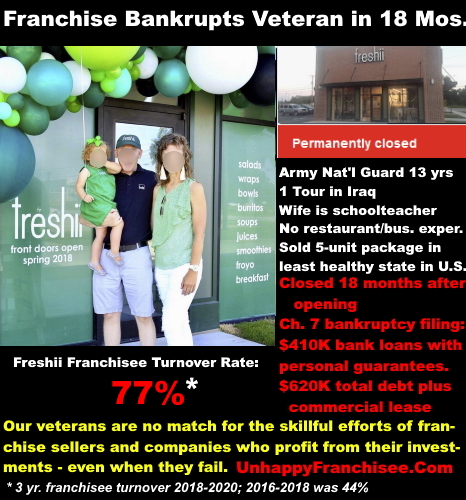 The massive franchise industry misinformation that targets veterans promotes the lie that, as a franchisee, you will be "in business for yourself, but no by yourself."
U.S. servicemembers and veterans generally lack hands-on business experience.
They are also pre-disposed to trusting an established chain of command and following orders without a lot of questioning.
It's easy to create the illusion – such as the one Dave is under in the video – that they are members of a team that share risk in their new venture.
The truth is… the risk is all theirs.
Freshii got paid in full before the ribbon was cut on the Huntsville location… nearly half a million dollars from the loan proceeds.
And Legacy National Bank was assured a profit with virtually no risk as the loans were guaranteed by the Small Business Administration (aka you, the taxpayer).
When Dave & Cindy filed for bankruptcy, Legacy National Bank took their assets, including the proceeds from the sale of their home.
They will now turn to the SBA for the remainder of the outstanding loan;  the portion not covered by the SBA guarantee will likely be made up with fees and profit made by selling such loans to third parties.
Freshii 3-Year Franchise Turnover Rate:  77%
The Bentonville, AR franchise failure is not an isolated incident.
The Freshii 2021 Franchise Disclosure Document reveals that between 2018-2020, the Freshii franchise turnover rate is an alarming 77%.
In that period, Freshii had 26 terminations, 1 non-renewal, 2 reacquisitions, 10 transfers and 35 franchises that ceased operations.
Between 2018-2020
Average U.S. Franchises Open:  96

Total Exits:  74

Franchise Turnover Rate:  77%
Review of all FDDs revealed nearly 150 Freshii franchises exited the system, with failed franchises in Massachusetts, Illinois, California, Florida, Texas, Ohio, Georgia, Colorado, Indiana, Minnesota, Mississippi, Utah, Maryland, Nebraska, and Arkansas.
For Trusting U.S. Veterans, Franchising is Like Two Wolves Inviting a Sheep to Lunch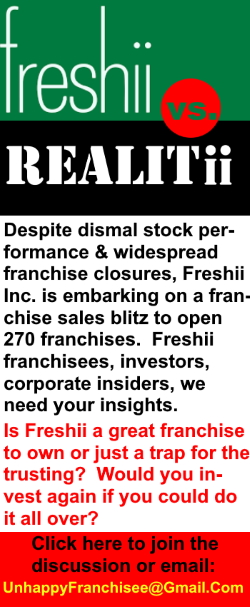 This same scenario is continuously playing out across the industry.
U.S. veterans are targeted and wooed into high-risk, high-turnover franchise investments, used up and left behind like yesterday's trash.
CEOs like Matthew Corrin make millions of dollars selling a illusions to franchisees and stockholders.
Lenders like Legacy National Bank make millions, virtually risk-free, making risky loans for dubious franchises that they'd never risk with their own money.
As long as they are playing with the "house's" money (ie the taxpayer's money), they will continue to thank veterans for their service… for their savings… and for their homes.
ALSO READ:
FRANCHISE DISCUSSIONS by Company
VetFran or VetScam? Turnover Rates of IFA-Endorsed Vet-Friendly Franchises
Are Veterans Being Targeted by a Bait-and-Switch Investment Scheme?
Is SNAP-ON TOOLS Exploiting Military Veterans? An Open Letter to CEO Nicholas Pinchuk (UPDATED)
ARE YOU A FRESHII FRANCHISE OWNER, STOCKHOLDER OR EMPLOYEE?  DOES FRESHII INC. SUPPORT ITS FRANCHISEES – OR DEDICATED ONLY TO ITS STOCK PRICE?  SHARE A COMMENT BELOW.
TAGS: Freshii, Freshii franchise, Freshii failure rate, Freshii Inc, Freshii stock, OTCMKTS: FRHHF, Franchises for veterans, Franchise Truth, Operation Franchise Truth, Franchise Truth for Veterans,  SBA franchise loans, Matthew Corrin, Adam Corrin, Daniel Haroun, Paul Hughes, Sean Kelly