Are Veterans Being Targeted by a Bait-and-Switch Investment Scheme?
Former Sergeant of Marines Kyle De Santis, a disabled veteran, has lost his investment of possibly $1,000,000 or more to a company that entices veterans with false promises of freedom, independence and control.  by Sean Kelly as part of the FranBest Veterans Initiative.
(UnhappyFranchisee.Com)  Company recruitment literature promises military veterans a chance to "be your own boss" and "take control of your future."
The company tells U.S. veterans that for an initial investment ranging from $200,000 to nearly $400,000, "you will take control of your schedule and your future, " you will "be in control of your franchise business" and achieve "a new level of… freedom & pride."
The company promises the backing of one of the nation's best-known brands… and an organization and CEO recognized for its commitment to honorably discharged military veterans.
Promising Freedom, Delivering Servitude…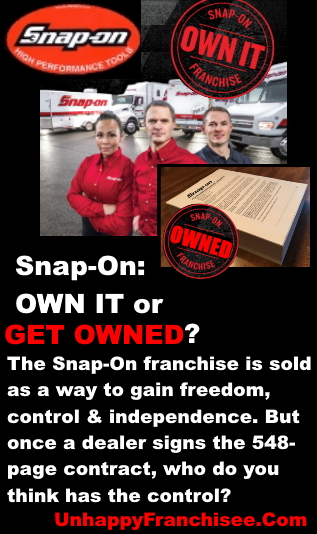 In researching the company and the investment online, there are virtually no negative stories or complaints, just lots of awards and rankings as a top franchise for veterans and a vet-friendly company.
The company promise of "control," "freedom" and "business ownership" is so convincing and inspirational that most prospective franchisee investors don't hesitate in signing the 548-page contract or borrowing hundreds of thousands of dollars in bank loans or from family members.
And yet that 548-page document gives the company complete control over the veteran, his or her business and their family's financial futures.
Once he or she signs that document, the U.S. veteran must buy the inventory the company requires and pay the non-negotiable prices the company sets.
The veteran/franchisee can only sell to customers the company, in its sole discretion, permits.
And if the contentions like those formerly made by King Regian and currently being made by Kyle De Santis are true, the company can target individual franchisees, force them out of the system and seize their successful businesses at any time without paying them a dime.
A Bait-and-Switch Scheme Operated in Broad Daylight?
The company in question isn't operating in some shadowy corner of the Internet or on Craig's List.
In fact, it's a 100-year-old company $3.7 billion dollar company called Snap-On Incorporated.
It's based in Kenosha, WI and publicly traded on the New York Stock Exchange (NYSE: SNA).
The misleading nature of Snap-On's franchise marketing is immediately evident in the graphic contrasting its promises of freedom & control with the size of its onerous franchise agreement.
What's not immediately evident, though, is that attorneys in at least three recent lawsuits have successfully argued that Snap-On's control and dominance over franchisees is so great that they do not meet the definition of "independent contractors."
The California class-action lawsuits (in my interpretation) successfully argued that Snap-On franchisees should be considered employees, not business owners, and therefore are entitled to such things as overtime, work breaks & the protection of employment laws.
Snap-On Inc. must have felt it couldn't convincingly argue that its franchisees enjoy the freedom and control it promises.
Each of the following alleged that  Snap-On franchisees are misclassified as independent contractors and, in fact, are employees under the California Labor Code.
Snap-On chose to pay private settlements in each of the following cases rather than allow a judge or jury decide:
Snap-On Litigation Regarding Franchisee Independent Contractor Status

Daniel Jacobson v. Snap-on Tools Company LLC and Snap-on Inc.

United States District Court Northern District of California, San Francisco
Division

Snap-On paid $138,000.00

GAP Enterprises and George Nischan v. Snap-on Tools Company LLC, Snap-on
Incorporated, Snap-on Credit LLC, Snap-on SecureCorp Inc., Snap-on Equipment Inc., Duke
Snider and Keith Holland

Superior Court of the State of California, County of Riverside (Case RIC1903737)

Snap-On paid $150,000


Jeffrey Hartmann v. Snap-on Tools Company LLC and Snap-on Incorporated.

Superior Court of the State of California, U.S.A., County of Riverside (Case
RIC1902297)

Snap-On paid $800,000.00
Former Sergeant of Marines Claims He Was Blacklisted, His Business Seized by Snap-On Inc.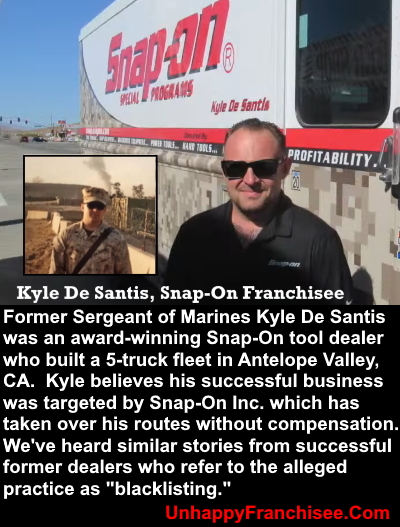 In just six years, Kyle had grown his initial investment in a single franchise truck to five full trucks servicing his home area of Antelope Valley outside Los Angeles.
Still believing he was his own boss with control of his future, Kyle had invested nearly $1 million building his Snap-On business.
Kyle De Santis, an technical aviation veteran deployed both in Asia and the Middle East, claims he went from being a Snap-On franchise success story and poster boy to persona non grata almost overnight.
He traces his fall from favor to a regional sales meeting when he pushed back in frustration at Snap-On's continuous shipping of tens of thousands of dollars in inventory he didn't order and didn't want – a practice used to inflate Snap-On sales by moving inventory off Snap-On's books and onto franchisee's Snap-On credit account.
Kyle was soon notified that he was no longer allowed to sell to a significant number of accounts that had developed with the encouragement and blessing of his Snap-On business manager.
He was provided no compensation for the accounts Snap-On was free to service directly or sell to another franchisee.
As he struggled to survive the challenges of early days of Coronavirus, he claims his Snap-On team no longer provided the support he had paid for.
When an approved vendor refused to honor a $30,000 engine repair on a brand new truck under warranty, Snap-On refused to help.
When more than $100,000 in tools were stolen from the disabled truck in a secure, locked facility, Snap-On's own SecureCorp insurance agency refused to cover the loss citing a technicality.
When Kyle De Santis could no longer keep his once-successful business afloat, Snap-On severely undervalued the inventory it would take back.
When he asked them to reconsider, they demanded he sign a general release of liability and a non-disclosure agreement (gag order).
Kyle refused.
Snap-On Terminates, Transfers or Reacquires Hundreds of Franchises Every Year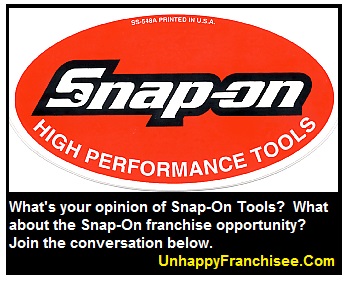 A few years back, we reported the remarkably similar story of a successful dealer named King Regian.
(Read:  SNAP-ON Took Our Successful Franchise Owners Claim)
Like Kyle, King Regian was also an award-winning poster boy for the Snap-On franchise program.
Just months after standing on stage to receive an award for top sales in his region, King found himself unfairly targeted and forced out of the system.
As with Kyle, Snap-On reacquired King Regian's customers and routes and were free to service them directly or resell them to new franchisees for new fees.
According to Snap-On's Franchise Disclosure Documents (FDDs), 300-400 franchises are terminated, transferred or reacquired every year.
The three-year turnover rate of Snap-On franchises is a disturbing 32%; For the past ten years, the turnover rate is 98%
How Many of the 3,000+ Franchises Who Exited Prematurely Were Veterans Promised the Freedom, Control & Independence of Business Ownership?
3,000+ franchises have exited the Snap-On system prematurely in the past 10 years.
As there are no locations or stores to close, Snap-On always regains the right to sell to their accounts or resell them to new franchisees for new fees.
We suspect that a high percentage of these exiting franchisees are veterans who lost some or all of their investments.
From our experience, we also believe that most are afraid or prevented from sharing their experiences & opinions because of NDAs or fear of legal reprisals from Snap-On.
We have posed this and other hard questions to Snap-On CEO and Army veteran Nick Pinchuk here:
Is SNAP-ON TOOLS Exploiting Military Veterans? An Open Letter to CEO Nicholas Pinchuk
We hope others, including government agencies and veterans groups, will demand answers – and Justice for Kyle De Santis – from Snap-On and Mr. Pinchuk as well.
ALSO READ:
VetFran or VetScam? Turnover Rates of IFA-Endorsed Vet-Friendly Franchises
SNAP-ON Took Our Successful Franchise Owners Claim
SNAP-ON TOOLS Franchise Dealer Warns: Buyer Beware!
SNAP-ON TOOLS Franchise Complaints
FRANCHISE DISCUSSIONS by Company
ARE YOU A FRANCHISOR, FRANCHISEE OR OTHER INDIVIDUAL CONCERNED ABOUT THE RECRUITMENT & TREATMENT OF VETERANS BY FRANCHISE SELLERS?  SHARE A COMMENT BELOW OR SEND US AN EMAIL, IN CONFIDENCE.
TAGS: Snap-On Tools, Snap-On franchise, Snap-On Tool Dealer, VetFran, Nick Pinchuk, Nicholas Pinchuk, Kyle De Santis, Snap-On franchise Complaints, Snap-On franchise opportunity, Franchises for Veterans, Vet-friendly franchise, exploitation of veterans, Top Franchises for Veterans, Best Franchises for Veterans, Tool truck franchise, Mobile tool Franchise, Franbest Veterans Initiative, Sean Kelly