SNAP-ON Took Our Successful Franchise Owners Claim

Snap-on franchise owner King Regian did what they some said wasn't possible: he generated more than $1,000,000 in yearly tool sales in the Waco, TX market.  According to King and his outspoken wife Sally, their hard work and success made them a target.  They allege that the tool giant Snap-on Incorporated cheated them out of $100,000 in in tool warranties, then took their lucrative Waco route for their own.
(UnhappyFranchisee.Com)  Most of the complaints we receive about mobile tool franchises like Snap-on, MATCO, MAC Tools and Cornwell Tools are from dealers who want to warn would-be franchise owners about  the high probability of being unsuccessful with one of their tool routes.
With the Snap-on franchise, we've also received those complaints, but also complaints from tool dealers who warn of the dangers of being too successful in the Snap-on system.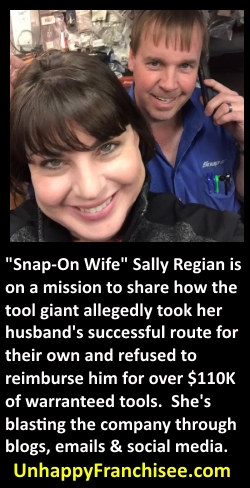 King Regian and his wife Sally have taken to the Internet to share their allegations that tool giant Snap-on targeted the highly successful route it took more than two decades to build, that Snap-on created special rules and procedures to justify cheating them out of over $100,000 in tool warranty credits, and that Snap-on created and/or encouraged untrue and unsubstantiated accusations against them.
The Regians believe that the non-renewal of their franchise agreement was likely the result the combined efforts of a bullying regional manager, a resentful neighboring franchisee and a sales manager eager to give the lucrative route to his step-son to manage as a company-owned route.
The Snap-on franchise owners have been chronicling their dispute and warning Snap-on franchisees through a group Facebook page (Former Snap-on Tools Franchisee – King Regian), a dedicated blog page (Former Snap-on Tools Franchisee), and multiple Twitter accounts (@KingRegianRocks, @SRegian).
The Regian's story has been featured on a biting Snap-on parody site (Crap-on.Com) and on our site as well (SNAP-ON Franchise Owners Ratcheting Up Protest).
NOTE:  The allegations and opinions expressed by all parties are theirs alone and are not necessarily shared by this website or its publisher.  Claims of fact expressed by third parties have not been substantiated.  Snap-on Incorporated and anyone discussed on this site are invited to provide clarifications, corrections, rebuttals or opinions by leaving a comment below or contacting ADMIN at UnhappyFranchisee[at]gmail.com.
First Come The Accusations:  Successful Franchisee Claims Snap-on's Untrue & Unsubstantiated Accusations Began in 2014
According to Sally Regian's blog, her husband had been a passionate Snap-on loyalist throughout his 23-year relationship with the Kenosha, WI-based tool company.
King Regian loved being a Snap-on Tool franchisee. He would have continued his business relationship with Snap-on even after the allegations against him… King was a great Snap-on Dealer. HE did what everyone said he could not do. As he was told in the beginning of his career, "no one in Waco, Texas can run over a $1,000,000.00 in sales or collection."

He proved them wrong not once, but multiple times.

Its seems convenient that as soon as Snap-on saw that those numbers were attainable in the Waco market…King Regian was removed and a COMPANY store took over.

It seems that Snap-on wanted a bigger piece of the Waco pie.
According to the Regians, the attacks began with an accusatory letter that gave them no chance to respond.  Looking back, the Regians believe the letter was simply intended to begin building a false case against them – not an attempt to address a real concern.
The August 26, 2014 letter was sent Certified Mail by Snap-on Regional Manager Mike Doweidt.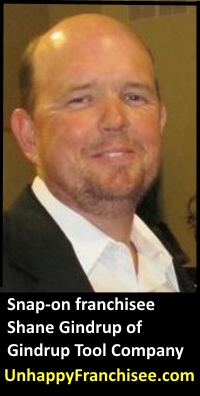 Doweidt accused King of selling tools outside of his territory (a practice known as poaching).
Doweidt stated that between January, 2013 and June, 2015 King had sold about $16,000 worth of tools to Malcolm Harmon of Quick Wrench Automotive, Temple, Texas.  Quick Wrench Automotive is on the List of Calls of Snap-on franchisee Shane Gindrup of Gindrup Tool Company, Inc. and is serviced by his employee Tom Neeley.
Doweidt also states that on July 26, 2012, King Regian sold an AC Unit to Tommie Allen, an employee of the City of Killeen – Another of Shane Gindrup's designated customers.
In his letter, Doweidt expressed no interest in hearing whether these claims were true, and did not invite King Regian to respond to the allegations – it simply stated that it serves as a warning to stop selling outside his route.  Copied on the letter is Business Manager Larry West, Manager, Franchise Legal Administration Rebecca Innes Long, Supervisor, Franchise Administration Barbara Clark, and Franchisee File.
[Read Snap-on Warning Letter by Regional Manager Mike Doweidt]
According to Sally Regian, neither of these accusations are valid and both are easily explained.  However, she said, neither Shane Gindrup nor Mike Doweidt were interested in valid explanations… just setting her husband up because, in part, he wasn't a "kiss-ass" and he dared to speak his mind.
She characterized Shane Gindrup as a neighboring franchisee and former friend who harbors ill will against King Regian and (she assumes) volunteered to help Mike Doweidt build a case against King.
Next Comes The Abuse & the Financial Squeeze
On August 28, 2014, two days after the Mike Doweidt's letter accusing King of poaching outside his territory, the Regians received another Certified Letter from Doweidt.
This letter stated that due to a high volume of returned tools by King over "the past several years" Snap-on feels "obligated to do further research to determine why this is happening."
Doweidt stated that during this "research" period King will have to follow an onerous procedure for tool returns that (according to Sally) no other tool dealer had to follow.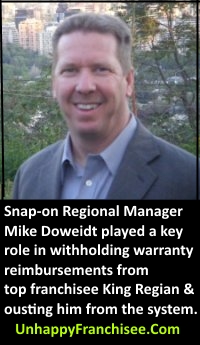 Doweidt states that King must "submit a form with the customer's name, address, and contact information for each tool that is returned under warranty.  If this information is not provided… Snap-on will not… give credit for the broken tool.  This process… will remain in place until we determine the reason for such a large level of failures in your area…"
"Each week someone from the FPT will visit you and retrieve the broken tools and the corresponding invoice or form for the customers that turned in the broken tools.  We will ship the tools to the RPC for you after we have examined them and visited the customers in question.
"We also discussed the rejected tools that you have turned in and the rejected tools going forward.  These tools will not be returned to you they will be disposed of at the RPC."
According to Sally Regian,  "This letter was a direct violation of King's contract with Snap-on. The warranty process does not include the ridiculous procedure that Mike Doweidt outlined."
[Read Snap-on Warranty Denial Letter by Regional Manager Mike Doweidt]
From then on, Snap-on reportedly rejected all warranties submitted by King at check-in.
Between March 25, 2013 and January 14, 2015, King's warranty returns were "randomly" audited over 250 times. These "random" audits occurred on every box that he returned.
Even though Snap-on refused to honor their "LIFETIME Warranty," on tools, King continued to honor the warranty for his loyal customers – spending his own time and money to fulfill the commitment that Snap-on would not.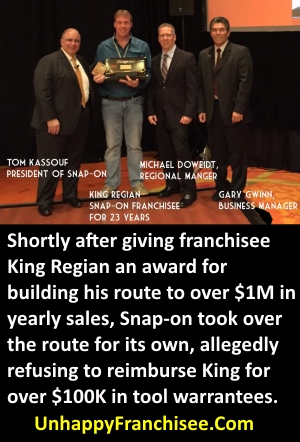 By the end of his franchise agreement, King Regian would have $110,000 worth of tools that Snap-on refused to reimburse.
And Then, After 23 Years & $13M in Sales, They Gave King Regian the Boot…
On April 8, 2015, King Regian received an email from Director of Franchising Tom Kasbohm congratulating King on the renewal of his Snap-on franchise.
Then, on November 30, 2015, Regional Manager Mike Doweidt sent King Regian a letter which stated that Snap-on would not be renewing King's franchise agreement, and that after May 31, 2016 he would no longer be a Snap-on franchise owner.
[Read Snap-on Non-renewal Letter by Regional Manager Mike Doweidt]
Copied on the letter was Snap-on Director of asset Control Garry Frost, Regional Asset Manager David Trott, Snap-on Business Manager Gary Gwinn, Director EC Portfolio Jim Meier, Portfolio Manager, Franchise finance Doug Olson, Franchise Legal Administration Rebecca Innes Long, and Supervisor, Franchise Administration Barbara Clark.
King Regian attended the Snap-on 2016 kick-off conference where he was recognized by Thomas Kassouf, President of Snap-on, for achieving #1 Top R/A Collections for the chain with $1,025,784.00 in collected revenue for 2015.
Despite King's numerous awards and having sold a total of more than $13,000,000 for Snap-on over his tenure, Snap-on gave his route to employee Taylor Oden, the comparatively inexperienced step-son of sales manager Warner McBride.
King & Sally Regian have started a campaign to warn Snap-on franchise owners of the danger of growing too lucrative a route with Snap-on, stating:
If Snap-on Incorporated could do this to a top-selling, high profile franchisee like King Regian, think what they could do to you!
Did Snap-on Incorporated Shoot Itself in the Foot… Again?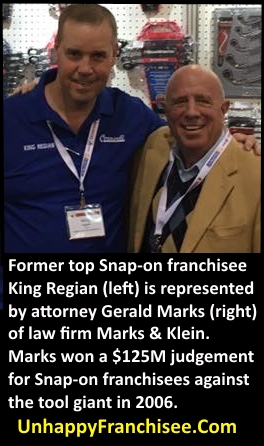 Snap-on Incorporated has a reputation for shooting itself repeatedly in the foot by ignoring franchisee grievances to the point of damaging both its bottom line and reputation.
In 2006, Snap-on lost a class action lawsuit that alleged the tool giant defrauded its franchise dealers and caused them to fail.
The judge ordered Snap-on to pay the franchisees an award of $125 Million.
King & Sally Regian have hired the same attorney and the law firm that won that case, Jerry Marks of the law firm of Marks & Klein, to represent them in their dispute with Snap-on.
Snap-on's actions have also turned Sally Regian into a vocal social media maven dedicated to educating prospective and current franchisees about the kinds of political dirty tricks that could befall other successful franchisees.
And finally, through the apparent mistreatment of King Regian, Snap-on also appears to have transformed a top-producing franchisee into a fierce competitor.
King Regian is now a top Cornwell Tools franchise owner whose loyal customer base is showing their support by buying Cornwell instead of Snap-on.
ALSO READ:
SNAP-ON TOOLS Franchise Complaints
SNAP-ON Franchise Owners Ratcheting Up Protest
SNAP-ON Franchise Parody Site: Crap-on.Com
SNAP-ON TOOLS Why SBA Won't Guarantee Snap-On Franchise Loans
Forbes' Praise of the Snap-On Franchise Draws Fire, Disbelief
SNAP-ON TOOLS Franchise Dealer Warns: Buyer Beware!
ARE YOU FAMILIAR WITH THE SNAP-ON TOOLS FRANCHISE?
DO YOU AGREE THAT SNAP-ON TOOLS TREATED KING REGIAN UNFAIRLY? 
SHARE A COMMENT BELOW.
TAGS: Snap-on, Snap-on franchise, Snap-on franchise opportunity, Snap-on franchise complaints, Snap-on dealer, Snap-on lawsuit, King Regian, Sally Regian, Gerald Marks, Mike Doweidt, Shane Gindrup, Tom Kasbohm, Warner McBride, Jerry Marks, Marks and Klein, tool franchise, franchise lawsuit, franchise complaints, unhappy franchisee