Restorative Justice: A Way Forward for Two Harbors?
One day after being confronted with the open secret that their mayor is alleged to have sexually assaulted young girls when he was a teen, the City Council, city employees, residents, business owners, church leaders and the mayor's employees are silent, their shades drawn.  Not only has Mayor Swanson himself not responded, the Duluth News Tribune and even Resign or Recall committee attempting to unseat the mayor for everything from conflicts of interest to his Twitter feed won't even acknowledge the subject.  Perhaps this lesson by experts in Restorative Justice will show them the way forward.  by Sean Kelly #JusticeForMarksDrive
(UnhappyFranchisee.Com) This is a follow-up post to Mayor Chris Swanson Sexually Assaulted 5-Year Old Children… Or He Didn't
The tiny city of Two Harbors, Minnesota is a city in crisis.
It is also a city in deep denial.
Allegations that the usually upbeat and energetic Mayor Christopher Swanson, now in his second term, committed sexual violence upon girls as young as 5-years old when he was a teen have been publicly viewable on Facebook for at least 6 years.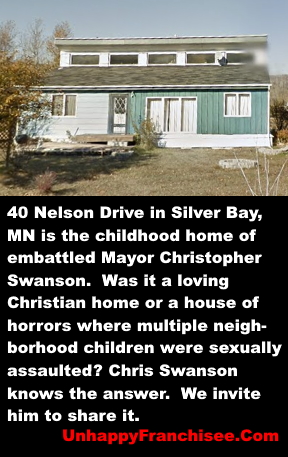 While the details are not confirmed as fact, it is alleged that the 15-year old Swanson was arrested in his then-hometown of nearby Silver Bay for the sexual abuse a 5-year-old victim in his Marks Drive neighborhood, and that he acknowledged his crimes during hearings conducted when he was 16 years old.
In a gesture of compassion for both the victim and Swanson, the parents of the victim allegedly agreed to a lenient sentence that included counseling, probation and a restraining order that he stay away from the victim.  According to Facebook posts from those who claim to have lived in the Marks Drive neighborhood at the time, the Swanson family moved away from the area not long after.  Their house on the corner of Nelson Drive & Marks Drive in Silver Bay, MN still stands empty to this day.
These, of course, remain unproven allegations and hearsay.
However, Mayor Swanson would likely have the power to unseal and share the juvenile court documents, redacted of victim information, if they indeed exist.
If no arrest was made and no hearing took place, one assumes Mayor Swanson could obtain an affidavit from the Silver Bay police department and/or court stating that fact.
Yet despite multiple requests, Mayor Christopher Swanson has refused to publicly admit or deny these accusations.
Swanson is in the unique position to verify or disclaim the validity of these accusations, yet he remains silent.
Sexual Abuse of Children is a Difficult Issue to Address, Especially With Compassion for All.  "Restorative Justice"

Provides a Way Forward.
Now, I admittedly have had a lot of fun with Christopher Swanson's $400M underwater hotel proposal and mentorship by reclusive billionaire Mr. O. (The Wreck of the Hotel Chris Swanson Parody Song & Video, Mix108 Interview with Sean Kelly "Wreck of the Hotel Chris Swanson")
And I have subjected Swanson and his lawyer Brendan "Tupes" Tupa to sharp criticism of their bullying and unfounded (IMHO) lawsuit against journalist John Ramos and the Duluth Monitor. (PureDriven Owner Two Harbors Mayor Chris Swanson Sues to Silence Citizen Journalist)
I'm not ready to concede either of those worthwhile endeavors.
However, the story of Two Harbors and Mayor Chris Swanson has taken a dark and significant turn onto Marks Drive thanks to the courageous ninja sisterhood identified by the hashtag #JusticeForMarksDrive.
#JusticeForMarksDrive women who posted these allegations in support of all victim/survivors did so for reasons of justice and healing, not anger, revenge or retribution.
They understood, as I do, that even perpetrators of crime have their reasons and perhaps their own stories of abuse.
They believe, as I do, that Chris Swanson has the right – and responsibility – to tell his story, to address whatever harm he may have caused, and, if warranted, to apologize and ask forgiveness from those he hurt.
That, in a nutshell, is the basis of the proven concept called Restorative Justice.  I am no expert in this area, so I invite Chris Swanson, Two Harbors City Council members, Two Harbors residents, employees, business owners and voters to listen to these excellent presentations as a start to a path forward.
There are restorative justice organizations and resources throughout the country, including the Duluth-based the Center for Restorative Justice & Peacemaking at the University of Minnesota-Duluth.  Founding Director Mark Umbreit is featured in the 2nd video below.

_________________

Introduction to Restorative Justice by Mark Umbreit from Restorative Justice Center on Vimeo.
________________
More on Chris Swanson & Two Harbors:
NEW!  The Wreck of the Hotel Chris Swanson (Parody Song & Video)
PureDriven Owner Two Harbors Mayor Chris Swanson Sues to Silence Citizen Journalist
PureDriven Struggles (Poorly) to Build Trust Despite Owner's Controversies
PUREDRIVEN Claims Mayor Swanson No Longer CEO, No Longer Involved
SLAPP-HAPPY Does Droel Law in Minneapolis Have Ethical Standards? Does It Enforce Them?
Attorney Brendan Tupa No Longer With Droel Law
WHAT DO YOU THINK?  SHARE COMMENTS BELOW OR EMAIL THE AUTHOR at  UnhappyFranchisee [at] Gmail [Dot] Com
All readers are invited to provide comments, corrections, clarifications and/or rebuttals.  Companies or individuals discussed herein are invited to provide their points-of-view either in the comments below or by emailing ADMIN at UnhappyFranchisee[at]Gmail.com.
If you wish your emailed comment to stay off the record or your name kept anonymous, please state that and your privacy will be protected.
These are my personal opinions.  Do your own research – Make up your own mind – I could be wrong.
PLEASE share the link to this post with interested parties via social media or other means.   Thanks, Sean Kelly
TAGS:  Restorative Justice, Center for Restorative Justice & Peacemaking, Christopher Swanson, Chris Swanson, Mayor Chris Swanson, Two Harbors MN, Sexual Assault, Two Harbors Mayor, Two Harbors City Council, #JusticeforMarksDrive, PureDriven, PureDriven Marketing, Castle Danger Brewing, Garage Starts, Lou's Fish House, Duluth News Tribune, Jimmy Lovrien, Jason Sunday, Joel Schultz