Attorney Brendan Tupa No Longer With Droel Law
The Minnesota litigation attorney who is suing a journalist & the entire city of Two Harbors on behalf of visionary Mayor and underwater hotelier Christopher Swanson is no longer with the Droel law firm.  by Sean Kelly [Scroll to the bottom for a special message from Saul Goodman]
(Unhappyfranchisee.Com)  Brendan Tupa, the attorney representing embattled Mayor Chris Swanson in his bullying defamation lawsuit against blogger John Ramos and Duluth Monitor, is no longer with Droel PLLC.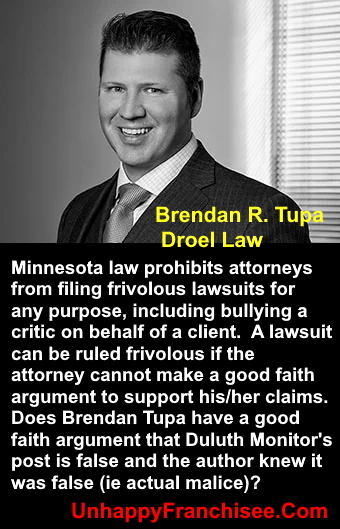 Tupa's profile page has been deleted from the Droel law firm website.
Tupa also filed a lawsuit on behalf of three Swanson supporters (one named and two anonymous) against the city of Two Harbors, its City Council members and the organizers of the Resign or Recall petition to oust the controversial mayor.
According to his LinkedIn profile, Brendan Tupa joined Minneapolis-based Droel in March, 2021.
He was a principal and chaired the firm's litigation group.
Prior to joining Droel, Tupa was Minor Injury Trial Attorney at the Law Offices of John C. Syverson. for 7 years.  He is Executive Board Member of the Minnesota Defense Lawyers Association (MDLA), "an association dedicated to serving the needs of lawyers engaging primarily in the defense and trial of civil disputes."
Droel Asked About Ethics of Brendan Tupa's Lawsuits
On Thursday, May 26, 2022 Unhappy Franchisee publisher Sean Kelly had sent an email to Droel principals and attorneys questioning the legality and ethics of Chris Swanson's lawsuit against journalist John Ramos.  The Two Harbors city council and defendant Ramos were also copied on the email and the content was posted here:
SLAPP-HAPPY Does Droel Law in Minneapolis Have Ethical Standards? Does It Enforce Them?
On Monday, May 30th (Memorial Day)
Brendan Tupa is no longer with the firm Tim L. Droel, Esq.  Attorney at Law sent a short email stating:
Brendan Tupa is no longer with the firm.
How Tupa's Departure Will Affect Pending Litigation is Unclear
The reason for Tupa's departure from Droel PLLC is not clear, nor is the implications for the Two Harbors lawsuits.
It's not clear whether Swanson's litigation will be taken over by another Droel associate, whether Tupa will continue to represent Swanson independently or with another firm, or if they will be dropped altogether.
We look forward to hearing from the Duluth Monitor and the Two Harbors defendants to learn how Tupa's departure will affect his misguided lawsuits filed on Swanson's behalf.
More on Chris Swanson:
NEW!  The Wreck of the Hotel Chris Swanson (Parody Song & Video)
PureDriven Owner Two Harbors Mayor Chris Swanson Sues to Silence Citizen Journalist
PureDriven Struggles (Poorly) to Build Trust Despite Owner's Controversies
PUREDRIVEN Claims Mayor Swanson No Longer CEO, No Longer Involved
WHAT DO YOU THINK?  SHARE COMMENTS BELOW OR EMAIL THE AUTHOR at  UnhappyFranchisee [at] Gmail [Dot] Com
All readers are invited to provide comments, corrections, clarifications and/or rebuttals.  Companies or individuals discussed herein are invited to provide their points-of-view either in the comments below or by emailing ADMIN at UnhappyFranchisee[at]Gmail.com.
If you wish your emailed comment to stay off the record or your name kept anonymous, please state that and your privacy will be protected.
PLEASE share the link to this post with interested parties via social media or other means.
TAGS:  PureDriven, PureDriven Digital Marketing, Christopher Swanson, Chris Swanson, Mayor Chris Swanson, Two Harbors MN, Brendan Tupa, Brendan L. Tupa, Droel Law, SLAPP, Frivolous Lawsuits, Liars & Bullies series, Sean Kelly