DELI DELICIOUS Franchise Graveyard
Not long ago, Fresno-based Deli Delicious sandwich chain boasted that it had "more than 100 stores open or in development." Today the Deli Delicious store count has dropped to the low 40s… with no announcements of any in development. The once-promising sandwich chain is now embroiled in half a dozen lawsuits including one that alleges false advertising and deceptive trade practices.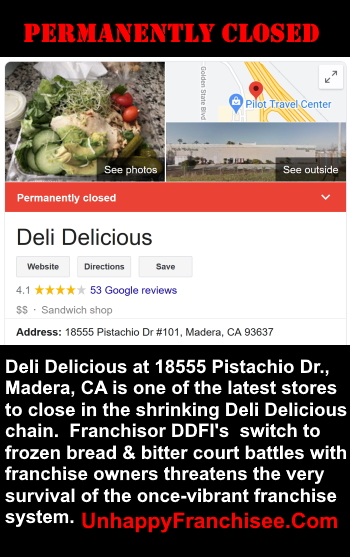 (UnhappyFranchisee.Com) A growing number of franchisees of the once-promising chain are closing their doors for good; many others are desperate to sell their stores and exit the chain.
Several have recently dropped their sales prices by tens of thousands of dollars but still can't find a buyer.
Several franchise owners have reportedly handed their keys over to the franchisor, Deli Delicious Franchising Inc. (DDFI), and walked away from their investments with little to nothing.
The Bakersfield franchisee recently shuttered all three of his Deli Delicious locations, having reportedly lost upwards of $2M. The Stockton and Madera Deli Delicious also closed.
With franchisor Deli Delicious Franchising Inc. seemingly more interested in suing rather than supporting its franchisees, the Deli Delicious Franchise Graveyard is likely to keep growing.
Also Read: Customer Sues Deli Delicious Sandwich Chain for False Advertising
The BREAD That Froze Deli Delicious' Growth.
Deli Delicious Franchise Graveyard
In nearly every case, the locations of failed Deli Delicious franchises are now being operated as independent restaurants such as The Pickled Deli, The Roundhouse Deli, The Angry Chicken or independent ethnic food restaurants like Sushi Omakase, Tacos Ameca, Taqueria Santa Cruz or Pho Wagyu. So much for franchise ownership being the safer route than owning an independent restaurant…
(Why might independents have an advantage over Deli Delicious? See below.)

Store Photo
Store Information
Franchise Owners
Bakersfield (Store #23) 9801 Hageman Road #200 Bakersfield, CA. 93312 (661) 829-2559 CLOSED Fall, 2020 https://www.yelp.com/biz/deli-delicious-bakersfield (Last Review 8/20/20)
Navdip Badhesha "Nav" & Tarnvir Dhaliwal "Lali"

Reopened with different owner (?)

CA Bakersfield (Store #54) 9000 Ming Ave, #O5, Bakersfield, CA, 93311 (661) 858-0335 CLOSED November, 2020 https://www.yelp.com/biz/deli-delicious-bakersfield-2 Last review: 10/29/20
(Franchise owners Navdip Badhesha "Nav" & Tarnvir Dhaliwal "Lali")
CA Bakersfield (Store #55) 515 Panama Lane, Bakersfield, CA 93307(661) 491-3134 CLOSED November, 2020 https://www.yelp.com/biz/deli-delicious-bakersfield-5 Last review: 10/21/20
(Franchise owners Navdip Badhesha "Nav" & Tarnvir Dhaliwal "Lali")
Chowchilla (Store #56) 1435 E Robertson Blvd, Chowchilla, CA 93610 CLOSED Last Yelp Review 10/9/2019 https://www.yelp.com/biz/deli-delicious-chowchilla
Phil Cheatham & Elizabeth Cheatham The independent "Orchard Bar & Grill" is operating in this space.
Citrus Heights (Store #20) 5550 Sunrise Blvd, Ste 200, Citrus Heights, CA 95610 CLOSED Last Yelp Review 4/7/2018 https://www.yelp.com/biz/deli-delicious-citrus-heights-2
MULTIPLE OWNERS/RESALES

Arvm Panu & Jasdeep Randhawa (2015 FDD) Hesam Hobab 2017, 2018 FDD

Sandhu & Kara Inc.? Ivan Ruela?

Info needed Independent "The Angry Bird" now operating in this space

Elk Grove (Store #70) 8450 Elk Grove Blvd, Elk Grove, CA (916) 684-2167 CLOSED https://www.yelp.com/biz/deli-delicious-elk-grove?sort_by=date_desc https://www.coldwellbankerhomes.com/ca/elk-grove/8450-elk-grove-blvd/pid_33207310/ Sold for $84,000
Arvm Panu & Amarpreet Singh ("Amar") (2016 FDD) Harpinder Singh Khara ("Harry") (2018 FDD) Independent "Roundhouse Deli" operating successfully in this space
CA Madera, CA (Store #32) 18555 Pistachio Drive #101, Madera, CA 93637 (559) 674-4704 CLOSED
(Owners Daljit Singh Rakkar & Hardeep Badyal) Latest review 9/12/20
Manteca, CA (Store #82 ) 127 Spreckels Ave, Manteca, CA 95336 (209) 328-1312 CLOSED
CLOSED & Resold,

reopened

by new owners Ricky and Kamal Sandhu (Churned?) Manteca Bulletin Dec 11, 2020: "Deli Delicious is staging a grand opening Saturday… Ricky and Kamal Sandhu are the new franchise owners for the deli location… The new owners reopened the deli that had been shuttered."
Morgan Hill (Store #52 ) 15700 Monterey Rd, Ste 160, Morgan Hill, CA 95037 CLOSED https://www.yelp.com/biz/deli-delicious-morgan-hill
(Narinder Thakur Singh _) (resold – owner?- then closed) BANKRUPTCY, SBA LOAN DEFAULT

Independent "Tacos Ameca #3" now operating in this spot

Roseville (Store #21) 9213 Sierra College Blvd Ste 160, Roseville, CA 95661 CLOSED Last Yelp Review 2/8/17 Note: Co-Brand with Colorado Grill https://www.yelp.com/biz/deli-delicious-roseville
Hamid Karimi (Relative of Ali Nekumanesh) This store was a co-branded location with Ali Nekumanesh's Colorado Grill concept. Both failed. Independent "Sushi Omakase" now operating in this location
San Jose (Store #46) 2762 Aborn Rd, San Jose, CA 95121 Evergreen CLOSED Last Yelp Review 9/7/17 https://www.yelp.com/biz/deli-delicious-san-jose
Sharayh Bhullar "Jimmy" & Amarjit Gill & Ravandeep Jhutty "Rammy" SBA LOAN DEFAULT Independent "Pho Wagyu" now operating in this spot
San Luis Obispo (Store #78) 862 E Foothill Blvd San Luis Obispo, CA 93405 CLOSED Last Yelp Review 3/10/2018 https://www.yelp.com/biz/deli-delicious-san-luis-obispo Nate G. of Deli Delicious: "Yes, regretfully, the Franchisee of the Deli Delicious restaurant, in San Luis Obispo, decided to close down his business."
Hadi Hobab (2019 FDD) Independent "Taqueria Santa Cruz Express" now operating in this location
Stockton (Store #51) 4426 E. Waterloo Rd. #C Stockton, CA 95215 https://www.yelp.com/biz/deli-delicious-stockton
Franchisees: Greg DeGrandis & Ali Iqbal & Victor Gutierrez (2019 FDD) CORP. DISSOLVED 1/20 DELI DELICIOUS Stockton CA Franchise Closes
Why Are Deli Delicious Franchisees Failing Where Independents Might Succeed?
The unsubstantiated "common wisdom" that franchises succeed at higher rates of independents is based on the fact that the best franchise systems, like McDonalds or Chic-Fil-A, provide powerful operational, buying, marketing advantages and name recognition that more than offsets the fees franchisee's must pay.
However, small chains run by inexperienced and/or ill-intentioned management often charge the same onerous fees without any offsetting advantages.
While every other sandwich chain in America equips its franchisees to either bake fresh bread or receive it delivered, Deli Delicious Franchising Inc. executives Mohammad Hobab and Ali Nekumanesh made the fateful decision to pour their energy and resources into developing a commercial bakery that would require Deli Delicious franchisees to purchase and serve its frozen bread – whether they liked it or not.
(Read The BREAD That Froze Deli Delicious' Growth.)
Franchisees argue that the switch to the arguably inferior bread increases their labor costs, creates operational and storage problems, and puts the chain at a competitive disadvantage.
For instance, the chain can no longer advertise that its sandwiches are made with only fresh ingredients.
DDFI responded to its franchisees' discontent with bullying and lawsuits that are further draining company resources and prompting franchisees to leave the chain.
Why is DDFI forcing franchisees to purchase frozen bread they hate? Because the affiliate frozen bread factory is owned by Hobab and Nekumanesh.
The sad moral to this story seems to be: Not all franchises are created equal, because not all franchisors have the experience and/or good intentions one assumes they would have.
The Deli Delicious Franchise Graveyard will likely keep expanding even as the Deli Delicious franchise chain doesn't.
ALSO READ:
FRANCHISE DISCUSSIONS by Company
All Deli Delicious Posts on UnhappyFranchisee.Com
DELI DECEPTIVE: What Deli Delicious Won't Tell Its Customers
Which Sandwich Chains Serve Fresh Baked Bread? Which Serve Bread That's Frozen & Thawed?
DELI DELICIOUS Sues Franchisee For Serving Fresh Bread
DELI DELICIOUS Franchise Assessment and Discussion Part 1
DELI DELICIOUS, Ali Nekumanesh Defamation Lawsuits
Deli Delicious Franchise Assessment GoFundMe Campaign
WHAT DO YOU THINK? SHARE A COMMENT BELOW.
TAGS: Deli Delicious Franchise Graveyard, Mohammed Hobab, Ali Nekumanesh, Deli Deliciousclosed stores, Deli Delicious closing, Deli Delicious Franchise Inc., deli delicious lawsuit, deli delicious franchise, deli delicious bread, BB's Bakery, DDFI, Deli Delicious Franchising inc., fresh bread lawsuit, frozen bread lawsuit, Unhappy Franchisee