Which Sandwich Chains Serve Fresh Baked Bread? Which Serve Bread That's Frozen & Thawed?
How well do you know your sandwich chains?  Do you know which bake bread fresh, on-site?  Do you know which sub and sandwich franchises have fresh bread baked elsewhere and delivered to their stores?  Can you name the one sub and sandwich chain that claims its "Always Fresh" but has a freezer full of baked bread that it secretly thaws before serving?  We do.  And we share it in the video below.

(UnhappyFranchisee.com)  The sub and sandwich segment of the restaurant industry is among the most competitive of any business in the U.S.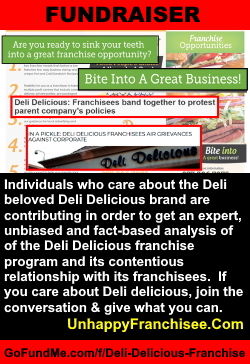 A key differentiator between sandwich competitors is the freshness of their ingredients.
And arguably the most significant ingredient of any sandwich is the bread.
Sub and sandwich concepts – and the franchisees who operate them – go to tremendous lengths to claim that their bread is the freshest.  Healthiest.  And delicious.
So UnhappyFranchisee tore into this hot and toasty topic and found some surprising results.
NOTE:  This post and videos were made possible in part by anonymous donations.  Please consider making a general donation or one supporting our ongoing franchise reporting and franchisee advocacy.
Which Sandwich Chains Serve Fresh Baked Bread? Which One Serves Bread That's Frozen & Thawed?
Fresh Bread Baked On-site vs. Fresh Baked and Delivered vs. Frozen & Thawed
Bread freshness is so important that we discovered that the majority of sandwich franchise chains proof and bake fresh bread daily right in their shops.
While most receive frozen dough that they proof and bake, a couple still mix fresh dough from scratch (can you guess who?)
A good number of other chains prefer to let commercial bakeries bake for them and deliver fresh bread (often daily or almost daily) to their shops.
Only one franchised sandwich chain that we found does the unthinkable:  buys and stores fully baked and frozen loaves, which they thaw out (hopefully) before freezing.
Despite converting to frozen bread at most locations in 2018 (perhaps inspired by the popularity of the Disney musical, Frozen), the chain has continued to use the claim "Always Fresh" and displays photographs of fresh bread in its wall posters, menus, ads and website.
Up until now, I guess no one noticed.  Oops!  Sorry guys!
Here are the Franchise Sandwich Chains We Reviewed.  Whose Bread Do You Prefer?
Subway
Panera Bread  
Arby's
Jimmy John's
Jersey Mike's 

Firehouse Subs

Togo's Sandwiches

Jason's Deli
Schlotzsky's
Blimpie

Cousin's Subs


Planet Sub
Capriotti's
Primohoagies

Port of Subs
Goodcents Subs

Potbelly Sandwich Works

Which Wich?

Deli Delicious

Milio's (formerly Big Mike's)
Penn Station East Coast Subs

Erbert & Gerbert's
Lenny's Sub Shop
Mr. Sub
Mr. Pickles


 Deli Deception:  CA Chain Advertises "Fresh" But Serves Frozen Bread
Fresno-based Deli Delicious boasts about its fresh sandwiches and fresh ingedients, but started forcing its franchisees to buy frozen loaves from its new affiliate DD's Bakery.  Deli Delicious Franchising Inc. (DDFI) is even suing franchisees for refusing to stop serving fresh bread.  DDFI is also suing two former employees (including the CEO's son) for speaking out against their management decisions.
See the crazy story of Deli Delicious here:
Which Sandwich Chains Do You Think Has The Best Bread?
Please share your thoughts in the comments below:
Which franchise sandwich chain do you think has the best and freshest food?
Is on-site baking always better than getting fresh bread delivered?
Why does only one chain use frozen bread?
Have we got any of this information wrong?
Are there any worthy sandwich, sub or grinder concepts we should add?
Sandwich Chain Bread SPOILER ALERT: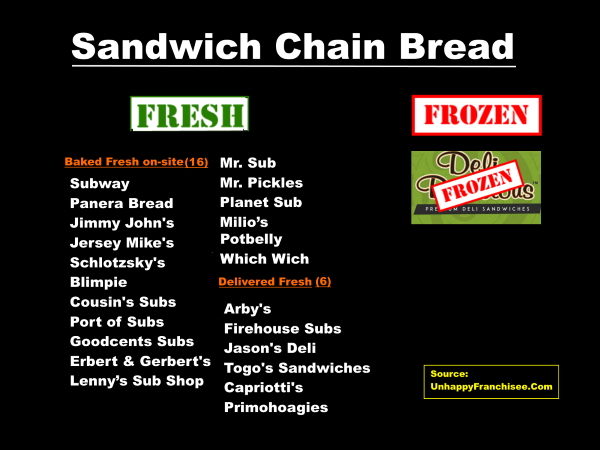 Thanks to the sandwich chains that responded so quickly to our inquiries.
ALSO READ:
FRANCHISE DISCUSSIONS by Company
The BREAD That Froze Deli Delicious' Growth.
DELI DELICIOUS Sues Franchisee For Serving Fresh Bread
Deli Delicious Franchise Assessment GoFundMe Campaign
WHICH CHAIN HAS THE FRESHEST BREAD?  THE BEST BREAD?  WHAT ARE THE PROS & CONS OF BAKING ON-SITE VS. USING A COMMERCIAL BAKERY?
WHY DOES NO ONE (EXCEPT ONE) USE FROZEN BREAD?  SHARE A COMMENT BELOW.
TAGS:  Restaurant bread, sub shop bread, best sandwich bread, best sub franchise, best sandwich franchise, food franchise, deli delicious franchise, deli delicious bread, BB's Bakery, Mohammed Hobab, DDFI, Deli Delicious franchising inc.,  Ali Nekumanesh, fresh bread lawsuit,