Deli Delicious Spokesperson & Marketing Director Nate Gilbert Jumps Ship Amidst Lawsuits, Controversy
As lawsuits grow, tempers flair, locations close and a consumer lawsuit accuses Deli Delicious of bullying franchisees & deceiving their customers, we've learned that long-time spokesperson and public relations contact Nate Gilbert left the company two months ago.  What else is Mohammad Hobab and Ali Nekumanesh not disclosing?  Sean Kelly
(UnhappyFranchisee.com)  Amidst a growing number of lawsuits and a diminishing number of locations, long-time Deli Delicious spokesperson & marketing person Nate Gilbert seems to have departed the company in December, 2020.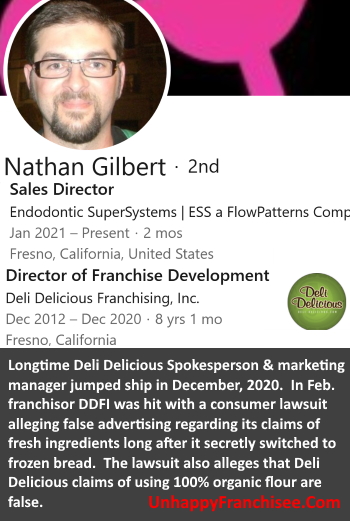 Gilbert's apparent departure was gleaned from his LinkedIn profile, which lists him as Director of Franchise Development from December, 2012 to December, 2020 (8 years, 1 month).
The news comes as a surprise to many Deli Delicious franchise owners.  Gilbert was their main, if not only, marketing contact.
Prior to joining Deli Delicious, Nate Gilbert ran his own painting business and was an amateur DJ.
DDFI is Silent on Their Spokesperson's Departure
Deli Delicious franchise owners report that franchisor DDFI made no announcement and has not informed them of Nate Gilbert's departure.
A press release distributed dated December 11, 2010 listed a Denise Marmolejo as Deli Delicious' press contact.
It lists Denise Marmolejo's contact information as the general office number (559) 435-5305 and Denise@Deli-D.com.
LinkedIn lists a marketing consultant based in Madera, CA named Stacy Marmolejo but lists no employment with Deli Delicious.
Franchise owners we've spoken to are not familiar with Ms. Marmolejo nor of the current marketing staff of DDFI.
Nate Gilbert was a Chief Spokesperson – and Apologist – for Deli Delicious Franchising Inc. (DDFI)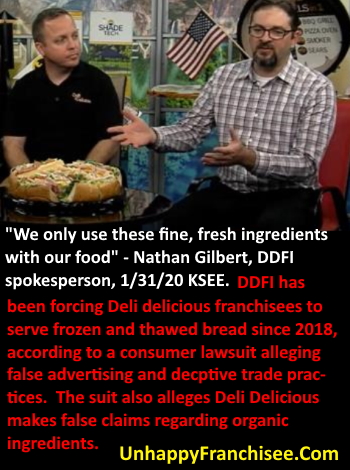 Nate Gilbert, along with Ali Nekumanesh, was the main spokesperson for Deli Delicious Franchising, Inc. (DDFI) and frequently appeared in press interviews and infomercial-type features on local news.
DDFI President & CEO Mohammad Hobab speaks limited English, so interview duties fell to Gilbert & EVP Ali Nekumanesh.
Nate Gilbert and Deli Delicious marketing came under fire as allegations arose that Deli Delicious continued to market its sandwiches as "Fresh" even after secretly switching to frozen bread.
A consumer lawsuit alleging false advertising and unfair trade practices was filed after Nate Gilbert left the company.  [   ]
According to his LinkedIn profile, Nate Gilbert is currently employed as Sales Director at Endodontic SuperSystems, ESS a FlowPatterns Company
Endodontic SuperSystems was founded by Dr. Christopher Sabourin and provides practice management solutions for independent endodontists.
Representatives of Deli Delicious Franchising Inc. have not yet responded to requests for comment.
ALSO READ:
FRANCHISE DISCUSSIONS by Company
All Deli Delicious Posts on UnhappyFranchisee.Com
DELI DECEPTIVE: What Deli Delicious Won't Tell Its Customers
Which Sandwich Chains Serve Fresh Baked Bread? Which Serve Bread That's Frozen & Thawed?
DELI DELICIOUS Sues Franchisee For Serving Fresh Bread
DELI DELICIOUS Franchise Assessment and Discussion Part 1
DELI DELICIOUS, Ali Nekumanesh Defamation Lawsuits
Deli Delicious Franchise Assessment GoFundMe Campaign
WHAT DO YOU THINK? SHARE A COMMENT BELOW.
TAGS: Nate Gilbert, Nathan Gilbert, Endodontic SuperSystems, Dr. Christopher Sabourin, ESS a Flowpatterns Company, Mohammed Hobab, Ali Nekumanesh, Denise Marmolejo, Deli Delicious, closed stores, Deli Delicious closing, Deli Delicious Franchise Inc., deli delicious lawsuit, deli delicious false advertising, deli delicious bread, BB's Bakery, DDFI, Deli Delicious Franchising inc.,  fresh bread lawsuit, frozen bread lawsuit,  Unhappy Franchisee