MAACO Franchise Complaints
MAACO Franchise Complaints at UnhappyFranchisee.com was originally published in July, 2012, and been updated and added to. The Maaco franchise has generated a number of complaints since this page was first posted… post your own Maaco franchise complaints or praise below… and read what others have to say about the MAACO franchise opportunity.

Are you familiar with the Maaco franchise opportunity? Please share a comment below.
Note: the opinions expressed are that of their respective commenters and not necessarily shared nor verified by Unhappy Franchisee.
MAACO Franchise Complaints
Bill B. wrote:
The concept is dated and the franchisor Driven Brands / Maaco / Meineke has lost site of what the franchisors part of the deal is. Everyone I went to training with was out of business by the third year. Maaco is constantly turning over franchisees. The new start-ups fail the quickest. If you walk away the equipment is usually bought at pennies on the dollar by other Maaco franchisees. By the time you figure out how bad a deal you've gotten yourself into with Maaco you have generally lost everything.
Harold M. wrote:
Maaco buries its failure stats by not counting failed re-sales as failures. Also they reuse center numbers so you can not see how many folks they have actually churned through. Further on any given week only about 300 of its franchisees report earnings so approximately 150 franchisees do not report earnings for some it is just a missed week. For most it means they do not have enough to pay royalty fees. The way disclosure is setup for Maaco's offering circular they are then able to exclude the bottom 100 or so franchisees. You do your due-diligence only to find after the fact that the information is skewed to the top 75% of Maaco's franchises.
Burned franchisee wrote:
Maaco is a total investment disaster. Do not consider investing in a new Maaco franchise unless you own the building free and clear. As mentioned above you will contibute up to 20% of your gross to fees and totally inept in house advertising group. No one in the advertsing group has a clue as to what will generate foot traffic other than offering your services at a 30% reduction in price over bonified body shops.

The Maaco business model is based on a churn and burn philosophy….resell failing shops or suckering in new "investors". Trust me when I say this, you will regret investing in this franchise for the rest of your life, if you chose to do so. In the training class I was in, 6 out of 7 new franchisees went out of business within 9 months to 3 years. the last is holding on only because they are cooking the books as far as reporting to Corporate. Maaco will sue you for not completing the 15 year commitment, so if you can last that long have at it.
 More MAACO Franchise Complaints
Got Out 2 wrote:
20 years ago… I did desire to own a business and choose MAACO believing it was the best.

…Within 3 years, all of my classmates (11 of them) were out of business, some bankrupt, some broke, one did not even open and some just too beat up. None of them were out because they made it rich. Over the years the number of MAACO centers has declined, I made it through 18 years and the day I was free of them is when gained control of my life again…

I strongly recommend you do your due diligence before you make the leap into this franchise. All of the comments in this forum are very accurate. I would not take one of these if they gave it to me.
Share Your MAACO Franchise Complaints or Praise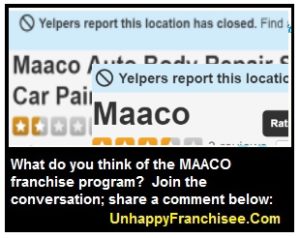 Are you familiar with the Maaco franchise opportunity?
Would you recommend the MAACO franchise opportunity to family or friends?
What is MAACO doing right?  Are things improving?
What do you think needs to improve  in the Maaco franchise system?
What steps should Maaco be taking to stop further franchise failures?
Please share a comment, opinion or insight below.
ARE YOU A MAACO FRANCHISE OWNER OR FORMER FRANCHISEE?  ARE YOU FAMILIAR WITH THE MAACO FRANCHISE OPPORTUNITY?  PLEASE SHARE A COMMENT BELOW.
Tags:  MAACO Franchise Complaints, Maaco, Maaco franchise, Maaco complaints, automotive franchise,  franchise, franchise failure rate, auto franchise, worst franchise, franchise information, unhappy franchisee