DELI DELICIOUS The Final Days: A Hitler Rant Parody
"Deli Delicious: The Final Days" is a parody video in the online genre known a "Hitler Rants."  It is based on real accounts from numerous witnesses and confirmed by court documents that describe Deli Delicious CEO Mohammad Hobab's angry tirade in which he threatened to castrate one of his best franchisees and have his family deported.  It depicts his second-in-command Ali Nekumanesh and attorney David Schneider based on the same leaked documents.  A private screening of franchisees and Deli Delicious insiders prompted rave reviews for accuracy.
(UnhappyFranchisee.Com) Not long ago, Deli Delicious claimed to have more than 100 locations.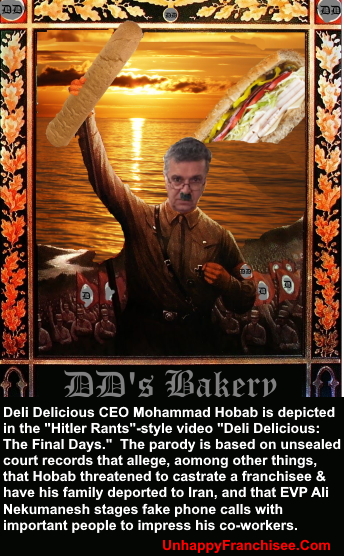 They are now down to 45 and declining (DELI DELICIOUS Bakersfield Locations Closed as Franchise Chain Declines,  DELI DELICIOUS Stockton CA Franchise Closes; Franchisor Takes Over Two More, DELI DELICIOUS Franchise Graveyard)
Deli Delicious:  The Final Days is a parody video that ends with a serious message for Mohammad Hobab, Ali Nekumanesh & the Deli Delicious Franchising Inc. (DDFI) staff:
The world (well, Fresno) is watching.

It's not too late to save the Deli Delicious brand, but it will be soon.

If you don't like being the butt of jokes, stop bullying franchisees, drop the lawsuits and restore focus on supporting your restaurants and serving the best, fresh sandwiches possible
Deli Delicious:  The Final Days Parody Video
.

.
What Do You Think?  Add Your Review Below.  (Anonymous Reviewing Encouraged)
Please share your thoughts on this film or on the dark situation Deli Delicious Franchising Inc. (DDFI) has created.
Do you think public scrutiny and discussion will prompt Mohammad Hobab and Ali Nekumanesh to alter their self-destructive course?
Can the Deli Delicious chain and brand reputation be saved?
Share a comment online or email ADMIN in confidence at:  UnhappyFranchisee[at]Gmail.com.
DELI DELICIOUS The Final Days Parody Video is Getting Rave Reviews
Deli Delicious franchisees, insiders and formers franchisees and insiders gave Deli Delicious: The Final Days two thumbs (or fingers) up.
Wow!  So hilarious lolololol. 

It's funny because it resembles them and the situations so much.

Really nice work!
Lol!
Lol!  Nicely Done!  Many plot twists!
Haha!
BRAVO!  I think it is a piece of art!
On YouTube, J.S. Grey wrote:
#DeliDelicious would be lucky to sell anymore #franchiseopportunities if people found out the truth.
Deli Delicious Parody:  Background Guide to Insider References
Here's a quick guide to some of the more insider references in Deli Delicious:  The Final Days.
These are our (informed) opinions and interpretations and intended as parody/satire:
Deli Delicious was a successful, growing 50+ franchise chain based in Fresno
It was founded by a young quality-driven food-guy Hadi Hobab, but taken over by his money-driven business-guy father Mohammad
Despite living in the U.S. for decades, Iranian-born Mohammad Hobab never bothered to learn English
Ali Nekumanesh is Mohammad's interpreter, kiss-up and business-award wrangler
Mohammad & Ali secretly started a commercial bakery against the DDFI Board's wishes, and fired their fresh-bread supplier of more than 20 years
DDFI forces franchisees to buy their Hobab-owned affiliate's bread, which is delivered fully baked and frozen and requires significant freezer space some stores don't have.
Deli Delicious is the only sandwich chain we can find primarily using thaw-and-serve bread
DDFI fired Hadi Hobab and sued him for (allegedly) criticizing their plan
DDFI is suing a former executive for allegedly criticizing their bread scheme, marketing, lack of experience and Ali Nekumanesh
DDFI is suing their 2017 multi-unit franchisee of the years for refusing to switch to thaw-and-serve bread
The ill-conceived bakery scheme & bullying caused franchisees to organize & publicly share their grievances
Since launching their DD's bakery, numerous locations have closed and franchise sales have ceased
Since launching their bakery, business awards have ceased and negative press has increased
A court deposition alleges that co-workers suspect that Ali Nekumanesh often fakes phone calls with important people to impress those around him.
Deli Delicious Franchising Inc. (DDFI), Mohammad Hobab, Ali Nekumanesh, Hesam Hobab, Nate Gilbert, David Schneider, Dowling Aaron and all others discussed here have an open invitation to provide corrections, clarifications and/or rebuttals of these and other opinions put forth here.
So far, none have been willing to address the many allegations.
ALSO READ:
FRANCHISE DISCUSSIONS by Company
All Deli Delicious Posts on UnhappyFranchisee.Com
DELI DECEPTIVE: What Deli Delicious Won't Tell Its Customers
The BREAD That Froze Deli Delicious' Growth.
Which Sandwich Chains Serve Fresh Baked Bread? Which Serve Bread That's Frozen & Thawed?
DELI DELICIOUS Sues Franchisee For Serving Fresh Bread
DELI DELICIOUS Franchise Assessment and Discussion Part 1
DELI DELICIOUS, Ali Nekumanesh Defamation Lawsuits
Deli Delicious Franchise Assessment GoFundMe Campaign
WHAT DO YOU THINK?  SHARE A COMMENT BELOW.
TAGS: Deli Delicious, Deli Delicious Franchise Inc., Deli Delicious parody, Deli Delicious closed, Mohammed Hobab, hitler rants video, Ali Nekumanesh, Nate Gilbert,  dowling aaron, david schneider, deli delicious lawsuit, deli delicious franchise, deli delicious bread, BB's Bakery, DDFI, Deli Delicious Franchising Inc.,  fresh bread lawsuit, sandwich chains compared, sandwich franchises, sub franchises,  Unhappy Franchisee