DELI DELICIOUS Stockton CA Franchise Closes; Franchisor Takes Over Two More
A week after all three Bakersfield Deli Delicious franchises closed, the owner of the Stockton, CA location announced that yesterday, November 15, 2020, would be its last day in business.  Two other franchisees have reportedly turned their stores over to the franchisor and exited the system.  Franchisor DDFI's bullying and lawsuits against franchisees in the midst of the pandemic has prompted a biting new parody video called "Deli Delicious: The Final Days."
(UnhappyFranchisee.Com)  Last week we published a post (DELI DELICIOUS Bakersfield Locations Closed as Franchise Chain Declines) reporting that all three Bakersfield Deli Delicious franchise locations have closed.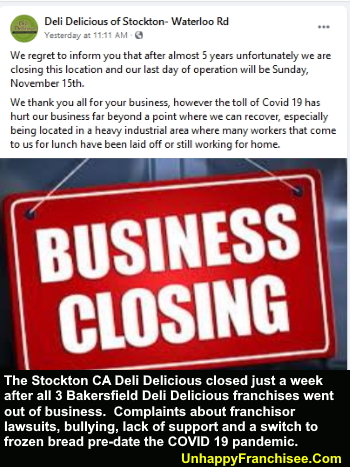 This past weekend, the franchisee of the Waterloo Rd. Stockton, CA Deli Delicious announced that Sunday, November 15 would be its last day in business.
The FDD lists the owners of the newly closed Waterloo Rd., Stockton, CA franchise as Greg DeGrandis & Ali Iqbal & Victor Gutierrez.
This latest closure adds to the growing DELI DELICIOUS Franchise Graveyard.
In addition to outright closures, we've been told that the Deli Delicious franchise locations in Atwater, CA and Lodi, CA are being turned over to franchisor DDFI (Deli Delicious Franchising, Inc.).
The 2019 Deli Delicious Franchise Disclosure Document (FDD) lists the owners of the Atwater location (Store #37) as Jugbir Aulakh ("Jack") & Harvinder Singh ("Harry").
The owner of the Lodi franchise is listed as Hari Randhawa.
Best wishes to these former Deli Delicious franchisees who have lost hundreds of thousands of dollars, and deserved better support and treatment by DDFI.
Stockton, CA Deli Delicious Now Closed
On Saturday, November 14, 2020 an announcement was posted on the Deli Delicious Stockton – Waterloo Rd. Facebook page:

We regret to inform you that after almost 5 years unfortunately we are closing this location and our last day of operation will be Sunday, November 15th.
We thank you all for your business, however the toll of Covid 19 has hurt our business far beyond a point where we can recover, especially being located in a heavy industrial area where many workers that come to us for lunch have been laid off or still working for home.

Deli Delicious of Stockton- Waterloo Rd
Deli Delicious Franchise Woes Pre-Date Covid.  See Parody "Deli Delicious: The Final Days."
The once promising Deli Delicious franchise chain began to decline in 2018 due (in our opinion) to misguided and greed-driven management decisions by CEO Mohammad Hobab and EVP Ali Nekumanesh.
The result of these management decisions – and Hobab's unwillingness to change course – is spoofed in the parody video "Deli Delicious: The Final Days."
.
.WHAT DO YOU THINK?  SHARE A COMMENT BELOW.
ALSO READ:
FRANCHISE DISCUSSIONS by Company
All Deli Delicious Posts on UnhappyFranchisee.Com
DELI DECEPTIVE: What Deli Delicious Won't Tell Its Customers
The BREAD That Froze Deli Delicious' Growth.
Which Sandwich Chains Serve Fresh Baked Bread? Which Serve Bread That's Frozen & Thawed?
DELI DELICIOUS Sues Franchisee For Serving Fresh Bread
DELI DELICIOUS Franchise Assessment and Discussion Part 1
DELI DELICIOUS, Ali Nekumanesh Defamation Lawsuits
Deli Delicious Franchise Assessment GoFundMe Campaign
WHAT DO YOU THINK?  SHARE A COMMENT BELOW.
TAGS: Deli Delicious, Deli Delicious Franchise Inc., Deli Delicious Stockton, Deli Delicious closed, Greg DeGrandis, Ali Iqbal & Victor Gutierrez., Mohammed Hobab, Ali Nekumanesh, Nate Gilbert,  deli delicious lawsuit, deli delicious franchise, deli delicious parody, BB's Bakery, DDFI, Deli Delicious Franchising inc.,  fresh bread lawsuit, sandwich chains compared, sandwich franchises, sub franchises,  Unhappy Franchisee