Does Sometimes Spouse Owe You Money? These Waco Groups Don't Care.
Does Sometimes Spouse owe you money?  Have you done work for them and not been paid?  Share your experience below.  Hopefully, it's not worse than Sharonise' cleaning job in Temple, TX, where the pay was low and the customer's trousers were lower.   
(Special to UnhappyFranchisee.Com) What's worse than not finding work?
Finding work.  Doing the work.  Then not getting paid for the work.
We're receiving more complaints from contractors who say Sometimes Spouse gets paid for work they do, but gives them a runaround or flat-out doesn't pay them.
What we're NOT receiving are responses from Waco business organizations that promote Sometimes Spouse, including Greater Hewitt Chamber of Commerce, Master Networks, Marion Ewing Kauffman Foundation (1 Million Cups) and Locals Love Us.
One Unpaid Housekeeper's Scary Experience with Sometimes Spouse
Sharonise in Waco, Texas answered an ad for a housekeeper position advertised on Indeed.
It was under a different company name, she said, but it turned out to be Sometimes Spouse in Hewitt, Texas, owned by Christy Ogle & Max Ogle.
The Ogles had Sharonise clean their office, which was staffed by Christy and daughter Natalie Ogle.
Natalie made the point that her dad Max was the "muscle" and her boyfriend was an officer with Waco Police Department.
She also made the point that her boyfriend is black (as is Sharonise).
The Ogle's also had Sharonise clean an apartment, which she learned was Natalie's.
At the office, Christy would open doors as narrowly as possible and squeeze through them, as if blocking her view of the other room.
Through the week and a half she worked for them, a number of small things gave her the  uneasy feeling something was "off."
When she asked for her initial pay, Christy said it would be a cash payment and Max would meet her under a remote highway underpass.
Sharise said she wasn't comfortable with that, but agreed to meet at the Conoco in Lorena.
Sharise's Story Gets More Disturbing
The second week, Sharise says Sometimes Spouse sent her to clean a house on a Farm near Temple, Texas.
When she asked the homeowners to put away their two large dogs, they only agreed to put away "the one that bites" and let their German Shepherd roam free.
As she was cleaning, Sharise said she saw that the husband stood facing his wife, who was seated, with his back to Sharise.
With Sharise just across the room, the had wife unbuckled, unzipped and lowered her husbands' pants.
Sharise called out that she was not comfortable with that and the man pulled up his pants and left the room to "look for his medicine."
Sharise says "maybe he had a rash or something, but I didn't want to see that."
Flustered, Sharise says she called Christy, whose reaction was "They paid me $3,000.  I'm not giving them a refund."
Like Alex Lopez, Sharise is Now Fighting to Get Paid
In what's becoming a familiar pattern, Sometimes Spouse told Sharise that her check "is in the mail."
Natalie couldn't remember the amount of the check she had supposedly written hours before.
Christy has refused to provide the number of hours they paid and won't give Sharise a copy of the contract.
As Sharise pushed harder, the next stage commenced:  threats.
Christy claimed that she has submitted Sharise's "threats" to the news media.
Master Networks Drops Sometimes Spouse & The Ogles.

Of the four organizations still abiding and promoting Sometimes Spouse and Christy Ogle, only Master Networks' CEO Chas Wilson has returned communication.
Just prior to publication, Chas stated "We are having a conversation with them shortly and then our leadership team is meeting this afternoon to discuss."
Shortly thereafter, Master Networks CEO reported "Max and Christie are no longer members of Master Networks."
The Greater Hewitt Chamber of Commerce, Other Waco Business Groups Allow This Abuse to Continue. 
Neither the Greater Hewitt Chamber, its Executive Director Alissa Cady or new President has expressed any concern or announced an inquiry.
Marion Ewing Kauffman Foundation said it would investigate its 1 Million Cups organizers but hasn't provided any indication that it is doing so.
Locals Love Us Waco franchise owner Matt Blackwell and Sales Director Diana Crow (also a Hewitt Chamber Board Member) have not responded to multiple inquiries.
The Sometimes Spouse Song & Dance
Please share, discuss & comment below!
NOTE:  All individuals and companies discussed on Unhappy Franchisee or by The Liars & Bullies Initiative are invited to provide corrections, clarifications, rebuttals or statements of their views.  We value open and respectful debate.  We also value the American tradition of Anonymous speech.  You may share your thoughts and opinions in the comments or by email to LiarsNBullies [at] Gmail [dot] com either designating that its completely off-the-record or may be published without the commenters identity disclosed.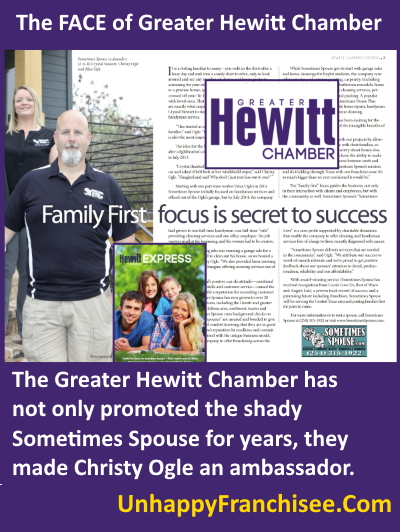 ALSO READ:
Liars & Bullies Episode 1: Sometimes Spouse, Waco, Texas
Beware of Greater Hewitt Chamber of Commerce Ambassadors!
Sometimes Spouse – Index of Posts
Christy Ogle / Sometimes Spouse FACT CHECK Initiative
Will This Waco Couple Get Away With Fraud? Watchdog Website Needs Your Help.
SOMETIMES SPOUSE Christy Ogle Max Ogle Bankruptcy Filing
FRANCHISE WARNING: Sometimes Spouse, Christy Ogle
FRANCHISE DISCUSSIONS by Company
ARE YOU FAMILIAR WITH THE LOCALS LOVE US FRANCHISE, CONCEPT, AND ADVERTISING SCHEME?  SHARE A COMMENT BELOW.
TAGS: Locals Love Us, Locals Love Us franchise, lOCALS lOVE uS wACO, Matt Blackwell, Diana Crow, Waco Texas, Nathan Schock, advertising franchise, Sioux Falls South Dakota, Liars & Bullies Initiative, Sometimes Spouse, Christy Ogle, Max Ogle, Natalie Ogle, Nat's Tool Shed, Liars, Bullies, Liars & Bullies, Ogle bankruptcy, Ogle lawsuits, sometimes spouse lawsuits, sometimes spouse scam