FRANCHISE WARNING: Sometimes Spouse, Christy Ogle
Unhappy Franchisee has issued a franchise & business opportunity warning for Waco and other Texas communities. Waco, TX based Sometimes Spouse, & Max Ogle & Christy Ogle continue to promote Sometimes Spouse handyman and home cleaning business ownership as franchise, business opportunity and/or multi-level marketing opportunities. The Ogles continue to aggressively promote a fictional success story on social media daily. Would-be entrepreneurs should be aware that Sometimes Spouse appears to have a near 100% franchise failure rate, the Ogles are defendants in numerous civil lawsuits, and they've filed for bankruptcy protection on $1.6M in debt. Buyer Beware!
(UnhappyFranchisee.Com) In more than a decade of exposing and warning people about franchise and business opportunities that ranged from flawed or outdated concepts to outright scams, we've learned many important lessons. One is that some of the most persuasive salespeople of doomed opportunities aren't necessarily ill-intentioned or even bad people. They aren't cold, hard scammers. Some of the most persuasive generate trust because they truly believe what they're saying… or they are self-deluded… or they are backed-in-a-corner desperate… or they are narcissists… or all of the above.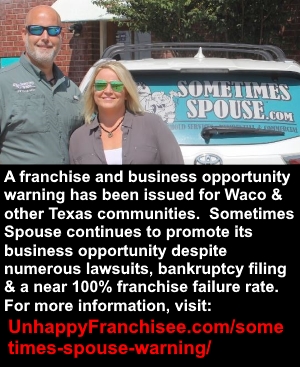 And these true believers are sometimes the most dangerous because they believe their sales pitch so fervently… even when it is filled with delusions and falsehood.
We issue this business opportunity warning not because we think Max Ogle & Christy Ogle are bad people or aren't sincere in their desire to help people.
We issue this warning due to the following:
Sometimes Spouse LLC opened more than 50 franchise locations in recent years. All but a handful of these franchises failed, with franchise owners losing their investments of time and money. Since some of these franchise locations were resold to new owners, the Sometimes Spouse failure rate could be greater than 100%
Sometimes Spouse, Max & Christy Ogle & Crystal Stewart have been sued by more than 10 Sometimes Spouse franchise owners in at least 4 different lawsuits. Public documents indicate that allegations include fraud, breach of contract, lack of support and use of deceptive or misleading earnings claims.
On 1/29/20, Max Ogle & Christy Ogle filed for Chapter 7 bankruptcy protection in U.S. Bankruptcy Court (Their second bankruptcy). In the bankruptcy petition, the Ogles claim that they have assets worth $87,000 and debts of more than $1.6M. The largest debts are for civil judgements against them by Sometimes Spouse franchisees. This could negatively impact the Ogle's ability to support franchisees, Managing Partners or even employees in the future.
When asked to furnish the company's Franchise Disclosure Document (FDD) (which is required of all franchise sellers), CEO Christy Ogle claimed that Sometimes Spouse is not franchised and all local offices are company owned. Yet Ms. Ogle references Sometimes Spouse "franchisees" and the "Sometimes Spouse Franchisee Summit," and contradicts this claim frequently in public postings. It could be argued that the Sometimes Spouse "Managing Partner" opportunity may, in fact, be a franchise opportunity that should be subject to franchise disclosure laws.
The Ogle's bankruptcy filing contains numerous questionable claims regarding assets, other business ventures, and the status of their civil litigation. Sometimes Spouse and the Ogle's frequently demonstrate (in our opinion) a very tenuous relationship with the truth.
Read & Share:
Despite Dozens of Failed & Angry Franchisees, Lawsuits & Bankruptcy, Christy Ogle Keeps Promoting
Another reason for issuing the Sometimes Spouse Franchise & Business Opportunity Warning is that despite clear evidence that the Sometimes Spouse opportunity is not a profitable path to business ownership, and despite the dozens of families negatively affected by it, Christy Ogle continues to promote this failed opportunity to those who dream of owning their own businesses and spending more time with family.
Christy Ogle's Valentine's Day podcast is titled "How to Come Back After Loosing [sic] it All?" with the description "Christy shares 7 tips from loosing [sic] it all, twice."
It's the franchisees' fault, of course…
She blames the near 100% Sometimes Spouse franchise failure rate on the franchisees, stating:
(10:02) Max and I got into franchising 3 years ago… we got to over 50 locations at one point… but we got into business with some of the wrong type people… the wrong business partners…
and
(11:26) I found out that business is not for the weak, and Franchising is not for the incompetent… and I'm talking about the former business partners that we had.
Christy should have listened to Oprah…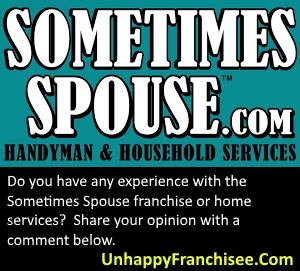 Christy Ogle seems to also blame her financial woes on whomever was writing the Sometimes Spouse checks (her former best friend & CFO, co-founder Crystal Stewart?)
She claims that her major and most costly mistake was not following Oprah's advice to "write your own checks."
Says Christy:
Don't trust anyone… to write your own checks. You'll think that people have your best interest in your hearts, that they'll do the best things for you…

I paid a high price… keep track of YOUR money.
Christy Ogle & Max Ogle appear to be determined to continue peddling a false dream to trusting but unsophisticated individuals and families. Since her past failures were the fault of incompetent franchisees and an untrustworthy bookkeeper, she can justify promoting a failed concept with the promise of different results.
If she cares about families, especially hers, we suggest she heed the sage advice of W.C. Fields:
If at first you don't succeed, try, try again.

Then quit.

No sense being a damn fool about it.
Invitation for rebuttal, corrections or clarifications: Unhappy Franchisee extends an open invitation to companies and individuals discussed on the site to provide their views and side of the story. We continue to reach out to Christy Ogle, Max Ogle, Crystal Stewart and Sometimes Spouse but have not received a response. The offer is open. Franchisees & associates of Sometimes Spouse may contact us on a confidential basis at UnhappyFranchisee [at] gmail [dot] com.
ARE YOU FAMILIAR WITH SOMETIMES SPOUSE, CHRISTY OGLE, MAX OGLE OR CRYSTAL STEWART? SHARE YOUR THOUGHTS IN THE COMMENTS BELOW.
ALSO READ:
SOMETIMES SPOUSE Franchise – A Great Opportunity?
SOMETIMES SPOUSE No Longer Franchising Says CEO Christy Ogle
SOMETIMES SPOUSE Christy Ogle Max Ogle Bankruptcy Filing
FRANCHISE DISCUSSIONS by Company
TAGS: Franchise Warning, Business Opportunity Warning, Scam Warning, Sometimes Spouse, Christy Ogle, Max Ogle, Crystal Stewart, illegal franchise, Waco TX, Sometimes Spouse lawsuits, handyman franchise opportunity, franchise complaints, cleaning franchise, franchise opportunity, franchise complaints, unhappy franchisee .