QUIZNOS SUB Franchise Closing, Closings, Closed
(UnhappyFranchisee.com)  Know of any Quiznos Sub franchise locations that have closed or are closing soon?  Share a comment below, or email a picture to unhappyfranchisee[at]gmail.com.
The Quiznos Sub franchise opportunity may seem like a safe, risk-free investment because of the well-known brand name, the great product and positive media hype (which includes rankings and awards from publications that survive on advertising from franchise companies like Quiznos).
Some Quiznos Sub franchise owners may have a different opinion on how risk-free buying a Quiznos Sub franchise really is.  A Forbes article "Where You Might Not Shop In 2011" reported:
Quizno's

Stores closed: Aproximately 1,000 (analyst estimate; company won't confirm)

Percentage of total: 22.7%

Struggling as a higher-priced alternative to Subway, the sandwich chain began putting mini-stores into gas stations to boost market share. Upscale fast sandwiches are a tough position in a down economy.
Here is a growing list of Quiznos Sub franchise investments that didn't end so well: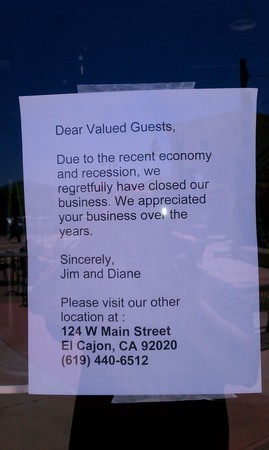 Quiznos Sub, Hampstead, MD
The contents of Quiznos Sub, 2319-A Hanover Pike, Hampstead, MD 21074 were auctioned off Tuesday Febuary 1st, 2011 by Rasmus Auctioneers.
Quiznos Sub, Eldersburg, MD
According to a December, 2010 post on the Eldersburg Patch: "A manager of another nearby business… put it more bluntly saying, 'he just wasn't making any money.' Assets of the sandwich shop were sold in an online auction Nov. 23 by Rasmus Auctioneers."
Quiznos Sub, Santee, CA
From the Santee Patch, June 21, 2011 "Quiznos Subs shop left a sign posted at the entrance which indicated the downturn in the economy was the main factor in their closing."
"Dear Valued Guests,
Due to the recent economy and recession, we have regretfully closed our business. We appreciated your business over the years.
Sincerely, Jim and Diane"
Photo credit:  Scott Sinclair
Quiznos Sub, Elgin, IL
"Within the last nine months, three downtown restaurants have closed and remain vacant: Quiznos, Mad Maggie's and RoadHouse/Main Event"  June 22, 2011, The Courier News.
Quiznos Sub, Hyattsville, MD
"Update June 8, 2011: After reading the scrawled 'Closed' note posted on the door of the Quiznos store at the Shoppes at Metro Station, one might think the manager had simply stepped out for a lunch break. But after about a month of zero activity at the sandwich store, the truth is firm: this sub shop's ship has sailed."
In a comment on the Hyattsville Patch story, The Kid wrote:
Quiznos corporate makes its money selling food and supplies to its restaurants at inflated prices… This chain had nearly 6,000 restaurants in 2006 and a tad more than 2,000 now. It's a loser to everyone except Dick Schaden and the Wall Street fatcats who own it.

Quiznos Sub, Bennington, Vermont
"Five months after it reopened to much fanfare, the Quiznos in Bennington Square is once again closed.  Tuesday's closing came as a shock to the sandwich shop's employees, who learned Friday they would be losing their jobs…" Quiznos Closing Shocks Workers, Tuesday January 11, 2011.
Quiznos Sub, Virginia
"Quiznos is closing down!! by Hannah_Banana222 on Thu Jan 13, 2011 2:30 pm  My brother works (well, worked) there, and they told him it was closing on the very last day it was open. No notice whatsoever. Not nice."
Quiznos Sub, El Cerrito, CA
"Quiznos Sub – CLOSED 10810 San Pablo Ave, El Cerrito, CA 94530, (510) 527-7827" Source: Yelp
Quiznos Sub, Ocean City, MD
See photo.  Closed Quiznos shot while on vacation.
Quiznos Sub, Boston, MA
"The Quiznos sandwich shop at 263 Huntington Ave., between Symphony Hall and Gainsborough Street closed Nov. 4, eliminating an eating choice near the Northeastern campus." The Huntington News, November 11, 2010.
Quiznos Sub, Bloomington, IL
"A Lexington business owner who recently closed his Wings Etc. restaurant and bar has also shuttered his two Twin City Quiznos locations.  The Quiznos franchises, at 2601 Oakland Ave. in Bloomington and 1700 E. College Ave. in Normal, had been the only two in the Twin Cities, according to the sandwich-shop chain's website.  A sign on the Oakland Avenue store's door last week read, 'Sorry, we are closed for business.'  The Quiznos franchise owner was Greg Wilson of Lexington, doing business as Gregors Enterprise Inc…."  Pantagraph.com, January 6, 2011.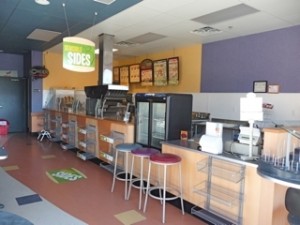 Quiznos Sub, Williston, North Dakota
"Quiznos closes doors, no reason given.  Quiznos of Williston closed its doors on Saturday, and it's unclear if the sandwich shop will reopen.  One of the owners said he couldn't comment on whether the restaurant would open again due to corporate policy restrictions… Quiznos, which first opened in Williston several years ago, had closed before for a few months last year and re-opened July 30, 2010."  Williston Herald, April 20, 2011
Quiznos Sub, Garden City, Kansas
Quiznos' time in Garden City has come to an end. The franchised sandwich shop closed its doors Friday after more than 13 years in business and will be converted into another sandwich shop, Subway… owner Clark Nelson chose not to renew the rights to his location…
Business over the years has had its "severe ups and downs" and the restaurant had been busier than normal as the closure approached, Nelson said.
"We're tired of it. It's been a long stretch," Nelson said. "We're ready to do something else."  GC Telegram, 1/1/2011.
REPORT A QUIZNOS SUB FRANCHISE CLOSING OR ADD A COMMENT BELOW.
Email Quiznos Sub closing photos to unhappyfranchisee[at]gmail.com