Beware of Greater Hewitt Chamber of Commerce Ambassadors!
If an Ambassador of the Waco, TX-area Greater Hewitt Chamber of Commerce knocks at your door or calls your phone, you might not want to answer.  Here's why.  by Jack Skidmore, The Liars & Bullies Initiative. 
(Special to UnhappyFranchisee.Com) If you live or work in the Waco, Texas area and receive a call or visit from a Greater Hewitt Chamber of Commerce Ambassador, you might want to think twice before answering.
At the very least, you should screen your visitors and callers better than the Greater Hewitt Chamber of Commerce screens the individuals and businesses it promotes as "reputable."
Liars & Bullies Episode 1 Part 2: Does Greater Hewitt Chamber Promote Liars & Bullies?
What the Greater Hewitt Chamber of Commerce Won't Tell You
The Greater Hewitt Chamber of Commerce WILL tell you that its mission is "to promote an environment of goodwill and prosperity among businesses, residents and civic organizations in the greater Hewitt [Texas] area."
They WILL tell you that only "reputable" firms or individuals dedicated to promoting goodwill in the business community are eligible for membership.
What the Greater Hewitt Chamber of Commerce WON'T tell you is that one of its current, celebrated Ambassadors listed below:
Is currently being sued for fraud
Is currently (and separately) being sued for extortion
Has an "F" rating with the Better Business Bureau
Has dozens of negative online reviews for poor work and nonpayment of vendors
Declared bankruptcy in 2020 to erase over $1M in judgements and liabilities in numerous lawsuits
Promoted a local non-profit charity that is not registered anywhere
Is accused of having sold dozens of franchise opportunities using false representations, then provided little to no support.  All failed.
Is featured in a Liars & Bullies video alleging non-payment of a local vendor, then using threats and intimidation to keep him silent
Warning:  One of the "Faces of the Hewitt Chamber" May Be Two-Faced
According to the Hewitt Chamber Ambassador web page, "Ambassadors act as the 'Face of the Chamber,' and are selected through a process of application, approval by the Ambassador Committee and Board of Directors."
The Greater Hewitt Chamber headline reads:  "Special thanks to our current ambassadors!"
Can you guess which of these Hewitt Chamber Ambassadors is facing multiple lawsuits for fraud, recently escaped paying more than $1M owed to Waco area business owners and individuals, is accused of not paying its contractors and bullying those who threaten to disclose their business practices?
HINT:  This company is also given false credibility and access to future victims by other business groups and services, including 1 Million Cups Waco (Marion Ewing Foundation), Master Networks, and Locals Love Us!
Please vote with a comment below!  (Anonymous comments are acceptable) or email us at LiarsNBullies [at] Gmail [dot] com
Greater Hewitt Chamber of Commerce

Current Ambassadors 1/29/21

Aaron Gustafson, Computers N' Stuff
Adam Beckner, H&A Real Estate Team
Alexandria Cole, Essential Rejuvenation Spa
Amanda Cunningham, Coldwell Banker Apex, Realtors
Amanda Lloyd, Young Living
Beth Richards, Brazos Theatre
Brenda Turner, Resident
Bryan Tate, Arthur Murray Dance Studio
Cameron Akin, Hip Pixel Media
Cathy Witt, Window Genie
Charlie Turner, Resident and Friends for Life
Charles McCulloch, McCulloch Mortgage Team
Chris & Lynn Peck, Real Property Management Apex
Chris Hoke, Social Media Cowboys
Christy Ogle, Sometimes Spouse
Cindy Gough, Camille Johnson, Realtors
Connie Murphy, Zerenity Treasures
David Ticknor, Hero Pest Services
Dee Raber, Pro Star Home Repair and Construction Services
Diane Gough, Camille Johnson, Realtors
Diane Jenkins, TAOEP
Emily Stambaugh, Right At Home
Glenda Ruiz, Resident
Gram Short, Bulldog Auto Detailing
Heather Smith, Edwards Jones, John Maddux
Jan Thomas, Rodan & Fields
Janie Gonzales-Shattuck, ASEA
Jeanne Rieger, Premier Designs Jewelry
Jennifer Snyder, Neat As A Pin
Joanna Pace, Bulldog Auto Detailing

Kathryn Crouch, Sedona Staffing
Keith Maynard, Maynard CPA, PLLC
Ken Noble, Noble Leadership Solutions
Kim Johnson, Midway ISD
Kimberly Pullman, BBVA Compass
Kylee Ticknor, Hero Pest Control
Lacy Torres, H&A Real Estate Team
Lana Alexander, Fluff Wash & Fold
Laura Beaty-Burke, Fruitful Marketing Agency
Laura Penney, Stewart Organization
Liberty Adair, Resident
Loreen Wilfong, Line X of Waco
Mary Ann Garcia, Mary Ann's Medical & Esthetics
Maegan Wenberg, Comfort Keepers
Megan Wood, Ascend Ironworks, LLC
Melanie Crain, Stoney Brook Assisted Living
Mike Muhlman, Mr. Electric
Pat Breen, Action Fire Pros
Rebecca Naderman, Baylor Club
Reece Flood, High & Associates
Renell Jones, Digital Media Butterfly
Ruben Jacobo, Superman Electric
Sean Lively, Comfort Keepers
Selica Granderson, Your SBD Store Hewitt
Sharon Conrad, Faulkenbery Construction
Shelia Brown, Aspiring Future Leaders Academy
Shelley Williams, Visiting Angels
Stacy Williams, Talexes
Stephanie Tate, Arthur Murray Dance Studio
Stephanie Tolbert, Fluff Wash & Fold
Vanessa Carrillo, Vanessa's Boutique
Vern Shattuck, ASEA
If you feel that you or someone you know has been named here in error or unfairly, please email us at LiarsNBullies [at] Gmail [dot] com.
Meet the FACE of the Greater Hewitt Chamber of Commerce!
Have you guessed it?
Watch the video below to learn more about a woman and a business that Greater Hewitt Chamber of Commerce – after much research, screening and ignoring of our communications – is celebrating for promoting goodwill in the Waco business community.
Liars & Bullies Initiative Episode 1 Part 1 – Waco, Texas
Please share, discuss & comment below!
NOTE:  All individuals and companies discussed on Unhappy Franchisee or by The Liars & Bullies Initiative are invited to provide corrections, clarifications, rebuttals or statements of their views.  We value open and respectful debate.  We also value the American tradition of Anonymous speech.  You may share your thoughts and opinions in the comments or by email to LiarsNBullies [at] Gmail [dot] com either designating that its completely off-the-record or may be published without the commenters identity disclosed.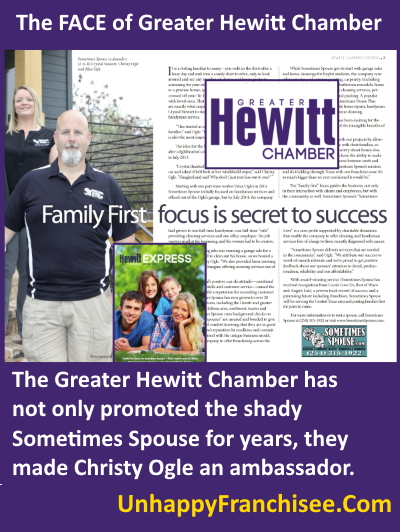 ALSO READ:
Liars & Bullies Episode 1: Sometimes Spouse, Waco, Texas
Sometimes Spouse – Index of Posts
Christy Ogle / Sometimes Spouse FACT CHECK Initiative
Will This Waco Couple Get Away With Fraud? Watchdog Website Needs Your Help.
SOMETIMES SPOUSE Christy Ogle Max Ogle Bankruptcy Filing
FRANCHISE WARNING: Sometimes Spouse, Christy Ogle
FRANCHISE DISCUSSIONS by Company
ARE YOU FAMILIAR WITH THE GREATER HEWITT CHAMBER OF COMMERCE, ITS LEADERSHIP & MEMBERS?  SHARE A COMMENT BELOW.
TAGS: Greater Hewitt Chamber of Commerce, Hewitt Texas, Waco Texas, Waco Chamber of Commerce, Liars & Bullies Initiative, Sometimes Spouse, Christy Ogle, Max Ogle, Natalie Ogle, Nat's Tool Shed, Liars, Bullies, Liars & Bullies, Ogle bankruptcy, Ogle lawsuits, sometimes spouse lawsuits, sometimes spouse scam