LOCALS LOVE US! A Pants on Fire Franchise?
Waco-based Sometimes Spouse has an "F" rating from the Better Business Bureau.  Lots of 1-Star Yelp & Google reviews.  Two current lawsuits alleging fraud and embezzlement. A recent bankruptcy.  Dozens of online complaints for poor work, terrible customer service and non-payment of vendors.  But guess what?  LOCALS LOVE THEM!  
(Special to UnhappyFranchisee.Com) Locals Love Sometimes Spouse in Waco, Texas!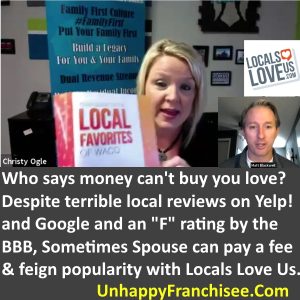 Just ask Local's Love US franchise owner Matt Blackwell.
The Waco community ADORES Sometimes Spouse.
Locals are gaga… over the moon about Sometimes Spouse?
If Matt's busy delivering flowers or chocolates to Sometimes Spouse, just ask Diana Crow!  Or Shane Smith!
Locals be Lovin' them up that Sometimes Spouse so much it's embarrassing!
Like, get a room you Sometimes Spouse lovers!
Seriously, ask Waco's Matt Blackwell, Diana Crow or Shane Smith about Waco's love for Sometimes Spouse.
They won't answer me ever since I suggested that codependency and abusive relationships with Locals is not Love.
In fact, if you gotta pay a company to give you a logo and a bunch of gimmicks professing that people love you, it's a pretty fair bet that Locals Don't Love You.
Sorry to Keep It Real but…  Locals Ain't That Fond of You.
The truth is, there's probably less than ten who Locals who Love Sometimes Spouse:
Max Ogle.  Christy Ogle.  Natalie Ogle.  Their other kids.  And their dogs.
Then there's a group who tolerate them enough to give poor Nat a heart or thumbs-up on Facebook, but there aren't many (any?) who will stand up and defend them publicly.
But it's not hard to identify those who feel unfavorably about this business, including:
Unhappy customers whose negative reviews resulted in lots of 1-star complaints on Yelp & Google and resulted in a rating of "F" by the BBB.
Plaintiffs in two current lawsuits who allege the Ogles defrauded and/or embezzled from them
Plaintiffs in previous lawsuits and other creditors whose chances of collecting what Max & Christy Ogle owe them was wiped away by their Chapter 7 bankruptcy filing last year
Anyone who donated to Sometimes Love, a non-profit charity we can find no registration for
Former Sometimes Spouse franchisees who were allegedly not supported and allowed to fail
Alex Lopez who claims he was bullied and attacked by the Ogles for complaining Sometimes spouse making no effort to pay him the $1700 they owe
Q. Who Says Money Can't Buy You Love?
A. the Beatles.  But that's only because they didn't have Locals Love Us!
As long as you can pay the fee, Locals Will Love you Too!
No matter how badly you treat you them.
Just ask Sometimes Spouse!
Haters Gonna Hate:  Liars & Bullies Initiative Episode 1 Part 1 – Waco, Texas
A company only their lawyers could love.
Please share, discuss & comment below!
NOTE:  All individuals and companies discussed on Unhappy Franchisee or by The Liars & Bullies Initiative are invited to provide corrections, clarifications, rebuttals or statements of their views.  We value open and respectful debate.  We also value the American tradition of Anonymous speech.  You may share your thoughts and opinions in the comments or by email to LiarsNBullies [at] Gmail [dot] com either designating that its completely off-the-record or may be published without the commenters identity disclosed.

 Credits:  Background music on the video by BenSound.  Tip of the hat to Jennifer Snyder of Women of Waco and Neat as a Pin Home Organizing who posted that wonderful Liar Liar graphic on her public Facebook feed.  Thanks, Jennifer!


ALSO READ:
Liars & Bullies Episode 1: Sometimes Spouse, Waco, Texas
Beware of Greater Hewitt Chamber of Commerce Ambassadors!
Sometimes Spouse – Index of Posts
Christy Ogle / Sometimes Spouse FACT CHECK Initiative
Will This Waco Couple Get Away With Fraud? Watchdog Website Needs Your Help.
SOMETIMES SPOUSE Christy Ogle Max Ogle Bankruptcy Filing
FRANCHISE WARNING: Sometimes Spouse, Christy Ogle
FRANCHISE DISCUSSIONS by Company
ARE YOU FAMILIAR WITH THE LOCALS LOVE US FRANCHISE, CONCEPT, AND ADVERTISING SCHEME?  SHARE A COMMENT BELOW.
TAGS: Locals Love Us, Locals Love Us franchise, lOCALS lOVE uS wACO, Matt Blackwell, Diana Crow, Waco Texas, Nathan Schock, advertising franchise, Sioux Falls South Dakota, Liars & Bullies Initiative, Sometimes Spouse, Christy Ogle, Max Ogle, Natalie Ogle, Nat's Tool Shed, Liars, Bullies, Liars & Bullies, Ogle bankruptcy, Ogle lawsuits, sometimes spouse lawsuits, sometimes spouse scam