Franchise Warning: JDog Junk Hauling for Veterans (Index)
This page is the Command Center for our investigation into the JDog Junk Removal & Hauling franchise opportunity, an initiative of Operation Franchise Truth.
An updated index of links and supporting documents is included below. Please share this link and check back frequently for updates in real time.
Note to writers, bloggers, veteran advocacy groups: Feel free to use and share this information to spread awareness among military veterans and those who wish to protect and advocate for them. The author is available for interviews, clarification, to help source further information and/or contacts. Please link to this page and cite the author & Unhappy Franchisee as your source, where appropriate.
Now interviewing JDog franchisees & former franchisees [strict confidentiality]: Do you recommend the JDog Junk Removal or JDog Carpet Cleaning franchise opportunity as a good investment for military veterans & military family members? Why or why not? To share your experiences, opinions and insights, in confidence, email the author: unhappyfranchisee[at]gmail.com. Or leave an anonymous comment below.
JDog Junk Removal Franchise Warning
A franchise warning has been issued by watchdog site UnhappyFranchisee.Com for two franchises specifically targeting U.S. military veterans & military families:
JDog Junk Removal & Hauling franchise

JDog Carpet Cleaning & Floor Care franchise
Special care & scrutiny is also recommended for dealings with this group's 501(c)3 non-profit, The JDog Foundation, which claims to be dedicated to preventing Veteran suicide and reducing Veteran depression.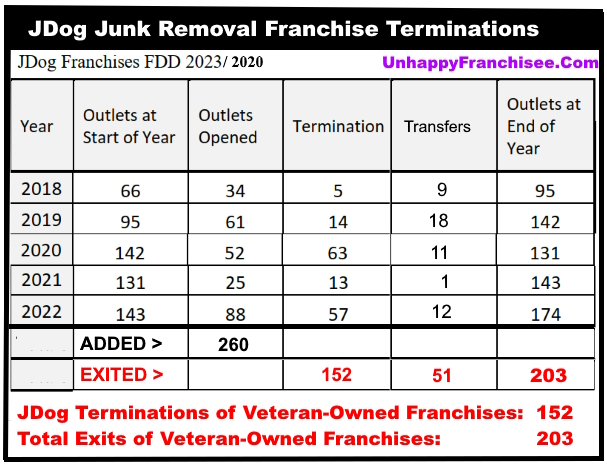 JDog Franchise Failure Rates Are Alarmingly High
While our investigation of the JDog Junk Removal franchise and JDog Carpet Cleaning franchise is ongoing (See Index of our coverage below) , this franchise warning was issued due to a high number of confidential franchisee complaints and the company's self-reported franchise performance disclosures:
JDog Junk Removal Has a 99% Franchise Turnover Rate (3-year): The JDog 2023 Franchise Disclosure Document (FDD) issued September 30, 2022 reveals that 157 franchises exited the system prematurely in the previous three years, including 133 listed as Terminations and 24 as ownership transfers.

Read:

Does the JDog Franchise Program Exploit Veterans & Military Families?
JDog Carpet Cleaning Reported a 200% Franchise Turnover Rate (3-year): The 2022* JDog Carpet Cleaning FDD states that the franchisor closed its only company/affiliate outlet in 2018-2019, but closed it in 2020. Of initial 18 franchise locations, 9 quickly closed ("Terminations") indicating a 200% franchise turnover rate (FTR).
JDog Alleged Treatment of Veterans & Employees is Troubling
JDog 2019 Jerry Flanagan Sexual Harassment Investigation Protocols Not Maintained: We published a letter that indicates JDog CEO Jerry Flanagan was investigated for the sexual harrassment of a franchisee's employee in 2019. The investigation prompted safety protocols & a statement that Mr. Flanagan was to have "no further involvement with day-to-day junk removal franchise operations." It appears that JDog Franchising has not maintained some or all of those safety protocols.

Read:

Jerry Flanagan Was Removed From JDog Franchise for Sexual Harrassment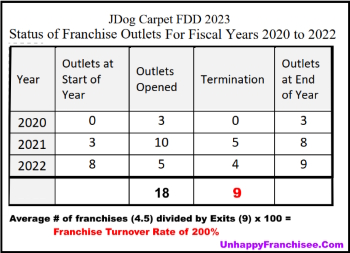 JDog Franchising Has Sued, Intimidated & Silenced Military Veteran Franchisees:
Jerry Flanagan claims JDog's mission is to benefit military veterans. However, JDog Franchising has a history of brutal lawsuits against failed franchisees intended, it seems, to maintain their silence. Read the stories of NAVY Veteran Louis Vaughn, Jr., Marine Corp. Veteran Shawn Schexnayder, & ARMY Veteran Kellen Brown:
Read: This Franchise Scheme Sells, Sues & Silences American Veterans
Neither JDog Franchising, Julip Run Capital, Spadea Lignana nor Jerry Flanagan Addressed Our Questions:
We have extended an open invitation on every post and in several direct emails to the parties discussed to provide corrections, clarifications and/or rebuttals regarding our reporting of the company's disclosures.
We have not received any responses from the company nor its representatives. In fact, JDog principals have blocked the author on social media.
Read: JDog Franchise for Veterans: Open Letter to Tracy & Jerry Flanagan
* 
The most recent JDog Carpet FDD issued June, 2023 reports fewer closures in 2022.  We are investigating reports that JDog Franchising may be misrepresenting the number of JDog Carpet franchise failures.
We will continue to seek the opinions and experiences of all involved (confidentially or anonymously, if preferred) in order to provide military veterans considering this (or other) franchise opportunities the information they need to make informed decisions on behalf of themselves and their families.
JDog Franchise Owner Interviews
[COMING SOON]
JDog Franchise: Additional Posts & Supporting Documents
All JDog Franchise Posts (Most Recent First)
JDog Franchise Disclosure Documents (FDDs) & Other Documents
JDog Jerry Flanagan Sexual Harassment Investigation Letter
JDog Junk Hauling Franchise Disclosure Document (FDD) dated 093022
JDog Carpet Cleaning Franchise Disclosure Document (FDD) dated 061522
OPEN INVITATION: Unhappy Franchisee extends an open invitation to all those discussed to provide corrections, explanations, clarifications and/or rebuttals. We will correct factual errors & alternative views fairly. Anonymous or signed comments are welcome below or can be emailed in confidence to UnhappyFranchisee[at]Gmail[dot]com.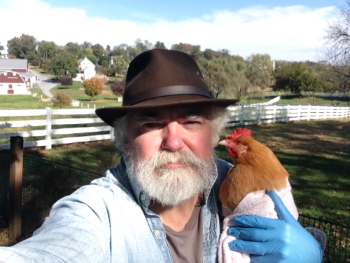 Sean Kelly is an independent investigative journalist with 35 years of franchise industry experience. Since founding UnhappyFranchisee.Com in 2006, his reporting has exposed & shut down several predatory franchise & investment schemes. Sean Kelly is a franchise watchdog who prompted and aided the FBI investigation that shut down the 165-victim multi-million-dollar NY Bagel franchise scam and landed perpetrators Dennis Mason & Joseph Smith in federal prison. Sean was featured in the ABC Four Corners expose of 7-Eleven wage theft in Australia and has served as an advisor to Dateline NBC. He has withstood bullying, intimidation & frivolous lawsuits as high as $35M and never lost. His crack editorial staff and fact checkers include Chick, Gem, Red, Pru & Joanie the Rescue Chicken.
Contact the author at UnhappyFranchisee[at]Gmail[dot]com
This initiative is dedicated to the memory of my father, Raymond J.Kelly, who served with the U.S. Navy during WWII and piloted a landing craft in the Normandy Invasion, D-Day, at Utah Beach… and my brother Paul, who served in the U.S. Army in Vietnam. Two honorable men that are deeply needed and dearly missed.