Does the JDog Franchise Program Exploit Veterans & Military Families?
Tracy & Jerry Flanagan claim the JDog Junk Removal franchise opportunity provides veterans and military families with an easy-to-run low-cost, high-profit business.  Their constantly stated mission is to empower veterans, combat depression and suicide, and help them achieve financial stability and the American Dream.  However, JDog's own disclosure documents suggest that many trusting veterans and their families end up on the brink – and beyond – of financial ruin and personal devastation.  We invite JDog to engage in honest, open & respectful dialogue.  by Sean Kelly, publisher, UnhappyFranchisee.Com.
[NOTE: Links to referenced documents are provided at the bottom of this post.  Feel free to email the author, in confidence, at WnhappyFranchisee[at]Gmail[dot]Com]
Jerry Flanagan is the CEO and Co-Founder of JDog Brands.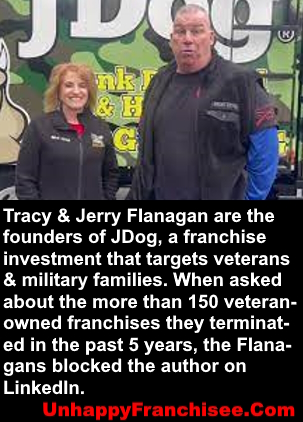 The JDog website describes Jerry's mission to empower military veterans:
Jerry is an Army Veteran and entrepreneur who, along with his wife Tracy, have created a national Veteran brand dedicated to empowering Veterans through entrepreneurship. Rooted in the Military values of Respect, Integrity, and Trust, the JDog®️ Junk Removal & Hauling and JDog®️ Carpet Cleaning & Floor Care franchise systems have become a nationwide movement, creating business and employment opportunities for Veterans and Veteran family members.

Since transitioning back to the civilian world, Jerry has committed himself to helping Veterans be successful in business…

Jerry also founded the JDog Foundation, whose mission is to support Military Veterans and Military Veteran-related causes – with a particular focus on Veteran suicide prevention and PTSD.
Jerry's wife & co-founder Tracy Flanagan also shares JDog's mission in sponsored stories & interviews:
…by providing veterans with a reliable path to successful, first-time business ownership. JDog Brands was built on military values, with respect, integrity, and trust at its core. These values are upheld through all JDog communications and jobs. Our goal is to lower veteran unemployment to under 1% with a JDog in every zip code.
"Mrs. JDog," as Tracy calls herself, states that the success of the JDog Junk Removal franchise, which has grown to 300 locations nationwide, prompted the launch of a second successful franchise opportunity, JDog Carpet Cleaning & Floor Care.
Tracy Flanagan states that they are on track to have 50 JDog Carpet Cleaning franchises open by the end of 2023.
For an Franchise Investment Starting Between $30,000 and $157,250, JDog Promises Low Start-Up Costs, High Profit Margins & "Strong Ethos of Military Brother and Sisterhood."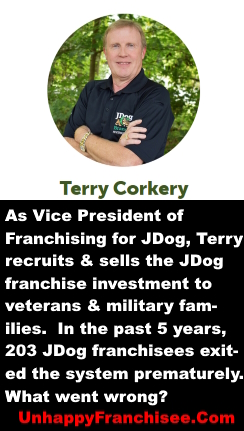 JDog's franchise sales pitch promises a proven (ie low risk) business that is profitable, easy-to-operate and designed to empower veterans and military families:
Are you a Veteran or Military family member looking for an opportunity to own your own business?
Are you looking to continue your service by serving your community? Do you want a proven system that gets you into business quickly, has low start-up costs and high margins? Then owning a JDog franchise may be for you. Here's what you'll enjoy:

High profit margins
Multiple revenue streams
Easy to operate
Opportunity to hire other Veterans
Continue to serve by serving your community
Share in a strong ethos of military brother and sisterhood
Proven business model
Strong consumer demand
JDog Promoters & Paid Supporters Don't Want Veterans to Know:  Their Unconscionably High Failure Rate
JDog has maintained an effective online propaganda campaign that consistently touts the Flanagan's commitment to empowering veterans and reducing unemployment and mental health issues, including suicides, afflicting those who've served.
JDog has seeded the Internet with paid (sponsored) articles, press releases and interviews disguised as legitimate 3rd party news.
They are members of the IFA's deceptive VetFran program and featured in such advertorial publications as Franchising USA's "Veterans in Franchising" issues.
The Jerry & Tracy Flanagan, JDog President & CEO Kenneth Kopa and VP of Franchise Development Terry Corkery appear on podcasts and interview shows, "(like Martin McDermott's Franchise Interviews, or "Franchise Talk," "Pillars of Franchising," etc. etc.)   that never do their own research or ask substantive questions.
This blog post is, to my knowledge, the first time the honesty, integrity and success of the JDog Brands franchise program has been publicly questioned.
It's my hope that the franchisor, its stakeholders and its current and former franchisees will engage in an open and honest discussion of what appears to be very disturbing information gleaned from JDog's Franchise Disclosure Documents (FDDs).
From 2020-2022, JDog Terminated 133 Veteran-Owned Franchises.  157 Exited the System Prematurely for a Franchisee Turnover Rate (FTR) of Nearly 100%
The JDog Junk Removal franchise system reported 142 open units at the start of 2020 and grew to 174 by the end of 2022.
A casual observer might perceive that as healthy growth (25%).
However, ITEM 20 of the JDog 2023 FDD issued September 30, 2022 reveals that 157 franchises exited the system prematurely during those three years, including 133 listed as Terminations and 24 as ownership transfers.
Aggressive marketing and recruitment to veterans & military families resulted in 165 new franchises being added – obscuring the high number of failed, closed and/or bankrupt JDog franchisees created during this period.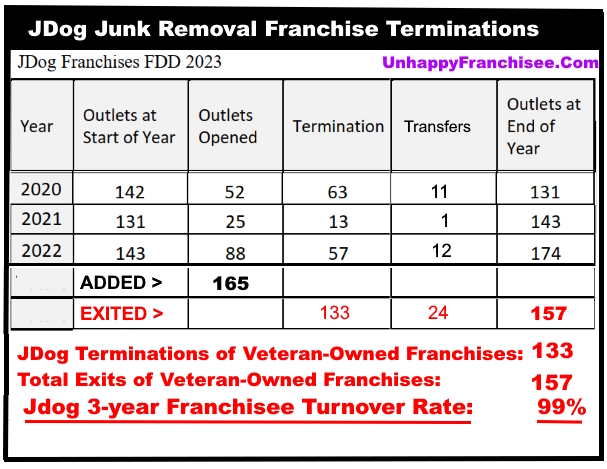 Exhibit G of the JDog Franchise Disclosure Document (Link below) claims it includes "the name and last known telephone number and address of every franchisee who has had an outlet terminated, cancelled, not renewed, or otherwise voluntarily or involuntarily ceased to do business under the franchise agreement during the most recently completed fiscal year."
In actuality, it only includes the corporation and franchisee name, state & phone number (no address or email).
The Dirt on JDog Carpet Cleaning? A 200% Franchise Turnover Rate… and Rising
In a promotional interview on Franchise Focus, Tracy Flanagan says that the "great & proud name of JDog" is so trusted by homeowners, they could easily spin off their proven system and veteran focus for such additional franchise offerings as power washing and handyman services.
The first of these new franchises is JDog Carpet Cleaning & Floor Care.
Tracy Flanagan says the carpet cleaning franchise is building momentum "just like junk did" and they're on track to grow to 50 franchises by the end of 2023.
However, the current JDog Carpet Cleaning FDD tells a different story.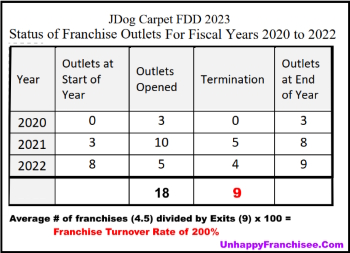 The JDog Carpet Cleaning franchisor operated one company/affiliate outlet in North Carolina in 2018-2019, but closed it in 2020.
Of the initial 18 franchise locations, 9 quickly closed (listed as "Terminations")
The standard formula for turnover indicates a 200% franchise turnover rate (FTR).
We've received anonymous tips that many of the current JDog Carpet Cleaning franchisees are struggling and more failures are, reportedly, imminent.
These failures would seem to indicate that the JDog Carpet Cleaning system has serious flaws and was franchised prematurely.
Selling a failed franchise model as a "proven system" would be deceptively egregious no matter what investors are targeted, but unconscionable, in my opinion, when selling to veterans and military families.
Questions for JDog Management, Staff, Promoters, Funding Sources, Current Franchisees and Former Franchisees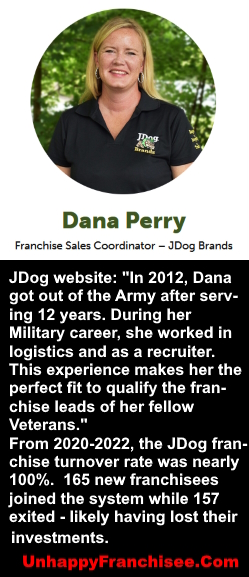 JDog Management:
Freedom of Speech is one of the basic freedoms our military veterans put their lives on the line to defend.  Are JDog franchisees and former franchisees free to share their honest opinions and experiences publicly without fear of reprisals or legal action?
Are they free to share what they believe prospective franchisees should know?
Have you identified the reason(s) that half of your veteran-owned franchisees exited the system prematurely in the past three years?
What steps have you taken to eliminate this high failure rate?
Is it safe to assume that the "owners" of the 157 franchises who  were terminated (133) or transferred ownership (24) lost all or most of their initial investments, and incurred additional credit card and other debt?
Shouldn't you stop exaggerating your growth by referring to the number of franchise "territories" you've sold the rights to (300, 1000 in various places) and stick to currently open and operating franchises, as disclosed in your FDD?
Wouldn't the best way to fight depression, alienation, unemployment & suicidal thoughts among military veterans – part of your stated mission – be to stop selling JDog franchises?
In light of the high failure rates of both your offerings, wouldn't suspending franchisee recruitment and focusing on 1) doing whatever it takes to make your current franchisees successful, and 2) assisting "terminated" franchisees and their families survive their financial, emotional and family crises?  For example, your staff could help negotiate with lenders and the FTC to get them out of years of the economic turmoil they face.  Your foundation could raise emergency funds to help them keep their homes and feed their children.
Franchisees & Former Franchisees:
Do you feel free to share your honest opinions & experiences about the JDog franchise opportunity?
Why or why not?
Do you not feel an obligation to educate your military brothers and sisters who are considering the JDog franchise?
Have you urged management to present a more realistic picture of the risks involved and potential for failure to prospective franchisees?
Would you recommend/endorse the JDog franchise investment opportunity to family, friends or those with whom you served?  Why or why not?
What do you think JDog management should do to 1) stem the alarming rate of franchise failures, and 2) provide assistance to the terminated veterans and families struggling to survive their investment in the JDog franchise?
What question should we be asking that hasn't been asked?
Documentation:
JDog Junk Hauling Franchise Disclosure Document (FDD) dated 093022
JDog Junk Hauling Franchise Disclosure Document (FDD) dated 092220
JDog Carpet Cleaning Franchise Disclosure Document (FDD) dated 061522
Also read:
Some Franchisors & VetFran Exploit Veterans Even After They've Failed
VetFran or VetScam? Turnover Rates of IFA-Endorsed Vet-Friendly Franchises
Are Veterans Being Targeted by a Bait-and-Switch Investment Scheme?
Is SNAP-ON TOOLS Exploiting Military Veterans? An Open Letter to CEO Nicholas Pinchuk (UPDATED)
Freshii Franchise Bankrupts U.S. Veteran in 18 Months
WHAT DO YOU THINK?  PLEASE SHARE YOU COMMENTS BELOW OR VIA CONFIDENTIAL CORRESPONDENCE TO PUBLISHER SEAN KELLY AT UnhappyFranchisee[at]Gmail.Com.
TAGS:  Franchises for Veterans, JDog Junk Hauling Franchise, JDog Brands, JDog Carpet cleaning franchise, JDog, Jerry Flanagan, Tracy Flanagan, Junk hauling franchise, Terry Corkery, Dana Perry, VetFran, franchise deception, franchise failures, JDog franchise complaints, Sean Kelly, Unhappy Franchisee, franchise failure rates