The Veteran-Targeted Franchise Trap That FOX News Built.
There's one military statue that all Americans, regardless of political party or leanings, can agree should be toppled.  It's the huge, hollow monument of Jerry Flanagan, exploiter* of veterans & military families and founder of JDog Junk Hauling.  by Sean Kelly, publisher, UnhappyFranchisee.Com
See links to related posts & documentation below.
Share your opinions, ideas & support by emailing the author at UnhappyFranchisee [at] gmail [dot] com or commenting below.
Support my reporting and whistleblowing of veteran exploitation with a contribution here:  End Veteran Exploitation & Deception Through Education & Awareness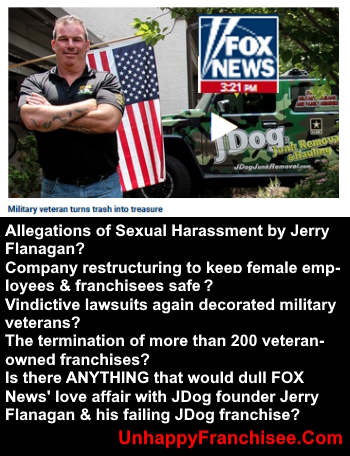 FOX News made Jerry Flanagan a media icon, empowering him to mislead and exploit hundreds of veterans and military families…
(…In my humble, non-legally actionable opinion*)
It started with a FOX & FRIENDS broadcast in 2015 that hyped the JDog Junk Removal franchise investment Flanagan was pitching to veterans.
With the military-themed JDog trucks as a backdrop, the FOX interviewer gushed over Jerry and two of his early franchisees:  an Army veteran from Philadelphia and an enthusiastic young Marine from Texas.
With frequent appearances & the flag-waving red-white-and blue endorsement of FOX & Friends & FOX News, the phones at JDog headquarters in Berwyn, PA were flooded with calls from veterans and military families eager to own a profitable, fulfilling business run by veterans for veterans.
Behind the feel-good fairy tale spun on 5+ appearances on FOX & Friends, numerous red flags suggest a darker story:
Allegations of sexual harassment against CEO Jerry Flanagan
Vicious lawsuits against military franchisees who fell behind on payments, two of whom were African Americans living in Texas
Allegations of racist, brutal collection calls by JDog Chairman Chris Debbas' ADVANCED CALL CENTER TECHNOLOGIES LLC against an African American in Texas (Debt Collectors Gone Wild)
Company franchise filings indicating that JDog Franchises, LLC has terminated or transferred ownership of 224 veteran-owned franchises
Despite Sexual Harassment Allegations, Vindictive Lawsuits & Terminations of Veteran-Owned Franchises, FOX Praised & Promoted Jerry Flanagan
FOX continued to hype Jerry Flanagan & his $100,000+ investment even after that Philadelphia Army veteran's franchise was terminated and resold…
Even after Flanagan terminated & sued that enthusiastic young Marine, a highly decorated combat veteran named Shawn Schexnayder, & seized and resold his territory…
Even after Flanagan terminated one of his first franchisees, a 20-year African American Navy Veteran, Louis Vaughn, Jr., who could not afford an attorney to defend himself…
Even after Flanagan & JDog attorneys sued decorated Operation Iraqi Freedom veteran Kellen Brown for refusing to sign up with a their predatory lender to pay them $35,000 with high interest credit cards…
Despite multiple allegations that Jerry Flanagan sexually harassed of both corporate and franchisee's female employees… (Letter Suggests Jerry Flanagan Was Removed From JDog Franchise for Sexual Harrassment)
Despite an alleged company restructuring & initiative to curtail his drunkenness at company functions & protect female employees and franchisees from Jerry Flanagan…
Despite the escalating number of veteran-owned franchises Flanagan's JDog terminated and resold for new fees (266 franchises by 2022)…
FOX News continued to elevate, promote and regularly praise Jerry Flanagan as a true American entrepreneurial hero and selfless savior of his brothers and sisters who bravely served their country.
Note to JDog, Jerry Flanagan & the attorneys of Spadea, Lignana:  The source of the lawsuit details are publicly available documents downloaded from PACER.  None of the military veterans you sued violated the NDAs/confidentiality clauses/gag orders your FDDs claim don't exist.
FOX News Values a Good Story More Than it Values Our Veterans, Their Families & The Safety of Our Wives & Daughters…

This week FOX News is under fire – and rightly so – for creating fictional stories that appeal to American citizens' sense of outrage, our distrust of those in power and our longing for those military traditional values of Honesty, Trust & Integrity.
To my mind, there is no better example of the media's disregard of the truth – and ambivalence toward the suffering and devastation caused by deceptive "reporting," than FOX News' endorsement & deification of Jerry Flanagan & his JDog investment scheme.
With JDog, we see the true cost of media negligence and deception:
Dozens, if not hundreds, of military veterans plunged into debt and despair for trusting Jerry Flanagan & JDog
Veterans & military families suffering marital disputes, strained relationships, substance and mental health issues under the added pressure of a failed business
Decorated combat veterans who sacrificed for our freedom silenced by gag orders, afraid to share their experiences & warn other veterans
Female corporate employees, franchisee employees and franchisees being put at risk of sexual harassment since Jerry Flanagan has reportedly been allowed to disregard mandated protective safeguards
The continued exploitation of veterans and collection of revenues for the benefit of Jerry & Tracy Flanagan, the shareholders of Julip Run Capital, and the law firm of Spadea, Lignana
The risk of taxpayer money to repay the banks & lenders of SBA guaranteed loans for defaults on JDog 7a loans
There is no better example of a trusted news outlet betraying the best interests of their patriotic viewers by reporting fiction as fact, and a fairy tale as a plausible path to the American Dream.
For Those in Need of a Happy Ending to a Tragic, Infuriating Story: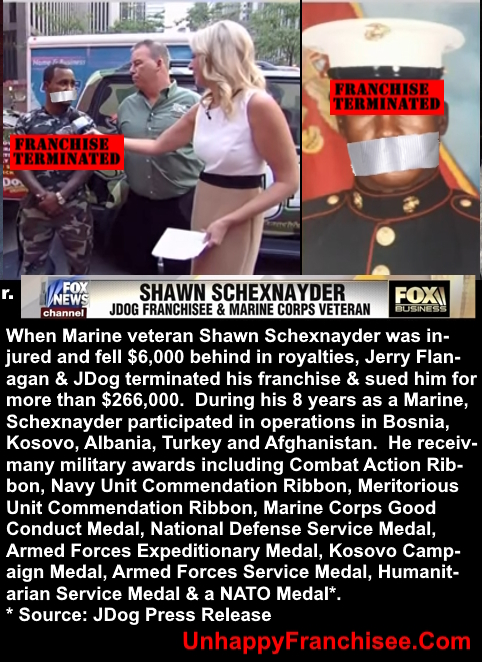 It seems that We the People prefer a positive spin and a happy ending even for our most tragic & infuriating stories.
So I'll conclude with this bit of hope & promise for FOX News and other major media:
If an eccentric Irish blogger in Lancaster County, PA can uncover, document & accurately report the TRUTH…

So can you!
*  Everything here is my layman's opinion.  Debatable.  Possibly wrong.  To my layman's understanding, a statement of opinion is not legally actionable as defamation.  Truth is also an absolute defense for a defamation claim.  Not that that might stop those with deep pockets & powerful attorneys from coming after me anyway…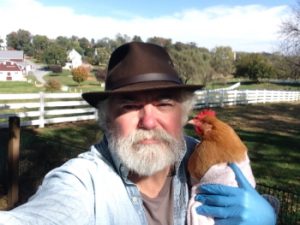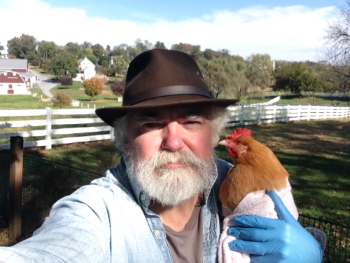 Sean Kelly is an independent investigative journalist with 35 years of franchise industry experience.  Since founding UnhappyFranchisee.Com in 2006, his reporting has exposed & shut down several predatory franchise & investment schemes. 
Sean Kelly is a franchise watchdog who prompted and aided the FBI investigation that shut down the 165-victim multi-million-dollar NY Bagel franchise scam and landed perpetrators Dennis Mason & Joseph Smith in federal prison. 
Sean was featured in the ABC Four Corners expose of 7-Eleven wage theft in Australia and has served as an advisor to Dateline NBC.  He has withstood bullying, intimidation & frivolous lawsuits as high as $35M and never lost. 
His crack editorial staff and fact checkers include Chick, Gem, Red, Pru & Joanie the Rescue Chicken.
This initiative is dedicated to the memory of my father, Raymond J.Kelly, who served with the U.S. Navy during WWII and piloted a landing craft in the Normandy Invasion, D-Day, at Utah Beach… and my brother Paul, who served in the U.S. Army in Vietnam.  Two honorable men that are deeply needed and dearly missed.
Also read:
Letter Suggests Jerry Flanagan Was Removed From JDog Franchise for Sexual Harrassment
Does the JDog Franchise Program Exploit Veterans & Military Families?
JDog Franchise for Veterans: Open Letter to Tracy & Jerry Flanagan
Is Julip Run Capital Exploiting Veterans & Military Families?
Some Franchisors & VetFran Exploit Veterans Even After They've Failed
VetFran or VetScam? Turnover Rates of IFA-Endorsed Vet-Friendly Franchises
Are Veterans Being Targeted by a Bait-and-Switch Investment Scheme?