Does Spadea Lignana Bully & Silence Military Veterans?
Did the Philadelphia-based Spadea Lignana law firm bully & silence military veterans for its client JDog Franchises, LLC?  Did they hide or obscure negative information and misrepresent facts to influence the investment decisions of veterans & military families?  Hopefully, attorney Tom Spadea & "America's #1 Franchise Law Firm" can prove it ain't so… by Sean Kelly, publisher, UnhappyFranchisee.Com
Philadelphia attorney Tom Spadea claims that Spadea Lignana is the #1 Franchise Law Firm in America.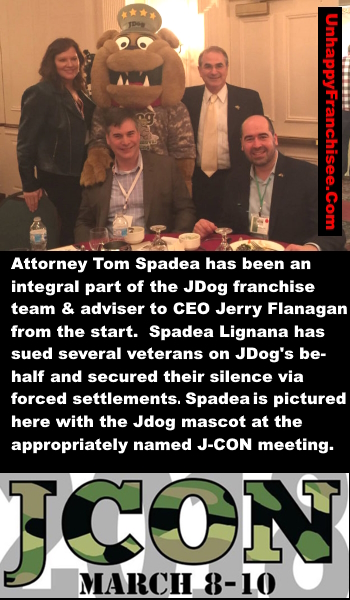 Tom Spadea is unique in the franchise industry:  a franchise salesman & commissioned broker who became a prominent franchise attorney.
When it comes to his long-time client JDog and Jerry Flanagan, could Spadea's love for franchise sales and selling dreams of business ownership have overridden his ethical obligations as an attorney and member of the Bar?
We certainly hope not.
We hope he can answer our nagging suspicion that Tom Spadea and the attorneys at Spadea Lignana hid or obscured required disclosures to prospective franchisees, and bullied and sued military veterans so JDog could continue to terminate franchisees and resell their territories.
Here are the questions we are posing to Tom Spadea & the other attorneys who have worked on JDog disclosure documents, filings and lawsuits against franchisees.
Was Jerry Flanagan's Sexual Harrassment Investigation Not a Material Disclosure Requirement?
A sexual harassment complaint involving the founder of the company and a multi-unit franchisee's employee at an official company function was serious enough to warrant an internal investigation and an internal restructuring to keep franchisees & employees safe from management.
While this might not meet the technical requirements of Item 3 Litigation disclosure of the FDD, would this not be a material fact that should be disclosed to prospective franchisees?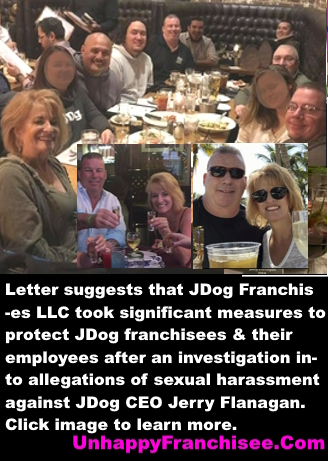 According to an internal letter that has not been disputed, JDog took serious steps to keep franchisees safe from inappropriate conduct from JDog founder Jerry Flanagan, including:
Assigning Kevin Kopa as President and Chief Operating Officer of the Company to remove Jerry Flanagan as having "primary responsibility for interacting with franchisees."
Mandating that Jerry Flanagan would "have no further involvement with day-to-day junk removal franchise operations."
Ordering Jerry Flanagan to have no further direct contact with the multi-unit franchisee entity
"a corporate policy of discouraging the serving of alcohol at JDog sponsored franchisee meetings or franchisee events
"a corporate policy prohibiting any nonbusiness socializing by Company representatives with franchisee employees"
The addition to Mr. Flanagan's Employment Agreement "to add termination for cause provisions in his agreement if any of the newly implemented policies regarding alcohol are violated."
Wouldn't the fact that such measures are in place to keep JDog franchisees and their employees safe from the company founder, President & CEO be disclosed to prospective franchisees?
Especially since alcohol continues to be served at company-sponsored Discovery Days?
See Letter Suggests Jerry Flanagan Was Removed From JDog Franchise for Sexual Harrassment
JDog Has No Confidentiality Clauses Silencing Franchisees?  Really?
Every JDog Franchise Disclosure Document (FDD) and California state registration application prepared and submitted by Spadea Lignana since 2015 includes this representation:
No franchisees have signed confidentiality clauses limiting their ability to discuss their experience with us during the last three fiscal years.
Is this an accurate representation?
Did not the settlement terms required by JDog & Spadea Lignana with franchisees Louis Vaughn, Jr., Shawn Schexnayder, & Kellen Brown prohibit them from sharing their candid opinions of, and their true experience as JDog franchisees?  Aren't they forbidden, to this day, of even acknowledging that they signed a JDog franchise agreement?
Are the former owners of the 224 terminated & transferred JDog franchises legally allowed to share their candid thoughts & experiences with prospective JDog franchisees?
JDog Litigation Against its Franchisees Are Not Required Disclosures?
Every JDog Franchise Disclosure Document (FDD) and California state registration application prepared and submitted by Spadea Lignana since 2015 (with one exception*) includes this representation:
ITEM 3 – LITIGATION
No litigation information is required to be disclosed in this item.
However, I cannot find any disclosure referencing pending or completed litigation for these two lawsuits filed by your firm:
J DOG HOLDINGS, LLC (pla)    2:2019cv04995    JDOG FRANCHISES, LLC et al v. SCHEXNAYDER    Pennsylvania Eastern District Court
J DOG HOLDINGS, LLC (pla)   2:2021cv02515 JDOG FRANCHISES, LLC v. KB JUNK HAULING, INC (Kellen Brown) et al Pennsylvania Eastern District Court
Were these lawsuits not legally required disclosures?
The court documents on PACER indicate that confidentiality clauses prohibit both Defendants from discussing their experiences with JDog, which seems to contradict the statement quoted above.
Are Louis Vaughn, Jr., Shawn Schexnayder & Kellen Brown free to discuss their experiences with JDog?
Why was Kellen Brown not disclosed as a franchisee who left the system?
* JDog disclosed its lawsuit against Louis Vaughn, Jr., but not the confidentiality requirement of the settlement
Why Does JDog Sue Broke (or Near-Broke) Military Veterans
On behalf of client JDog Franchises LLC, Spadea Lignana three military veterans for their inability to pay their franchise fee and/or royalties:
Navy veteran Louis Vaughn, Jr. sued for $155,000
Marines Corp. Veteran Shawn Schexnayder sued For $266,000
Army Veteran Kellen Brown sued for $355,000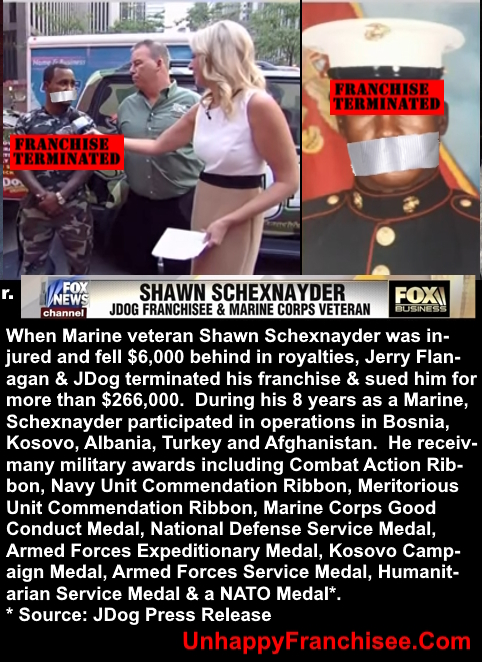 Why would JDog pay Spadea Lignana a significant amount of money to sue broke or near-broke franchisees for such huge sums?
Didn't the PR-savvy worry that suing their own franchisees might betray their image as valuing veterans ahead of money?
Are these what's known as SLAPPs, ie lawsuits filed for the sole purpose of intimidating & silencing critics?
Is the real purpose of the JDog 15 year term to be able to sue and silence failed franchisees with a high amount of "future royalties"?
See:  This Franchise Scheme Sells, Sues & Silences American Veterans
Why Does Spadea Lignana Classify Failed Franchises as "Terminations" and "Transfers"
The purpose of the FTC Franchise Rule and its disclosure requirements is to give prospective franchisees – in this case veterans and military families – clear and understandable information necessary for weighing the risks and benefits of the franchise investment.
Most franchisors disclose unsuccessful or failed franchises under the heading "Ceased Operations Other Reasons."
At some point, Spadea Lignana began listing all ceased operations as "Terminations."
It could appear that this was a tactic to obscure the alarming number of franchise failures as "terminations" or "transfers," and communicate the illusion that none had failed.
Is there any other reason for this unusual classification?
See:  Does the JDog Franchise Program Exploit Veterans & Military Families?
Has Tom Spadea Urged Jerry Flanagan to Stop Selling Defective Franchises & Fix JDog's High Franchisee Turnover?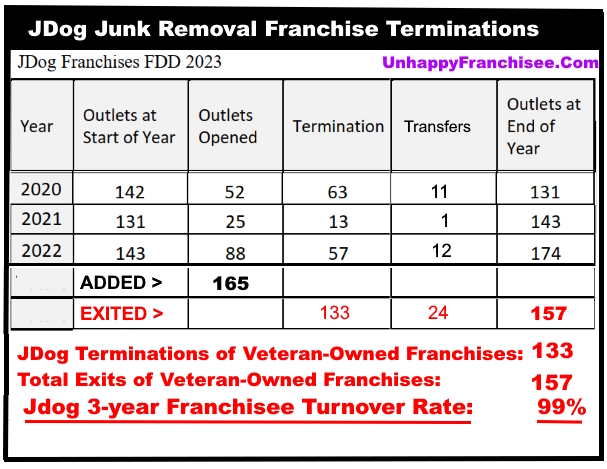 If anyone is aware of JDog's high franchise failure rate, it's the attorneys at Spadea Lignana.
Their FDDs include the required state disclosure that JDog has an abnormally high turnover rate.
Attorney Tom Spadea claims to be a true franchise professional who is also a friend and trusted advisor to Jerry Flanagan.
Could he not see that some day,his client's veteran-loving image might topple with news of more than 200 franchise terminations?
Wouldn't a trusted advisor have advised Flanagan that he needed to get his house in order before that day came?
That day came last week, and all Tom Spadea could do was post a FOX interview with Jerry Flanagan's tired old claim of wanting to reduce veteran unemployment.
The truth is out, Tom.  More spin won't fix this… Please address these issues with honesty & transparency… and urge Jerry Flanagan to do what's right for the veterans he claims to serve.

See: JDog Franchise for Veterans: Open Letter to Tracy & Jerry Flanagan
OPEN INVITATION:  Unhappy Franchisee extends an open invitation to all those discussed to provide corrections, explanations, clarifications and/or rebuttals.  We will correct factual errors & alternative views fairly.  Anonymous or signed comments are welcome below or can be emailed in confidence to UnhappyFranchisee[at]Gmail[dot]com.  We especially invite input from JDog current and former franchisees, Terry Flanagan, Tracy Flanagan, Tom Spadea, Spadea Lignana, attorney Meisee Yerokun, attorney William Jameson, attorney Josh Lignana, Terry Corkery, Kevin Kopa, Julip Run Capital, Chris Debbas, James Jimmy Griffiths, the International Franchise Association, Vetfran, and all others involved.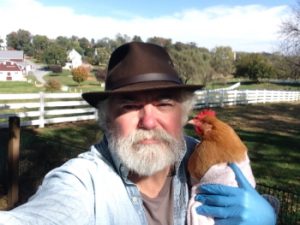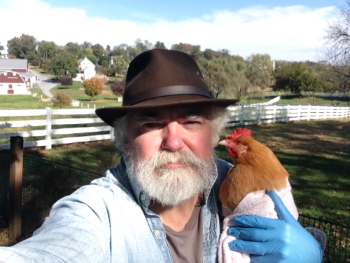 Sean Kelly is an independent investigative journalist with 35 years of franchise industry experience.  Since founding UnhappyFranchisee.Com in 2006, his reporting has exposed & shut down several predatory franchise & investment schemes.  Sean Kelly is a franchise watchdog who prompted and aided the FBI investigation that shut down the 165-victim multi-million-dollar NY Bagel franchise scam and landed perpetrators Dennis Mason & Joseph Smith in federal prison.  Sean was featured in the ABC Four Corners expose of 7-Eleven wage theft in Australia and has served as an advisor to Dateline NBC.  He has withstood bullying, intimidation & frivolous lawsuits as high as $35M and never lost.  His crack editorial staff and fact checkers include Chick, Gem, Red, Pru & Joanie the Rescue Chicken.
Contact the author at UnhappyFranchisee[at]Gmail[dot]com
This initiative is dedicated to the memory of my father, Raymond J.Kelly, who served with the U.S. Navy during WWII and piloted a landing craft in the Normandy Invasion, D-Day, at Utah Beach… and my brother Paul, who served in the U.S. Army in Vietnam.  Two honorable men that are deeply needed and dearly missed.
Also read:
The Veteran-Targeted Franchise Trap That FOX News Built.
Is Julip Run Capital Exploiting Veterans & Military Families?
Some Franchisors & VetFran Exploit Veterans Even After They've Failed
VetFran or VetScam? Turnover Rates of IFA-Endorsed Vet-Friendly Franchises
Are Veterans Being Targeted by a Bait-and-Switch Investment Scheme?