DELI DELICIOUS 8 Troubling Revelations From Unsealed Court Documents
Thanks to attorney David Schneider of Deli Delicious law firm Dowling Aaron, we are able to read and share court documents from Deli Delicious Franchising Inc. (DDFI)'s frozen bread lawsuit against a franchisee.  From threats of castration (#1) to the exec who talks to himself -by phone- (#5), we see why they wanted these private.
(UnhappyFranchisee.Com)  In Deli Delicious Franchising, Inc. v. Akoo Inc., Dowling Aaron chief litigation attorney David Schneider forgot to submit to the court the proposed protective order, signed by both parties, that would have placed the documents submitted for and against a proposed preliminary injunction against Defendant franchisees under seal.
(Dowling Aaron's David Schneider, readers may recall, is facing possible sanctions and financial penalties for missing a hearing in the related case Deli Delicious Franchising, Inc. v. Hadi Hobab.  Schneider denied responsibility for that error also, claiming that his secretary had quit and no one had placed it on his calendar.  See Deli Delicious Questions for Dowling Aaron)
As a result, the judge ordered the documents to be refiled by both parties without the "Under Seal" designation (making them public)  and set a new hearing date.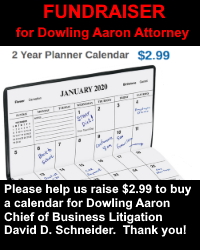 Thanks to David Schneider, UnhappyFranchisee.com can share these documents (including sworn depositions by Ali Nekumanesh, Hadi Hobab, former VP Foad Saffarzadeh declarations by Basque Bread owner Al Lewis & DDFI's Nate Gilbert) as well as some of the revelations and allegations they contain.
Deli Delicious Documents Referenced Below:
CASE NO. 20CECG02037  DELI DELICIOUS FRANCHISING, INC. v. SAM SIAMAK, AKOO, INC., and DOES 1 through 50
Declaration of Nate Gilbert JULY 16, 2020
Declaration of Alvin Lewis Basque Bread Bakery AUGUST 14, 2020
Deli Delicious Deceptive Advertising Exhibit (from UnhappyFranchisee .com)
#1  DDFI CEO Mohammad Hobab Threatened to Castrate & Kill a Franchisee & Have His Family Deported to Iran.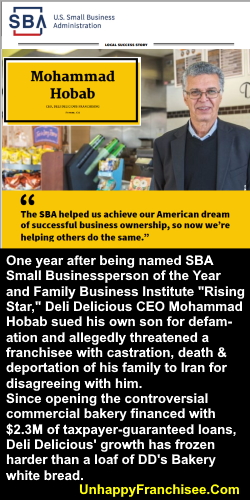 The shocking story that Deli Delicious Franchising Inc. CEO Mohammad Hobab had launched into a tirade of vulgar insults and hateful threats against a polite and well-liked franchisee is widely known by franchisees and DDFI employees.  While there were no direct witnesses to the worst verbal attack, which was delivered in their native language of Farsi (Persian), former VP Foad Saffarzadeh testified that Mohammad Hobab admitted he threatened the franchisee to "put him back in his place."
According to Saffarzadeh, the franchisee had only spoken to the CEO respectfully and addressed him as "Mr. Hobab."
In his deposition, Ali Nekumanesh stated that when he asked him about the alleged threats, Mr. Hobab didn't deny making them.
Read the full account here:  DELI DELICIOUS CEO Threatened Franchisee With Castration, Deportation, Death
#2 The Target of Mohammad Hobab's Vicious Attack is a Model Franchisee
The target of Mohammad Hobab's unbridled rage was not a rabblerouser or renegade franchisee.  According to all who know him, he's an effective and successful operator dedicated to the Deli Delicious brand.  According to the only DDFI employee (now former employee) with extensive foodservice franchising experience, Foad Saffarzadeh testified:  "
[The franchisee] runs two restaurants, and he is heavily involved with his heart and soul in those two restaurants.· He works day and night including his wife. He is — sales are great.

He's one of the few restaurants that regardless of sales drop he was managing — he was able to grow sales.  His restaurant was pretty much in compliance with operation standards.
#3  The DDFI Board Unanimously Opposed the Development of DD's Bakery
Hadi Hobab, in his sworn deposition, states that his father (Mohammad) started pushing the idea of developing a commercial bakery  as early as 2014.  Mohammad had brought up the issue multiple times at board meetings, but board members including Hadi, his mother, Zohreh Hobab, his younger brother and even Ali Nekumanesh opposed the idea and voted against it.  Hadi, who was previously COO, believes that his strong opposition to the bakery idea was a factor in him being forced out of the company, and off the board.
Ali Nekumanesh changed his stance on the bakery, perhaps when offered an ownership stake.  When Mohammad Hobab, Ali Nekumanesh and Hesam Hobab proceeded with incurring $2.3M in debt for the secret development of DD's Bakery, putting DDFI and its franchisees at risk in the process,  they apparently did so without Board approval.
The board's opposition to the bakery was wise, since the chain's growth halted with the bakery opening and multiple lawsuits have ensued.
#4  DD's Bakery, Inc. is Owned by Mohammad Hobab & Ali Nekumanesh, Though Much is in Hesam's Name
According to Ali Nekumanesh, the shareholders of DD's Bakery, Inc. are Mohammad Hobab (90%), Ali Nekumanesh (5%) and Ali's wife Debbie Nekumanesh (5%).  Ali's wife Debbie has no involvement with the bakery.  As Ali Nekumanesh is no longer on the Board of DD's Bakery Inc. since some time earlier this year (he can't remember when), the Board consists of Mohammad Hobab and his son Hesam.
According to Hadi Hobab, in the early days his father allegedly had him take on debts and liability, then declare bankruptcy after signing assets into Mohammad's name.  We hope that Hesam (who is described by Foad as a figurehead only) doesn't get left holding the bag on DD's Bakery.
#5  It's Believed That Ali Nekumanesh Frequently Play-Acts Fake Phone Calls to Appear Important & Busy
In a bizarre deposition exchange with DDFI attorney David Schneider, Hadi Hobab revealed that he and other employees regularly observed Ali Nekumanesh making and receiving fake phone calls.  In these theatrical calls, Nekumanesh allegedly pretended to discuss important issues with senators, Deli Delicious franchisees or his attorney son when, in fact, no one was on the line.
As proof, Hadi cited examples of texting a franchisee at the same time Ali was supposedly speaking to him (the franchisee wasn't on a call with Ali), and employees calling Ali during his fictional phone conversations to show that his phone would ring.
In the deposition, Schneider continued to ask for more and more damning examples, which Hadi convincingly provided.  Attorney Schneider's fascination (disbelief?) and prolonged questions  about the bizarre practice of his client's fake phone calls probably made things worse for Ali Nekumanesh, but it makes for entertaining reading.  Once again, thanks Dave!
#6  Mohammad Hobab is Not the Founder of Deli Delicious
The deposition of Hadi Hobab clearly contradicts the DDFI PR account that the Deli Delicious chain started when Mohammad Hobab came to the U.S. from Iran in the 1980s, and purchased and operated the original Deli Delicious store with his family.
Here's the DDFI creation myth published by The Business Journal:  "Mohammed Hobab, an engineer and banker from Iran, came to Fresno in the 1980s and in 1995 bought the location at Blackstone and Bullard avenues and continued the name and its award-winning sandwiches…"
SBA.gov states: "Hobab is originally from Iran, where he was a successful banker and engineer. He left the country in the 1980s to find a better life for him and his family in the United States."
Merced Sun Star & Fresno Bee also promotes the Mohammad-centric account:  "Deli Delicious started small. Mohammad Hobab and his wife, Zohreh, bought the original Deli Delicious when its owner retired in the early 1990s. They and their three sons did everything from baking the bread to mopping the floor."
The feel-good creation myth featuring Mohammad Hobab as founder and hero is challenged by his son, Hadi Hobab, who is being sued for defamation (in a separate suit) for disagreeing with his father's bad decisions.  In his deposition, Hadi claims HE purchased the original store in 1995 with money he received as a gift from his grandmother.   At just 20, he did everything from creating the menu, waiting on customers, and keeping the books.  His mother worked in the restaurant part-time, but his father was still in Iran.
Mohammad Hobab didn't even move to the U.S. until 2002 or 2003.  According to Hadi, his father ran a small textile mill in Iran, speaks very limited English and never worked in a Deli Delicious restaurant (or any other restaurant).  Mohammad Hobab and a business partner opened the second Deli Delicious location on Belmont Ave. in Fresno, but it closed in less than a year.
#7  DDFI Said Basque French Bakery Could be a Secondary Vendor if They Would Freeze Their Bread
The Deli Delicious brand was built on the freshness of its ingredients, especially the fresh bread baked and delivered daily by Fresno's iconic Basque French Bakery for more than 20 years.
In a revelation more bewildering than Ali Nekumanesh's self-dialing cell phone, Basque Bakery Alvin Lewis owner stated in his declaration that after being initially fired altogether, DDFI later offered Basque Bakery the chance to service a limited number of locations.  The catch?  Basque would have to freeze its freshly baked bread before supplying it to franchisees.  Lewis emphatically refused.
From the Declaration of Alvin Lewis:
I have been in the bakery business for over 40 years…

… we have been providing our breads for over 20 years to Deli Delicious restaurants.

[Deli Delicious Franchising Inc.] sent me a proposal to become an approved provider of bread, only if I were to agree to freeze my baked bread before they were delivered to the restaurants.

Being a baker for over 50 years, I know that the bread loses its texture and desirability if it has been frozen after it is baked.

So I refused to ruin my bread by freezing it.  Then, I was removed as a supplier for Deli Delicious.
Yes, DDFI required a vendor to intentionally damage the product it was selling to Deli Delicious franchisees so it wouldn't be superior to the product supplied by the third-party company owned by Mohammad Hobab and Ali Nekumanesh.
Read Declaration of Alvin Lewis Basque Bread Bakery AUGUST 14, 2020
#8 Deli Delicious Claims It's Removed Deceptive Ads.  It Hasn't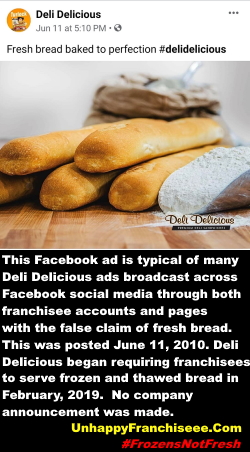 When confronted with documented public misrepresentations by Deli Delicious that it used only "fresh ingredients," and deceptive social media claims of serving fresh bread despite the company's switch to frozen thaw-and-serve bread, DDFI had company spokesperson, Director of Franchise Development and former housepainter Nate Gilbert issue a sworn declaration, stating:
It is Deli Delicious' intention to post only messages that describe our food products accurately….

Deli Delicious and its partners constantly review social media… to ensure accuracy and to protect the Deli Delicious brand…"

I have reviewed the social media screenshots produced in support of defendants' opposition to the subject motion.  The screenshots show social media posts that were not authorized or approved by Deli Delicious.   The subject posts were posted by a franchisee and do not conform to Deli Delicious social media requirements.

Upon discovery of these posts, Deli Delicious requested that they be removed.
Of course, the many public misleading and deceptive representations of freshness, fresh ingredients and even, specifically, fresh bread across social media, public relations and on restaurant walls we've raised are still live and publicly viewable.
While franchisees some franchisees have criticized the lack of restaurant, operations and franchise experience of DDFI management, we think Nate Gilbert's whitewashing experience while a house painter makes him eminently qualified to represent Deli Delicious Franchising Inc.
See Nate Gilbert's sworn declaration here, pp. 2-3  Declaration of Nate Gilbert October 7, 2020
See excerpt of H. Ty Kharazi's Declaration in Opposition to Preliminary Injunction: Deli Delicious Deceptive Advertising Exhibit (from UnhappyFranchisee .com)
ALSO READ:
FRANCHISE DISCUSSIONS by Company
All Deli Delicious Posts on UnhappyFranchisee.Com
DELI DELICIOUS CEO Threatened Franchisee With Castration, Deportation, Death
DELI DECEPTIVE: What Deli Delicious Won't Tell Its Customers
The BREAD That Froze Deli Delicious' Growth.
Which Sandwich Chains Serve Fresh Baked Bread? Which Serve Bread That's Frozen & Thawed?
DELI DELICIOUS Sues Franchisee For Serving Fresh Bread
DELI DELICIOUS Franchise Assessment and Discussion Part 1
DELI DELICIOUS, Ali Nekumanesh Defamation Lawsuits
Deli Delicious Franchise Assessment GoFundMe Campaign
WHAT DO YOU THINK? SHARE A COMMENT BELOW.
TAGS: Mohammed Hobab, Ali Nekumanesh, SCORE, Nate Gilbert, Deli Delicious, Deli Delicious Franchise Inc., Attorney David Schneider, Dowling Aaron, H. Ty Kharazi, deli delicious lawsuit, deli delicious franchise, deli delicious bread, BB's Bakery, DDFI, Deli Delicious Franchising inc., Basque French Bakery, Al Lewis, Fresno,  fresh bread lawsuit, sandwich chains compared, sandwich franchises, sub franchises,  Unhappy Franchisee