CURVES: The Rise & Painful Fall of the Curves Franchise Chain
Curves, the women-only 30-minute fitness franchise, once boasted it was the fastest growing franchise chain in history.
Curves now has the dubious distinction of probably being the fastest-failing franchise chain as well.
According to the company's franchise disclosure document filings, Curves grew to a record 7,877 U.S. franchise locations in 2005.
Just six years later, the Curves system had fallen to just 3523 clubs.
The women's fitness chain shrunk by more than 50%, a total loss of 4354 U.S. clubs.
Thousands of once-hopeful Curves franchise owners suffered severe personal and financial losses as a result of their failed clubs.
Many who closed prematurely suffered the additional indignity of being harrassed and sued for thousands of dollars in "failure fees" and liquidated damages by Curves International, even after they had lost their entire investments. 
(See more than 1000 comments from Curves franchisees here:  Curves Franchise Complaints.)
Are you familiar with the Curves franchise? Please share a comment below.
Curves Lost More Than 4300 Franchise Clubs in Six Years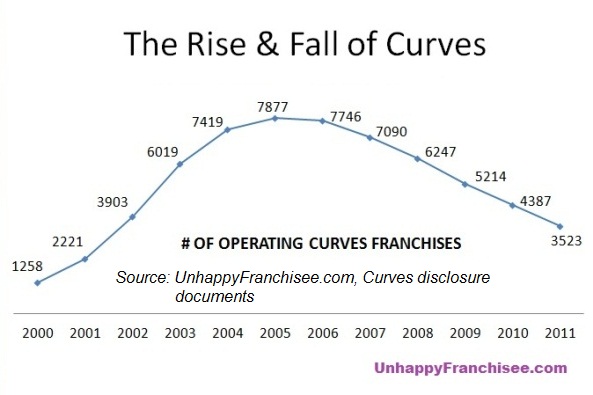 Curves founder Gary Heavin opened the first Curves club in 1992 in Harlingen, Texas, and the first independently owned and operated Curves opened in Paris, Texas, in 1995.  The Curves website currently boasts of its rapid growth, fueled by the personal investments of owner-operator franchisees:
Curves caught on like wildfire and opened clubs at an astronomical rate, sometimes more than doubling its number of locations from year to year. This was all done by word of mouth until Curves launched its award-winning national advertising campaign in 2003. What took McDonalds 25 years and Subway 26 years to do—open 7,000 locations—Curves did in under a decade.
The "History" section of the Curves website does not mention that more than half of those locations would close just as quickly.
Franchisees complain that the company failed to innovate, failed to adapt to the changing economy, and failed to keep women interested in the dated, limited workout.  Many charge that, during its growth frenzy, Curves oversold and overexpanded, selling clubs in hopelessly small, unsustainable markets and allowing franchisees to cannibalize each other's sales.
CEO Gary Heavin Blamed Curves Failures on Greedy Franchisees.
The Curves growth frenzy and subsequent decline spawned a secondary market of Curves "resales," established Curves franchises sold from original or 2nd or 3rd franchise owners to new owners.  When Curves was hot, many owners unloaded their clubs on hopeful new owners for prices that would prove to be exorbitant.  As Curves' struggles became more apparent, many franchisees had trouble selling their clubs at bargain prices as low as $1.00.
CHART: Curves Franchise Resales (Transfers)
Year
Transfers

(Resales)
Difference

from prior year
Total Franchise Outlets
Difference

from prior year
2000
191
 
1258
 
2001
214
23
2221
963
2002
281
67
3903
1682
2003
421
140
6019
2116
2004
729
308
7419
1400
2005
890
161
7877
458
2006
1267
377
7746
(131)
2007
1069
(198)
7090
(656)
2008
792
(277)
6247
(843)
2009
552
(240)
5214
(1033)
2010
379
(173)
4387
(827)
2011
318
(61)
3523
(864)
In comments on the widespread closures, the management of this private and notoriously non-communicative company blame Curves franchisees for the franchise failures. 
In 2009, CEO Gary Heavin was quoted as saying that high SBA loan defaults of Curves franchisee loans were a result of "the overpriced resales of franchises between third parties."  (Source: CURVES: Franchise Resale Buyer Alleges Fraud).
In 2010, then-President Mike Raymond was quoted by the Wall Street Journal as saying that the widespread closures were the result of a corporate effort to "prune the system" to correct the damage from greedy franchisees.  According to the Curves WSJ story:
Franchisees and industry experts point to a failure to keep up with changing trends—including more flexible hours for busy working women—cheaper competition and the tough economy as major reasons for Curves' decline.

The company disagrees with its critics, contending that much of the club closings were intended as part of a plan to "prune the system," according to Curves President Mike Raymond. Some owners had bought into Curves for the wrong reasons, he says, "they were motivated primarily as investors rather than owners."
UnhappyFranchisee.com has been covering the troubles and decline of Curves for years.  See CURVES: Curves Posts on Unhappy Franchisee.
ARE YOU FAMILIAR GARY HEAVIN, CURVES INTERNATIONAL & THE CURVES FRANCHISE?  PLEASE SHARE A COMMENT BELOW.