7-ELEVEN Patel Franchise Lawsuit Alleges 7-11 "Storm Trooper" Tactics
(UnhappyFranchisee.Com) by Sean Kelly  A lawsuit filed against 7-Eleven, Inc. yesterday in the U.S. District Court for the Central District of California alleges that the convenience store giant is using "storm trooper" tactics to illegally seize valuable franchise rights from its franchisees in order to resell them for millions of dollars.
The lawsuit, filed by Marks & Klein, LLP of Red Bank, NJ and Schindler Law Group on behalf of long-time 7-Eleven franchisees Dilip and Saroj Patel, alleges that 7-Eleven's aggressive Asset Protection/Loss Prevention team seized the Patel's Riverside, CA franchise without warning as "part of a wider, nationwide 7-Eleven scheme to improperly intimidate and terminate long-term franchisees, with the goal of acquiring their successful stores."
According to the lawsuit (Dilip Patel, Saroj Patel, and Saroj Patel, Inc., v. 7-Eleven, Inc., a wholly-owned subsidiary of Seven Eleven Japan Co. LTD, a wholly-owned subsidiary of Seven and I Holding Co., LTD.), "the sole purpose of acquiring these stores – albeit through illegal means – is to 'take back' the stores, at no cost, with the intent to ultimately re-sell the store, for a fee, to a third-party purchaser."
"7-Eleven's efforts to terminate franchisees and take-back stores have been tremendously profitable for 7-Eleven," the suit alleges.
"…the amount received by 7-Eleven in reselling taken-back stores is in excess of ten million dollars."
[Read more about the Patels here:  7-ELEVEN Stole Our Store – Dev Patel's Story]
[Read about the stalking & harrassment lawsuit filed the same day as the Patels' suit here:  7-ELEVEN Franchise Lawsuit Alleges Stalking and Harrassment of 7-11 Franchisee]
Complaint Recounts the Patel's Harrowing Ambush by 7-Eleven "Asset Protection"
According to the complaint, Dilip and Saroj Patel have been the popular, community-involved franchise owners of the Riverside, CA 7-Eleven for nearly 19 years.
Their 27-year-old son Dev has been the hands-on manager of the store in recent years.
The suit alleges that on December 4, 2013, the Patels received a phone call that 7-Eleven wanted to meet with them at 10 am the following day to go "over some financials."
On the morning of the meeting, Plaintiffs Dilip and Saroj, and their son, Dev, found that they had been lured to the meeting under false pretenses.
The suit alleges:
[The Patels] were met by 7-Eleven's market manager for Market 2171, William Halverson.

Dilip and Saroj were then taken to a small room where they were surprised to meet 7-Eleven Asset Protection interrogators, Kevin New ("New") and Steve Kellison ("Kellison")   (collectively, the "Asset Protection Interrogators"), who immediately accused of them of fraud and wrongdoing with respect to couponing.

…Specifically, the Asset Protection Interrogators told Plaintiffs that the fraud being perpetrated  in  the  store  involved  the  excessive  use  of  Slurpee  coupons  and  that  Plaintiffs' franchise, which they had for eighteen years, was being terminated and that 7-Eleven would be taking their store away that very day.

Further, the Asset Protection Interrogators told Dilip and Saroj that 7-Eleven would not give them an opportunity to sell the store.

This would result in Dilip and Saroj losing their store, which they had for more than eighteen years, as well as the goodwill associated with their well-run store.

When the Patels sat down at the table, Kellison's first words were threatening in nature.

Specifically, Kellison stated that one of two things would happen that day:

 the Patels would give up the store, including their equity, and pay 7-Eleven $100,000; or
 7-Eleven  would file a federal lawsuit against them, individually and/or collectively, for $250,000.

The Asset Protection Interrogators further "advised" Plaintiffs that should they leave the interrogation room, that the lawsuit would be filed immediately.

The interview conducted by the Asset Protection Interrogators lasted nearly eight hours and was conducted using "Third Degree Tactics."
7-Eleven Allegedly Refused to Furnish Proof or Allow Franchisees to Consult Legal Counsel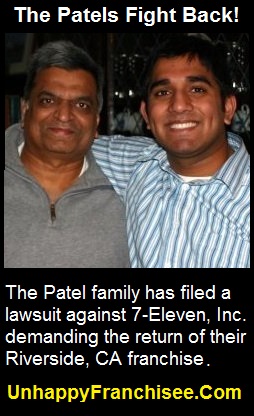 According to the complaint document and accompanying exhibits, Asset Protection interrogator Steve Kellison refused to replay the two short video clips that allegedly proved that the Patels were guilty of an ongoing "illicit, and calculated, scheme to siphon cash from the operation of the store" by fraudulently redeeming Slurpee coupons.
Kellison reportedly refused to show the video clips to Dev Patel, who was in charge of day-to-day operations of the store.
Kellison allegedly threatened the Patels with public embarrassment, especially in the Indian community, by publicly naming them as Defendants in a lawsuit.
Kellison allegedly "told Patel that if 7-Eleven filed the threatened civil action in federal court, the Internal Revenue Service ("IRS") would likely hear about it, and that the Patels could face imprisonment."
Asset Protection interrogators Kevin New is alleged to have "told the Patels that his mother used to work for the IRS and that the threatened lawsuit, and those like it, have 'a way of getting out' to the IRS… Upon information and belief, New's mother was never employed by the IRS."
According to the complaint:
At this time, the Asset Protection Interrogators demanded that Dilip and Saroj sign a purported "settlement agreement," telling the Patels that their continued failure to do so would result in the lawsuit being filed.

At this point, Dilip asked if he could have twenty-four hours to confer with an attorney; however, the Asset Protection Interrogators refused.

Dev then asked if he could take the settlement agreement and federal complaint to his friend, Anthony DiBenedetto, who had just graduated law school, to review both documents.

7-Eleven denied the Patels' request to go to Mr. DiBenedetto's office.

…Scared  and  frightened,  the  Patels  were  still  unable  to  retain  counsel  that  was familiar with franchisees' rights and/or franchise litigation.

Saroj, a diabetic, was especially intimidated and became very emotional.

Saroj became inconsolable and attempted to leave the premises.

In order to end the ordeal, and avoid the threatened litigation and/or retaliation, and to save his wife from a possible diabetic episode, Dilip – individually and on behalf of Saroj Patel, Inc.—was  coerced  into  a  signing  a  purported  settlement  agreement,  purportedly  requiring Plaintiffs to give up the stores.
The complaint alleges that, through nearly eight hours of coercion, threats and lies, 7-Eleven Asset Protection Interrogators succeeded in breaking down the Patels both physically and emotionally, to the point where they signed away assets it had taken the family nearly two decades to build.
Lawsuit Seeks Return of Patel's Riverside 7-Eleven Franchise, Compensatory & Consequential Damages
The Dilip Patel, Saroj Patel, and Saroj Patel, Inc., v. 7-Eleven, Inc. lawsuit includes 5 counts:  Violation of the California Franchise Relations Act, Breach of the Implied Covenant of Good Faith and Fair Dealing, Fraudulent Inducement, False Imprisonment, and a Declaratory Judgement nullifying all settlement and termination documents.
Plaintiffs Dilip Patel, Saroj Patel, and Saroj Patel, Inc. demand a trial by jury and judgement against 7-Eleven, Inc. that includes compensatory & consequential damages, attorneys fees and costs, and the return of the Riverside, CA franchise store.
Read the complaint & exhibits here:
Dilip Patel, Saroj Patel, and Saroj Patel, Inc., v. 7-Eleven, Inc. [Complaint]
[Exhibits]
Also read:
7-ELEVEN on UnhappyFranchisee.Com [Index of posts]
7-ELEVEN Stole Our Store – Dev Patel's Story
7-ELEVEN Franchise Owner Claims Franchisees Are Being Bullied
WHAT DO YOU THINK? ARE YOU FAMILIAR WITH THE 7-ELEVEN FRANCHISE, 7-ELEVEN LOSS PREVENTION AND 7-ELEVEN LAWSUITS?
PLEASE SHARE A COMMENT BELOW.
Companies and individuals discussed on UnhappyFranchisee.Com are invited to provide clarifications, corrections, rebuttals or other statements by sending us an email or posting a comment below.
TAGS: 7-Eleven, 7-Eleven franchise, 7-Eleven Asset Protection, 7-Eleven Loss Prevention, 7-Eleven lawsuit, 7-11 franchise, 7-11 Riverside CA, 7-Eleven litigation, 7-eleven franchise complaints, Dev Patel, Dilip Patel, Saroj Patel, Marks & Klein, Jerry Marks, Mark Stinde, Kevin New, Steve Kellison, William Halverson, Patricia Hollenbeck, Joe DePinto, Seven and I Holdings