7-ELEVEN Stole Our Store – Dev Patel's Story
7-Eleven, Inc. seems to believe (in our opinion) that it can get away with seizing its franchisee's stores at will… with no hearings, no appeal, no nothing.
At UnhappyFranchisee.Com,  we are hearing an increasing number of disturbing stories of individuals and families who claim to have invested hundreds of thousands of dollars and years of their lives building up their 7-Eleven franchise stores, only to have them seized – with no compensation or chance to appeal – by the huge Tokyo-based corporation that then resells the franchises for a profit.
It appears to UnhappyFranchisee.Com that 7-Eleven, Inc. has appointed itself Judge, Jury and Enforcer over these people's lives.
Sadly, 7-Eleven, Inc. seems to be getting away with it… for now.

Here is the story of the Patel family (below), who had their 7-Eleven franchise taken away from them after 19 years.
See the outpouring of support for them here:  7-ELEVEN Protest Over 7-11 Franchise Store Seizure (Pictures)
What do you think?  Please share a comment below.

My name is Dev Patel.
My parents, Dilip and Saroj Patel, invested in and successfully operated the 7-Eleven franchise store at 5958 Magnolia Ave., Riverside, California for over 19 years.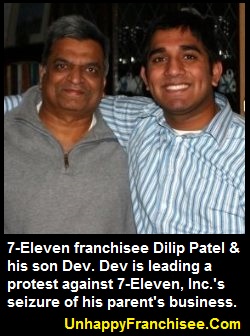 They were suddenly forced out by 7-Eleven as part of 7-Eleven's expansion campaign to take stores away without paying for the goodwill that had been create by the many years the franchise owners spent in promoting the 7-Eleven brand in their community.
7-Eleven called my parents on Wednesday, December 4, 2013 to ask them to come down to the office to meet about financials.
When my folks got there they were put into what amounted to an interrogation room by 7-Eleven loss prevention managers and told their store that they have owned for 19 years would be taken from them because they had engaged in "excess couponing."
The loss prevention managers did not permit my parents time to consult with a qualified franchise attorney to protect their rights and, instead, told they had two options:
1) Turn the store over without compensation for their years of good will and pay $100k in damages; or
2) Face 7-Eleven filing a federal court suit seeking  $250k in damages and still taking the store.
When we asked why this happened, they only ACCUSED my parents, didn't PROVE, that we were committing coupon fraud. They showed a page of transactions that did not seem to prove anything and a short video clip (one time) to substantiate their claims. When we asked to see the video again because we could not determine that any wrongdoing had occurred, they would not show it to us for a second time.
My parents asked to have 24 hours to think about the situation, 7-Eleven REFUSED.
When I asked to fax or email a copy of 7-Eleven's complaint to a friend of mine who had recently graduated law school, the loss managers again refused.
Then the loss prevention managers told my parents that if they left the building without signing over the store 7-11 would immediately file suit.
I got my friend to come down because I couldn't contact a franchise attorney. My friend said this was above his head and asked for more time. 7-Eleven refused.
My mother became emotional, broke down and cried. In order to stop her pain, my father was COERCED into signing over a business that was worth at  least $450,000.
7-Eleven used Gestapo tactics to force the store out of my parents' hands.
I ran the Riverside store for the last few years during the periods of time 7-11 accused my parents of committing fraud.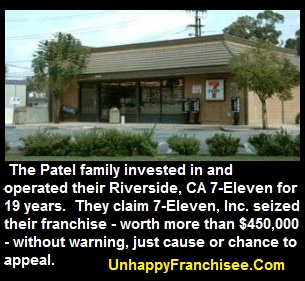 They committed NO fraud.
I even asked 7-11 if my name was on any transaction list or if I was in any video committing fraud.  They said I was NOT.
We were lied to, my customers were lied and the community was lied to.
Yesterday my customers told me that 7-11 corporate employees who took the store over lied to them by telling them my parents had "retired and sold the store back and that they didn't want the store any longer."
My parents didn't retire. My parents definitely did not sell or commit any fraud.
In fact, 7-Eleven managers had encouraged them to liberally coupon and give away free merchandise to children in the nearby elementary school children for getting good grades!
We have since found out that 7-Eleven is trying to force out many older store owners on bogus grounds in order to get the stores for free and then to re-sell them as part of 7-Eleven's expansion plans.
We love Riverside. We love our community. We love our customers.
Let's tell 7-Eleven to stop robbing families like mine of the American Dream!
Thank you for listening.
–  Dev Patel
Disclaimer:  This account has been to provided to UnhappyFranchisee.com by Mr. Patel, and published verbatim.  We have not independently verified his version of events.  We have invited 7-Eleven, Inc. to provide their version of events, including any corrections, clarifications, statements, rebuttals they would like known.  ADMIN
Also read:
7-ELEVEN on UnhappyFranchisee.Com
7-ELEVEN Franchise Owner Claims Franchisees Are Being Bullied
7-ELEVEN Franchise Owners Complain, Allege Churning
7-ELEVEN Manhattan Group Protests 7-11 Expansion
WHAT DO YOU THINK? ARE YOU FAMILIAR WITH THE 7-ELEVEN FRANCHISE, 7-ELEVEN INC. AND 7-ELEVEN LAWSUITS?
PLEASE SHARE A COMMENT BELOW.
TAGS: 7-Eleven, 7-Eleven franchise, 7-Eleven protest, 7-Eleven lawsuit, 7-11 franchise, 7-11 Riverside CA, 7-Eleven litigation, 7-eleven franchise complaints, Dev Patel, Dilip Patel, Saroj Patel, boycott 7-Eleven,