7-Eleven Franchise Complaints
7-Eleven franchise owners are invited to share their complaints, frustrations and advice with prospective franchise owners below.

UnhappyFranchisee.com believes that no franchise system is perfect, and that it benefits everyone when new franchisees sign on with realistic expectations and advance knowledge of the challenges and frustrations they may face.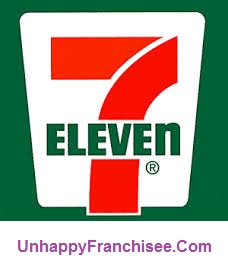 7-Eleven franchise website promises its franchisees world-class support:  "Because we want you to spend your time operating your store and growing your business, we provide you with a level of support that is not just among the best in the convenience store industry—our support goes above and beyond, setting standards for franchises across all industries."
7-Eleven franchise website boasts that it provides support by sending a business consultant to each store twice per week:
In order for 7-Eleven® to be successful, you have to be successful. That's why we provide a personal Business Consultant to help you with all the challenges involved with running your own business.

We provide personal support to help you succeed

What are Business Consultants?

A Business Consultant is a 7-Eleven employee assigned to your store and who visits your store twice a week.

Here are just a few of the things your Business Consultant can do for you:

Assist in the development of budgets and business plans for your store
Provide advice, coaching and assistance on how to improve the business
Assist with the analysis of your store's sales data
Provide continual training and guidance on our ever-improving system
Promote efficiency to help maximize your store's profitability
7-Eleven named the #1 franchise in Entrepreneur magazine's 2011 Franchise 500. (See the UnhappyFranchisee.com discussion here: Top 100 Franchise Opportunities 2011: Behind The Hype) and has now been named the #3 franchise in Entrepreneur magazine's 2012 Franchise 500 as well.
Are the accolades well-deserved?
Does 7-Eleven provide the training, support, marketing and systems it promises?
Is 7-Eleven genuinely dedicated to the success of its franchise owners?
Please share a comment, opinion or insight below.
ALSO READ:
7-ELEVEN Franchises Raided by DOJ, Homeland Security
7-ELEVEN: Is 7-Eleven a Good Franchise to Own?
7-ELEVEN Franchise Owners Complain, Allege Churning
7-ELEVEN: No 7-Eleven Protest Group Holds NY Bodega Walk
ARE YOU FAMILIAR WITH THE 7-ELEVEN FRANCHISE?  WHAT COMPLAINTS DO 7-ELEVEN FRANCHISEES HAVE?  PLEASE SHARE A COMMENT BELOW.