7-ELEVEN Franchise Lawsuit Alleges Stalking and Harrassment of 7-11 Franchisee
(UnhappyFranchisee.Com) by Sean Kelly A successful, multi-unit franchise owner who was the 2008 Franchisee of the Year is suing 7-Eleven, Inc. for stalking, harrassment, intentional infliction of emotional distress, and for running him down outside a CVS Pharmacy.
[It's the 2nd lawsuit of the day filed against 7-Eleven.  Also see 7-ELEVEN Patel Franchise Lawsuit Alleges 7-11 "Storm Trooper" Tactics]
Adnan "Andy" Khan has been a well-respected 7-Eleven franchisee for nearly 34 years.
He owns the rights to and operates five California 7-Eleven franchises in South El Monte, West Covina, Baldwin Park, El Monte, and Pomona.
Andy Khan's accomplishments are impressive and numerous:  Founding member and Past President of the 7-Eleven Political Action Committee.  An active member and past board member of three Franchise Owners Associations (FOA).  Franchisee of the Year.  A Certificate of Achievement and Champion Retailer designation from 7-Eleven.  A Certificate of Congressional Commendation.
However, the lawsuit filed on Andy Khan's behalf in U.S. District Court for the Central District of California alleges that the profitability of Andy Khan's high-volume stores, along with his active and influential role in the 7-Eleven franchisee community, has made him a target for forced expulsion from the 7-Eleven franchise system.
The lawsuit alleges that the Asset Protection division of 7-Eleven is actively trying to drive out franchisees like Andy Khan – influential leaders with valuable locations – so that they can seize and resell their franchise rights to third parties for millions of dollars in additional revenue.
Andy Khan maintains that he and his Operations Manager are being subjected to intense and terrifying surveillance, via GPS tracking through their cell phones and physical "tailing" of them by a mystery man who regularly switches vehicles.
The lawsuit, Adnan Khan v. 7-Eleven, Inc., filed by law firms Marks & Klein LLP and Schindler Law Group, alleges Violation of the California Unfair Business Practices Act, Violation of California's Anti-Stalking Statute, and Intentional Infliction of Emotional Distress.
It demands a trial by jury and judgement against 7-Eleven that includes a prohibition against private investigations in connection with Khan, his family, stores, employees and associates, compensatory,  consequential and punitive damages, attorneys fees, court costs and more.
7-Eleven Franchisee Harrassed by a Mystery Man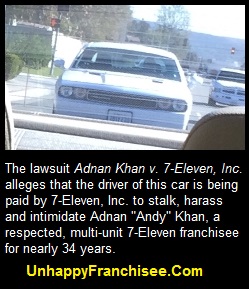 The mysterious stalker in a white vehicle is usually associated with pedophiles or the serial killers on TV shows like Dexter or Criminal Minds.
If Andy Khan is correct, you can add 7-Eleven Loss Prevention Specialists to the list of slow-driving creepers.
According to a Police Report Andy Khan filed with the Baldwin Park Police Department (BPPD), his stalker is a Caucasian male, approximately 5'7" to 5'9" tall, 180 – 220 lbs. with a bald head, short neck, round face, stocky build and a small beard or goatee.
Both Andy Khan and his Operations Manager Pauline Skyler have documented numerous occasions when they were followed and or spied upon by the usually-white-vehicle-driving stalker.
They noticed that they could only evade the stalker when their cell phones were turned off, leading them to believe he was empowered with a GPS-tracking device.
Andy Khan has complained several times to 7-Eleven representatives, including Field Consultants Dennis Urrutia and Michelle Moore, about the stalker, who he believes is an employee or private investigator hired by 7-Eleven to harrass him.
Khan and Stryker claim to have photographed the vehicle and tried to confront the stalker, once physically chasing him on foot.
Andy Khan claims that once, when attempting to confront the mystery stalker/driver in a CVS parking lot, the stalker drove straight at Andy and knocked him to the ground.
7-Eleven's Motives for Allegedly Harrassing Franchisee Andy Khan?
According to the lawsuit, "7-Eleven is trying to ensure that Andy is removed from the 7-Eleven system – either by choice or force…"
"…7-Eleven is using similar tactics against other franchisees, which tactics include, but are not limited to, stalking, illegally gathering personal information, and fear-invoking maneuvers."
Why would a corporation take such drastic measures against its own franchisees?
The motive, according to the lawsuit, is greed:
7-Eleven's efforts to terminate franchisees and take back stores has been tremendously profitable for 7-Eleven.

Upon information and belief, the amount received by 7-Eleven in reselling taken-back stores is in excess of ten million dollars.
Read the complaint here:
Adnan Khan v 7-Eleven Inc. [Complaint]
Also read:
7-ELEVEN on UnhappyFranchisee.Com [Index of posts]
7-ELEVEN Patel Franchise Lawsuit Alleges 7-11 "Storm Trooper" Tactics
7-ELEVEN Stole Our Store – Dev Patel's Story
7-ELEVEN Franchise Owner Claims Franchisees Are Being Bullied
WHAT DO YOU THINK? ARE YOU FAMILIAR WITH THE 7-ELEVEN FRANCHISE, 7-ELEVEN LOSS PREVENTION AND 7-ELEVEN LAWSUITS?
PLEASE SHARE A COMMENT BELOW.
Companies and individuals discussed on UnhappyFranchisee.Com are invited to provide clarifications, corrections, rebuttals or other statements by sending us an email or posting a comment below.
TAGS: 7-Eleven, 7-Eleven franchise, 7-Eleven Asset Protection, 7-Eleven Loss Prevention, 7-Eleven lawsuit, 7-11 franchise, 7-11 CA, 7-Eleven litigation, 7-eleven franchise complaints, Adnan Khan, Andy Khan, Marks & Klein, Jerry Marks, Mark Stinde, Pauline Skyler, Dennis Urrutia, Michelle Moore, Joe DePinto, Seven and I Holdings