CELLAIRIS Franchise Complaints
Cellairis Franchise Complaints:  Are you familiar with the Cellairis franchise opportunity?
Please share your opinion and experience – good or bad – with a comment below.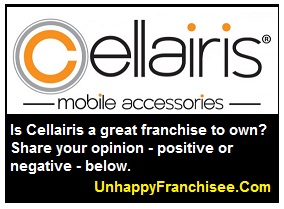 Cellairis franchise kiosks sell cell phone covers, chargers and other accessories, many manufactured by the company.
The company is reportedly expanding beyond kiosks to in-line stores that will also offer smartphone repairs.
Cellairis Franchise Costs & Investment
Total Investment: $36,810 – $375,000
Franchise Fee: $7,500 – $25,000
Ongoing Royalty Fee: Varies
Term of Franchise Agreement: 5-10 years, renewable
Required Net Worth: $150,000 – $300,000
Required Liquid Cash Available: $50,000
Cellairis has reportedly grown from 618 U.S. locations in 2012 to 639 U.S. franchise locations in 2013.
According to the Cellairis franchise marketing, the advantage of its franchise opportunity include:
    Proven concept – over 12 years in business.

Dramatic growth – closing in on 1,000 units in 2013.

Modest investment, with reasonable franchise fees and royalties.

No national franchise competition in the mobile accessory & phone repair specialty retail segment.

Very easy to operate, with low labor and product costs.
Clean, upscale retail environment.

Incredible corporate support, with in-house R&D and graphics team.

    Celebrity endorsements and partnerships.

Dual income streams – cell phone/tablet accessories AND phone repair.

Buying power of a major corporation aligning with warehouses all over the U.S.A.

Support system second to none, with experienced field support personnel and in-house customer service.

Turnkey business – be in operation within 30-90 days (interactive kiosk sites) and 90-150 days (full store experience).
WHAT DO YOU THINK?  ARE YOU FAMILIAR WITH THE CELLAIRIS FRANCHISE OPPORTUNITY?  SHARE A COMMENT BELOW.
tags: Cellairis, Cellairis franchise, Cellairis franchise complaints, Cellairis complaints, Cell phone franchise, mall kiosk franchise, Cellairis franchise costs,