JOHN CARISTI DEBRA CARISTI NY Bagel Café Franchise Owners, Middletown, NJ
John Caristi and Debra Caristi are the owners of the NY Bagel Café franchise in Middletown, New Jersey.  John Caristi is reportedly an instrumental part of Dennis Mason's franchise sales process, and possibly receives lucrative commissions for providing glowing recommendations and earnings claims to victims of the allegedly fraudulent and unlawful franchise scheme. John & Debra Caristi are invited to provide corrections, explanations or rebuttals.
(UnhappyFranchisee.Com)  A growing number of victims are coming forward, reporting that they paid $17,500 – $19,500 franchise fees to a franchise salesman named Dennis Mason for a fraudulent NY Bagel Café franchise opportunity.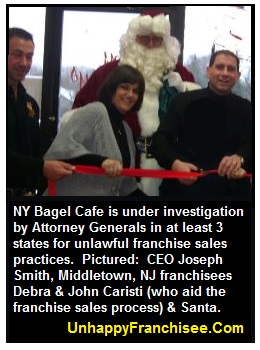 The victims felt reassured handing over the checks to Mason, in large part, because of the positive endorsement and earnings claims provided by an allegedly happy and profitable franchisee named John Caristi.
John Caristi and his wife Deb Caristi own the NY Bagel Café franchise in Middletown, New Jersey.
John & Deb Caristi's franchise location seems to be an integral part of Dennis Mason's and NY Bagel CEO Joe Smith's cash-collection process.
According to a complaint filed with the New York Attorney General, two New York residents allege that Mason & Smith sold them a franchise despite not being legally registered to sell in the state:
On March 16th 2015 Dennis Mason sent us applications to see if we quality for the franchise (Exhibit B). After filling it out and sending it back, we received a quick response saying that we are qualified and he asked to set up a meeting.  We met Dennis Mason and Joe Smith at 10:30 am on March 21st, 2015 at one of their NY Bagel locations (490 Rt. 45, Middletown, NJ).

.

There we met John Caristi, the owner of that store. Joe and Dennis both told us that their locations make on average $1000-1500 a day in sales. John confirmed that he makes about $1500 on average a day. Dennis also spoke about their "Master Points Program" that stated that we would receive $3000 for every new franchisee that they sign at our location, and $2000 for every new franchisee that undergoes training at our location.

.

Dennis then stated that they plan to make our location the main meeting store for all of their potential franchisees from Connecticut and New York – and this would generate us another $5000 – $10,000 a month.
In part because of the recommendation of franchisee John Caristi, the two individuals paid Mason $17,500.  Despite not having provided the promised financing nor proof that NY Bagel Café has met the legal requirements to sell them a franchise, Joe Smith and Dennis Mason have refused to refund their $17,500.
The two NY individuals have filed a formal complaint with the Franchise Division of the NY Attorney General's office.  UnhappyFranchisee.Com has confirmed that NY Bagel Cafe is not and has never been registered to sell franchises in New York state.
John Caristi and his Middletown, NJ franchise are also part of an investigation by the Maryland Attorney General in connection with the unlawful sale of a NY Bagel Café franchise in Ocean City, Maryland.  According to the initial findings of the MD AG's investigation:
At about the same time Mike H purchased his cafe, he saw an advertisement on Craigslist to purchase a franchise for a New York Bagel Cafe & Deli. Mike H called the number listed in the Craigslist advertisement and spoke to Dennis Mason. Mason told Mike H that by purchasing a New York Bagel Cafe & Deli, his cafe could earn $1,500 per day… On or about April 19, 2015, Mason met with Mike H in [John Caristi's franchise location in] Middletown, New Jersey to discuss the purchase of a New York Bagel Cafe & Deli.
We spoke to franchisee Mike H., who is also seeking a return of his $17,500 franchise fee, and he confirmed meeting John Caristi at his Middletown, NJ location.
Taking $19,500 From a Blind Man
Brian Delacruz is another a franchise victim, and is a NJ resident.  Brian Delacruz is legally blind.  Brian paid Dennis Mason & Joe Smith $19,500 after meeting with franchisee John Caristi and touring the Middletown, NJ store.
John Caristi allegedly told Brian he could expect to make $1200 – $2500  per day.
Despite having never provided the promised financing, and despite the fact that the disclosure documents provided to him appear to include major misrepresentations and violations of the FTC Franchise Rule, Joe Smith and Dennis Mason have continued to refuse to return Brian Delacruz's $19,500.
Is Middletown, NJ Franchisee John Caristi Setting Up Scam Victims for Mason?
We invite John & Deb Caristi to contact us about these allegations, to confirm their earnings claims and share why they recommend the NY Bagel Café franchise.
On their Facebook pages, John Caristi & Debra Caristi appear to be devout Catholics, devoted parents & upstanding citizens.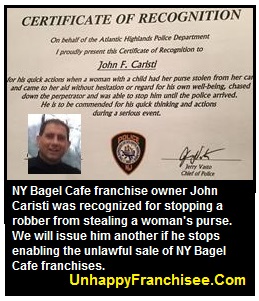 In fact, Debra Caristi recently posted a Certificate of Recognition awarded to her husband John Caristi by the local police department for chasing down and detaining a purse thief.
Is it possible that these long-time franchisees don't know that most NY Bagel Café franchise owners either never open a store or end up closing?
Would they recommend the franchise if they had read NY BAGEL CAFÉ Franchise Graveyard or the list NY BAGEL CAFÉ Franchise: How Many Have Closed? [UPDATED]?
Would they still recommend the NY Bagel Café franchise if they knew that the disclosure documents Joe Smith & Dennis Mason provide include false statements, claim that no franchises have closed, and are not legally compliant… and that Dennis' earnings claims are prohibited by the Federal Trade Commission?
Would John & Debra Caristi still offer their café as a sales tool to Dennis Mason and accept commission checks if they knew that the money they received was from people who were tricked into paying, who would not receive promised financing nor open a store and would be denied refunds?
In addition to the questions above, we'd like to ask the Caristis:
Can they provide documentation that their NY Bagel Café generates $1500 per day ($540,000 annually)?
How many commissions for new franchisees have they received in the last year? Past 3 years? What is the dollar amount?
Of those franchisees they helped close, how many attended training? How many actually have stores open?
Having reviewed our information questionable legality and ethics of the NY Bagel Café franchise, will they still help Dennis Mason sell franchises?
Would they be willing to help repay the victims they helped sell by sending them the portion of their franchise fees they received as commissions?
Do they have any regrets, or do they stand by their endorsement of the NY Bagel Café franchise and Dennis Mason?
Is John Caristi Making $5,000 – $10,000 per Month From Deceived Franchisees?
Each month, the NY Bagel Café franchise ads on Craigslist claim that the company wrote 3 commission checks to a franchisee for help selling franchises the previous month.
It seems likely that they are referring to John Caristi.  If so, that could mean $6,000 per month, or $72,000 per year in commissions received by John & Debra Caristi.
Dennis Mason reportedly told the two NY victims (in the presence of John Caristi) that they could make more than $5,000 – $10,000 per month if their store served as the showcase for the region.
As their Middletown, NJ store serves as the franchise showcase for the chain, are John & Debra Caristi pulling in $60,000 – $120,000 yearly – or more – in commissions from prospective franchisees like the NY partners, like Mike H. in Ocean City and like the legally blind Brian Delacruz… who will never get a store open?
We hope that Debra Caristi and John Caristi can restore our faith in mankind by either refuting these allegations, or by saying they've decided to stop participating in Dennis Mason's sales scheme.
And if John and Debra Caristi received a $3000 cut of the franchise fees paid by the NY partners, Mike H. and Brian Delacruz, we would hope that they'd be willing to return that money to its rightful owners.
We'll be happy to provide them with address to send the checks.
ALSO READ:
NY BAGEL CAFÉ Franchise Graveyard
NY BAGEL CAFÉ Franchise: How Many Have Closed? [UPDATED]
NY BAGEL CAFÉ Franchise Fraud Investigation by MD Attorney General
Joe Smith, Dennis Mason & NY Bagel Café Franchise Exposed: 10 Things You Should Know
NY BAGEL CAFÉ & DELI Franchise Complaints
DENNIS MASON Franchise Complaints
NY BAGEL CAFÉ Franchise a Scam? MA Woman Says Yes
ARE YOU FAMILIAR WITH JOHN CARISTI, DEBRA CARISTI, NY BAGEL CAFÉ MIDDLETOWN NJ, THE NY BAGEL CAFÉ FRANCHISE OPPORTUNITY, JOE SMITH OR DENNIS MASON?
PLEASE SHARE YOUR OPINION BELOW or Contact UnhappyFranchisee.com





TAGS: John Caristi, Debra Caristi, John and Deb Caristi, John and Deb Caristi Middletown NJ, NY Bagel, NY Bagel Café Middletown NJ, NY Bagel franchise, NY Bagel Café, NY Bagel Cafe franchise scam, New York Bagel franchise, New York Bagel Cafe, NY Bagel complaints, NY Bagel lawsuits, Joe Smith, Joseph Smith, Dennis Mason, franchise scam