MAIDPRO Franchise Complaints
MaidPro Franchise Complaints include lack of support, outrageous fees, indifferent management, and franchisee failures,
Are you familiar with the MaidPro franchise opportunity? Please share your opinion and experience – good or bad – with a comment below.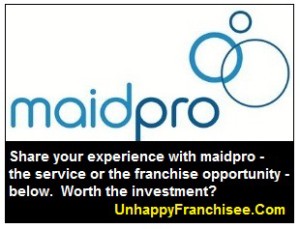 According to the MaidPro franchise website:  "MaidPro provides franchisees with a low-risk, high reward cleaning service business opportunity…
Here are just a few things we provide to franchisees to set them up for a flourishing business future (click the below to expand):
"Becoming a MaidPro franchisee gives you the power to take control of your financial future while providing a valuable service to your residential community. MaidPro is, by far, the most franchisee friendly, technologically advanced, operationally efficient and marketing driven franchisor in cleaning…
"As part of MaidPro and a home cleaning franchise, you maintain control over your life – you are your own boss and you maintain your own hours. Additionally, since you are not selling or creating a product, a home cleaning franchise is one of the lowest cost businesses you can open today!
"With low costs to begin your business, a path to profitability is at your fingertips."
"Maidpro franchise is rip-off!!" commenter claims
However, at least one commenter warns would-be franchisees not to buy a MaidPro franchise:
Maidpro franchise is rip-off!! I lost $140,000 within 6 months which includes $40,000 in bills!!

Richard Sparacio, one of the co-founders of MaidPro, promised me the world, I almost ended up losing my home and everything I own.

And his partner Mark Kushinsky, never bother to help me at all when things were falling apart.

They had assigned Ryan Rabideau, the so called business consultant that had never even owned a business before, was never available to answer the phone, nor would return any of my calls. Even after being able to get a hold of him, he did not have any solutions for me nor could come up with any ideas to help me grow the business.

Just to give you an Idea; it took them almost 3 months to do a market analysis that was supposed to be done within a week as promised by Richard and Ryan. In the mean time I had to pay outrageous franchise fees and all other bills, such as rent, workers comp, payroll, etc out of my savings. Then they even tried to charge me a $5,000 transfer fee when I had transferred all my assets to one of their existing franchisees.

This was the worst investment I have ever made; MaidPro made me promises that end it up being disappointments. It took me years to save all the money I have invested in Maid Pro.

My word of advice is: don't buy the MaidPro franchise, I guarantee you that you will not make any money with MaidPro and will end up losing all the money you invested or even more; you will have a better chance on making money in a casino than investing on Maid pro or even your savings account.
ARE YOU FAMILIAR WITH THE MAIDPRO FRANCHISE OPPORTUNITY?  SHARE A COMMENT BELOW.
Contact UnhappyFranchisee.com





TAGS: MaidPro, Maidpro complaints, MaidPro franchise, MaidPro franchise costs, MaidPro franchise complaints, cleaning franchise, maid service franchise, MaidPro rip-off, MaidPro franchise opportunity, Ryan Rabideau, Mark Kushinsky, Richard Sparacio