MAC Tools Distributor Interview: Robert Wall, Jr.
MAC Tools distributor Robert Wall, Jr. regrets the day he signed up as a MAC Tools distributor.
An experienced mechanic, Robert Wall, Jr. signed up as a MAC Tools distributor for a route out of Dewey, OK after being laid off from his job as a jet mechanic at Cessna Aircraft.
In just two years of trying to keep his MAC Tools distributorship afloat, Robert Wall, Jr.  lost his savings, his severance, his retirement account, two houses, a Nissan pickup truck and his Honda Goldwing.
His credit score had been 840, and his wife's was 870 before joining MAC Tools… today both are under 500.
In all, Robert estimates his losses at around $200,000.
According to Robert, Stanley Black & Decker-owned MAC Tools provided inadequate training, no guidance and no support.
"MAC only wanted their money," he told us in a recent interview.
As a result, only 2 of the 9 distributors Robert trained with are still in business.
To those considering the MAC Tools distributor opportunity, Robert Walls, Jr. says:  "Just don't go there, period."
An Interview with Former MAC Tools Distributor Robert Wall, Jr.
UnhappyFranchisee:  Robert, what's your background? What were you doing prior to owning your franchise?
Robert:  I was working at Cessna Aircraft in Independence, KS, as an A & P mechanic, specializing in systems installations on the Citation Mustang jet. I was laid off in March 2009 after nearly three and a half years. Prior to that, I had been an ASE certified auto technician for 15 years. I also worked as a mechanical and civil drafter.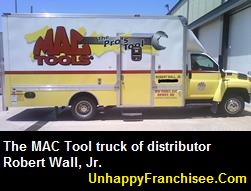 UnhappyFranchisee:  When did you decide you wanted to own your own business? Describe the process you went through to determine which franchise to buy.
Robert:  I looked into the possibility about 2-3 months after my layoff.  I initially prospected with Matco, then decided they would have too much influence in my business, and I also spoke with the former Matco dealer for this area, ( I knew him when I worked as an auto tech) who gave me information and advice not to go with Matco.
UnhappyFranchisee:  How did you first learn about the general concept? What did you find appealing about this type of business?
Robert:  I was aware of the general idea from when I was an auto tech. Since there were limited dealers in this area, I thought it would be a boon, although we were in a nationwide recession at the time.
UnhappyFranchisee:  Describe the company's sales process and your interaction prior to becoming a franchisee.
Robert:  I sought them out, after failing to come to any agreement with MATCO, and it was pretty easy, once they saw that I had already gone through MATCO's preliminaries.
UnhappyFranchisee:  How was the company's training and pre-opening support. Was it a positive experience?
Robert:  Well, to start, I had to go clear across Oklahoma to go on the "discovery ride" with a dealer in Liberal, Kansas. Couldn't get any of the SOB's in the Tulsa or OKC area to ride with.  Yeah, they paid for my motel, I bought my gas and eats for a week.  As far as "tool school" goes, it was just peachy.  In Ohio, they comped the room, most of the meals, taught the basics about tool-selling.  I just loved the role-play. "Now, say it just like we say it, these are tried and true methods!" I could hardly stay awake for most of it.  Some good training on their software, to get us started.
UnhappyFranchisee:  Do you remember how many other franchise groups were represented in your initial training class? Do you know how many are still in business today?
Robert:  There were ten people, one was a candidate for DM, out of us nine, there are 2 left. Even the DM got out.
UnhappyFranchisee:  What marketing and promotional guidance, programs & support were provided? Were they effective?
Robert:  NO guidance.  NO support.  District meetings were all about buying tools and stupid ass price point crap that made no sense, always tying in with a BOGO deal. One meeting had the Launch rep there. I asked him point blank, who do you work for? He says "Launch."  This rep dissed me while riding with the Matco dealer in my territory, told a customer that I had lied, that I couldn't get the deal I had told him I would on a scanner. DM told me there wasn't a thing he could do.
They were always pushing MAC Card, backed by Greensky, whoever that was.  No help there, because they would not approve ANYBODY, except my wife.  She got a Platinum card.  I put her through just to see what would happen. She was the only one of about twenty apps that went through.  After that, I just gave up trying to put anybody through.
UnhappyFranchisee:  How was your first year in business? Was the support what you expected? Why or why not?
Robert:  My first year in was just what I made of it. No support.  My DM didn't help me unpack, or even ride with me for the first month or so.  He rode with a guy in my class, who started up about two hours away from me, in Stillwater, OK.  I got some dweeb out of Georgia or somewhere to ride with me.  He was on the computer, the phone, or out crying beside the truck because he and his wife were having problems.
I re-scouted my own route after I got home, finding new stops to replace the ones that didn't pan out. Then my new truck broke down. I had a 2009 GMC C5500 from Herr, and at 14K miles, the engine started acting up. Well, it sat in a GMC Truck dealership shop for SIX WEEKS being worked on, while I ran around in my personal vehicle, with tools and stuff in the back, computer in the front seat, making hand receipts, and wringing my hands trying to get GM Corporate to light a fire under somebody's ass to get my truck back.  Couldn't hardly sell a thing, made good on some promo stuff I got from MAC, and that worked for about two weeks, and I tried to stay steady on my route to collect.
UnhappyFranchisee:  What were the positive aspects of your experience?
Robert:  I liked having my own business, the fact that I tried to make it a service-based business instead of a sales-driven business was a good thing, and it went over well with a lot of customers, but having lite bulbs and batteries won't pay the fuel bill.
UnhappyFranchisee:  When did things start to go wrong? What was it that made you an unhappy franchisee?
Robert:  Things went south when I couldn't keep up the payments to MAC, Wells Fargo, and fuel. When you can't guarantee that you can even fire up the truck to make your route, it's time to quit.
UnhappyFranchisee:  Did you try to resolve your issues with the franchisor? What was the outcome?
Robert:  MAC only wanted their money, and I found out that the "financial consultants" you talk to to pay your bill, or make arrangements (ha!) have weekly meetings to discuss "distributor viability" which is a fancy term for letting you go, or cutting you off.
UnhappyFranchisee:  What is your current situation? What would you like to see happen at this point?
Robert:  I'm done, disgusted, maybe a little settlement money before I die, or MAC Tools exposed. I doubt if anyone will actually see anything worth having after the lawyers pull up to the tit and suck their fees from any kind of "settlement."
UnhappyFranchisee:  Do you think that the MAC Tools distributor concept is a viable?
Robert:  No, not really, not at this point in time. You have too many mechanics that have a lot of their own tools.  You have the new guys who buy all their tools at once with student discount programs, and most everybody surfs the net, so the service part of the business has really fallen by the wayside, because any dealer who can make it on lite bulbs and batteries doesn't have much on the shelves. And you definitely DON'T need half of the tools they send you in your start-up.
UnhappyFranchisee:  What mistakes did you make? Looking back, what would you have done differently?
Robert:  Never use credit cards when you are in a bind, you will NEVER pay them back like you think you will. Especially for fuel.
UnhappyFranchisee:  How has your investment in a MAC Tools distributorship decision affected your life?
Robert:  It's back to square one for me. Dirt low credit score, lost homes, working for insurance, driving a beat-up pickup. At least my wife didn't leave me. That schmuck in Georgia wouldn't leave MAC, so she left him.
UnhappyFranchisee:  What advice would you give to prospective franchise owners? What questions should they ask? What warning signs should they look for?
Robert:  Just don't go there, period. Most cities are looking for more and more restaurants and eating places. Try your hand at that, or a food truck. Don't even think about a tool truck.
If you would like to contact Robert Wall, Jr., please send a request to UnhappyFranchisee[at]gmail.com
ALSO READ:
MAC TOOLS Franchise posts on UnhappyFranchisee.Com
MAC TOOLS Distributor Problems – Your Input Invited
MAC Tools Franchise Complaints (Video)
MAC Tools Screwed Us: A MAC Distributor Speaks Out (Video)
Mobile Tool Franchise Issues & Index
MAC TOOLS Distributor's Wives Share Stories of Deception, Hardship
MAC TOOLS Franchise Owners Claim They Can't Compete (Slideshow)
ARE YOU FAMILIAR WITH THE MAC TOOLS FRANCHISE DISTRIBUTOR OPPORTUNITY?  PLEASE SHARE YOUR OPINION BELOW.
TAGS: MAC Tools, MAC Tools franchise, MAC Tools distributor, MAC Tools pricing, MAC Tools opportunity, MAC Tools distributor opportunity, MAC Tools dealer, tool truck franchise, mobile tool franchise, Stanley Black & Decker, MAC Tools complaints, franchise lawsuits, Robert Wall Jr., Dewey OK, Bartlesville OK