GRAZE CRAZE Locations–Franchise Watch (UPDATED)
Graze Craze franchise opportunity was launched by United Franchise Group (UFG) June 1, 2021.  Help us keep our list of locations up-to-date as we watch Graze Craze locations grow!  Please post any news or updates in the comments below!  and check back frequently for updates! Updated 10/22
(UnhappyFranchisee.Com)  Graze Craze is the innovator in an attractive food trend sweeping the nation known as "Grazing". Grazing allows people the flexibility to eat an entire meal or small portions of food during the course of the day.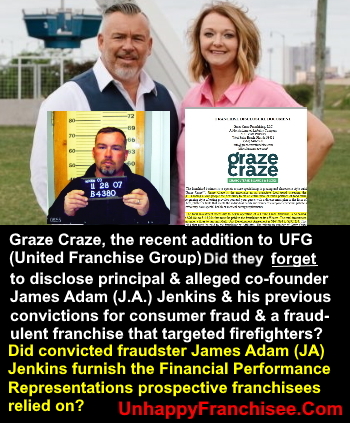 United Franchise Group (UFG) launched the Graze Craze franchise chain through its Graze Craze Franchising, LLC franchisor company.
We established this page the same month franchising began so that we can track the growth of Graze Craze franchise in real time!
As of June 10, 2021, the Graze Craze website listed 4 Graze craze locations OPEN and 2 COMING SOON.
As of 10/12/22, Graze Craze reports:
Graze Craze locations CLOSED:   3
Graze Craze locations listed as OPEN:  20
Graze Craze locations listed as COMING SOON: 27
Franchise Agreements Signed But Outlet Not Opened as of 6/30/22*:  98
Projected New Franchised Outlets In The Next Fiscal Year*:  6-60
Projected New Company Owned Outlets In the Next Fiscal Year*:  4
* Source:  Graze Craze Franchise Disclosure Document dated 6/30/22
Also Read:  GRAZE CRAZE Who is Convicted Fraudster James Adams Jenkins aka J.A. Jenkins?
United Franchise Group (UFG) GRAZE CRAZE Franchise Warning
EXPERIMAX EXPERIMAC Franchise Report (The Index)
CLOSED
FL  KEY WEST

431 Front Street, Key West, Florida 33040 (305) 204-4971 (Kerry Sylvester / James Adam Jenkins?)

OK BIXBY
12800 South Memorial Drive, Bixby, Oklahoma 74008 (Franchisee Matthew Silzell) (Kerry Sylvester / James Adam Jenkins?)

OK BROKEN ARROW
423 East Stonewood Drive, Broken Arrow, Oklahoma 74012 (Kerry Sylvester / James Adam Jenkins?)

COLORADO

CO NORTH COLORADO SPRINGS

 

.

6942 N Academy Blvd Colorado Springs, CO 80918 (Franchisees Kenneth "Brad" Akers and Sandra Akers)

FLORIDA


FL KEY WEST, FL

.

Key West, FL 33040 (CLOSED) (website claims it's "relocating") (Kerry Sylvester / James Adam Jenkins?)


FL NORTH PALM BEACH
1201 US Hwy 1, Unit 5 North Palm Beach, FL 33408 (561) 320-4574 (Franchisee Jigisha Patel)
MASSACHUSETTSMA NORTH AMHERST
.

83 Cowls Rd Amherst, MA 01002 (413) 259-0062  (Opened May 30, 2022 Franchise owners: Jessica Lavallee and Jeremy Lavallee  SBA Financing)

MICHIGANMI SHELBY TOWNSHIP
.

1917 25 Mile Rd Shelby Township, MI 48316  (586) 480-1125 (Opened Aug 2022) (Franchisees Jessica Moss and Michael MacGillivary)

OKLAHOMA

OK  BROKEN ARROW

.423 East Stonewood Drive, Broken Arrow, OK 74012  [Also listed as "Coming Soon"] (Kerry Sylvester / James Adam Jenkins?)
OK  MIDWEST CITY
1618 S Post Rd  Midwest City, OK 73130  (405) 455-3595 Jennifer Green and Andrew Weir
OK  EDMOND
3601 S Broadway, Suite 300  Edmond, OK 73013  (405) 849-6559  Opened October, 2020 (Kerry Sylvester / James Adam Jenkins)
OK  YUKON
501 S Mustang Rd, Suite R  Yukon, OK 73099  (405) 467-4956 Opened June, 2020 (Kerry Sylvester / James Adam Jenkins)
OK  BIXBY
12800 S Memorial Dr  Bixby, OK 74008  (918) 943-5091 (Franchisee Matthew Silzell) (Kerry Sylvester / James Adam Jenkins?) CLOSED
OK  NEWCASTLE
2191 N Main St, Suite A  Newcastle, OK 73065 (405) 387-4554 Opened April 1, 2020 (Kerry Sylvester / James Adam Jenkins aka J.A. Jenkins)
OK  STILLWATER
1916 N. Perkins Rd  Stillwater, OK 74075  (405) 332-4015 (Franchisee Tolbert Corley)
OK  NORMAN
3451 36th Ave NW, Suite 110  Norman, OK 73072(405) 857-2019 Opened January 16, 2021 (Kerry Sylvester / James Adam Jenkins)
OREGONOR  PORTLAND – GLENDOVEER
.

14021 NE Glisan St.  Portland, OR 97230 (971) 345-6937 (Opened Aug. 8, 2022  Franchisee Tom Cook Von Ebert Brewing)

TENNESSEE

TN  MT. JULIET

.

151 Adams Lane, Suite 18  Mt. Juliet, TN 37122  (615) 647-9447 (Franchisees Steven and Alysha Garrett)

TN  MURFREESBORO
675 Middle Tennessee Blvd. E  Murfreesboro, TN 37129  (615) 962-8578  (Franchisee Shannon DiVitto)
TEXASTX  PLANO
.1101 Ohio Drive, Suite 116  Plano, TX 75093  (469) 814-0341  (Opened March 2022  Franchisee  Rob Salinas)
TX  HOUSTON, (Cypress)
12234 Queenston Blvd., Suite 500  Houston, TX 77095  (346) 474-7293 (Opened August 15, 2022) (Franchisees Samit and Tejal Darne)
TX SOUTHWEST FORT WORTH
4750 Bryant Irvin Rd, Suite 808  Fort Worth, TX 76132  (817) 886-8933
UTAH

UT  MIDVALE

.

7630 S Union Park Ave  Midvale, UT 84047  (385) 900-8480 (Franchisees Benton Perry and Preston Hadley)

UT  PLEASANT GROVE
1926 W. Pleasant Grove Boulevard, Suite B  Pleasant Grove, UT 84062  (385) 498-3921  (Franchisees Preston Hadley, cousin and business partner Benton Perry) (SBA Funding)
UT  SANDY
80 E 10600 S  Sandy, UT 84070  (801) 938-9878  (Opened early 2022 Franchisees Matt & Amy Alter)
GRAZE CRAZE – OPENING SOON
 As of 10/10/22 – Source:  Company Website
CO  CENTENNIAL 5730 E. Otero Ave. #800 Centennial, CO 80112
CO  NORTHEAST COLORADO SPRINGS 6054-B Stetson Hills Blvd. Colorado Springs, CO 80923
DE  HOCKESSIN 683 Yorklyn Rd. Unit 3 Hockessin, DE 19707
FL KEY WEST RELOCATING  Key West, FL 33040
FL ST. AUGUSTINE 650 Market St St. Augustine, FL 32095
FL UPTOWN TAMPA 13112 N. Florida Ave, Suite G Tampa, FL 33612
GA SANDY SPRINGS 5975 Roswell Rd. Suite E359 Sandy Springs, GA 30328
ID GARDEN CITY 5624 W. State St. Boise, ID 83703
IL  SCHAUMBURG 1437 W. Schaumburg Rd. Schaumburg, IL 60194
KS NORTHEAST WICHITA 9747 East 21st St. North Wichita, KS 67206
KS NORTHWEST WICHITA 2233 N Ridge Rd. Wichita, KS 67205
MA WOBURN 223 Main St Woburn, MA 01801
MO  KANSAS CITY – NORTH 7713 Prairie View Rd. Kansas City, MO 64151
NV SOUTHEAST RENO 4092 Kietzke Lane Reno, NV 89502
NM NORTHEAST ALBUQUERQUE 4770 Montgomery Blvd. NE#109 Albuquerque, NM 87109
NC  CHARLOTTE – BALLANTYNE 16011-C Lancaster Hwy Charlotte, NC 28277
NC  CENTRAL RALEIGH 1028 Oberlin Rd. Suite 226 Raleigh, NC 27605
OK  BROKEN ARROW 423 East Stonewood Drive Broken Arrow, OK 74012
OR  PORTLAND – HAWTHORNE 4111-4113 SE Hawthorne Blvd. Portland, OR 97214
OR  NEWBERG 4105 E Crestview Dr. Suite 103 Newberg, OR 97132
OR  HAPPY VALLEY 13120 SE 172nd Ave. Suite 118 Happy Valley, OR 97086
OR  WEST LINN  18750 Willamette Dr.  West Linn, OR 97068
OR  PROGRESS SQUARE  8640 SW Hall Blvd.  Beaverton, OR 97008
PA  JAMISON  2190 York Rd.  Suite 6  Jamison, PA 18929
TX  DALLAS / UNIVERSITY PARK  3400 Rosedale  University Park, TX 75205
TX NORTH SAN ANTONIO  16111 San Pedro Ave. #102  San Antonio, TX 78232
TX  THE WOODLANDS  1500 Research Forest Dr.  STE 110  Shenandoah, TX 77381
UT PARK CITY   6546 Landmark Drive, Suite C  Park City, UT 84098
WA ZILLAH 616 Railroad Ave. Unit A Zillah, WA 98953
Franchisees Who Have Signed a Franchise Agreement but Have Not Opened

as of June 30, 2022
MA  Dennis Sullivan
NC  Melissa Richter


NC  Nicole Pratt-Nunley


NJ  Patricia Rocca


NM Johnathan Flores


NV  Myron Bursell and Monna Bursell


PA  Kevin Jilbert


TX  San Antonio Ricardo Gutierrez


TX  David Scarbrough


TX  Donnie Bedore


UT  Jake Alter and Chelsea Alter


UT  Matthew Alter


VA  Amaan Bhanji and Altaz Bhanji


WA  Stanley Domingo and Marissa Domingo


WI  Alexander Coutts


WY  Chris O'Bryan

Related reading and research:
GRAZE CRAZE Franchise Posts (All)
UnhappyFranchisee.Com is an independent publication and not affiliated with Graze Craze or United Franchise Group

UFG's Experimax Formerly Experimac:
EXPERIMAX EXPERIMAC Franchise Expose: Behind the Curtain Web Series
UFG CEO Ray Titus: STOP Promoting the Failed Experimax Franchise!
EXPERIMAX EXPERIMAC Franchise Report (The Index)
UFG: The Lost Brands:
UFG's Plan Ahead Events Franchise: What Happened?
UFG SUPERGREEN SOLUTIONS Massive Failures, Titus Fraud Allegations
FRANCHISE DISCUSSIONS by Company
ARE YOU A UNITED FRANCHISE GROUP FRANCHISEE?  ARE YOU FAMILIAR WITH GRAZE CRAZE, UNITED FRANCHISE GROUP OR RAY TITUS?  SHARE A COMMENT BELOW.
Tags:   Graze Craze, Graze Craze Franchise, Graze Craze Oklahoma, James Adam Jenkins, Kerry Sylvester, Kerry Lee Sylvester, JA Jenkins, charcuterie franchise, charcuterie plates, UFG, United Franchise Group, UFG Expose, Ray Titus expose, franchise expose, Ray Titus, IFPG, franchise brokers