United Franchise Group (UFG) GRAZE CRAZE Franchise Warning
The United Franchise Group (UFG) has launched a new franchise opportunity which is outrageous even by UFG standards. The Graze Craze franchise features an unproven concept dependent on an unproven market, no track record, a useless earnings claim, a typo-plagued FDD, and a management team with no relevant experience located 1400 miles from its stores. by Sean Kelly As part of the "Behind the Curtain: United Franchise Group."
(UnhappyFranchisee.Com) The United Franchise Group (UFG), based in West Palm Beach, FL, is, to an extent, a revolving door of franchise brands.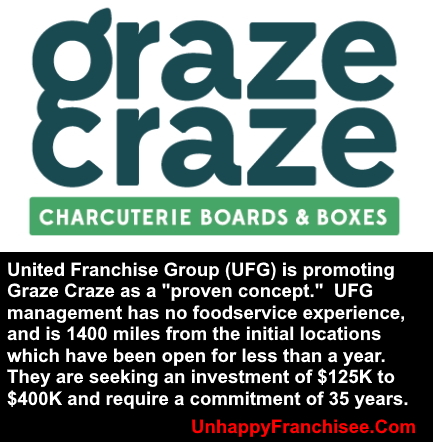 Their two main brands (Signarama, Fully Promoted formerly EmbroidMe) have been around for decades.
Others, like Billboard Connection, IZON Global Media, Plan Ahead Events, and, most recently, Supergreen Solutions seem to follow a pattern of being aggressively promoted and sold for a few years, suffer a high degree of franchise turnover, undergo a change of corporation, then disappear from the UFG without explanation.
Supergreen Solutions is in the late stage of this cycle, and Experimax (formerly Experimac) seems to be headed for the same fate.
To keep pace with the exiting brands, UFG adds new franchises to feed into its finely honed franchise sales machine, and to be added as inventory for its Transworld Business Advisors broker network.
The latest offering from the 35-year old franchisor is a doozy, even by UFG standards.
Meet Graze Craze: With 1 Store Open for 1 Year, it's "Already a Proven Concept"!
Graze Craze is the opportunity to make a 35-year financial commitment to a franchisor formed 3 months ago (March 17, 2021. Erin go brae!)
According to the FDD dated June 1, 2021, they are pioneering a new concept in eating:
The franchised business is to operate a store specializing in grazing and charcuterie style cuisine under the brand name "Graze Craze®".

Graze Craze is the innovator in an attractive food trend sweeping the nation known as "Grazing".

Grazing allows people the flexibility to eat an entire meal or small portions of food during the course of the day.

The grazing style of eating provides you and your guests with a diverse meal plan in the form of a charcuterie style grazing box, platter or table that meets the individual needs and wants of everyone's personal palette and diet
Ground Zero for this exciting food trend is apparently Oklahoma, where cows, horses and other livestock have been successfully utilizing this technique for generations.
Perhaps that's what UFG means when it says it's a "proven concept."
Graze Craze Ownership is Murky at Best
The Graze Craze FDD states:
Our name is Graze Craze Franchising, LLC. Our principal business address is 2121 Vista Parkway, West Palm Beach, Florida 33411.

We use the names "Graze Craze Franchising, LLC" and "Graze Craze®".

We are a Florida limited liability company. We were formed on March 17, 2021. Our majority owner is UFG Holdings Group, LLC

We have offered franchises since June of 2021.

There are three (3) Graze Craze® Stores located in Oklahoma owned by an affiliate, Graze Craze, Inc., an Oklahoma corporation.

The businesses were opened in April 2021*, July 2021*, and October 2021*, respectively, and operated as Graze Craze®.
UFG's Graze Craze franchising acquired the trademarks from Graze Craze, Inc., an Oklahoma corporation owned by Graze Craze founder Kerry Sylvester on February 22, 2021.
* Unless UFG has added a time machine to its state-of-the-art HQ, we assume they mean the stores opened in 2020.
A Grazey Proposal: Pay UFG $96,484 to $293,984 upfront & 10%+ of sales per for 1,820 Weeks
The Graze Craze Franchise Disclosure Document (FDD) dated June 1, 2021 states the terms:
Term of the Graze Craze Franchise Agreement: 35 years (1,820 weeks)
Initial investment: $124,884 to $212,234 (1 store – this includes $96,484 to $113,984 that must be paid to the franchisor or its affiliates.)
$164,884 to $392,234 (3-10 year multi-unit agreement – $136,484 to $293,984** paid to the franchisor or Affiliates)
Franchise Fee: $49,500** ($35K for multi-unit agreement)
Royalty of gross sales paid weekly: 6%
Marketing fee of gross sales paid weekly: 2%-4%

Local marketing: 4%
POS system fee: $138 to $288
Website fee, monthly: $119 per month

Technology fee: $12

Online and third-party ordering fee: TBD

Other fees can be added
** If a single store costs a minimum of $100,000 to open, wouldn't 10 stores cost at least $1M?
*** The Graze Craze franchise fee is $4500 more than McDonald's franchise fee ($40K) and $14,500 more than Panera Bread's ($35K)
The Graze Craze Management Team Has Zero Experience & is 1400 Miles From Operating Units
The Graze Craze FDD discloses the management team of Graze Craze, which is cut and pasted from other UFG FDDs.
Not a single person listed in the management section is dedicated to Graze Craze or has any food experience.
The founder of the concept and principal of the affiliate company, Kerry Lee Sylvester, isn't mentioned in the FDD.
Every one of the 23 listed as management appear to be involved with franchise sales or administration, not operations or support:
Graze Craze Management
Listed in 2021 FDD
Ray Titus – CEO

Todd Newton – CFO

Michael White – CRO

Walter Seltzer – Intl Dir

A.J. Titus – Senior Exec

James Butler – Senior Exec

Alan Van Campen – Dir of Sales

Nick Bruckner – Sr. VP Sales

Sean Oatney – Executive VP

Troy Thomas – Executive VP

Eric Brewstein – Regional VP

John Fleming – Regional VP

Thomas Flood – Regional VP

John Gray – Regional VP

Mark Lewis – Regional VP

Walter Miska – Regional VP

Evan Opel – Regional VP

Stephen Phelps – Regional VP

Eric Redden – Regional VP

Paul Scales – Regional VP

Jeffrey Thompson – Regional VP

Andrew Titus – Regional VP

Darin Vilhauer – Regional VP
An online recruitment ad for a Graze Craze Operations Consultant states:
Graze Craze, the newest brand at United Franchising Group, is an already proven concept with 5 corporately run locations.
We focus on Charcuterie boards and boxes and are a truly unique franchise!
We are looking for and a hungry and driven person who has franchise operations experience in the hospitality industry.
This is a brand that we are very confident is going to explode over the next couple of years
and we want somebody who can help us make sure we grow a successful franchise system.

Must live in or be willing to locate to South Florida.
The Item 19 Franchise Performance Representation (FPR) is Misleading / Useless
The Graze Craze FDD contains limited sales and profit numbers for the initial affiliate stores – none of which were open for a full year.
It includes 9 months of data for the Newcastle, OK store, 6 months of data for the Yukon, OK store and 2.5 months for the Edmund, OK store.
The net sales numbers don't take into account the royalties, marketing and other fees (10%+) franchisees will pay, the debt service and interest on the franchise fee and buildout, and the higher rents and costs than a strip center in Oklahoma.
It also fails to point out that the period of time for these sales was the height of the pandemic… when many restaurants were intermittently closed.
It doesn't not point out if there are other differences between these non-franchised locations operating before the launch of the franchise program and UFG involvement.
Warning: United Franchise Group Brands Often Disappear After 6-8 Years
Our current research and analysis indicates that the transient UFG brands (other than Signarama and Fully Promoted) tend to last an average of 6-8 years before disappearing.
We've looked at:
Brand
Years Promoted
# Years
Billboard Connection/

IZON Global Media:

2004-2013
9
Plan Ahead Events
2008-2014
6
Paramount Tax
2018
1
Supergreen Solutions
2012-2020
8
The troubled Experimax has already shown signs of being on the way to disappearing with the switch to a new corporate entity last year and stagnant franchise sales.
Warning: Beware of the Hot New Franchise Trap
If you or someone you know is considering investing in an unproven franchise like Graze Craze, consider the following.
Proper business format franchising should be the licensing of a proven, successful business concept whose model, marketing and operational systems have been tested and refined over time.
Ideally, that concept would have been proven over the course of years, in good economic times and bad, as well as in a diversity of geographic and site locations.
The premise is that the time and battle-tested nature of the proven franchise model and support will more than offset the burdens imposed on the start-up business, which includes a significant upfront fee, ongoing royalties and marketing fees, and the loss of autonomy and control over key decisions, including vendor and product selection.
Franchises that saddle new business owners with the burdens and loss of freedom of a franchise but don't provide powerful benefits and proven systems are almost always doomed from the start.
The worst franchises are those that dupe franchisees desiring the "hot new franchise" into being the test subjects of a concept prematurely franchised, one still in the experimental stage.
Do your research. Question everything and everyone. and always look behind the curtain.

UFG's Experimax Formerly Experimac:
EXPERIMAX EXPERIMAC Franchise Expose: Behind the Curtain Web Series
UFG CEO Ray Titus: STOP Promoting the Failed Experimax Franchise!
EXPERIMAX EXPERIMAC Franchise Report (The Index)
UFG: The Lost Brands:
UFG's Plan Ahead Events Franchise: What Happened?
UFG SUPERGREEN SOLUTIONS Massive Failures, Titus Fraud Allegations
FRANCHISE DISCUSSIONS by Company
ARE YOU A UNITED FRANCHISE GROUP FRANCHISEE? ARE YOU FAMILIAR WITH GRAZE CRAZE, UNITED FRANCHISE GROUP OR RAY TITUS? SHARE A COMMENT BELOW.
Tags: Graze Craze, Graze Craze Franchise, Graze Craze Oklahoma, Kerry Sylvester, Kerry Lee Sylvester, charcuterie franchise, charcuterie plates, UFG, United Franchise Group, UFG Expose, Ray Titus expose, franchise expose, Ray Titus, franchise loans, Titus Center, Palm Beach Atlantic University, Unhappy Franchisee, Sean Kelly