UFG SUPERGREEN SOLUTIONS Massive Failures, Titus Fraud Allegations
"Behind the Curtain:  United Franchise Group Franchise Expose" by industry watchdog UnhappyFranchisee.Com reports massive Supergreen Solutions franchise failures and fraud allegations against United Franchise Group (UFG) and CEO Ray Titus.  by Sean Kelly
(UnhappyFranchisee.Com) 
United Franchise Group's Supergreen Solutions has all but collapsed with massive franchise failures, reported insolvency and fraud allegations in a lawsuit by the concept's founder Sean Cochrane.
According to the 2021 Supergreen Solutions Franchise Disclosure Document filed by new franchisor entity, Legacy Environmental Solutions Inc. of Bel Air, Maryland:
Our name is Legacy Environmental Solutions, Inc.. We are corporation incorporated on November 25, 2020 in the State of Delaware. Our principal place of business is 16A Bel Air
South Parkway, Bel Air, MD 21015. We do business under our corporate name, SuperGreen Solutions, and SuperGreenSolutions.com…
Our affiliate, Fully Promoted of Bel Air, MD, is the sole vendor of apparel and promotional products to our franchisees after they open for business. Otherwise, we do not have any affiliates that provide products or services to our franchisees
Our predecessor is Greener Energy LLC. Its principal business address is 2121 Vista Parkway, West Palm Beach, FL 33411. We acquired the assets of the SuperGreen Solutions business from Greener Energy LLC in December 2020.
Dan Dubell – Chief Executive Officer An Embroidme/Fully Promoted and Transworld Business Advisors franchisee of UFG
Garry McDowall – (Part-time?) COO/EVP who also is CEO of IMR Solutions an Austin, Texas based business consulting firm.
Also on the SSG team:  Matt Ferrer – Director of Operations and Aaron Rose Franchise Operations Consultant,
According to USPTO.gov,  the Supergreen Solutions trademark was assigned to LEGACY ENVIRONMENTAL SOLUTIONS, INC. (Delaware Corp) Bel Air, MD Feb. 04, 2021
Of 77 UFG Supergreen Solutions Franchises Sold, Fewer Than 10 Remain
As the Supergreen Solutions Turnover chart (compiled from company FDDs) below indicates,  United Franchise Group sold 77 Supergreen Solutions franchises between 2012 and 2020.

The FDD filed by the new franchisor entity in February, 2020 lists 13 franchises as remaining.
As of June, 2021, the Supergreen Solutions website lists just 9 remaining locations, one of which is company owned.
Some of those listings contain no address, phone number or owner's name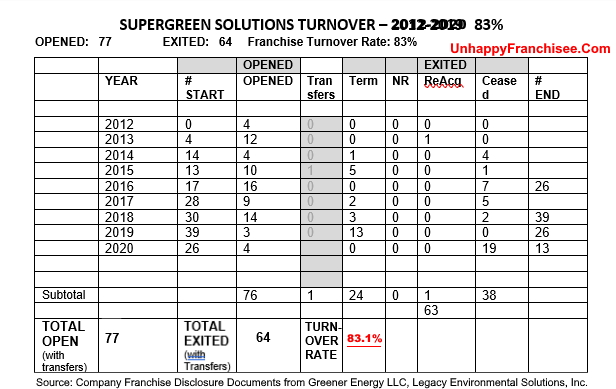 Last Surviving Supergreen Solutions Franchisees may be:
Basel Almashat – Laguna Hills, CA
Karl Moltimer – Fort Lauderdale, FL
John Traub – Glenview, IL
Gregory Pierson – Lexington, KY
Bryan Pax – Ellicott City, MD
Reginald Vanlonden – St. Cloud, MN
James and Robyn Hall, Winston – Salem, NC
Daniel Hancock – Charleston, SC
Franco Pedraza – Salt Lake City, UT
Curt Nuenighoff – Henrico, VA
Listed as Open in FDD but not on website:
Ron Mealey – Des Moines, IA
Diego Pietrosemoli – Cary, NC
Meyrick Mancebo – Nashua, NH
Supergreen Solutions Founder Accuses Ray Titus & United Franchise Group of Fraud, Breach of Contract.
The lawsuit SEAN COCHRANE v. GREENER ENERGY, LLC, UFG GROUP, INC. and RAYMOND TITUS filed 11/23/20  UNITED STATES DISTRICT COURT SOUTHERN DISTRICT OF FLORIDA, PALM BEACH DIVISION alleges that the UFG franchisor entity stills owes him $356,275.05 related to the buyout of his shares and his consulting services contract.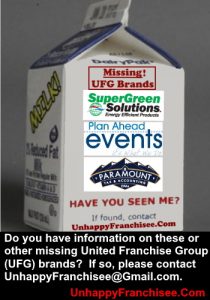 Cochrane alleges that he worked with Greener Energy and United Franchise Group as they drew out the length of their payment agreement citing cash flow challenges.
Last year, Cochrane alleges, Ray Titus and UFG sold off the assets of Greener Energy to "insiders," rendering the franchisor company insolvent.
The purpose of the shifty sell-off, according to Cochrane's suit, was to cheat him out of their legitimate debt to him for his concept, expertise and years of consulting.
The complaint alleges:
As represented by Greener Energy and UFG, Greener Energy cannot meet its obligations to Cochrane under the Consulting Agreement, and Greener Energy is unable to meet its debt obligations and is insolvent.

86. Greener Energy made certain transfers of assets to UFG with the intent of defrauding and avoiding creditors such as Cochrane. Specifically, Greener Energy transferred
certain assets to UFG:

a. With the actual intent to hinder, delay and defraud creditors such as Cochrane;
b. Greener Energy did not receive reasonable equivalent value and/or received insufficient or no consideration for these transferred assets;
c. Greener Energy's transfers were to insiders as defined by FUFTA, including UFG as the managing member of Greener Energy, LLC, and there was collusion among the Defendants;
d. Given the insider relationship, and relationship between Greener Energy, UFG as management member, and Titus as the only other member, Greener Energy retained access to or control over the fraudulently transferred funds or assets;
e. The transfers to UFG constituted a substantial portion of Greener
Energy's assets;
f. Greener Energy and UFG knew that Greener Energy would not be able to pay its debts in light of the transfers; and,
g. Greener Energy became insolvent shortly after or as a result of the transfers made to UFG and/or other insiders.
Sean Cochrane is represented by Marcus G. Mahfood, The Chartwell Law Offices, LLP, Miami, FL.
Ray Titus, UFG and Greener Energy LLC are represented by attorney Christian Claude Dorismond.
Promotional Products Franchisee Becomes Green Energy Franchisor
We're not sure what arrangement Ray Titus and UFG made with its Embroidme/Fully Promoted franchisee Dan Dubell to put his name on the troubled and/or dying Supergreen Solutions brand, but the notes section of the audited financials of Legacy Environmental Solutions, Inc. is an indication.  You can see the whole thing with their FDD posted below

Note 4 Note Receivable
The Company has a note receivable with a franchisee. The note is non-interest bearing and is fully collectible in 2021.

Note 5 Long Term Debt
Long term debt of the Company consists of the following at December 31, 2020:
Note payable to an entity, payable in three annual installments in varying amounts, including interest at 5.00% per annum, through December, 2023, unsecured by collateral. $ 450,000
Less: current portion (150,000)
Total long term portion $ 300,000
The following is a summary of principal maturities of long term debt:
For the year ending December 31,
2021 $ 150,000
2022 150,000
2023 150,000
Total $ 450,000

Note 6 Business Combination
On December 30, 2020 the Company purchased 100% of the assets of Greener Energy, LLC pursuant to a contract for asset purchase and sale. The following table summarizes the consideration paid of
$150,000, and the fair value of the assets acquired at the acquisition date:
Accounts Receivable, net $ 213,202
Notes Receivable 26,556
Sales Tax Payable (559)
Gain on Bargain Purchase (89,199)
Purchase Price $ 150,000
As part of the acquisition, the Company paid $150,000 at closing.
Not to mention, Dan Dubell's Fully Promoted franchise is "the sole vendor of apparel and promotional products to our franchisees after they open for business."
Though… I'd imagine there are about 64 basements and garages chock full of Supergreen Solutions  apparel and promotional products former franchisees will sell for a deep discount.
Documents:
SuperGreen Solutions FDD 2021 CA
SEAN COCHRANE v. GREENER ENERGY, LLC, UFG GROUP, INC. and RAYMOND TITUS
Also Read:
EXPERIMAX EXPERIMAC Franchise Expose: Behind the Curtain Web Series
UFG CEO Ray Titus: STOP Promoting the Failed Experimax Franchise!
EXPERIMAX EXPERIMAC Franchise Report (The Index)

FRANCHISE DISCUSSIONS by Company
ARE YOU A SUPERGREEN SOLUTIONS FRANCHISE OWNER OR FRANCHISEE?  ARE YOU FAMILIAR WITH SUPERGREEN SOLUTIONS, UNITED FRANCHISE GROUP OR RAY TITUS?  SHARE A COMMENT BELOW.
Tags: Supergreen Solutions, Sean Cochrane, Marcus G. Mahfood, Dan Dubell,  Christian Claude Dorismond, UFG, United Franchise Group, UFG Expose, Ray Titus expose, franchise expose, Ray Titus, John Hayes, SBA guaranteed loans, franchise loans, franchise funding, Paul Bosley, Business Finance Depot, Tim Phillips, Titus Center, Palm Beach Atlantic University, Catherine Cortez Masto, Cortez Masto Franchise Report, Unhappy Franchisee, Sean Kelly