DELI DELICIOUS Frozen Pride Campaign [Parody]
Deli Delicious Franchising Inc. wants the world to know:  They Love Their Frozen Bread!  They refuse to shamed by the haters who claim the Frozen isn't Fresh!  Unfortunately, their marketing person Nate Gilbert jumped the iceberg-bound ship and it seems the franchisee ad fund is likely needed to fund lawsuits against franchisees… SO UnhappyFranchisee.Com has decided to donate some ideas DDFI can use to spread the word of their forbidden love!
(UnhappyFranchisee.Com)  Deli Delicious Franchising Inc.  has been so crazy busy bullying and suing their franchise owners, they haven't even had time to share the good news with their customers:
After 20 years of serving inferior bread baked fresh daily by Basque Bakery, they now serve frozen bread from a bakery owned by Mohammad Hobab & ali Nekumanesh… made possible by loans guaranteed by you, the taxpayer!
UnhappyFranchisee.Com feels terrible about comparing Mohammad Hobab to Hitler, to reporting that he allegedly threatened to kill a franchisee-of-the-year, and reporting rumors that Ali Nekumanesh fakes phone calls with important people.
We are also a bit embarrassed about giving attorney David Schneider a hard time (What attorney doesn't miss hearings or blame Defendants for things 3rd party bloggers do?).
We offer our brainstorming services pro-bono for your consideration.  If others have ideas, please share them below.
Please consider this protected speech as parody, and our use of your copyrighted images and trademarks as allowable under the doctrine of fair use (I don't want to run up your considerable Dowling Aaron bill!)
Cogratulations DDFI on your recent press coverage!  Customer Sues Deli Delicious Sandwich Chain for False Advertising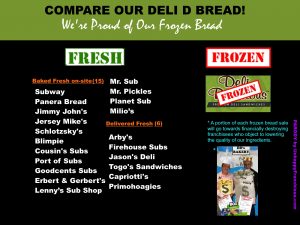 .
.
More ideas coming. CHECK BACK SOON.
WHAT DELI DELICIOUS FROZEN BREAD PROMOTION WOULD YOU LIKE TO SEE THEM RUN?  SHARE A COMMENT BELOW.
ALSO READ:
FRANCHISE DISCUSSIONS by Company
All Deli Delicious Posts on UnhappyFranchisee.Com
DELI DECEPTIVE: What Deli Delicious Won't Tell Its Customers
Which Sandwich Chains Serve Fresh Baked Bread? Which Serve Bread That's Frozen & Thawed?
DELI DELICIOUS Sues Franchisee For Serving Fresh Bread
DELI DELICIOUS Franchise Assessment and Discussion Part 1
DELI DELICIOUS, Ali Nekumanesh Defamation Lawsuits
Deli Delicious Franchise Assessment GoFundMe Campaign
WHAT DO YOU THINK? SHARE A COMMENT BELOW.
TAGS: humor, lawsuit humor, parody, Deli Delicious frozen bread, deli delicious bread, frozen bread lawsuit, Ty Kharazi, David Schneider, Dowling Aaron, Nate Gilbert, Nathan Gilbert, Mohammed Hobab, Ali Nekumanesh, Deli Delicious, closed stores, Deli Delicious closing, Deli Delicious Franchise Inc., deli delicious lawsuit, deli delicious false advertising, deli delicious bread, BB's Bakery, DDFI, Deli Delicious Franchising inc.,  fresh bread lawsuit, frozen bread lawsuit,  Unhappy Franchisee