CURVES Prepares for Negative Forbes Story
Curves prepares for more negative press… this time from Forbes.
by Sean Kelly ,UnhappyFranchisee.Com
Curves International is bracing itself for a negative franchise story expected to appear on Forbes.Com as early as Tuesday, and to appear in the print edition of Forbes magazine the first week of June, 2014.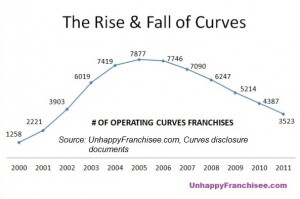 Curves and its private equity investor North Castle Partners appear to be battening down the hatches and donning their damage control garb in anticipation of the worst.
They sent an email to their franchisees and managers (see full text below) warning them to direct media inquiries to their PR team.
The company's PR team will likely react to media inquiries with the same lack of transparency and candor as is reflected in their prepared statement for members:
"At Curves, we are proud of our standing as the world's largest chain of fitness centers for women.  We are committed to providing high-quality, personalized programs and solutions for our members while supporting our franchisees and positioning them for success."
UnhappyFranchisee.Com

: Hosting Curves Franchise Complaints Since 2006
UnhappyFranchisee.Com (and our predecessor FranchisePick.Com) has been  home to the company's insider franchise discussions and news since 2006.
You can see an index of our posts here:  Curves Posts on Unhappy Franchisee
One post has more than 1300 comments: Robert Lay's Story
UnhappyFranchisee.Com has provided fitness franchisees with a forum to exchange information, ideas and mutual support throughout the painful decline and failures of thousands of franchise locations.
We have published more than 50 posts on Curves, and generated thousands of complaints from failed and failing franchisees.
In 2005, Curves peaked with 7800 U.S. franchise locations.  By the end of 2012 that number had declined more than 60% to just 2854 U.S. franchise locations.
See:  The Rise & Painful Fall of the Curves Franchise Chain
Franchise Owners Allege Corporate Indifference to Franchisee Suffering
Since 2006, franchisees have complained that the company turned a blind eye to their struggles and inability to compete in the marketplace with an outdated, uncompetitive fitness model.
Franchisees complained that once their franchises failed, founder Gary Heavin's "Christian" company subjected them to coldhearted, brutal collection tactics to extract "failure fees" even after they had lost everything.
More recently, the franchisee survivors complain that new owner North Castle Partners has imposed unreasonable new conditions and required them to make burdensome and costly changes.
Additionally, franchisees have complained that North Castle Partners (which recently acquired Jenny Craig weight loss chain) is forcing owners to go into the weight loss industry – without their input or approval.
Damage Control Email from Curves International to Franchisees & Managers
Last week, franchisees report that they received this email from Curves International:
Dear Franchisees,

Within the next week, we expect Forbes (a business publication) will publish an article about Curves International, Inc. and we want to share the details with you upfront.

A reporter from Forbes contacted us for input as he was crafting a story on Curves.  His article was driven by contacting some franchisees – former and current – who regularly complain in an online forum.  While this is not a story we actively pursued ourselves, we provided our point of view and also put the reporter in touch with several franchisees who shared their positive experiences with Curves.  This reporter also interviewed the appropriate executive from North Castle Partners, as well as Monty Sharma.

We anticipate the article will be posted online next week Tuesday or Wednesday and will appear in the print edition of the magazine the first week of June.  Based on our ongoing conversations with the reporter, we believe the article will have a negative slant.

Should you receive inquiries on the subject from the news media please direct the news media to PR@Curves.com and do not respond yourself as this messaging should be handled at the corporate level.  For Curves members, please use the following prepared statement:

"At Curves, we are proud of our standing as the world's largest chain of fitness centers for women.  We are committed to providing high-quality, personalized programs and solutions for our members while supporting our franchisees and positioning them for success."

We want to point out the positive media coverage our PR team has secured thus far in 2014 that drives home the message to our target consumer that Curves works and is highly relevant in a competitive landscape.  Media coverage includes weight loss success stories on the TODAY Show and in magazines like Prevention, Family Circle and Woman's Day.  For Curves Workouts with Jillian Michaels, we have been prominently featured in outlets such as the TODAY Show, Rachael Ray, Wendy Williams, PEOPLE magazine, Extra, Access Hollywood online, the Daily Buzz, The Insider – and many more.

We want you to know that we continue to be committed to the success of the Curves brand and to the success of your business.  We are continually looking for ways to make improvements and value your input.  Please feel free to contact us directly to share your comments or questions at membercomments@curves.com.

Best regards,

Curves International
I was interviewed for the Forbes story by Forbes writer Karsten Strauss, as was attorney Jonathan Fortman who is representing multiple franchisees in litigation against the women's fitness franchisor.
We also expect an online story highlighting the franchise buying advice gleaned from the experiences of UnhappyFranchisee.Com contributors.
Check back for our updates as the story breaks.
ARE YOU FAMILIAR WITH CURVES & THE CURVES FRANCHISE?  SHARE A COMMENT BELOW.
TAGS:  North Castle Partners, Monty Sharma, Jenny Craig, Fitness franchise, Jon Fortman, Sean Kelly, Unhappy Franchisee