$35,000,000 Lawsuit Backfires on Health Club Franchisor
Attempt to Silence Franchise Discussion on UnhappyFranchisee.Com Proves Costly For Failed Franchisor
by Sean Kelly, Publisher, UnhappyFranchisee.Com
Also read:  MARK GOLOB LAWSUIT: Overview, Updates, and Discussion

Mark Golob thought that he could misuse the judicial system to chill free speech and purge the Internet of unflattering comments made about him by his former franchisees.
Mark Golob sued me for $35,000,000 in an effort to bully me into removing interviews and comments about him from UnhappyFranchisee.Com.
However, Mark Golob's plan backfired in a big way.
A Superior Court judge struck down his lawsuit and ordered him to pay my attorney fees and costs.
Instead of purging the Internet of criticism, Mark Golob has thrust himself and the story of his failed Butterfly Life franchise chain back in the media spotlight once again.
Mark Golob's Attempt to Purge Criticism from the Internet
In the wake of the success of the Curves for Women, Mark Golob founded Butterfly Life women's fitness chain in 2003 and sold dozens of franchises at an investment of $87,000 to $250,000.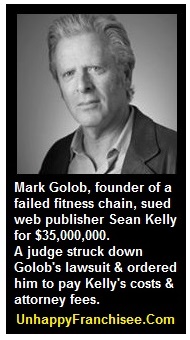 By 2008, the chain was in decline, suffering widespread franchise closures and impending lawsuits from angry franchise owners.
In both formal interviews and informal comments posted on my UnhappyFranchisee.Com blog, failed and failing Butterfly Life franchisees shared their experiences and described the financial and personal toll their franchise investments were taking.
Many franchisees blamed CEO Mark Golob, alleging that he misrepresented the franchise opportunity and failed to provide promised marketing and advertising support.
In 2011, Mr. Golob's then-attorney Scott Hammel sent me a threatening letter objecting to some comments and demanding that I remove all references to his client from UnhappyFranchisee.Com.  I refused, and provided him with an excerpt of Section 230 United States Code (47 USC § 230) that states that web publishers are not liable for the content of 3rd party comments.
In February, 2014, Mark Golob, with his new attorney Nikolaus Reed, tried a new approach: they filed a $35,000,000 defamation lawsuit against me, claiming that my own statements that Mr. Golob has a "checkered past" and a "history of litigation in the health club industry" tended to expose him to "hatred, contempt, ridicule or shame and to discourage others from associating or dealing with him."
The lawsuit stated that "When Plaintiff Mr. Golob read the statements in January, 2014 in his home in Mendocino County, CA… he experienced mental suffering, grief, anxiety, humiliation and emotional distress."
The damages claimed by Mr. Golob included $10M each for "Pain, suffering, and inconvenience," "Emotional distress," and "Grief, anxiety, loss of enjoyment of life," and $1M each for "Medical expenses," "Future medical expenses," "Loss of earnings," "Loss of future earnings," "Loss of future earning capacity," and "Property damage."
Read the initial summons here:  Golob v. Kelly.
The True Intent of the $35M Lawsuit
After being served, I consulted with a number of prominent 1st Amendment attorneys and organizations.
After much research, I hired Peter Lagarias, a highly respected California-based franchise attorney and former lead prosecutor for the Federal Trade Commission (FTC).
Everyone I spoke to agreed with my assessment that my statements were not even remotely defamatory.
That Mr. Golob has a "history of litigation" is a provable fact, and stating the truth is not defamation.
That Mr. Golob has a "checkered past" is clearly my opinion, and stating an opinion does not constitute defamation.
So why would Mark Golob and Nikolaus Reed launch such a high-dollar lawsuit based on comments that seemed mild, at best?
In a March 10, 2014 conference call between myself, Lagarias, Golob, and Reed, the true intention of the lawsuit became clear.
Golob was not concerned about the specific statements cited in the lawsuit.
His objection to "history of litigation" and "checkered past" was just a pretense to hit me with a scary and costly lawsuit he believed would force me to remove all content that referenced him – including 3rd party comments and franchisee interviews.
Mr. Golob stated he would do "whatever it takes" to force me to remove content "anywhere [his] name appears" on the site.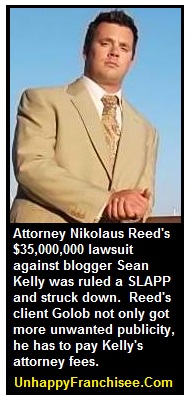 Lagarias & Kelly SLAPP Back
California's anti-SLAPP law Section 425.16 states:
…there has been a disturbing increase in lawsuits brought primarily to chill the valid exercise of the constitutional rights of freedom of speech… The Legislature finds and declares that it is in the public interest to encourage continued participation in matters of public significance, and that this participation should not be chilled through abuse of the judicial process.
The law states that lawsuits filed against Defendants who are exercising their Consitutional right of free speech in connection with a public issue are subject to a special motion to strike "unless the plaintiff has established that there is a probability that the plaintiff will prevail on the claim."
March 14, 2014 Peter Lagarias filed a Special Motion to Strike the Golob v. Kelly lawsuit.
March 28, 2014 We received Golob & Reed's Opposition to our Special Motion to Strike.
April 2, 2014 We filed a Reply to their Opposition.
April 11, 2014 Peter Lagarias argued for the Special Motion to Strike before Judge Richard J. Henderson in the California Superior Court in Mendocino County. Nikolaus Reed argued his case by phone.
May 21, 2014 Judge Henderson rendered his verdict in a 9-page decision, stating that "Defendant Kelly has prevailed on his motion and is entitled to the recovery of his attorney fees incurred in this motion."
I've posted all the documents from our court battle here:  Mark Golob v Sean Kelly (UnhappyFranchisee.Com) Lawsuit Documents
Judge Rules UnhappyFranchisee.Com Statements are Protected Speech on an Issue of Public Interest
In his decision, Judge Henderson ruled that we proved that "the challenged written remarks were made in a public forum in connection with an issue of public interest."
As to the validity and legitimacy of the UnhappyFranchisee.Com site as a public forum, Judge Henderson stated:
The court finds that the principal thrust or gravamen of Kelly's website was to provide a forum for those interested in acquiring more information about specific franchises, primarily for the purpose of investment and operation. The site performed generally as a "consumer watchdog" where interested individuals could exchange ideas and experiences about particular franchises… Kelly's challenged comments that Golob had a "checkered" past and "history of litigation in the health club industry" are sufficiently related to "consumer watchdog" purpose of the website.
Regarding my statement that Mark Golob has a "history of litigation," Judge Henderson stated:
.. the allegation that Golob had a "history of litigation in the health club industry" is accurate. Truth of the statements made is a complete defense against liability for defamation…
Regarding my statement that Mark Golob has a "checkered past," Judge Henderson stated:
The characterizationon Golob's past as "checkered" is clearly an opinion; statements of opinion are constitutionally protected…
Judge Henderson concluded:
As discussed above, the court has found that defendant Sean Kelly made a prima facie showing by admissible evidence that the challenged statements set forth in defendant Sean Kelly's unhappyfranchisee.com website were made in a "public forum in connection with an issue of public interest" (CCP 425.10 (e)) and that plaintiff Golob failed to establish a "probability" of prevailing on his claim by making a prima facie showing by admissible evidence that would, if proved, support a judgment in his favor. ( Kashian v Harriman (2002) 98 CA4th 982, 906) The motion of defendant Sean Kelly to strike the complaint of plaintiff Mark Golob pursuant to CCP 425.16 is granted.

Defendant Kelly has prevailed on his motion and is entitled to the recovery of his attorney fees incurred in this motion. ( CCP 425.J 6(c),• Ketchum v Moses (2001) 24 C4th 1122, 1131.) Counsel for defendant Kelly is directed to serve and submit a formal order consistent with this ruling no later than June 16, 2014.
Read the complete ruling here:  Judge Henderson's Decision Golob v. Kelly
A Word of Thanks
Special thanks go out to attorney Peter Lagarias for his fierce and relentless advocacy not only for UnhappyFranchisee.Com, but for the rights of franchisees and former franchisees.
I'd also like to thank Duffy Carolan of Duffy, Vick, Carolan, Ken White publisher of Popehat.com and attorney at Brown, White & Newhouse, attorney Paul Steinberg, and Don Sniegowski of BlueMauMau.org and many others who lended support and guidance.
I can't tell you how much your support is appreciated. – Sean Kelly
WHAT DO YOU THINK? SHARE A COMMENT BELOW.
TAGS: Mark Golob, Nikolaus Reed, SLAPP lawsuit, Anti-SLAPP lawsuit, Unhappy Franchisee, Sean Kelly, Peter Lagarias, 1st Amendment lawsuit, Defamation lawsuit, Butterfly Life, Frivolous lawsuit, franchise bullying