NY BAGEL CAFÉ Illegal Franchise Pre-Spring Promotion Sale is On!
NY Bagel Café Pre-Spring Illegal Franchise Sale is On!  NY Bagel Café & Deli Illegal Franchise Promotion is a Limited Time Promotion (until the Spring NY Bagel Illegal Franchise Sale), so act fast before they're gone, gone, gone and out-of-business, out-of-business, out-of-business!
(UnhappyFranchisee.Com) NY Bagel Café franchise sellers Joe Smith & Dennis Mason have a long history of ignoring state franchise registration laws and providing prospective franchisees with deceptive disclosure documents that violate FTC requirements.
Mason & Smith have become so emboldened by years of violating franchise laws with no real consequences that they openly and defiantly advertise in registration states where they are not legally allowed to sell, such as California.
We wondered:  Will Joe Smith & Dennis Mason get so confident that they'll actually start telling the truth in their ads?  Our parody ad below shows what that might look like.
Joe Smith & Dennis Mason keep getting away with unlawful franchise sales
UnhappyFranchisee.Com has reported the unlawful advertising and sale of NY Bagel Cafe franchises to several state agencies, and only the Maryland Attorney General NY Bagel Final Order has resulted.
We reported the fact that Dennis Mason and Joe Smith were advertising & selling illegal franchises using misleading and deceptive documents to  California residents to the California Department of Business Oversight 3 years ago, but so far no investigation or order against them has been announced.
Mason & Smith allegedly sold an illegal franchise to California resident Amber Robinson resulted in financial devastation for the single mother of 2 boys.  Robinson is a widow, and a military veteran.  Her Tracy, California store closed in just six months.  She not only lost her house, falling for the NY Bagel Cafe sales ad and pitch left her struggling with bankruptcy and financial devastation.
Joe Smith and Dennis Mason are so brazen and unapologetic of their victimization of Amber Robinson, they still use Robinson's failed Tracy, California store on the NY Bagel Café locations on their website, and use pictures of her closed store in illegal franchise ads used to lure new victims.
Emboldened by the lack of enforcement of franchise laws, Mason & Smith boldly and publicly continue to troll for victims on Craig's List pages in many states, including California:
Unlawful NY Bagel Cafe franchise ad Palm Springs CA
Unlawful NY Bagel Cafe franchise ad Santa Barbara CA
Unlawful NY Bagel Cafe franchise ad  Inland Empire CA
If Dennis Mason & Joe Smith started telling the truth in their franchise ads, we think it might read something like this:
NY WATER BAGEL CAFE-DELI ILLEGAL FRANCHISE – $24,500 (Parody)
……….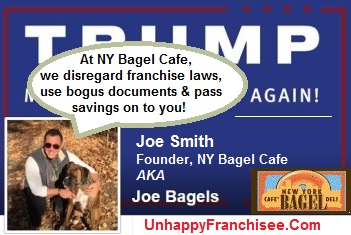 .
.
.
.
20 year old leading* bagel Franchisor is offering, for a limited time only, an exceptional Pre- Spring Special 2016 program within the Palm Springs areas.

.
Our Café & Deli franchised stores offer over 20 different varieties of award winning KOSHER and HALAL, true 5 oz. New York, Fresh Baked bagels that are par-baked and frozen hard as a rock at Davidovich Wholesale Bakery, then shipped across the country to any bagel shop that wants to pay the outrageous freight.

.
During our Pre-Spring Special 2016 Special Promotion and for a Limited Time Only** our Illegal Franchise Fee is a one-time fee non-refundable never-to-be-seen-again payment of $24,500 for an Unlimited amount of Stores within the State of California areas.  We'll illegally bestow onto you the right to open a million, a billion, or even a zillion stores in California.  Overnight the payment today and we'll grant you the right to be named King or Queen of California, and you can proclaim an edict requiring all your subjects to buy your bagels daily!

.

All monies required for the build-out, equipment, furniture & fixtures, inventory, lease & security deposits, working capital is 100% financed… even for "foreigners." ONLY CASH REQUIRED is $24,500.  Creditworthy and Qualified Applicants will be referred to companies that sound like real "lenders" providing "unsecured lines of credit" who will sign you up for credit cards 6 or 8 or 12 credit cards and $100K+ of debt at interest rates that would make a mob loan shark blush.

.

Poor credit?  No Credit?  Don't worry… we'll accept your money anyway.

.

LOW FIXED $500.00 A MONTH ROYALTY FEE, NO PERCENTAGES OF SALES !!! FIRST SIX (6)MONTHS.. FREE !!!! (After six months?  We're not sure.  Most don't get that far!)

.

Sound like a scam?  Fuggedabout it!  We'll cut you in on the action!

Additionally, we are now introducing our "Master Point Store Program in State of California area." Allow us to hoodwink deceive bullshit meet or refer new prospective victims marks suckers Franchisees to your store in order to scam them defraud them steal their money offer new prospective Franchises a Café & Deli franchise and we'll pay you a part of every Illegal Franchise Fee received and on every new franchise illegally sold.

.

NO SELLING OR LEGAL LIABILITY ON YOUR PART. YOUR CONSCIENCE CAN BE CLEAR.  WE WILL PROVIDE A LETTER STATING YOU WERE NOT PART OF THE SCAM, WHICH YOU CAN SHOW TO ST. PETER AT THE PEARLY GATES.  Last month OUR ads stated that we gave one of our current Franchisees three (3) checks. In fact, our ads say that for the past three years.  We'd like to do the same for you. Also, allow us to use your Café & Deli store for an initial 5 day pre-training program for those who survive that long and we'll pay you an additional $2,000.00 on every Franchisee trained.

.
The Onetime $24,500 Illegal Franchise Fee includes:

Free:  Colorful reasons why you should not use a lawyer and should ignore the warnings on UnhappyFranchisee.Com

Free:  Ability to think you'll own a store where we're not legally registered to sell

Free:  Fraudulent Disclosure Documents that say we've had no failures, lawsuits or regulatory citations (lollol)

Free:  Super nice calls from Dennis Mason, aka Denis Maason,  aka Franchise Department until the check clears

Free:  Access to our network of predatory lenders and 3rd party kickback payers associates

Free:  Assurances from Joe that he'll check on whatever hold-up there is, as soon as he gets out of his Mensa meeting

Free:  Nasty accusations from Joe Smith and Dennis Mason that you lied on your application when you ask for a refund

Free:  Shame, embarrassment, financial loss, and lack of trust in humanity

.

How can we afford to provide illegal franchises at such a low price?  We keep our overhead below by not having a home office or legitimate corporation, meeting in diners or stores only, not paying attorneys to create real document and not paying the registration filing fees like legitimate, law-abiding franchisors do, not providing any of the services we are contracted to provide… and pass the savings on to you!

.
For full details, call Dennis Denis Keith Samuels Charles Ponzi Franchise Dept. toll free, (888)550-8020

.

*  Our franchise graveyard has the largest number of failed stores in history (with the exception of the short-lived 3rd Reich Bagels chain of Skokie, IL)

.

** Act now, because the Pre-Spring promotion will only last until the Spring promotion which will last only until the Super Satanic Summer Solstice Promotion in which confirmed followers of Lucifer get an extra 10% off!
NY Bagel Café Franchise Scam Overview
NY BAGEL CAFÉ Franchise Graveyard
NY BAGEL CAFÉ Franchise: How Many Have Closed? [UPDATED]
DENNIS MASON Franchise Lawsuits, Controversies, Aliases & Warning
NY BAGEL CAFÉ Franchise Fraud Investigation by MD Attorney General
Joe Smith, Dennis Mason & NY Bagel Café Franchise Exposed: 10 Things You Should Know
NY BAGEL CAFÉ & DELI Franchise Complaints
DENNIS MASON Franchise Complaints
NY BAGEL CAFÉ Franchise a Scam? MA Woman Says Yes
ARE YOU FAMILIAR WITH NY BAGEL CAFÉ, THE NY BAGEL CAFÉ FRANCHISE OPPORTUNITY, JOE SMITH OR DENNIS MASON?
PLEASE SHARE YOUR OPINION BELOW or Contact UnhappyFranchisee.com TAGS: Joe Smith, Joseph Smith, Dennis Mason, Denis Maason, NY Bagel, NY Bagel Café franchise, NY Bagel franchise, NY Bagel Café, NY Bagel Cafe franchise scam, New York Bagel franchise, New York Bagel Cafe, NY Bagel complaints, NY Bagel lawsuits, California franchise registration, unregistered franchises, illegal franchise