Real Estate Worldwide (REWW) potential students and investors are being warned by a "victim" of a previous venture:
"Run the other way – fast."
(UnhappyFranchisee.Com) Words of warning about multilevel marketing startup Real Estate Worldwide (REWW) were issued by a franchise investor named Blake Warrington.  After attending a sales presentation at founder Jim Piccolo's mansion, he signed up for Piccolo's former venture, the Bizzibiz franchise program.
A year and a half later, the Bizzibiz franchisees have been all but abandoned and Jim Piccolo is now pitching multi-level marketing-driven real estate seminars and real estate investments through Real Estate Worldwide (REWW).
The office address for the "West Coast Headquarters" of Real Estate Worldwide (REWW) is 8502 E. Princess Drive, Suite 200, Scottsdale, AZ 85255.  Not coincidentally, that used to be the address of the Bizzibiz franchise headquarters until October, 2012 when a web designer was named CEO and Bizzibiz became "virtual" (in other words, homeless).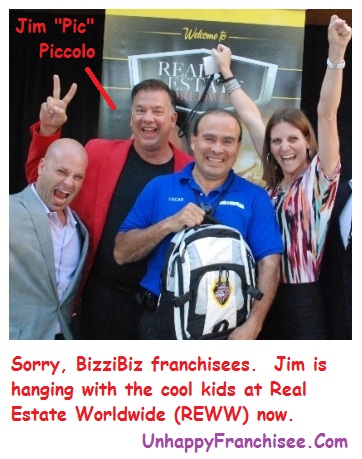 Blake Warrington wrote:
… there has been zero correspondence from Mr. Piccolo for several months now and I only learned from using Google Alerts that Mr. Piccolo had recently started another business venture. I could not believe this.

In essence, as far as I can tell since I have not heard anything, Mr. Piccolo has simply walked away from the sinking (sunk?) ship of BizziBiz without one word being said to the franchise owners – or at least to this one.

This shows a complete lack of ethics, integrity, responsibility, both personally and from a business standpoint, by Mr. Piccolo, and I would not trust a word he says.

In closing, I consider BizziBiz, Mr. Piccolo, the majority of the management team, and several of their employees to have completely failed on almost every level and they have bold-faced lied and hurt many people.

I would never do business with Mr. Piccolo, along with certain other people like Marc Gleeman who had a big hand in the day to day operations and overall problems of BizziBiz.

If anyone is reading this and considering joining his new Real Estate World Wide (REWW), I would highly suggest to run the other way – fast. If trouble starts to happen, as it always does with most businesses, especially new ones, then Mr. Piccolo may simply take the money and run.
It is not difficult to find similar complaints for Mr. Piccolo's previous ventures either.  Before he started Bizzibiz, Jim Piccolo ran an earlier incarnation of REWW, a real estate seminar and investment scheme called Nouveau Riche University.
Back in July, 2011, Justin Dallas wrote:
Justin Dallas

4:41pm on July 10th, 2011

Nouveau Riche has crashed and burned as Jim Piccolo has turned his attention to his new business, bizzibiz.com. I don't know anything about Bizzibiz.com, but I do know that Jim Piccolo does not honor his commitments. He has not fulfilled his requirements in his purchase agreements, he has not refunded any of the money, he has stiffed instructors not paying them their money and he has moved his staff into his new business location at Bizzibiz so that no one can reach him or any NR staff…

Do not do business with this man. He has taken so many people's money and run. I don't know anything about the new business, but I know I would feel comfortable telling everyone I know to run from ANY business he is involved with. There are many people trying to sue him and NR, and talk of a class action lawsuit. Don't be one of the people he has taken.
According to its marketing propaganda, Real Estate Worldwide (REWW) is led by CEO Kent Clothier, founder of MemphisInvest.com, who has "assembled a 'Dream Team' among the whose who in direct selling with founders Brent Payne, Michael Hamburger and Heather O'Brien," as well as Jim Piccolo and his wife Mary Piccolo.
According to a recent press release: "Jim Piccolo is helping to bring MemphisInvest.com's proven real estate investment systems and tools to real estate investors worldwide. 'We have the answer for many entrepreneurs and real estate investors looking to rise above the economic crisis and rebuild their life's dreams and America,' said Piccolo."
Jim Piccolo's detractors might caution that Piccolo's previous ventures caused the personal financial crisis many of them suffered, and are the reason their life's dreams need rebuilding.
As always, UnhappyFranchisee.com cautions:  buyer beware.  Do your homework, ask hard questions, and make up your own mind.
Read these recent posts:
JIM PICCOLO Blames Bizzibiz Failure on Lazy Punks
BIZZIBIZ Franchise Founder Jim Piccolo Defrauded 105 Investors, Says AZ
BIZZIBIZ Bizzi Biz Franchise Goes Bust, Declares Bankruptcy
Please share a comment, insight or update below.
ARE YOU AN FAMILIAR WITH BIZZIBIZ, JIM PICCOLO, REAL ESTATE WORLDWIDE (REWW), KENT CLOTHIER, HEATHER O'BRIEN, BRENT PAYNE, MICHAEL HAMBURGER OR MARY PICCOLO?
PLEASE SHARE A COMMENT BELOW.
Is Scentsy a deceptive MLM company that uses fraudulent tactics and sleazy independent consultants to sell dangerous, overpriced products?
According to Carol B. it is.  We received this angry complaint from Carol, who felt that she was deceptively tricked into attending a sales presentation by a coworker.
Here's Carol's story:
"I started working at a new job in a new town.  Since I don't know too many people here, I was really happy when a coworker sent me an email saying that she was having a few people over on Sunday afternoon, and she would love it if I would be able to come.
"I really appreciated her thinking of me, and I was really looking forward to meeting some new people.
"When I arrived, I found out that instead of a social get together, this was a home party and that my new 'friend' was an 'independent consultant'  for some multi-level marketing scam called 'Scentsy.'  Instead of a real party, I had to listen to a presentation about these stupid, overpriced warmers that melt scented wax with a light bulb.  She was pushing  these stupid warmers and wax bars packages for like $75 – $85.  The Scentsy plug-in warmers are glorified nightlights they sell for $20, and the tabletop warmers are like $35.  Of course, if you're stupid enough to buy those you'll have to buy their ridiculous scented wax bars for the rest of your life.
"I discreetly asked around and none of the other guests knew they were attending a sales presentation.  Yet still they allowed themselves to be manipulated into buying these ridiculously overpriced air freshners just to be polite.  I was the only one who didn't buy.
"I have some advice to people who do these home parties like Scentsy and invite people under false pretenses:  You are scum.  You might think you are clever, and you might get some free products or whatever, but all those people you tricked, even the ones you tricked into buying and tell you they love the product, now know you're scum and can't be trusted. 
"My advice to people who unknowingly show up to sales parties:  You should leave.  Or eat a bunch of their free food and then leave.  Do not buy a thing!  Make it clear you don't appreciate being lied to and that if your friend needs money that bad she just should have asked you for a loan.  Do not be ashamed.  It's your scummy host who should be ashamed.  Go buy yourself a Glade Air Freshner and buy some new shoes with all the money you saved!"
The only good thing that came out of Carol's experience with the Scentsy home party is a new goal she has at work.
Says Carol:  "I now have a work fantasy that I will get promoted to supervisor over the sleazebag Scentsy consultant.   I will call her in for a meeting to discuss a promotion and a raise.  When she gets there, I'll say 'Oh, I didn't mean a promotion and a raise!  Sorry!  The meeting was to let you know you're fired!  Good luck with your Scentsy MLM scam!"
ARE YOU FAMILIAR WITH THE SCENTSY MLM HOME PARTY OPPORTUNITY?  IS IT A SCAM OR LEGITIMATE OPPORTUNITY?  SHARE A COMMENT BELOW!
Vault Denim is recruiting women to orchestrate and/or host home parties at which they supposedly sell discounted, name-brand designer jeans at a deep discount.
Are you familiar with Vault Jeans and the Vault Jeans opportunity?  Please leave a comment below.
The FAQ on the Vault Denim website states: "We carry name-brand premium denim at discounted prices, up to 50% off… Vault buys overstock, which are the jeans that are left over after exclusive stores and upscale boutiques place their orders. You will be selling many of the same jeans that are currently being sold in the mall, at much higher prices."
According to Vault Jeans:
The price of the jeans range from $48-92.
Vault Jeans "Fashion Consultants" have to pay an "enrollment fee" of $159.
Vault Jeans "Fashion Consultants" make between 18% and 24% of their own sales, depending on volume.
Vault Jeans "Fashion Consultants" can also "earn up to 7% on their sales and up to 5% on the people they get involved."
Hostesses earn 10% of the sales at their parties towards their own jeans.
Company party averages as of December 1, 2010 are approximately $500.
Vault Jeans Appears to Actively Bury Online Complaints
When researching potential scams, people will generally Google the company name combined with words like "Review" "scam" or "rip-off"
Some companies that receive or anticipate lots of negative postings and complaints launch a campaign to flood the first page of Google with fake reviews and phony articles that purport to either be impartial reviews or exposes against the company.  They prominently use specific keywords (review, scam, rip-off) to divert readers to their sugary, all-positive comments and away from real complaints or exposes.
Google "Vault Denim Scam" and you'll see a slew of BS blog posts titled:
"Vault Denim Scam – Truth Revealed"
"Vault Denim Scam Review"
"Vault Denim – Is it a Scam After All – MLM System"
"Vault Denim Scam"
These all appear to be bogus, stock, company-supplied propaganda boilerplate that has effectively pushed Vault Jeans complaints into Google obscurity.  Any company that works that hard to bury complaints and scam allegations – in our humble opinion – is raising a red flag and deserves serious scrutiny.
Vault Jeans Designer Jean Opportunity Complaints
Here are some of the online complaints that Vault Jeans seemingly does not want you to see.
kiwivibe14 wrote:
I have bought 3 pairs of jeans from Vault Denim…big mistake! I had to cancel my party because I have had so many friends complain about the jeans, no one wanted to go to another party! The jeans cost anywhere from $50-$100 and are of very poor quality. My buttons came off of my jeans BEFORE I EVEN WASHED THEM and the jewels were coming off of my pockets. I asked for a refund for the jeans that I had purchased since I hadn't washed or hemmed the jeans, and I was rejected. POOR customer service and VERY POOR quality denim. This is definitely a business that I see going downhill. I would be very embarrassed to be selling these jeans.
loafgirl wrote:
I attended a party about 2 weeks ago as well. I had a very strong feeling that they were fake, but after trying them on, they fit great, and were not too ridiculous in price. So I bought 2 pair. Was fine with my decision, even after Googling "Rock Premium" and "Zipper" jeans and finding nothing about them. Figured they looked, and fit better than a pair of jeans from the Gap..lol. BUT, when the "bedazzling" started falling off and I hadn't even worn them out of the house, I was pissed to say the least. It's one thing to knowingly buy a pair of fake designer jeans, but to have them be defective is not cool. So now, I have been told by their rep that I cannot have a refund, but a voucher to get more jeans. Great. Now I wish I would have gone to the Gap!
idalis wrote:
I just looked at some of their youtube videos. They go by so fast and so crappy quality that it is hard to see anything but pretty sure i saw a fake 7fam in there, and a lot of stuff that may be real but is crap brands and other styles that are probably many seasons old and not really worth anything
lolosmom wrote:
I went to the party, and went home undecided. There were two pair of 7FAM that I saw there. One pair I am fairly confident was authentic, but I am no expert. They were a pair of bootcut sigs (old tags), however, it was stamped on the inside pocket and was damaged. There was a run in the denim across the back of one of the legs. The other pair was a pair of grey boyfriend crops, but did not have a normal 7FAM tag. Only a small white tag with the size.
jeanetic wrote:
It looks like the majority of the jeans at the party are not actually knockoffs but they are cheap brands that try to mimick designer brands and non designer brands that are popular. During the video I saw a brand called "miss chic" that tries to look like 'miss me'. I did see one pair of William Rast… I saw several attempts to mimic rock revivals(which are already so ugly anyways) and they were total disasters. I saw what looked to be Paper Denim and Cloth as well. I doubt they were fake because why would anyone want to fake something you can get at TJ Maxx for $16.99? How far have they fallen, eh? Anyways the jeans in these parties… are so incredibly hideous that no one that is a lover a designer jeans should ever waste their time. Just the pics on one of the fb pages made me throw up. There were also some things that were supposed to look like TR that are laughable.
suel wrote:
Super cheap jeans…the bling falls off and buttons come off…and that is before you wash them. buyer beware…and if you become a rep…make sure you know what you are getting into..lots of work for little pay off. they say they check for authenic jeans… right. super cheap stuff…its a flash in the pan company.
DesignerGirl wrote:
I went to one of these "designer jean" parties. Lame sauce. While trying on a pair of the knock offs I decided to Google the brand. It took me directly to the home page where I could buy the EXACT pair I was trying on for $30 less, and FREE freight; the party host charges about $2.00 for freight, even though you have them in your hands.

The sizing is off, they're TOTAL knock-offs, and bad ones at that! Buyer beware. Go to a party, but do your homework and Google on the spot, you may be surprised as to what you find!
ARE YOU FAMILIAR WITH VAULT JEANS?  IS IT A GREAT OPPORTUNITY OR A RIP-OFF & SCAM?  SHARE A COMMENT BELOW.
Is AMWAY a Scam? See what former Amway IBOs have to say below. Add your own opinion about Amway.
Have you ever had a good friend or close relative join AMWAY (Mary Kay, Herbalife, Quixtar, Meleleuca, Shaklee, USANA, nuskin, or other mlm, multilevel or network marketing scheme) and suddenly become the annoying sales zombie from hell?
The question came from a comment left on the post "IS AMWAY A GREAT BUSINESS OPPORTUNITY?" thirstyfox claims that Amway/Quixtar is a cultlike scam that makes everyone annoyed with her deluded sister:
My sis was in it once, wasted all her time and in the end made little or nothing.

She got back into it recently against everyones advice.  It's like a cult that turns you against your family so you don't listen to them. Now she has no time for family, just scamming strangers and wasting her time away with unfullfilled dreams.

The constant meetings are to keep you brainwashed.   It's all a scam and she knows it herself now as she tries to get others in "under her."  Hard to see her as a Christian anymore when she does this, and it's sad to see all the time she loses when she could be raising her kids.

I'll never understand how she could be so stupid. I asked her why she got in it last time and she said of course money.  Then I asked her what she got out of it and she replied defensivly "I met a lot of very interesting people!"  I think that about says it all and if it didn't work for my sis it won't work for anyone.

All the BS they tell you about how well this that and the other person did or is doing is all lies so they can get your money.  98% of all Quixtar products are sold ONLY to stupid Quixtar members themselves, yet they go around saying they own a business???

Don't give them a second of your time.
What do you think?  Does Multi-level "Network" Marketing consists of stupid, annoying members selling worthless stuff to other stupid, annoying members?  Share your MLM story below.
ARE YOU AN AMWAY IBO OR FORMER AMWAY IBO?
DO YOU THINK AMWAY IS A SCAM?
PLEASE SHARE A COMMENT BELOW.
Read more on Amway:
AMWAY Addiction Kills Marriage
AMWAY: Is Selling Amway Child Abuse? Amway Kids Weigh In.
AMWAY Partner Store Claims Embarrass Their IBOs
Vault Denim Jeans:  Do you love'm or hate'm?
And can you make any money selling them?
First, we gave the haters their day by asking:  VAULT DENIM Scam, Rip-off or Opportunity?
Now we give some of the Vault Denim Defenders the stage (below).
What do you think of Vault Denim Jeans as a consumer?  What about as a business opportunity?
If you're familiar with Vault Denim, please leave a comment below.
Vault Denim Jeans:  What the haters are hating
Here's a taste of the complaints being dished out:
"My buttons came off of my jeans BEFORE I EVEN WASHED THEM and the jewels were coming off of my pockets. I asked for a refund for the jeans that I had purchased since I hadn't washed or hemmed the jeans, and I was rejected."
"the "bedazzling" started falling off and I hadn't even worn them out of the house, I was pissed to say the least… I have been told by their rep that I cannot have a refund, but a voucher to get more jeans"
"Super cheap jeans…the bling falls off and buttons come off…and that is before you wash them."
"TOTAL knock-offs, and bad ones at that!"
"Vault Denim jeans aren't fakes but they are old designs, factory seconds or cheap wannabe brands for the most part."
"I WAS a VFC for this crappy company! Total scam!! The jeans are ugly…"
"They sell OLD jeans that no one wants for a HIGH price!! I quit after only doing this for a few short months."
"I hosted 10 parties are only made a little over $200 TOTAL!! Dont waste your time what so ever!"
Vault Denim Defenders Lash Back at the Haters
Britney Beneke writes:
I wanted to make a quick clarification on Vault Denim being fake, damaged, or poor quality.

I would never jeopardize my family and my freedom (I would go to jail) to sell fake jeans. I know you can go to jail doing that. So no worries there everyone :) What you see is overstock jeans that we are able to get from high end companies to sell at home parties. This is a legit, fabulous company that is changing lives every day. I am living proof of this.

We are still a new ground level company always looking to improve our products and services. Keep an eye on us! Think back to the 60′s with Mary Kay or Tupperware, NOW is the best time to be a part of the company.

With any business, there may be something that happens. Heck I was in the buckle recently and someone came in complaining of their bling falling off there too. It happens. To be a consumer who doesn't think this happens everywhere would be way off.

So give it a try. No where else can you get full access to an everchanging inventory of designer jeans at up to 50% off retail as well as their own exclusive kids, men's, maternity, and more. PLUS these jean sales help support families, good causes and it's a great way to earn fabulous income.

If you seriously have more questions. Call me! I'm open to discussing our product openly without bias! I will tell you how it is. Hey, If I have girls accross the nation, and people in my own family making a living with this, that should speak volumes for how much I love it! I'm not going anywhere!
Doug Kerns writes:
I'm amazed at the comments on this site.

Course I'm in sales, and I'm a realist, someone will always complain about something.

My wife is a Vault Denim consultant, and it's been over a year, and she's doing well with it.  She has a blast doing parties, meeting people and she makes decent extra income for our family.

From what I've seen the jeans are great quality, and I've done some research for her as well, in stores that sell $100+ jeans, and personally I can't see much difference at all.  To those that had an issue with a button coming off, or "bling" um, well I've had Levi's do that, manufacturing isn't a perfect thing, but one thing I know, Vault will fix it, or exchange it, no problems.

With my wife not only being a consultant, but also an inventory coordinator for 2 different inventories, she has had to deal with a few of these issues, but always does it quick, and with no questions asked.  For those that expect a refund, well my suggestion would be to keep shopping at Walmart, where refunds are more common than expensive boutique jeans.

If you look at other companies based on similar principles, usually you have to buy inventory, with Vault, you do not.  I was skeptical at first, as is my nature, but I can see no bad at all, and the company as a whole really wants their people to succeed.  They have even set up goals with benefits of having a paid trip to Lake Powell which my wife qualified for and another trip to Cancun, all expenses paid.

Someone will always be unhappy with something in this world, but my experiences with Vault is this isn't the case.  As far as your comment on the company faking positive comments to fill up google, do you think it could be that there are more positive comments than negative?

Just a thought, not even sure why I felt the need to comment back on this, but just thought the "other"point of view might make someone else realize that some of you just might not be positive people :)
Sandra Torres writes:
So sorry that some people have to complain about everything and try to defame other peoples livelihood.

Vault Denim is an awesome company that offers women, men, children, and maternity jeans from 0 to 24 plus size.

The quality is awesome.

The price points on the products are perfect.

Business startup cost… Every company has a business startup cost.  Tupperware, Mary Kay, 31 Gifts, Miche, just to name a few.  Vault Denim happens to be the lowest start up cost of all.  It covers the cost of materials- policies & procedures, a website and personal website that has no additional charge.

Do your homework before you cry wolf.  Every company on the planet has a complaint about something.

Be professional and not rude.  It is not very becoming.
ARE YOU FAMILIAR WITH VAULT DENIM JEANS AS A PRODUCT OR BUSINESS OPPORTUNITY?
PLEASE SHARE A COMMENT BELOW.
Amway is an addiction, claims this forlorn fiance. 
He missed their wedding shower to go to an Amway conference.
When forced to choose between his future bride and Amway, he chose Amway… despite the fact that, in 2 years, he has no downline and only one customer: his mother.
Is it possible that the Amway multilevel marketing "cult" can be as addictive as gambling, alcohol or drugs?
Share your opinion or experience below.
Amway stole my boyfriend, claims forlorn fiance
Here is the account we received from a forlorn fiance, who wishes to remain anonymous:
"Up until two days ago I was engaged to the man of my dreams. We had great plans for the future…for us…for a family. He had always been in Amway and he never actually worked at it until I pushed him to do it. I told him that if he was going to do it he should do it 100% or he would never see a profit, because he wasn't seeing one. I challenged him that if he didn't make a profit or see any prospect that he should quit or drastically cut back on the money he wasted on it. He agreed. Time came…no profit…he didn't keep his promise.
"Lately, he became more and more distant from me. He wasn't even himself anymore. He was hiding things from me and I knew he wasn't happy but he could never put into words why. It was very comparable to someone addicted to drugs and hiding it from their loved ones. I comfronted him about my fears and he only shut me out. He turned me into his enemy. Everything I said was against him and against amway in his opinion. Every decision he made was based on amway instead of based on us.
"One night it got very bad and he randomly stated that he had bought tickets for an amway conference the day of our bridal shower. I know boys don't usually go to the shower, but he had already promised me he would be there to help clean up afterwards and go through everything with me. I was excited. I knew there was a conference that day, but he promised me he would be there for me. He went behind my back and bought a ticket anyways. I explained to him that it was very hurtful and there would be other conferences, but only one memory of our shower celebrating us.
"He looked me straight in the face without any emotion and said he cared more about amway than he did my feelings.
"Now he says he can't remember saying it, but he knows he did. This is the kind of mentality and addiction it has become for him. He regrets this action now, but he knows it isn't exactly something you can just take back. He is sick…just like someone addicted to drugs. Only I don't know how to help him with this addiction. We couldn't even go on one date without him trying to contact our waitress/waitor. It consumed his every though like a crack addict desiring one more hit and doing anything to get it.
"I wanted to believe that amway was safe and it could be done in moderation. Hey, I liked the idea of retiring young too. I was there for him and supported him through it all. Now I see that it isn't right. A half lie is still a lie and amway cannot be done in moderation. A gambler can't just gamble a "little."
"At this point I wouldn't care if amway were possible and being a millionaire was only one contact away. I would rather be homeless than a millionaire and see someone I love so sick and not be able to help them.
"This is the result of amway in my life. I have to watch someone I love deeply be consumed by it and addicted to it and make nothing from it. I fear he will be like that for the rest of his life. It will never be enough. He will always need one more customer, one more prospect.
"He has been in amway 2 years…has no people under him…and no customers but himself and his mother when she can afford it. He did everything they asked, went to the meetings, listened to the cd's, went out 3.4.5.6.even 7 times a week to contact.
"I even would take him back after everything if he could just give amway up. I tried to be reasonable and accomodating and let him do it as he pleased in moderation. All things in moderation…anything good can be bad if it consumes your life right? Well you can't do amway in moderation that is what the cd's and everything teaches…every person you meet is a potential client.
"I would do anything to have the real him back. I know what he said was hurtful, but I also know that it is the addiction talking, but he wont quit.
"I am afraid he will never see the light that it isn't worth this. He is giving up his fiance and who is to say what is next. His friends…whom he has already lost many…his job as an accountant….his family?"
WHAT DO YOU THINK?  HAVE YOU KNOWN ANYONE WHOSE RELATIONSHIPS CHANGED AFTER THEY GOT INVOLVED WITH AMWAY OR OTHER CULTLIKE MLM ORGANIZATIONS?  SHARE A COMMENT BELOW.
To The Nines shoe MLM scheme, IAMAA Direct and Kenny J. Davis are under fire across the Internet for running a blatant business opportunity scam.  To The Nines shoes were sold through a multilevel marketing (aka MLM, Network Marketing or Direct Sales) system.
There have been numerous complaint online claiming To The Nines is a scam. The Better Business Bureau published a scathing review on October 31, 2011.
On November 1, 2011, To The Nines announced it was offering refunds to its independent retail consultants.
Read & Comment here:  TO THE NINES Shoes MLM: Scam or No Scam?
Read the letter from the To The Nines management here: TO THE NINES Refund Information
Get the To The Nines Refund Form here: TO THE NINES Refund Form
On Scam.com, stacyjames posted this warning:
To The Nines Scam

Warning to anyone involved in To The Nines, a subsidiary of IAMAA Direct owned by Kenny J. Davis.

I want to warn anyone who is currently involved with To The Nines, I strongly believe that To The Nines is a complete scam. If you are currently a consultant with this company you should run away as fast as you can and do not fall for their stalling tactics any longer. If you are looking to be involved with this company don't do it for the following reasons:

1. They are asking for a huge investment to buy your way into higher management levels but you don't receive much for your investment. Most of the money goes directly into Kenny Davis's own pockets.

2. There are NO shoes! There were initially a very limited amount of shoes listed online but those are all gone now and orders that were placed for new shoes were turned back for lack of payment.

3. No one is getting paid. No commissions have been paid to consultants for months. When asked why all you get are deflections, lies and stall tactics.

4. No marketing materials are given to consultants when they sign up because the printer that has printed them are withholding them because of lack of payment.

5. Kenny J. Davis and Keli Teague the person who is recruiting consultants into the company claim that IAMAA Direct is the parent company to To The Nines. They also claim that IAMAA Direct has been in business for 15 years and is a $6m company. However, after investigating IAMAA direct it has been discovered that IAMAA Direct was just incorporated in May 2011, well after To The Nines was conceived of by Kenny Davis and Nicole Jones.

6. It should be noted that upon learning upon the deceptions by Kenny J. Davis and Keli Teague, Nicole Jones resigned from the company and is not a party to the alleged fraud by Kenny J. Davis and Keli Teague. Nicole Jones has been tirelessly working to try to make things right and I believe she is the only honest person in the whole operation.

7. The company has put forth a "refund process" that appears to do nothing but buy them time (90 days) and absolve them of any liability and protect them from the lawsuits that I am sure will be coming soon.

8. Check with the BBB in Texas (Dallas County) and the Attorney General's Office. There have been numerous complaints of fraud.

9. This isn't Kenny Davis's first time! He has a record of perpetrating similar frauds. http://www.frauddigest.com/fraud.php?ident=947

I have become very concerned that no one knows about this because it is being kept very quiet. I fell for this scam because I checked it all out online and didn't see any red flags or anything alerting me to the fact that this was a scam. I don't want anyone else to fall for it and hope that this will protect unsuspecting people from falling for this scam. Although Nicole Jones has separated from the company, the company has not told anyone this and many people do not know that they are involved in a fraud. This is my first time being involved in direct sales and I can tell you it will be my last!
On ScamInformer.com, User467564 wrote:
To The Nines IamaaDirect is all RECRUITING and NO ACTUAL SALES OF SHOES!!! Carrollton, Texas
2nd of Oct, 2011 by User467564
In April, 2011, I wrote a personal check to IAMAA for $5,000 to enroll as a Regional Director with To The Nines. The Marketing and Sales team at IamaaDirect showed me how this wonderful new company was the chance of a lifetime. For my $5,000 enrollment fee, I was promised access to brand name inventory, an e-commerce website, marketing materials, business development training, leadership training and an event advertising package. I was also promised national media lead generation for both customers and new retail consultants.

This new company was moving from "pre-launch" into "launch" with a proven business model, and the opportunity presented to me was supposedly backed by IamaaDirect, a marketing firm with 15 years in direct sales, a solid infrastructure, national distribution, advanced technology, and solid relationships with recognized manufacturers. We were told the ink was drying on a contract for a new reality show called "To The Nines" on The Style Network. We were told that Oprah was going to endorse the business. We were told a lot of things.

Six months into this, we have no business. To The Nines has not fulfilled its end of our agreement. I have no e-commerce web site to earn income from. I have no shoe inventory to sell from. I have lost nearly $1000 in event booking fees for having to cancel due to lack of inventory. The amazing "Unified Fast Start Bonus Plan" that was promised, and would have rewarded me for recruiting, never came to be. I have no income from this business, and I see no way of earning an income for months to come.

Every promise made to me has been broken. We know that IamaaDirect and To The Nines owes money to shoe manufacturers, business partners, consultants, web site developers, etc… They have bounced at least 6 checks over the past 30 days to consultants. No one has shoes to sell, but the company still expects us to RECRUIT, RECRUIT, RECRUIT as they have for the past 6 months. Every thing about this has been focused on RECRUITING, which has generated over $500,000 dollars in revenue. Yet they owe money all around?? They are bouncing checks??? They have no website for us. They have no shoes for us. There has always been just enough of a business front to look attractive enough for recruiting.

That's it… STAY AWAY FROM TO THE NINES, IAMAADIRECT, AND KENNY DAVIS!
ARE YOU FAMILIAR WITH THE TO THE NINES SHOES MLM INDEPENDENT RETAIL CONSULTANT OPPORTUNITY?  HAVE YOU APPLIED FOR A TO THE NINES REFUND?  PLEASE SHARE YOUR THOUGHTS OR EXPERIENCES BELOW.
To contact the author or site admin, please email UnhappyFranchisee[at]gmail.com
To The Nines shoes were sold through a multilevel marketing (aka MLM, Network Marketing or Direct Sales) system.  Was the To The Nines shoes MLM a legitimate opportunity or a scam?
There have been numerous complaint online claiming To The Nines is a scam.  The Better Business Bureau published a scathing review on October 31, 2011.
On November 1, 2011, To The Nines announced it was offering refunds to its independent retail consultants.
Read the letter from the To The Nines management here: TO THE NINES Refund Information
Get the To The Nines Refund Form here:  TO THE NINES Refund Form
Here are some excerpts from the Better Business Bureau report:
"…the BBB warns that a multi-level sales opportunity to sell shoes from a business called To The Nines has failed to provide job seekers with a viable home business.
"In January, To The Nines and its parent company, Iamaa Direct, began recruiting entrepreneurial hopefuls into a multi-level marketing business opportunity which involved the direct selling of designer shoes. However, since September, the BBB has received 34 complaints from across the U.S. alleging that To The Nines and Iamaa Direct charged individuals up to $5,000 in business opportunity fees and failed to deliver any shoes. Both businesses have a BBB Rating of F due to failure to respond to complaints…
"To The Nines first came to the BBB's attention when the original president, Nicole Jones, approached the BBB with concerns that her business partner, Kenny Davis, was deceiving her and job seekers.
"Specifically, Ms. Jones stated concerns that over $600,000 in consumer's business opportunity fees appeared to be unaccounted for. Her concerns were amplified by the discovery that Mr. Davis had been convicted of securities fraud in 2003 for his actions relating to Dallas-based Smart-Mart, Inc.
"On September 16, 2011, the BBB received a copy of Ms. Jones' resignation letter, in which she stated, 'I cannot be part of a company that I believe is misrepresenting things about our business, is not acting in an ethical and honest way with our representatives or myself, is not willing or able to provide me with accurate financial reports as the President of the company and is being otherwise generally non-responsive to my requests for information.'
"Shortly after, Debra Aaron took over as president of To The Nines. Ms. Aaron was previously the president of Crowd Sourcing International, a multi-level sales company which claimed to pay job seekers for recording the location of automotive license plates. Crowd Sourcing International has a BBB rating of F due to complaints and failure to substantiate claims about the business opportunity…
"Complaint Concerns
"Complaints on To the Nines and Iamaa Direct describe failure to provide ordered shoes in accordance with the business opportunity plan and difficulties receiving refunds.
"One recent complaint from a Florida consumer explained that "They took my entry fee to the company as a regional director of To The Nines, LLC. which was $4,896.00 via wire transfer from my bank to theirs. I was promised my own website with shoes to sell. They took mine and several hundred other consultant fees as well and closed their doors."
"Complaints are from Colorado, Florida, Georgia, Illinois, Oklahoma, Pennsylvania, Texas, and Washington.
"Between Iamaa Direct and To The Nines, the companies have failed to respond to 28 of the 34 complaints to the BBB. For the BBB Business Review on To the Nines, see http://www.bbb.org/dallas/business-reviews/multi-level-selling-companies/to-the-nines-in-carrollton-tx-90346239 . For the BBB Business Review on IAMAA Direct, see http://www.bbb.org/dallas/business-reviews/business-consultants/iamaa-direct-in-carrollton-tx-90376954 .
"In addition, the BBB has been unsuccessful in contacting Mr. Davis to address the BBB's concerns regarding the company's business model."
ARE YOU FAMILIAR WITH THE TO THE NINES SHOES MLM INDEPENDENT RETAIL CONSULTANT OPPORTUNITY?  HAVE YOU APPLIED FOR A TO THE NINES REFUND?  PLEASE SHARE YOUR THOUGHTS OR EXPERIENCES BELOW.
To contact the author or site admin, please email UnhappyFranchisee[at]gmail.com
To The Nines Independent Retail Consultants:  You may be able to get a refund for your investment in the To The Nines shoes MLM program.
(To The Nines shoes were sold through an ill-fated multilevel marketing (aka MLM, Network Marketing or Direct Sales) system accused of being a downright scam.)
Read the letter from the To The Nines management here:  TO THE NINES Refund Information
Download the To The Nines Refund Form below:
ARE YOU FAMILIAR WITH THE TO THE NINES SHOES MLM INDEPENDENT RETAIL CONSULTANT OPPORTUNITY?  HAVE YOU APPLIED FOR A TO THE NINES REFUND?  PLEASE SHARE YOUR THOUGHTS OR EXPERIENCES BELOW.
To contact the author or site admin, please email UnhappyFranchisee[at]gmail.com
Bizzibiz, the new digital marketing franchise opportunity, launched with much hype January 1, 2011.  Much was made in the initial press releases and promotional video of the fact that serial entrepreneur Jim Piccolo had divested himself from his previous business ventures (most notably the controversial multi-level marketing real estate training school Nouveau Riche University) to devote himself full-time to Bizzibiz and its affiliated franchise sales brokerage Extreme Franchise Marketing.
A series of negative events followed.  In February, the Arizona Corporations Commission announced that Jim Piccolo and his previous business partners must pay nearly $6 Million in restitution and fines for defrauding 105 investors via an unregistered real estate scheme.  In April, Bizzibiz' much-touted relationship with "Mr. Franchise," franchise attorney Kevin B. Murphy, resulted in litigation (See BIZZIBIZ Suing Mr. Franchise Kevin B Murphy and Franchise Foundations PC).  In June, infomercial king Don Lapre, who was touted as a VP of Extreme Franchise Marketing, was indicted on 41 counts of conspiracy and fraud, accused of defrauding 222,000 people of $52 million.
Jim Piccolo recently responded to issues raised on UnhappyFranchisee.com regarding Bizzibiz, Extreme Franchise Marketing and its controversial associations.  Mr. Piccolo's response is included, in its entirety, below.  The headings and short explanations (in italics) are ours.
Founder Jim Piccolo on the
Bizzibiz
Franchise Launch
"August 19, 2011
"DearUnhappyFranchisee.com:
"Since the start of our company in January of this year, BizziBiz has seen many victories and yet faced a few challenges, some of which were brought up on your blog. Certainly the current state of the economy has not made it easier. The development of a unique franchise model in the digital marketing space has been an exciting journey and discovery process.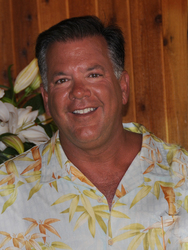 "On the positive side we are very proud to state that since our official launch 1/1/11 we have empowered 74 franchisees, who have in turn hired 267 sales representatives—many who are brand new and just getting trained. All in all that is a total of 341 people that are finding exciting new careers for themselves, creating new jobs for many who may otherwise be in the unemployment line, and helping businesses become/stay profitable! In addition we have 38 staff members who come to work every day happy to be part of the solution to this country's economic challenges. Call us what you want, but we truly believe that through good digital marketing, our small business community can grow and flourish. We've intentionally put our primary focus on small business, as it is proven that they are a hugely under-served market. While most digital marketing companies focus on the BIG clients because that is where the big money is, we believe that the smaller "grass roots" companies will be, in the long run, extremely loyal and appreciative of our efforts. In addition, we know that many of the large companies in this country started in a garage—including the likes of Microsoft Corporation. We know that our peers criticize us for this position, but I assure you our customers do not. There is not a week that goes by where one of them does not send us small tokens of their appreciation. While we are at it, THANKS to Marybeth King for the brownies and rice crispy treats last Thursday! J Hint, hint, they did not last long.
"Back to the business at hand…In your website's posts about us, you address several concerns regarding our company's leadership and clients. My hope is that we can help alleviate your concerns, and shed light onto the facts surrounding those issues."
[Pictured:  "Jim Piccolo, a renowned visionary and entrepreneur with more than 25 years of experience in a wide variety of service and product industries..."  Source:  Bizzibiz]
Founder Jim Piccolo on

Bizzibiz'

digital marketing track record
Bizzibiz digital marketing franchise and its franchise sales affiliate Extreme Franchise Marketing launched January 1, 2011 boasting a very aggressive growth plan.  In an initial post UnhappyFranchisee raised the concern that Bizzibiz and its principals appear to have little digital marketing experience and zero track record as a company.  In fact, Bizzibiz' own social media presence appears weak, with only 5 tweets and 49 followers (as of today) on its Bizzibiz twitter account and 207 "Likes" on its main Facebook page.
Jim Piccolo responds: "With regards to our track record of success, as a start-up company, we've been able to reach hundreds of small business customers in a relatively short period of time, thanks to our loyal franchisees working hard. Some of these companies  had little to no online presence, and as a result of our passionate effort we have been able to deliver measurable results in the areas of website development, SEO, SEM, Social Media Optimization, Email Marketing, etc. –results that are supported in the clients' monthly reports. Again, as I mentioned above, our business model is primarily tailored toward smaller businesses that have a great need to reach their audiences in the digital space—and we can say that we've made a difference for those businesses. Additionally, along the way we have been able to support some digitally well-established businesses and make a significant impact on their digital presence too. We are happy to put you in contact with some of those businesses that can share their experience and results.
"So why have we at BizziBiz not done a better job with our own online presence? We have experienced rapid growth, and as we continue to establish our own brand identity, we have much yet to carry out in our brand messaging. Our attention has been and continues to be on our small business clients and, unfortunately, we have not dedicated the resources to maintain a healthy social presence of our own. We are currently looking at our resources and making some adjustments internally so that we can dedicate efforts to actively manage our social media and online brand reputation and overall web presence. This is a common problem with rapidly growing companies. It reminds me of the parable of the master shoe maker, who was so busy with his craft and serving his customers he and his children wore old shoes. Using this analogy, we, at this point, are pretty much barefoot. When given the choice of happy customers and sore toes or unhappy customers and comfy toes we choose sore toes….at least for now! I know that there are MANY entrepreneurs out there who could say "yep, been there!" As for the rest of you…thank you for understanding.
Founder Jim Piccolo on

Bizzibiz'

Association with Don LaPre
The stormy start of the Bizzibiz franchise also involved the arrest of infomercial king Don LaPre, who was listed as VP of Bizzibiz affiliate Extreme Franchise Marketing.  See BIZZIBIZ: VP Don LaPre 2nd Exec Indicted for Fraud
Jim Piccolo responds: "One of the topics that was raised by your postings is BizziBiz's affiliation with Don Lapre. Don was never a vice president or an officer or employee of BizziBiz. Rather, we utilized his voiceover talents and video production creativity as an outsourced consultant to assist with promotional and training media. Although his consulting services were completed before the unrelated accusations were brought against him, Don acted with great character and ethics in all areas he touched while working with BizziBiz. The product that he produced for us was simply amazing and worth many times what we paid him for it. His title of vice president represented his level in the commission hierarchy as an IBC (Independent Business Consultant) with Xtreme Franchise Marketing, Inc. (XFM), whose website you screen-captured in your post. XFM is a separate company, with a different ownership structure than BizziBiz Franchise, Inc., Xtreme Franchise Marketing, Inc  was created to sell franchises just likeFranChoice, Frannet, and many others.  Additionally, at the time of his indictment, Don was no longer marketing BizziBiz franchises."
Bizzibiz
Founder Jim Piccolo on his Fraud Charges
Much of the initial launch of the Bizzibiz franchise has been focused around the experience and leadership of founder & CEO Jim Piccolo.  Jim Piccolo's integrity and track record were called into question when in February 17, 2011, the Arizona Corporations Commission announced that Jim Piccolo and his business partners must pay nearly $6 Million in restitution and fines for defrauding 105 investors with unregistered deed of trust investments.  See BIZZIBIZ Franchise Founder Jim Piccolo Defrauded 105 Investors, Says AZ.
Jim Piccolo responds:  "Now to address the fraud charges against me… I was named in the Arizona Securities Division's investigation of Michael Roberts, Charlevoix Homes and Five Star Capital, despite any direct activity with the company or wrongdoing. I agreed to settle the issue rather than fight the Securities Division, which would have lead to more harm and frustration for the investors—many of whom are friends of mine. An important note to make here is my wife Mary and I conducted careful due diligence and received validation of the opportunity through recognition like the Arizona Small Business Association's naming of Charlevoix as one of its 50 Arizona Companies to Watch.  We invested in the Charlevoix project and our personal investment was, in fact, monetarily larger than all of the other investors in this dispute. The Consent Decree shows that I agreed to settle this dispute and that no findings of fact were made against me. My attorney, Jeff Matura is open to answer questions if you'd like to contact him:
"Jeffrey C. Matura,  Graif Barrett & Matura, P.C.,  E-Mail: jmatura@gbmlawpc.com"
Jim Piccolo on Bizzibiz Client Youngevity & Dr. Joel Wallach 
Our response to a recent Bizzibiz press release (BIZZIBIZ Franchise, Youngevity & Dr. Joel Wallach) made the point that Bizzibiz seems to invite controversy through its questionable associations.  Its first publicly touted client is run by Dr. Joel Wallach, who has been accused of being a con-man and snake-oil salesman.
Jim Piccolo responds:  "Lastly with regards to Youngevity, they are one of many clients that we help with digital marketing. We believe they are a forward-thinking company that has embraced the potential of the internet/digital marketing to grow their business.  The services we provide are a great fit for their needs. Further, if we did not take on customers because some people didn't like their founders, or they had lawsuits out against them, we'd have to turn down companies like Microsoft and Apple. We also ask that others who choose to attack us do not do it through our client base.  This is not fair to us and certainly not fair to our clients."
Jim Piccolo Promises Transparency & Openness
UnhappyFranchisee.com seeks to create conversations that provide both sides of an issue so that our readers can make up their own minds.  We appreciate Jim Piccolo's response to the issues raised here, and are happy to provide an opportunity to clarify and respond on an ongoing basis.  We have taken him up on his offer to hear from happy Bizzibiz clients on the success of their digital marketing, and would further like to hear from Bizzibiz franchise owners about their experiences.
Jim Piccolo responds: "If the writers at Unhappy Franchisee would like to speak with me further regarding BizziBiz, I would be happy to talk with them, or even do a video interview. We also have many happy customers who would be prepared to share their experiences. I know that these types of blogs tend to bring out only the negative—I guess the happy people don't bother wasting their time on these forums. Man, if I spent my time writing all the great things that I experience everyday with my work, my family, my kids school, my church, and my friends, I wouldn't have time to do anything else. A wise mentor of mine once told me, 'Stay true to your vision, focus on the good, move to help your fellow man with love in your heart and you will reap what you sow.' Not bad advice, huh?
"Thank you for allowing me to share.
"Sincerely,
"Jim Piccolo
"BizziBiz"
ARE YOU FAMILIAR WITH JIM PICCOLO AND THE BIZZIBIZ FRANCHISE OPPORTUNITY?  PLEASE SHARE A COMMENT BELOW.
Email the author at unhappyfranchisee[at]gmail.com