VEMMA Scam Complaints: Is the VEMMA multilevel marketing scheme a legit opportunity or a predatory scam targeting gullible young adults too cocky to listen to warnings from parents and adults?  Does Verve Energy Drink provide "sustained energy and ultra-premium nutrition," or is it a toxic prop used in an insidious youth-targeting pyramid scheme? Share YOUR opinion below.
(UnhappyFranchisee.Com)  Vemma is an AZ-based multilevel marketing company that promises young adults of college age (and younger, allegedly) the chance to obtain "financial freedom" (and new BMWs and Mercedes) by through its affiliate program.
According to the Truth in Advertising website (TINA.org) "The company offers a variety of supplement drinks including the  'insanely health' energy drink Verve that it touts is the official drink of the Phoenix Suns, as well as weight loss products."
According to Truth in Advertising:
Very few people actually make it to a level of true "financial freedom." According to Vemma's own income disclosure statement about 75 percent of active "brand partners" (distributors) on average make less than $1,400 a year by recruiting others to the company.

.

Less than one percent make more than $100,000. And just .01 percent become Star Royal Ambassadors. In 2013, the vast majority of distributors (82,000 of them) grossed less than $1,600 on average per year. You might have a better chance at financial freedom by purchasing a lottery ticket.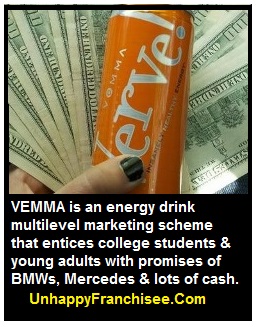 Is VEMMA a legitimate business opportunity or is it another MLM scheme with the brilliant strategy of targeting a demographic group even, arguably, even easier to manipulate and more resistant to rational thought than than the typical AMBOT or other multilevel marketing believer?
On Yelp, Dick Hardstone wrote (in the vernacular of his generation):
You need to keep buying monthly product, and your "team" needs to keep buying monthly product if you want to qualify for the paycheck/car/"free" website.

Also, every single expense that comes with the business (not to mention gloriously overpriced "motivational movies" that aren't worth the plastic they are printed on) is out of your pocket. All of your "customers"? Friends and family, so that's a shit ton of relationships down the drain in pursuit of a dollar.

It is a fucking void where high-school aged skidmarks on society manage to take advantage of their social status among other children (yes, Vemma is directly marketed toward minors because (a) they are likely to have just enough disposal cash and (b) are gullible as fuck and will take any claim with unparalleled credulity) and end up wasting money and time pursuing a "business opportunity" that is absolutely impossible to sustain.
The Federal Trade Commission (FTC) has received hundreds of Vemma MLM complaints from victims and parents of victims who claim they were ripped off by the multi-level scheme.
Here are a few:
One Vemma victim wrote:
I have invested several thousand dollars with this company over the past year. I have filled a complain and fraud alert discussing the actions of this company. They are operating an elaborate pyramid scheme, and the 'affiliates' that represent the company claim many things that are not true… I [am seeking] full reimbursement for all items purchased from this company, to the tune of $2500. This is a rough estimate as I can not calculate the total of all orders placed with Vemma since they will not allow me to access this information due to me not ordering $60 or more of their products in the past month.
Another Vemma victim wrote:
I contacted company on internet about working for it.. Was contacted by a rep for company by phone made one order in February.  Gave my permission to place this order on my card.  Did not give permission for future orders to be charged. Never heard from the rep again nor company.   On April 27 saw pending charge for 169.43 from company.  Left complaint on company site also made 3  phone calls. Never got anyone. Started calling today April 28 at 10 am was placed on hold, same thing  two more times.  Waited until late afternoon to call company back again placed on hold again hung up. Made another call. Finally got a person on phone.  Meanwhile the order arrived.  Told person that I never agree to second charge on card.  Was told I had to pay for shipping return and that would be deducted from the charge made on my card. This can't be legal can it? I never ordered this and did not give my permission to take my money.
VEMMA affiliates reportedly sign agreements not to criticize the company, which may actually be minimizing the number of complaints being shared.  It seems that there are no shortage of complaints from people who only placed a single order or to, and were hit with unauthorized charges they never agreed to.
One prospective affiliate complained:
I was going to start an online business but was having problems with my computer so told the lady not to take out any more money from my account, because she already took out 9.98 from my account for a cd that was supposed to explain the business well I never received the cd but a week later received the vemma product at my door so I checked my account to find she took 83.60 from my account for the product so I called them left messages but no return call and got a tex telling me not to contact them any more, well im sending back the product and I want my money put back into my bank, I called my bank and I am filing a complaint and have them blocked from my account so  they cant take any more, but they are bad business.
Many complaints involve overly pushy friends and acquaintances or unauthorized charges.  This one has both:
This person b(6) debit my account for a product that she took upon herself to send to me without asking me first if I wanted to do business with her.  I told her several time that I was not interested in doing business with her regarding sells of any type of product.  I was notified by the bank that a debit of $39.95 was taken from my account to be paid to a grocery store on May 10th, 2014 at 5:00 am.  Knowing that I didn't go to the grocery store on the 10th of May, I contacted that bank regarding a theft act and filed a claim.I did contact b(6) letting her know that my plans were to file a complaint with the BBB regarding this type of action.  b(6) should not be allowed to force anyone to do a business that they are not interested in and send them a product thinking that she can just take it upon herself to charge them for it.  I have no ideal where the item she sent is.  She continues to send me emails regarding joining that  business.  I find it to be harassment, and it needs to stop.
What's your experience with Vemma?  Scam or no Scam?  Share a comment below.
ALSO READ:
AMWAY IBOs: Why Everyone Hates You
HERBALIFE Is Herbalife a Pyramid Scam?
SCENTSY MLM Scam Deceptive Advertising by Sleazy Independent Consultants?
FRANCHISE DISCUSSIONS by Company
ARE YOU FAMILIAR WITH THE VEMMA AFFILIATE OPPORTUNITY?  IS IT A SCAM OR LEGIT BUSINESS? SHARE A COMMENT BELOW.
TAGS: VEMMA, Vemma Scam. Vemma affiliate, Vemma MLM, Vemma multilevel marketing, Vemma pyramid scheme, FTC Vemma, Federal Trade Commision Vemma, Verve Energy Drinks, Verve, multilevel marketing, MLM, business opportunity scams,, unhappy franchisee